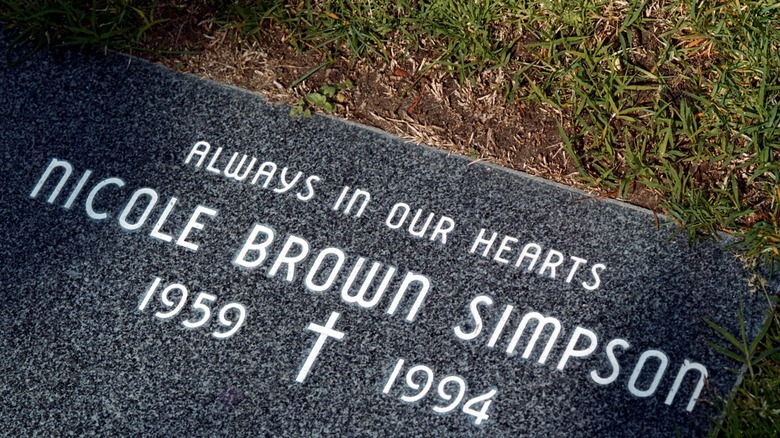 In the early morning hours of June 13, 1994, the bodies of 35-year-old Nicole Brown Simpson and her friend, 25-year-old Ronald Goldman, were found laying in pools of blood outside Simpson's Brentwood, California condominium. As reported by PennLive, both Simpson and Goldman were stabbed multiple times, and their attacker had fled the scene.
In the course of their investigation, authorities learned Nicole was the ex-wife of former football star Orenthal James "O.J." Simpson. AP News reports law enforcement officials went to O.J.'s house at approximately 4:30 a.m. to inform him of her death. They immediately noticed what appeared to be a bloodstain on O.J.'s Ford Bronco, as well as a trail of what appeared to be blood leading from the vehicle to the front door of his home. As they were suspicious of O.J.'s possible involvement in the murders of Nicole and her friend, authorities obtained a search warrant to search the inside of the vehicle and home.
O.J. Simpson was charged with murder but found not guilty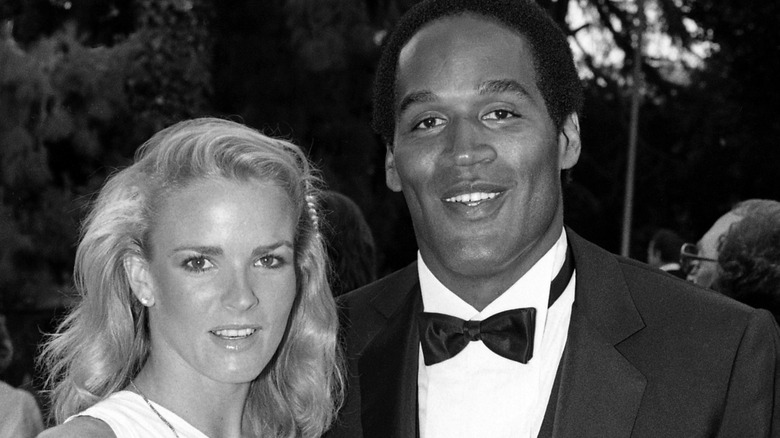 During the subsequent search of O.J. Simpson's property, law enforcement officials found a bloody glove, which was similar in appearance to a glove found at the scene where Nicole Brown Simpson and Ronald Goldman were killed (via AP News). They also found more blood stains inside Simpson's vehicle and home. Simpson was ultimately arrested and charged with two counts of murder with special circumstances on June 17, 1994. However, he vehemently denied any involvement.
During the trial, which was broadcast on television and gained worldwide attention, prosecutors argued that O.J. and Nicole had a notoriously volatile relationship, and O.J. was jealous of Nicole's relationship with Goldman. Meanwhile, O.J.'s defense team argued that he was framed by police officers who had a history of racist behavior. They also argued that the evidence against O.J. simply did not prove he was guilty beyond a reasonable doubt.
Serial killer Glen Edward Rogers' brother thinks he killed Nicole Brown Simpson
The trial, which lasted nine months, concluded on October 3, 1995, when jurors determined O.J. Simpson was not guilty in the murders of Nicole Brown Simpson and Ronald Goldman (via Newsweek). The details of the trial and the outcome remain points of heated controversy. Although Simpson and his supporters believe the jury made the correct decision, others believe the former football star got away with murder.
Those who support Simpson's acquittal have suggested several theories as to who actually killed Brown Simpson and Goldman. One of the more recent theories, presented in the 2012 documentary "My Brother the Serial Killer," suggests the friends were actually murdered by serial killer Glen Edward Rogers. ABC News reports Clay Rogers said he is "absolutely certain that my brother killed Nicole Simpson and Ron Goldman," underlining that Glen had the means and opportunity to kill them, as he was working as a house painter in the area when they were murdered. Glen also reportedly mentioned Brown Simpson to his family members in the weeks before she was killed.
The serial killer reportedly knew Nicole Brown Simpson
As reported by ABC News, Glen Edward Rogers told his brother and sister that he met Nicole Brown Simpson and noted that she was wealthy. He also allegedly mentioned that he planned to "take her down" on at least one occasion. In a later interview with criminal profiler Anthony Meoli, Rogers claimed O.J. Simpson hired him to steal a pair of earrings he gave his former wife while they were married. According to Rogers, O.J. ordered him to kill Nicole during the robbery.
Rogers also provided specific details about the deaths of Brown Simpson and Goldman, which further supported his claim that he committed the brutal murders. ABC News reports that in addition to knowing details about the murders, Rogers was able to draw a detailed picture of the knife he claims to have used to kill the victims. Meoli said the picture closely resembled the weapon that was likely used to commit the murders but was never found.
According to ABC News, filmmaker David Monaghan said he believes the information provided by Rogers' brother, combined with his confession to the criminal profiler, should have been enough to prompt an official investigation into his possible involvement.
Glen Edward Rogers reportedly confessed to the murders
ABC News reports Ronald Goldman's father, Fred, disagrees. When asked about the information presented in the documentary film, Fred said, "The fact of the acquittal at the hands of the jury will never wash away this murder from the hands of O.J. Simpson, no matter how many Glen Rogers pop up on the media radar screen." Elsewhere, ABC News analyst Dan Abrams admitted, "The filmmaker has created a compelling case." However, he said Glen Edward Rogers' confession did not negate the sheer volume of evidence proving O.J. Simpson was directly responsible for the murders of Nicole Brown Simpson and Ronald Goldman.
Rogers was ultimately arrested six weeks after Brown Simpson and Goldman were found murdered. Law enforcement officials said he went on a crime spree and is suspected of more than 70 murders throughout the United States (via ABC News). Rogers was convicted of several murders and was subsequently sentenced to death in both California and Florida. However, he was never arrested and indicted in Brown Simpson and Goldman's deaths, nor was he mentioned as a person of interest in those crimes.
Johnnie Cochran believes the murders were drug related
As reported by Bustle, another theory suggests O.J. Simpson's eldest son, Jason, killed Nicole Brown Simpson and Ronald Goldman. According to the theory, Jason, who was 24 years old a the time, committed the murders himself. However, the speculation also suggests O.J. was present at the scene. The theory was originally presented by William C. Dear in his 2014 book, "O.J. Is Innocent and I Can Prove It." Although the theory is compelling, Jason had an alibi, as he was working at a restaurant on the night Brown Simpson and Goldman were killed. Authorities also have never given any credibility to the theory.
Another theory was presented by Johnny Cochran, a member of O.J. Simpson's defense team. Bustle reports Cochran suggested Brown Simpson either owed money to drug dealers or was killed while drug dealers were in the process of trying to locate one of her friends. As is the case with the other theories, authorities have not suggested they believe Brown Simpson and Goldman's murders were drug-related.