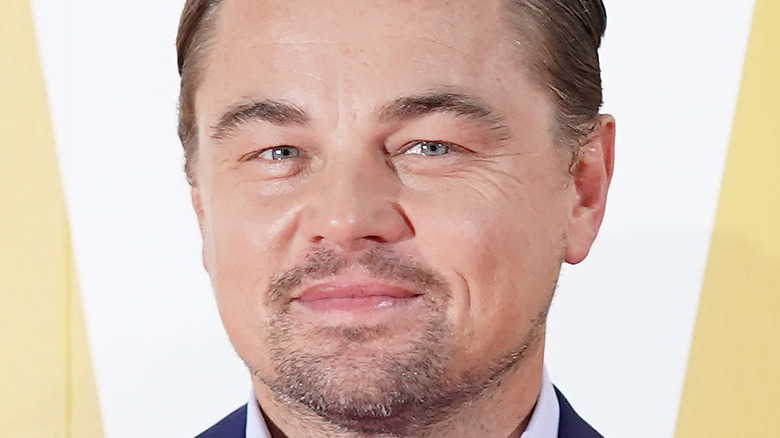 Some might say that Leonardo DiCaprio is one of the world's biggest movie stars. The actor's decades-long career established him as a Hollywood veteran and earned him millions of loyal fans. Like many stars, DiCaprio began acting as a child. Before he made his way onto the big screen in 1993's "What's Eating Gilbert Grape" and "This Boy's Life," he landed roles in a few '90s sitcoms, with the then-teen appearing in "Roseanne," "Parenthood," and "Growing Pains."
However, DiCaprio truly captured the world's attention when he took on the role of Romeo in the 1996 film, "Romeo + Juliet." From there, he snagged perhaps his most notable role to date in "Titanic" alongside co-star Kate Winslet. DiCaprio has since been in popular films from some of the most influential directors, like Martin Scorsese's "The Aviator," Steven Spielberg's "Catch Me If You Can," and Christopher Nolan's "Inception." But some might argue that the height of his career has already passed. There's a new generation of Hollywood actors who seem to be dominating movies and TV these days, and stars like DiCaprio appear to be taking more of a back seat within the entertainment industry.
Of course, this A-lister is far from irrelevant. DiCaprio has more recently starred in successful films like Adam McKay's "Don't Look Up" and Quentin Tarantino's "Once Upon a Time in Hollywood," but is he really as in demand as he was in previous years? It likely doesn't help that his personal life has stirred up a bit of controversy. This is why Leonardo DiCaprio is seemingly getting less and less desirable.
Leonardo DiCaprio's been criticized for clubbing in his 40s
Leonardo DiCaprio earned a reputation as a party-loving bachelor in the early days of his career, and it appears that he still isn't ready to let go of this lifestyle. Of course, there's no age limit on clubbing and partying, but many of DiCaprio's pals, like actor Tobey Maguire, are settled down with families of their own these days.
Even one of DiCaprio's peers commented on his habit of partying. Drew Barrymore mentioned the star's exciting lifestyle while interviewing Sam Smith during an episode of her talk show "The Drew Barrymore Show." "I love that he's like still clubbing, you know?" Barrymore said to Smith. The "Scream" actor also mentioned that DiCaprio is known to spend time on yachts. It seems that the movie star's partying isn't slowing down anytime soon because he was seen dancing in a nightclub in Miami in January 2023. A TikTok video captured the star enjoying himself in the club while dressed in a black baseball cap, jeans, and t-shirt. Unfortunately for DiCaprio, his lowkey outfit didn't prevent him from being spotted.
Social media users took to the comments section of the video to share their opinions on the actor's lifestyle, and not everyone was impressed. "How is he not bored or tired of partying at his age," one user penned. "Real question: for how long is this fun? Like, I'm 41 and I legit get tired just looking at this clip. Yawn," another wrote.
Has the movie star's career already peaked?
As previously mentioned, some might say that Leonardo DiCaprio's acting career already peaked. To be fair, the actor has accomplished so much in his career, leaving fans to question: What's there left to achieve? "Titanic" alone was one of the highest-grossing movies of all time. Additionally, DiCaprio finally won his Oscar for his role in the 2016 film "The Revenant." When you think of the movie star's most notable roles, you probably think of these projects, as well as movies like "The Wolf of Wall Street" and "Romeo + Juliet." Unfortunately, DiCaprio's more recent films haven't done quite as well as these classics.
For example, "Titanic" grossed $2,255,696,524 worldwide back in 1997. "Once Upon a Time in Hollywood," which DiCaprio starred in in 2019, grossed $377,426,903 at the international box office. Of course, the Quentin Tarantino flick still did well critically and commercially, but this might indicate that the success of DiCaprio's previous films is less likely to be replicated at this point in his career. Is there a chance that DiCaprio's first Oscar win was his last? We guess we'll just have to wait and see if the actor proves us wrong. We're certainly rooting for him! And who knows, maybe he'll be able to reach "Titanic" levels of success again in the future?
His age-gap relationships might have tarnished his rep
Many fans have questioned Leonardo DiCaprio's dating history because he appears to have a habit of dating much younger women. There's also that rumor that DiCaprio breaks off his relationships before his girlfriends turn 25. So while age is but a number, the actor's many age-gap relationships may have negatively impacted his image.
DiCaprio and his ex-girlfriend, actor and model Camila Morrone, reportedly parted ways in 2022. The movie star was 47 at the time while Morrone was 25. As you might imagine, this breakup only further fueled that aforementioned rumor that DiCaprio calls it quits with women once they reach the age of 25. Morrone and DiCaprio were a very private couple, but we did get a peek inside their relationship here and there. Morrone even spoke about the age gap when she was interviewed by the Los Angeles Times in 2019. "There's so many relationships in Hollywood — and in the history of the world — where people have large age gaps," the model explained. "I just think anyone should be able to date who they want to date."
For his part, DiCaprio was linked to another much younger model after he and Morrone parted ways. Some speculated that he was romantically involved with Eden Polani after they were photographed sitting next to each other at a party. However, it was also suspected that DiCaprio had moved on with then-28-year-old model Rose Bertram by February 2023.
Leonardo DiCaprio has trouble getting his projects off the ground
You'd think an actor as famous as Leonardo DiCaprio would be able to make anything possible in Hollywood, but it turns out this isn't the case — at least not these days. The "Don't Look Up" star actually had two projects fall through in more recent years. DiCaprio was set to star in Hulu's "Devil in the White City" after Keanu Reeves and Todd Field abandoned the series. This project is based on a book by author Erik Larson, which DiCaprio bought the rights to. Alongside Martin Scorsese, the star is also an executive producer of the prospective series, which has been in the works since 2010 when DiCaprio first bought the rights to the book — so it's unfortunate that it was reportedly scrapped by the streaming service in March 2023.
There's another project DiCaprio has been trying to get off the ground for years, and it has to do with his interest in environmentalism. The star acquired the rights to '90s cartoon "Captain Planet" back in 2016, with the hopes of turning the series into a movie and plans to work with actor Glen Powell. However, the project still isn't in production, as of this writing, so what's going on? We can't say for certain, but Powell did speak about the proposed film during a January 2023 interview with ET. "I know DiCaprio is super passionate about it," he shared. "I'm super passionate about it. I think it could be great. … I want that one to work. I'd love to play that superhero."
The actor's had some seemingly shady business ties
Leonardo DiCaprio's relationship with fugitive businessman Jho Low and the FBI investigation it resulted in sounds like something out of a movie he'd star in. The actor found himself in quite an interesting situation after his buddy, Low, was investigated for allegedly scamming billions from the Malaysian state investment fund 1MDB, per Bloomberg. DiCaprio (and Kim Kardashian) were questioned by the FBI due to their ties with Low.
DiCaprio and Low apparently met in 2010 at a nightclub, and the businessman reportedly helped fund DiCaprio's film "The Wolf of Wall Street" a few years later. He also allegedly gave the actor some very expensive presents, including a $9 million Jean-Michel Basquiat painting. When questioned by the FBI, DiCaprio alleged he was under the impression that Low got his cash from what he called an Abu Dhabi-based "whale of whales," which he didn't know much about. He also claimed he couldn't remember certain details, like at what point he and his representative ran a background check on Low and what information it disclosed, per a summary of his FBI interview.
Low and DiCaprio seemingly formed a very close relationship over the years. The two had nicknames for each other and even met each other's parents. They also discussed plans for several business ideas and would often party together. Still, DiCaprio didn't have much to say to investigators regarding Low's alleged crimes. Is there a chance his inadvertent association with this scandal could have hurt the actor's reputation?
It looks like Leonardo DiCaprio's acting career is slowing down
It seems that Leonardo DiCaprio is dabbling in more endeavors outside of acting these days. Much of the work he's done in more recent years has been behind the scenes. The star has released a number of documentaries, mostly having to do with environmentalism. He also has his own production company, Appian Way Productions, under which DiCaprio has had plans to executive produce a number of projects. There is a chance, then, that acting is no longer a priority for the star given the fact that he appears to be spending much of his time exploring his other passions. And honestly? Good for him.
We received what might be more evidence that DiCaprio no longer has the acting bug back in 2013. He revealed that he was taking some time off that year. During an interview with Germany's mass circulation daily Bild (via Agence France-Presse), DiCaprio shared, "I am a bit drained. I'm now going to take a long, long break. I've done three films in two years, and I'm just worn out. I would like to improve the world a bit. I will fly around the world doing good for the environment."
The star had just wrapped filming both "The Great Gatsby" and "The Wolf of Wall Street" around this time, so he may have understandably been experiencing a bit of burnout. Leonardo DiCaprio has, of course, since returned to acting, but seemingly not at the pace he was before.