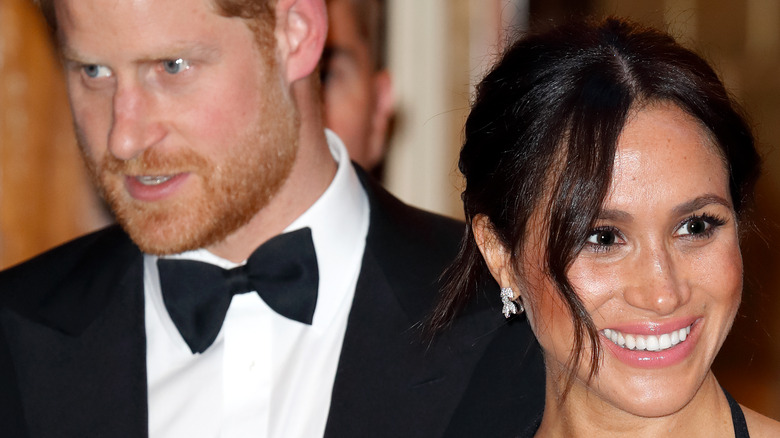 To say that Prince Harry and Meghan Markle are divisive figures is definitely an understatement. The controversial couple has not only created a rift with the rest of the British royal family but they are also rumored to have had issues with their staff. A 2022 report in the Daily Mail found that the pair lost 14 employees in four years. A separate report in the Telegraph indicated that they lost an additional two members of Archwell in 2023.
While it certainly would not be unusual for a royal couple to have a bit of turnover, some sources indicate that Harry and Meghan's staff have not been happy with the way that they were treated under the royal couple. In an interview with Good Morning Britain (via YouTube), royal expert, Valentine Low, alleged that members of Harry and Meghan's staff refer to themselves as the "Sussex Survivors Club." Low claimed, "There was allegations that Meghan bullied staff. I mean, people talked to me, of um, people being completely destroyed. I've heard how people at the time when faced with a possible encounter with Meghan, was saying things like, 'I feel sick' or 'I'm shaking.'"
Although these allegations have yet to be substantiated, it seems that the Sussex's staffers don't always stick around. And, interestingly, those who do continue working for the famous pair are said to follow several unique rules. From dog petting restrictions to a hiatus on curtseying, Harry and Meghan's staff are rumored to follow plenty of unusual guidelines.
1. Don't pet Harry and Meghan's dog
There might be nothing less controversial than an adorable pup, yet, when it comes to Prince Harry and Meghan Markle's dog, that's far from the case. During the time that the pair were living at Frogmore Cottage, a report in The Sun indicated that Prince Harry and Meghan Markle's staff were banned from petting their dog. While it is difficult to pinpoint the exact origin of this rumor, it seems that it all began with a neighborhood meeting. As per The Sun, at the gathering, one of the couple's managers informed their neighbors, which included several members of their staff, that Harry and Meghan had a list of rules for everyone in the vicinity to follow. Per the outlet, one of these rules dictated that nobody in their neighborhood could pet their dog.
Following the incident, Buckingham Palace told The Sun that the couple did not come up with these restrictions. Apparently, the manager, who the palace characterized as "an overly protective palace official," made these rules on Harry and Meghan's behalf. Compellingly, however, this is not the only rule the couple has enforced with regard to their dog. According to a piece in Elle, the Sussexs kept their pup, Pula's, name away from the media for two years. Perhaps, then, the Sussexs are simply extra-protective of their pooch, thanks to the relentless media attention that royals inevitably face.
2. Staff shouldn't initiate a chat if they see the royals
The "no dog petting rule" was not alone on the list of rules articulated by one of Prince Harry and Meghan Markle's staff managers, as reported by The Sun. Apparently, the individual also warned neighbors and staff not to initiate a casual conversation with the couple on the street. Instead, they were reportedly told to wait and see if Harry and Meghan approached them.
By some accounts, this rule didn't go over well. One anonymous staffer told The Sun that they couldn't help but compare Harry and Meghan to Queen Elizabeth, who often enjoyed being greeted by her staff. "Everyone who lives on the estate works for the royals … We aren't told how to behave around the Queen like this. She's very happy for people to greet her," the staff member complained.
Although Buckingham Palace did claim that Harry and Meghan had nothing to do with this rule, it is possible that their staff manager enforced it due to their having an intense need for privacy. In the Netflix documentary "Harry & Meghan" (via Page Six) Meghan divulged that, while she was living in Toronto, the British paparazzi used her neighbors to terrorize her: "They had paid certain neighbors to put a live stream camera into my backyard."