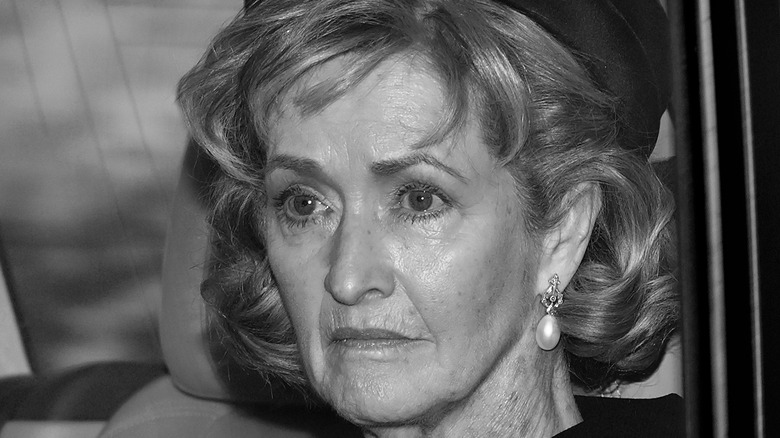 Sometimes tragedy builds unlikely bonds between people. That was certainly the case between Prince Philip and Penny Knatchbull. The two bonded when Prince Philip took Knatchbull under his wing and offered support following the death of her 5-year-old daughter, Leonora, to kidney cancer in 1991, according to People. Although Prince Philip was 32 years Knatchbull's senior, she soon became known as Prince Philip's "keeper of secrets" in British tabloids.
Penelope Knatchbull — nicknamed Penny — is one of the closest friends of the royal family. Born Penelope Meredith Mary Eastwood on April 16, 1953, she is the only daughter of a wealthy business owner and grew up in Switzerland before going on to graduate from the London School of Economics in 1976. Three years later, she married Norton Knatchbull, Lord Romsey at Romsey Abbey in Hampshire, and Prince Charles served as best man at their wedding. Their marriage gave her the title of Lady Romsey, later becoming The Lady Brabourne in 2017, and she has now inherited the title of Countess Mountbatten of Burma.
Soon after the Knatchbulls were married, Penny became a fixture in royal circles, attending all the prime royal events and weddings. Here's the scoop on her life and friendship with the late Prince Philip.
She has family ties to Angus Steak House
According to Newsweek, Penelope Knatchbull is the only daughter of Reginald and Marian Eastwood. While not among the nobility, the Eastwoods did have a claim to a certain position in British culture. Reginald, a one-time butcher, according to The Telegraph, was the founder of the restaurant chain Aberdeen Steak House in the 1960s, later known as Angus Steak House. The signature decor of the restaurants, with atmospheric lighting over red velour banquettes, had an opulent appeal for diners who still retained memory of rationing during World War II.
Knatchbull split her youth between Great Britain and Switzerland. In that time, her father's chain was sold, and it's traded owners over the decades. The menu and style became stagnant, and the quality of the food has reportedly sank. Restaurant critics from the Telegraph to The Guardian have taken shots at Angus Steak House's reputation. Only a handful of locations remain open, and the chain's future was in serious doubt as of 2021.
The two first became friends through sport and grief
Penelope Knatchbull was still Penelope Eastwood when she first met the royal family. According to People, that meeting came in 1974, and she made a good impression from the start. She and Prince Philip reportedly forged a connection over their mutual love for the outdoors and horses. The full blossoming of friendship between the prince and Knatchbull came in 1991. Per Yahoo! News, that was the year Knatchbull's daughter Leonora died of cancer. She was only 5 years old. Philip took the devastated Knatchbull under his wing. He began inviting her on carriage rides and later taught her carriage driving.
Carriage driving is a sport where one driver steers a carriage drawn by one, two, or four horses, with three tests of skill and speed. Philip helped to popularize the sport in the United Kingdom, and Knatchbull's embrace of it is said to have kept him involved in competitions into his 90s. Carriage driving remained a cornerstone of their friendship. They also shared an enthusiasm for races of another kind: mini motorbikes.
She's related to the royal family by marriage
It's more than friendship that Penelope Eastwood Knatchbull shared with Prince Philip. By marriage, she's also kin to the royal family. In 1979, five years after first meeting Philip and Queen Elizabeth II, Penelope Eastwood became Penelope Knatchbull when she married Norton Knatchbull, Philip's godson and King Charles III's second cousin, according to Harper's Bazaar. Norton is also the grandson of Louis Mountbatten, 1st Earl Mountbatten of Burma, Philip's uncle, notes Newsweek.
Mountbatten was a strong influence on the future King Charles III, who dubbed his great-uncle an honorary grandfather, as per Jonathan Dimbleby's "The Prince of Wales: A Biography." Dimbleby claims that before his assassination by the IRA, Mountbatten was trying to arrange a marriage between Charles and Norton's sister, Amanda. That bit of matchmaking didn't work out, but Mountbatten was also supportive of Penelope's entering the family, according to Newsweek. Her wedding was held only months after the assassination and was attended by the queen and Philip, then-Prince Charles, and other assorted royals. The newlyweds inherited Mountbatten's home of Broadlands in Hampshire.
She was rumored to be in a relationship with Charles
As a 1975 photo cited by Today shows, Penelope Easton Knatchbull was friendly with the then-prince of Wales, only shortly after her first introduction to the royal family.
According to the Irish Times, Knatchbull and Charles were once reported to be more than friends. The story later shifted, with Charles supposedly the smokescreen that kept prying eyes away from her romance with Norton Knatchbull. Norton Knatchbull was a cousin of the then-prince and a good friend; they both attended Gordonstoun boarding school (per Jonathan Dimbley's "The Prince of Wales: A Biography"). Charles was the best man when Penelope and Norton married.
The tabloids haven't left Charles and Penelope alone in the years since the wedding. The Sun repeated rumors that the two old friends were estranged after a confidante of Charles put it in his ear that Penelope and Philip were having an affair. But the two have continued to have a presence in each other's lives. Charles is close to the Knatchbulls' children (per Tatler), and Dimbley claims in "Prince of Wales" that they were some of his only friends to warn him against his marriage to Diana Spencer.
She was a regular at royal events
To her friends, Penelope Knatchbull is known as Penny. To palace staff, she had another nickname: "And Also." The Daily Mail quoted an anonymous aide saying that when they drew up a guest list for a family function, private or public, big or small, Prince Philip would review the invitations and inevitably say, "and also Penny." It isn't only the tabloids that have spread the moniker; Ingrid Seward's biography, "Prince Philip Revealed: A Man of His Century," says that Queen Elizabeth II herself shared Philip's fondness for Knatchbull and was just as keen to have her included.
For an example of how ubiquitous Knatchbull's presence in royal events is, just look to Philip's funeral. According to The Sun, she and the prince's private secretary were the only non-family in attendance. In happier times, she could be seen on the balcony of Buckingham Palace alongside the royal family, waving at the crowds and taking in the trooping of the color (per the Irish Times). And Wales Online noted that she has often been seen at the Royal Windsor Horse Show, as a guest of the family.
She had three children
Penelope and Norton Knatchbull have had three children together (per Tatler): Nicholas, Alexandra, and Leonora. Leonora, sadly, did not survive to adulthood. She was diagnosed with cancer and died at age 5. Her death is said to be what drove Penelope into a deeper friendship with Prince Philip and Queen Elizabeth II, as per Yahoo! News. Leonora was buried on the grounds of Broadlands, the family estate, and Penelope later established the Leonora Children's Cancer Fund.
Her surviving children have their own connections to the royal family. Tatler reports that King Charles III is godfather to the Knatchbull's oldest, Nicholas, and that he gave Alexandra away at her wedding to Thomas Hooper in 2016 (Norton was said to be too ill). Nicholas is in line to inherit the wealth of the Mountbatten family and his father's titles, but he was reportedly once in danger of being disinherited. The Daily Mail claims that Nicholas was at one time addicted to crack and heroin. His drug issues made his family question his future, but the Mail's story also claimed that he had kicked his habits and worked to repair his relationship with his father. Nicholas's first child was born in June 2022.
There's never been proof she had an affair with Philip
Penelope Knatchbull's constant presence at Prince Philip's side from the 1990s on was almost bound to excite rumors. Questions hovered over their friendship in the press, with some speculating more was going on. It wasn't the first time in his life the prince faced accusations of infidelity. "Philip always was a flirt," his biographer Ingrid Seward told The Sun. "The Crown" has exploited these rumors more than once, and previews for its fifth season showed him discussing his marital woes with Knatchbull and showing physical intimacy.
"This is cruel rubbish," Queen Elizabeth II's former press secretary Dickie Arbiter said of the storyline (per The Sun). Knatchbull was a friend to all the royal family, not just Philip, and insinuating otherwise so soon after the queen's death was, in Arbiter's eyes, poor taste. Seward agreed, adding that Philip was not the type of man to discuss private details of his marriage with anyone.
For their part, Knatchbull and the royals gave no public credence to the rumors. When asked more broadly about allegations he had affairs, Philip would snap at the press. The Independent quoted him as answering one such question with, "Good god, woman! Have you ever stopped to think that for years, I have never moved anywhere without a policeman accompanying me? So how the hell could I get away with anything like that?"
Her husband did have an affair
There may be no evidence for rumors that Penelope Knatchbull and Prince Philip carried on an affair, but it is a matter of public record that Penelope's own marriage was marred by infidelity. In 2010, according to Tatler, Norton Knatchbull left his wife and his family home of Broadlands to live with his mistress, Lady Nuttall, in the Bahamas. The Daily Mail published photos of Norton and Nuttall strolling through Nassau after the split. However, despite their estrangement, Penelope and Norton remained legally married.
Whatever moved Norton to flee Britain and pursue his affair, he seemed to have a change of heart. Tatler reported that he came home in 2014. Initially, "home" meant a stable block on the estate, but after a few years, it was said that he was allowed back in Broadlands proper. A mitigating factor in any hard feelings Penelope might have held toward her husband may be the state of his health. Wales Online reported that Norton Knatchbull suffers from Alzheimer's disease and has had to delegate titles and management of his estates to Penelope as he declines.
How did Queen Elizabeth feel about Penny and Philip's relationship?
Queen Elizabeth II's thoughts and feelings on nearly everything were opaque. She gave few interviews and never aired dirty laundry about her family in public. It may be that she harbored suspicions or resentments about the nature of Prince Philip's friendship with Penelope Knatchbull, or that she was upset by other rumors of infidelity during their long marriage. But there's no evidence of it. "We'll never know how the Queen felt about it all," Philip's biographer Ingrid Seward told The Sun. She also noted that the queen was sufficiently aware and presumably comfortable with her husband's flirtatious tendencies to joke about it.
As for Knatchbull, biographers, employees, friends, and even the tabloids observed that the queen seemed to regard her as a friend just as Philip did. The Express claimed that the queen was impressed by how Knatchbull handled the death of her daughter Leonora and her fortitude in the face of her husband Norton's well-publicized affair. Seward noted the monarch's affection in her book "Prince Philip Revealed: A Man of His Century," connecting her along with Philip to Knatchbull's presence at royal functions and her nickname "And Also".
She regularly visited Prince Philip until his death
In 2017, Prince Philip retired from public life, joking that he had to stand down as he wouldn't be standing up for much longer (per the Evening Standard). He withdrew to a five-bedroom home on the royal Sandringham estate, Wood Farm, and there was seen only by family — and also Penny. According to The Sun, Penelope Knatchbull remained one of the few non-relatives to regularly see the prince after his retirement.
Besides keeping in touch with her old friend, Knatchbull reportedly played a key part in an embarrassing public episode of Philip's retired life. When he got into a car accident in 2019, Queen Elizabeth II decided that her husband needed to give up driving. Philip's biographer Ingrid Seward told The Sun that she dispatched Knatchbull to carry out the difficult task of convincing him to surrender his driver's license.
However testy that conversation may have gone, Knatchbull remained a visitor to Wood Farm until Philip's death in 2021. She was seen the next year at the Royal Windsor Horse Show, which she had so often attended with him, as a guest of the queen.
She's taken over her husband's ceremonial duties
Owing to her husband Norton Knatchbull's declining health due to Alzheimer's disease (per Wales Online), Penelope Knatchbull has had to assume some of his responsibilities to the family's holdings. She has assumed management of the Mountbatten fortune, come to the Knatchbulls through Norton's grandfather Louis, 1st Earl Mountbatten of Burma (Norton is the third). But Penelope has also taken over some ceremonial duties related to her husband's titles.
Norton, who is also known as Lord Romsey, inherited the ceremonial office of High Steward of Romsey in 1979, according to the Daily Echo, along with the Broadlands estate outside the town center. When he removed himself to the Bahamas in 2010, he relinquished the job, which largely consists of presiding over local functions in ceremonial dress. Penelope was invited to take over as High Steward by the town council. By accepting, she was automatically in the post, but a formal induction ceremony was held in 2011.
Per the Hampshire Chronicle, Penelope — who is known affectionately as Lady Penny in Romsey — pledged loyal service to the community. Noting that the wedding of Prince William and Kate Middleton was then approaching, she said that she would attend, not only as a guest but as a representative of Romsey.
Her family home has a connection to the royals
Penelope Knatchbull had a long-term friendship with Prince Philip. Her husband Norton Knatchbull is Philip's godson and a grandson of Philip's uncle, Louis Mountbatten (per iNews). And one more thing connects the couple to the royal family: their house.
Broadlands, the Romsey estate the Knatchbulls call home, dates back to before the 11th century and was once part of the local abbey. It traded hands among the nobility for centuries until Mountbatten acquired it by marriage. Per Hampshire Live, he opened his house to Queen Elizabeth II and Philip in the first days of their honeymoon. The couple revisited the estate in 2007 and recreated one of the photos from that time for their 60th wedding anniversary.
The queen and prince consort weren't the only royal couple to visit Broadlands. In 1981, when it was in the hands of Penelope and Norton Knatchbull, Prince Charles and Princess Diana spent the first part of their honeymoon there as well. They also opened the Mountbatten Exhibition on the estate (per AP).