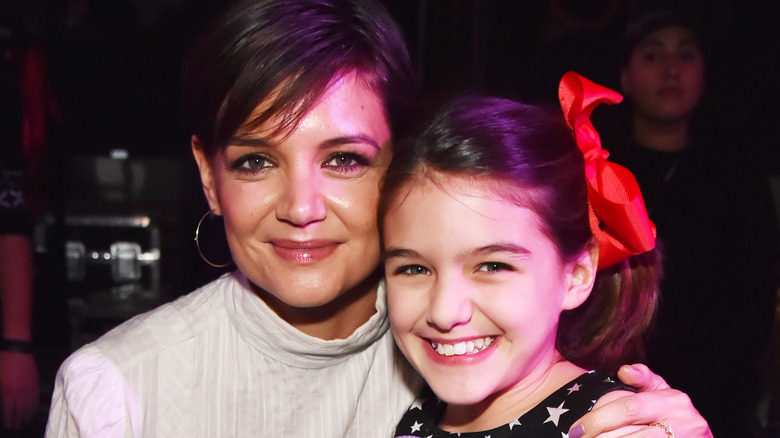 If there's one thing we know for sure about Katie Holmes and Suri Cruise, it's that the two can almost pass as twins, especially as Suri, now sixteen years old, gets older. There's another thing that seems to be pretty obvious about this mom-and-daughter duo: how much they love each other.
While many of us think about the quarantine brought on by COVID-19 as a dreary, anxious time, Holmes described it as a "perpetual vacation." Why? Mostly because lockdown allowed her to spend quality time with her daughter. "I painted, we had a sewing machine so we were making quilts, we were cooking; we were on a perpetual vacation," Holmes said to Amazing Magazine (via the Daily Mail). Not everyone would enjoy spending that much time with their parents, but it seems that Suri and Holmes are basically best friends. It probably helps that Holmes seems like the most supportive mom ever: "My main goal is to just let her know how much I love her," Holmes said (per People). Below, we'll get into all the ways Suri is growing up to be just like her mom.
Katie Holmes' IG throwback pic looks just like Suri
Probably the most obvious way that Suri Cruise takes after Katie Holmes is how she's pretty much the spitting image of her mom. In some photos of Suri, you can see hints of her dad, Tom Cruise, in her features, but she has the same dark hair, high cheekbones, and kind smile that her mom is known for.
In a throwback Instagram post celebrating her birthday, Holmes posted a photo of herself as a child — and it looks remarkably similar to Suri as a child. The photo shows Holmes as a beaming toddler, and she captioned the picture, "Thank you for all of the kindness on my birthday. I do love being a December baby." The actress could have just as easily fooled followers into thinking the photo was a picture of Suri. In fact, in another Instagram post featuring an old photo of Holmes and her daughter, you can see that Suri had the exact same bob haircut her mom had as a child.
Katie Holmes and Suri Cruise share the same signature smile
Katie Holmes is most well-known for her role in the 1990s hit series "Dawson's Creek," but many may also know her for her smile. Whether Holmes is giving a mysterious smirk or a toothy grin, she's often been captured by paparazzi wearing a smile, which has served to add to the cute, girl-next-door vibe that she's had since her days on "Dawson's Creek." Although it seems Holmes has had some dental work done over the years, this hasn't changed the overall impression of her signature smile.
And although Suri Cruise has stayed out of the public and little is known about the sixteen-year-old, what is clear is that she inherited her mom's smile. In photos, Suri frequently smiles gamely for the cameras and looks nearly identical to Holmes. And photos of Holmes and Suri together demonstrate even further the way they both have the same smile — and the same friendly, kind vibe about them.