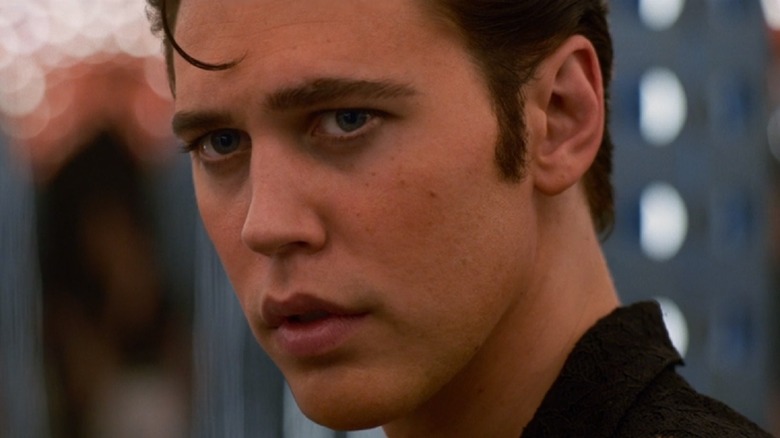 Few people in the world possess such notable names that you immediately recognize. One such name is Elvis Presley, who changed rock music forever by combining the R&B feel and lyrics of Black musicians with the existing country music sounds. Fans know him not just from memorable hits like "Heartbreak Hotel," "Can't Help Falling In Love," and "Suspicious Minds," but also from his work in the film industry with movies like "Viva Las Vegas" and "Blue Hawaii," and from his marriage to Priscilla Presley.
But after Elvis' death in 1977, more and more information about his life, especially his relationship with his manager, Colonel Tom Parker, came to light. There were horrible stories of mismanagement and the conditions Elvis worked in, and Baz Luhrmann's "Elvis" showcases this. The film also pays homage to Elvis' work with Black musicians, his marriage and fatherhood, and his emotions throughout his rise to fame.
The film is a true spectacle, with a lot of information and insight about Elvis' life packed into it. However, there's even more than what you might notice on your first watch. Luhrmann includes many tiny details that further tell Elvis' story and add to the authenticity of the film. Interested to see what small details you may have missed? Read on for some of the blink-and-you-miss-it details Luhrmann included in his 2022 film, "Elvis."
Real blue jumpsuit
Elvis is certainly known for his stage presence, but part of what made it so memorable was his costume choices. For the film, Luhrmann emulated some of Elvis' most famous styles, including Elvis' blue jumpsuit that he wore during his Vegas residency. In the beginning of "Elvis," there are shots of Austin Butler's Elvis performing in Vegas and the crowd going wild. In this, there are multiple panels of Butler in the blue jumpsuit as he's performing.
There aren't many shots of the real Elvis in the film, but there is one during this early scene in the film where the real Elvis and Butler's Elvis are seen in a two panel shot. Both men have the memorable blue jumpsuit on and are dancing in their wild manner. The scene is so quick that if you blink you miss it, and you almost can't tell the difference between the two versions of the musician, but it's there nonetheless. This two panel shot helps to blur the lines between Butler's immersive performance as Elvis and the real deal himself.
Star Trek references
One small detail fans may have missed were all of the hidden "Star Trek" references throughout the film. First, in the beginning of the film at the International hotel in Vegas, there's an advertisement for the "Star Trek Experience" on the sign in the front. Within the first two minutes there's a reference to "Star Trek," but there's at least one other reference later in the film during the Christmas special. While Tom Parker and the NBC studio executives are walking through the hallways at NBC studios, there are several posters hanging up that include the "Star Trek" cast and promote the show.
Some might think these small "Star Trek" details are merely a coincidence, but they are actually purposely hidden in the film. In a documentary about Elvis, it's revealed that the king was actually a huge fan of "Star Trek," both the cast of characters and the show's plot. Celeste Yarnall, "Star Trek" actress and Elvis' on-screen costar, talked about how much Elvis loved the show, and even told the documentary makers that Elvis named one of his horses Star Trek. Because of his love for the show, Luhrmann wanted to include some small "Star Trek" details that Elvis' hardcore fans would recognize as an homage to his fandom.
The Blue Hawaii red shirt
One of Elvis' most famous films is "Blue Hawaii." In the film, Elvis plays Chad, a boy who is meant to take over his family business but throws that away in favor of working for his girlfriend as a tour guide. The film also starred Angela Lansbury, and included some hits like "Blue Hawaii," "Aloha Oe," and, most famously, "Can't Help Falling In Love." There's a whole section of the film that pays tribute to Elvis' film career, but one of the homages to Elvis' acting is a small detail you might have missed.
A bit over 30 minutes into "Elvis," B.B. King and Elvis go shopping for new outfits at a store called Lansky's. While in the store, there's a shot that shows all the shelves and other products in the store aside from what the two musicians are purchasing. In this shot, you can see a row of shirts displayed behind Elvis, and one of the shirts is his iconic red Hawaiian-style shirt he wears in "Blue Hawaii." It's a small detail and the shot is fleeting, but diehard Elvis fans can keep their eyes peeled for this small homage to one of Elvis' most famous acting moments.
Kurt Russell's cameo
One of the most action-packed scenes of the film comes from the "Viva Las Vegas" montage, where the audience sees shots of real Elvis films, fake reenactments from Butler, and moments with Elvis and Priscilla or Elvis and his "Memphis Mafia," as they were called. There are several panels going at once, making it the perfect place to slip in some smaller details about the musician and actor. Though many fans see this as a moment where it's once again hard to tell the difference between the real Elvis and Butler's iteration, there's one panel where you can absolutely be sure it's the real Elvis because of the other actor in it making a cameo.
One of the panels behind Butler's Elvis while he's filming the surfing shots shows a memorable scene from Elvis' film "It Happened At The World's Fair." The scene involves Elvis asking a young child to kick him in the shin incredibly hard, and he even offers him a quarter to do so. The child agrees, and kicks Elvis really hard in the shin. In this scene, the child actor is actually famous actor Kurt Russell, who has starred in films like "The Hateful Eight" and "Guardians of the Galaxy Vol. 2." This cameo from Russell is also meaningful because he eventually played Elvis in John Carpenter's 1979 biopic, "Elvis." The 2022 "Elvis" cameo for young Russell is brief, but there for those who pay close attention.
Sharon Tate's death in the paper
Elvis underwent a lot of mental stress throughout his career, mostly because of the way Tom Parker kept him continually running and didn't give him room to rest. This type of exhaustion is something that many celebrities experience, but Elvis in particular was dealing with the assassination of Robert F. Kennedy and the assassination of Martin Luther King Jr. both, while watching other celebrities murdered or attacked just for their fame. This took a huge toll on him and, with Parker's assistance, created an air of paranoia that helped Parker control his life.
One scene, though, that perfectly encapsulates this is when Elvis is in the hospital for exhaustion and Parker is reading the newspaper with Sharon Tate's murder on the cover. This is used as a plot device to spark a discussion about fear of the lives of entertainers, but Butler fans know there's a deeper meaning to this detail. The choice of Tate's murder being the focus can be seen as an homage to Butler's role as Tex, one of Tate's killers in the Quentin Tarantino film "Once Upon a Time in Hollywood." It's a small detail that only fans of Butler or the Tarantino film would know, but it's a fun detail nonetheless.
I will always love you
The relationship between Elvis and his wife, Priscilla, is a large plot point of the film. The audience gets to see their romance at every stage, starting with how they meet and bond and ending with their divorce and co-parenting style. There's one scene that's particularly heartbreaking because of how clear it is to the audience that they still love each other, but just can't work as a couple anymore. When they are talking together in the car toward the end of the film, it's a heart to heart that only Priscilla could help Elvis get through. They both get out of the car to leave, and Elvis looks at Priscilla and mouths "I will always love you."
It's a tearful moment, but it's one with a deeper meaning than just the sentiment. Elvis famously sang Dolly Parton's "I Will Always Love You" to Priscilla when the two were getting divorced, and Priscilla told Parton about this. But even more than this, Elvis wanted to professionally record Parton's song, and she wanted that as well. However, Parker wanted to take half of the publishing rights for the song, and Parton wouldn't agree to it, resulting in Elvis never recording it. However, Parton was always honored that Elvis wanted to sing it, and about the detail that he sang it privately to Priscilla. She told W Magazine that it "touched her deeply."
The geek
The catalyst for Parker and Elvis' relationship throughout the film starts with their intense conversation at the carnival. Parker notices Elvis standing alone, and sees him as a lost outcast who would be easily influenced by his management. He approaches Elvis, but Elvis is suddenly called away by his friends to go into the house of mirrors, delaying the conversation between the musician and manager. However, when Parker first notices Elvis, he notices something else, too: the advertisement for "The Geek" posted behind his view of Elvis.
This hidden detail has a deeper meaning. First, the "geek" is known to circus lovers as the most grotesque or shocking element of all the acts. These performers usually bite the heads off animals or even eat certain animals alive to impress audiences, and appeal to the audience's forbidden pleasure. This slightly references "Nightmare Alley," which was Parker's favorite film, so that's one meaning to it. However, it also references the fact that Parker saw how audiences reacted to Elvis' act, and how they couldn't control the pleasure they felt from it but weren't sure if they were supposed to be enjoying it or rejecting it. That goes for most of the world's response to the musician, actually. Parker knew Elvis could be the music industry's "geek" act, and took advantage of that in his management of the musician.
Elvis' nervous hands
One of the biggest parts of the film is Elvis' comeback special, which is where you really see Elvis defy Parker in a large way to create what he wants his audience to see, not what Parker is making him do. Elvis fans will watch the film's version of the special and note that it is nearly recreated perfectly by Luhrmann. Every detail of it is so precise, and Butler's performance, though excellent throughout the whole film, is especially well done here. However, one detail that was particularly accurate to add is extremely subtle, but tells a huge story.
In the scene, when Butler's Elvis first starts singing, he reaches for the microphone. When he does this, his hand shakes slightly, like he's nervous to perform. This is because, as Elvis fans will note, in the original comeback special, Elvis hadn't performed in front of a live audience for a long time and was nervous. This caused his hand to shake as he was getting into the feeling of the performance, and Butler included this detail in the film version to make it more authentic and exact to Elvis' behavior at the special.
Comeback special's exact audience
Of course the comeback special in "Elvis" deserves ample praise for its authenticity and precise attention to detail. However, one element of the special that is technically a large detail, but one that only the most attentive Elvis fans will notice, is that every single member of the crowd is exactly replicated from the original Comeback Special. In an article from PopSugar, it's revealed that the costume and makeup team did each individual makeup and hair look for the audience of the special to perfectly replicate the Comeback Special. They even said they used around 450 wigs throughout the whole movie for the extras.
In the article, Shane Thomas, the hair and makeup designer for the film, talked about how every extra that sat around the stage had the same costumes, hairdos, and makeup as the real people from the special. He said, "[With] the real images and our images next to each other – it's quite mind-blowing how well we did with replicating it." Thomas isn't exaggerating; if you look at the two frames side by side, the ridiculously strong effort to recreate the different looks of the audience truly looks identical to its predecessor.
Satnin
One of the defining moments of Elvis' life and in the film comes from Martin Luther King Jr.'s death. His assassination deeply impacted Elvis, and eventually sparked his rebellion against Parker's agenda and deciding to work with Steve Binder to create the special he wanted to make. However, there's a hidden detail before this, while Elvis is contemplating King Jr.'s death. In the scene, Priscilla walks into Elvis' trailer to find him watching Dr. King's memorial. She greets him by saying "Satnin," which some might take to be a pet name or not really notice she says it at all. This was no throwaway line, though.
"Satnin" is actually what Elvis used to call his mother, Gladys Presley. He used this word because of her Satin-like skin. It was more than that, though, because to the two of them this word was a form of affection. Elvis and his mother had an extremely close relationship, right up until her death. It was slightly strained by the influence of Tom Parker, but was still pure and lovely. Priscilla greeting Elvis in this way is not only a nice way to squeeze that reference into the film, but also especially meaningful because he's grappling with Dr. King's death and it likely brings up feelings about his own mother's death.
Priscilla's Makeup
HBO Max
Another small detail comes once more with the "Viva Las Vegas" Hollywood movie montage. There's a scene in the top left corner of the five panel layout where Elvis is seen doing Priscilla's makeup. This might seem like a small piece of romance between the two, but is really a detail that points toward a larger circumstance between Elvis and Priscilla. Most people might not know that Elvis was very particular about Priscilla's appearance, and actually taught her how to do her makeup.
In Priscilla's memoir, "Elvis and Me," she talked about how Elvis created her, and how she didn't really know who she was as a person without Elvis. She wrote, "He taught me everything. How to dress, how to walk, how to apply makeup and wear my hair, how to behave, how to return love- his way. Over the years, he became my father, husband, and very nearly God." Elvis had a huge control issue with Priscilla, which she didn't take in any nefarious light, but as more of a guidance to creating who she was. However, with no separation between what she wanted and what Elvis wanted for her, it became hard for her to see herself as her own person.
A Toxic connection
One element of "Elvis" that fans enjoyed was the mixing of the old Elvis tracks with new artists' music. Artists like Doja Cat teamed up with the Elvis and Big Mama Thornton hit, "Hound Dog" to create a new spin on the classics. One such mashup that audiences enjoyed was the Elvis song "Viva Las Vegas" mixed with Britney Spears' "Toxic." It circulated around TikTok and, because it wasn't released on the film's soundtrack, was severely requested to be released by fans of the film and the scene. Though this song is an absolute hit, it also serves as an important detail in the film for those wanting to do more of a deep dive on its meaning.
One of the biggest news pieces of 2021 and 2022 came from the movement to free popular musician Britney Spears from her conservatorship. She was poorly managed by her family, and particularly her father, and suffered a lot of abuse because of it. Because this song plays while Elvis is being manipulated in his acting career by Parker, it's clear the song is a reference to how both artists were mismanaged and put into toxic work environments for the profits of those who handled their affairs. It's a small detail that people might not immediately put together, but, as Bustle writes, it's a way to link two of history's most iconic musicians through some of their shared negative experiences.