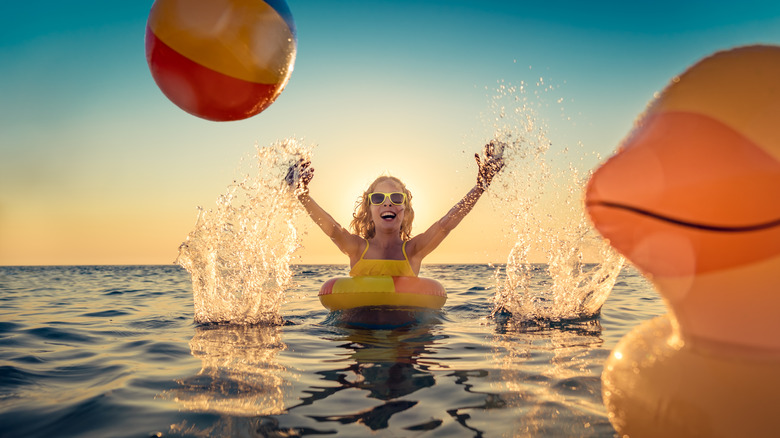 Spring break, especially for families or students, is a big deal. So much so that over 50% of Americans plan on taking advantage of the break each year. While the stereotypes of young people partying hard in a place like Miami Beach are still very alive and well, there are some incredible trips waiting out there for travelers that aren't the run-of-the-mill spring break experience. The number of travelers taking advantage of spring break for an adventure is still on the rise since the COVID travel shutdowns. Luckily, some destinations are still budget-friendly, even as they try to recoup the vacation profit losses of the pandemic.
After the winter holidays, spring break can feel like a well-deserved break, so lots of folks want to make the most of their time away from work or school. The temperatures are still cool, but warmer than before and it's a great opportunity to see some place new or return to somewhere that's become a spring break tradition.
Some of the country's best budget-friendly spring break spots like South Padre Island in Texas or the Florida Keys seem like obvious contenders. Meanwhile, some other lesser-frequented spring break destinations like Jekyll Island, Georgia, or even New Orleans in Louisiana may become your new favorite place to visit any time of year.
New Orleans, Louisiana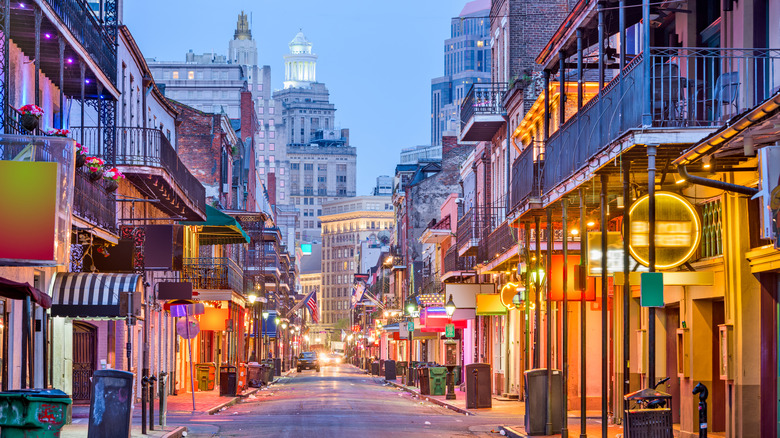 Obviously, New Orleans is a friendly destination for folks looking to party their spring break away. While that is all well and good, NOLA has so much more to offer even the rowdiest of spring break crowds. Deeply entrenched in history, New Orleans has tons of tour offers, artists to check out, a thriving parade scene (even in the parade off-season), and music in every corner. It doesn't cost a fortune to have a great time in New Orleans.
Swamp tours, historical tours or cruises, and walking tours around the city come with price tags of all kinds. Some even have endless drinks for those of age to enjoy. Pub crawls in NOLA can be intense, so spring break partiers will love them. However, New Orleans is also family-friendly too (maybe avoid Bourbon Street with kiddos, though!).
Take a ride on the city's historic Natchez steamboat, grab some tasty beignets at Café Du Monde, or go on a ghost tour. Window shopping in the city's endless boutiques, tasting every savory dish NOLA has to offer, or just lounging at the hotel pool are always safe options, too. Not to mention the incredible museums all over the city. You can't miss the Southern Food and Beverage Museum or the New Orleans Museum of Art.
South Padre Island, Texas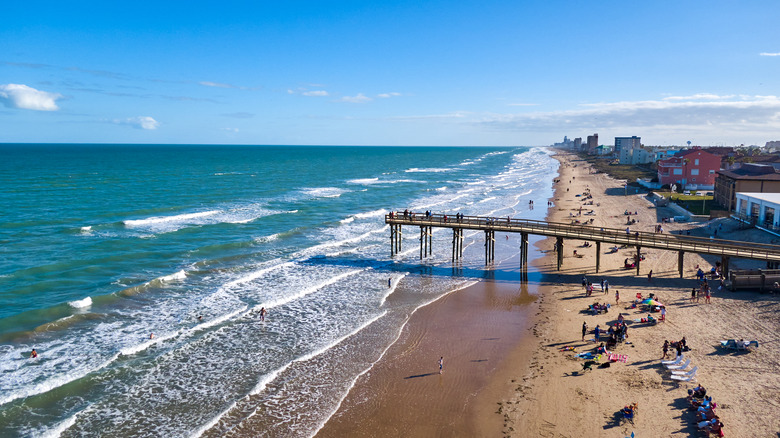 Ranked just below New Orleans as the best budget spring break destination, South Padre Island often gets flooded with college students for spring break every year. A party destination with plenty of sand, surf, and sun to go around, the island is consistently one of the best budget draws for spring breakers in the United States. No wonder college students clamor to this beachside destination year after year!
South Padre Island is an easily walkable destination, which makes it ideal for budget travelers. At only two square miles, you can walk the length of the entire island. It's covered in shops, restaurants, beaches, bars, and tons of gorgeous beach views. Because everything is within walking distance from everywhere else, it's a great spot for spring breakers looking for a casual, island vibe.
Other than lounging or partying, South Padre Island is also an excellent spot for water sports. Fishing, diving, surfing, and kiteboarding are among the popular activities to do in this Texan island getaway.
Key West, Florida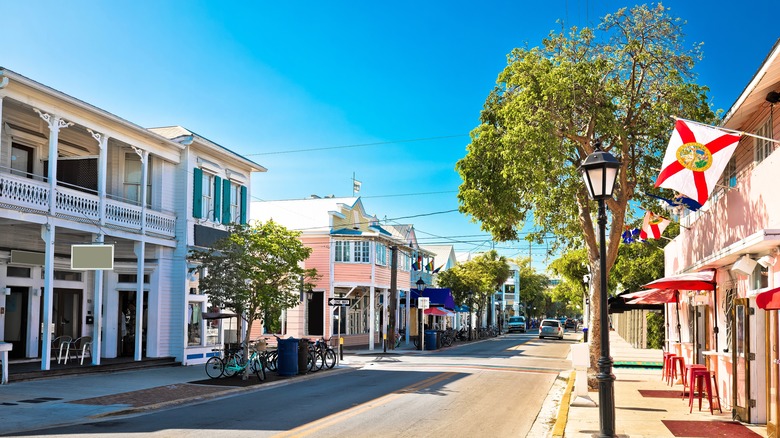 The Florida Keys are not the cheapest place to visit any time of year. However, Key West has a significant part of the state's tourism and remains a great family spring break destination. A wildly different experience than Orlando or Los Angeles, Key West's charm is in its simplicity. Enjoying time in the water or on the beach, lazing in the stunning outdoors, or snorkeling, Key West is a little slice of paradise in Florida.
With the tropical views and stunning ocean access, you'll forget you aren't a world away on an island somewhere in the ocean. Key West is an ideal beach getaway without a hefty price tag. The whole family can enjoy the coral reefs from a tour boat or while snorkeling, or opt to spend an adventurous day with a plethora of water sports with Fury Water Adventures. A visit to the nearby Grassy Key can even introduce travelers of all ages to the wonders of nature at the Dolphin Research Center.
Key West is also a great place for learning as well, especially if the kiddos are into maritime history. The Mel Fisher Maritime Museum introduces everyone to the Spanish explorers who wrecked off the coast and the Key West Shipwreck Treasure Museum carries on that theme with its exhibits on all kinds of shipwrecks.
Washington D.C.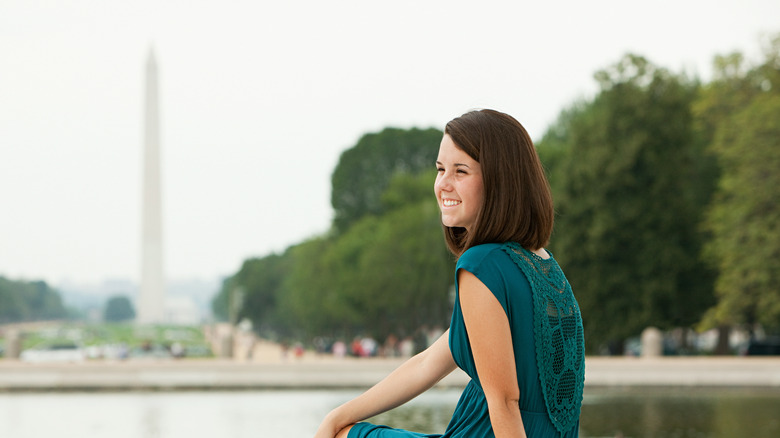 This inclusion might surprise a lot of travelers, especially if they haven't been to D.C. before. Washington D.C., like any major metropolitan area, varies wildly in its affordability. Still, the hard costs of travel and accommodation aside, there is so much to do here. Much of its best activities can be free or deeply discounted. Plus, the huge springtime draw to the city is the annual National Cherry Blossom Festival. The gorgeous little blossoms are the star of the show and are free to see.
A lot of what D.C. has to offer at any time of year is free, especially if you're interested in seeing the monuments or memorials. There is also the 20-mile-long Anacostia Riverwalk Trail that showcases the beautiful areas around the city, including the Capitol Riverfront and Anacostia neighborhoods. In the springtime, the National Mall area is at its most beautiful with tons of blooms for visitors to see.
For a more traditional spring break vibe, head over to The Wharf. The Wharf is D.C.'s pier area where you will find lots of outdoor seating, shopping, and dining. It might not be California, but you can still enjoy a recreational pier, even in America's capital.
Blowing Rock, North Carolina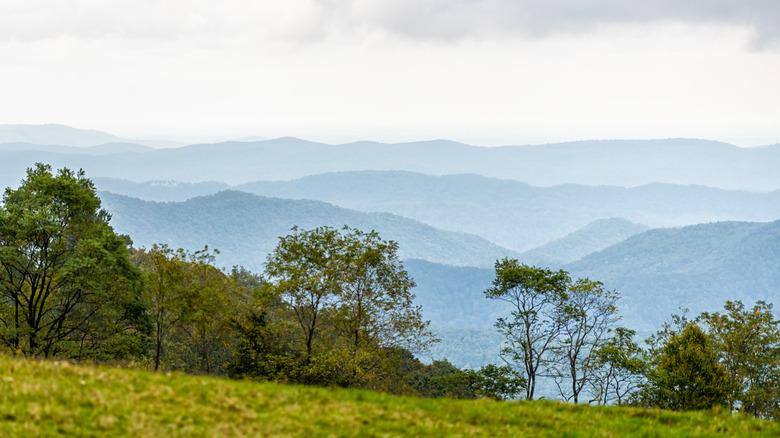 Alive in the Blue Ridge Mountains, far from the traditional spring break destination, Blowing Rock, North Carolina would like to elevate your break experience. Tucked away in the mountains, this area is not frequented by spring breakers, making it a budget destination and a unique one as well. Obviously, this isn't your destination if you want to spend spring break on a beach, but the mountains are no less beautiful than their low-lying counterparts.
Get a taste of the old West at Tweetsie Railroad, a Wild West theme park in the heart of Blowing Rock, or go wildlife watching at Grandfather Mountain. Blowing Rock is also full of hiking trails that are bound to be dressed up in springtime blooms without the summertime crowds too. If the critters at Grandfather Mountain don't satisfy your wildlife viewing needs, see what other kinds of wildlife you can spot along the miles of trails.
Something that makes the Blowing Rock area especially unique is that it's deep in the heart of gemstone country. There are four gem mines where visitors can go panning for precious items. Western North Carolina is particularly known for being rife with emeralds, tourmalines, rubies, and sapphires.
Palm Springs, California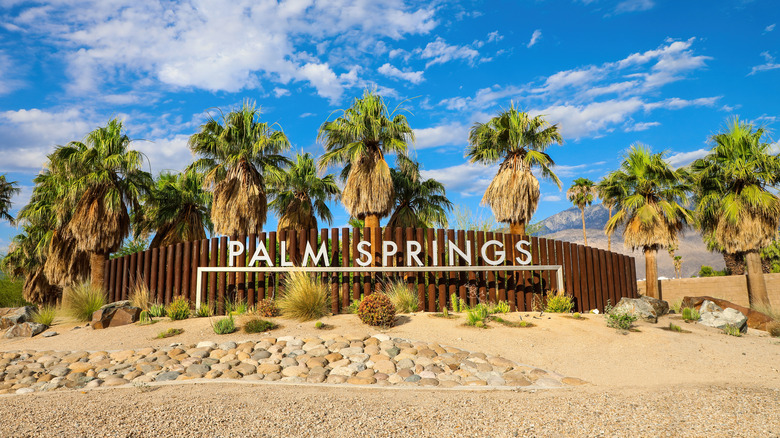 With the nearby twisty Joshua Trees at Joshua Tree National Park, Palm Springs beckons travelers to enjoy the hotel pools after a long day exploring the desert. Palm Springs is perfect for spring breakers looking for some fun in the sun with more to do than laze around the beach. It's perfect for all ages as well, with accommodations to suit the littlest spring breaker to the oldest. Whether you want to spend your time at a hotel with waterslides or a more luxurious destination to soak your troubles away, you'll find them all in Palm Springs.
Aside from the multitude of resorts, nature is the star of the show in Palm Springs. The Living Desert is a nature reserve outside of the city that showcases animals and plant life that make deserts around the world lively ecosystems. While the Palm Springs Aerial Tramway takes visitors above and beyond with a bird's eye view of the region including the stunning views of Mount San Jacinto State Park.
Palm Springs was one of the country's original resort towns, especially for celebs coming from nearby Hollywood. As such it has everything you'd want from a vacation destination from attractions to stunning resorts, divine restaurants, and shopping galore. It may have become famous because of celebrities, but that doesn't mean time away in Palm Springs will break the bank.
Outer Banks, North Carolina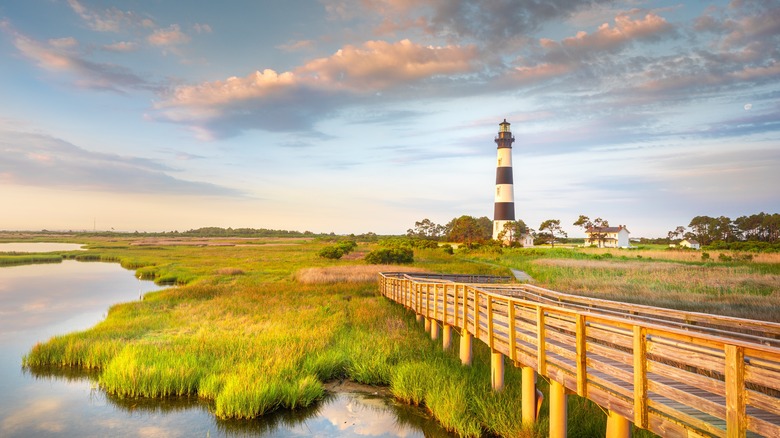 A bit like Key West without all of the hustle and bustle, the Outer Banks (or OBX) is an ideal, family-friendly beachside spring break escape. Because it isn't as big of a destination any time of year, especially spring break, the beaches in the OBX area are far from crowded. It's also far less hot than Florida at that time of year, though the ocean views are very similar. Since it isn't a destination for the throngs of spring break drinkers, OBX is a great family-friendly beach destination.
Taking a break from beach time, the whole family can learn about the fascinating history of OBX — from the Wright Brothers and Blackbeard the pirate to The Lost Colony, the first English settlement that vanished from the area. Being on the ocean, there is a rich history of this area that frequently includes maritime stories or tales from the early days of the United States history. Or, you could take a day trip over to Ocracoke Island where you'll find a fleet of traditional lighthouses and stunning natural vistas.
Myrtle Beach, South Carolina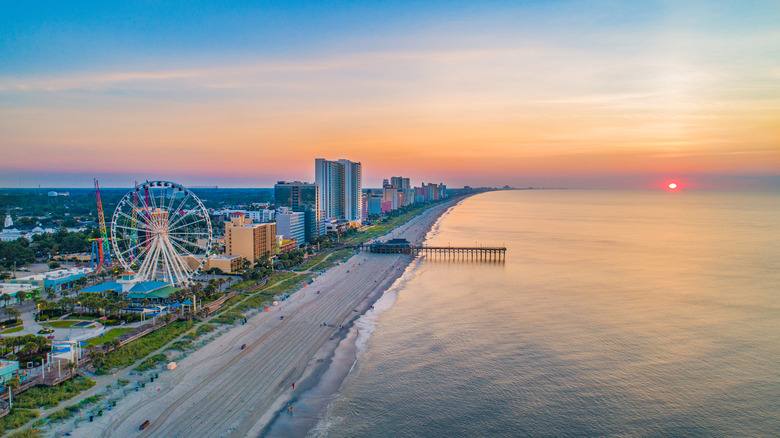 Popular with families with school-aged children, Myrtle Beach is yet another relaxing, beachside vacation spot. You may encounter a few college-aged spring breakers, though even they will be a far cry from the Miami Beach crowd. Between the mile-long boardwalk to zip lining, ropes courses, or eating your heart out at the many different area restaurants, you won't be bored in Myrtle Beach.
Myrtle Beach is the beach destination in South Carolina, and for good reason. The Grand Strand, a 60-mile-long area of beach along the city, is a beautiful place beloved by visitors and locals alike.
Away from the beachfront, there are lots of family-friendly attractions in the area, including Ripley's Aquarium, Broadway Grand Pix, and the Soar + Explore Ziplines and Ropes Course. For those wanting to get more in touch with nature, you can check out the Blue Wave Adventures Dolphin Watch, Murrells Inlet MarshWalk, or Bookgreen Gardens. You can't seem to go anywhere around Myrtle Beach without finding more ways to appreciate the gorgeous landscapes around it.
Daytona Beach, Florida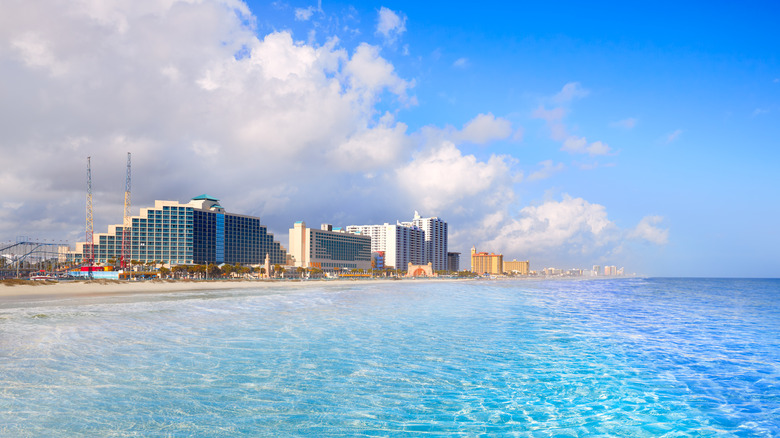 Right in line with the other traditional spring break destinations like Miami Beach, Daytona Beach has much of the same offerings at a much smaller price tag. College students flock to the area every year for its party atmosphere, music festivals, and proximity to the shore for some beach time. You're even close enough to a destination like Orlando to enjoy some theme parks during spring break without the cost of staying there the whole time.
This is definitely one of the more traditional spring break destinations for young folks looking to cut loose or adults wanting to relive their youth. There are tons of clubs within walking distance from hotels and, when night falls, it's clear why Daytona Beach is one of the best clubbing destinations in Florida. And not to worry, the party busses in the city will keep partiers safe as they make their way along the clubs — rides through this transportation method are free.
During the day, the beach is where it's at. From sunbathing or floating along in the ocean to surfing, parasailing, or doing other water sports, the beach is the main daytime attraction. There are plenty of places in walking distance to eat, shop or drink from the beach as well.
Jekyll Island, Georgia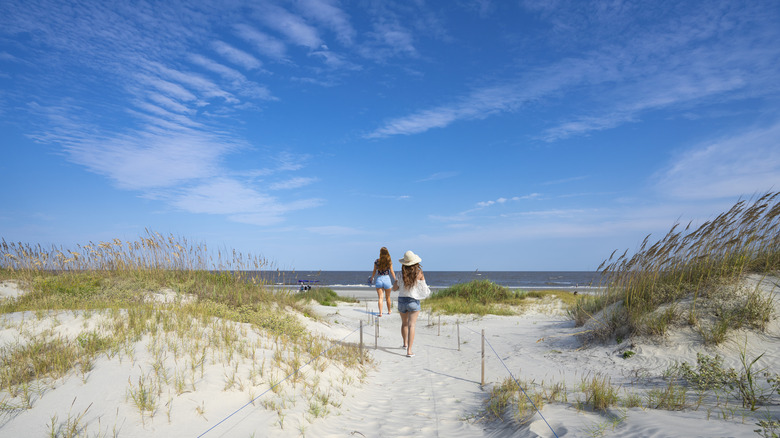 As one of Georgia's barrier islands, Jekyll Island's beaches are stunning. You won't have to navigate hoards of people during your vacation here or shell out half the money you would at another beachside resort town. There are tons of activities for spring breakers of all ages, including visiting the Tidelands Nature Center, which encourages an understanding of local flora and fauna. Jekyll Island and St. Simons Island are also within the Golden Isles, so you may encounter that name when looking into your spring break itinerary.
The island's ten miles of shoreline offer visitors plenty of space to play, explore and relax. While other parts of the island like the Georgia Sea Turtle Center provides insight into how Jekyll Island's unique biodiversity can be preserved by beach lovers everywhere. Driftwood Beach is the island's keystone beach destination and nearby travelers can see a plethora of historic homes that showcase island living through the years.
Jekyll Island was once a private retreat for some of the world's wealthiest families. In 1900, the Jekyll Island Club included members such as the Rockefellers and Morgans. The club closed in 1942 and Georgia acquired the island in 1947, so now everyone can enjoy its pristine beaches!
Boulder, Colorado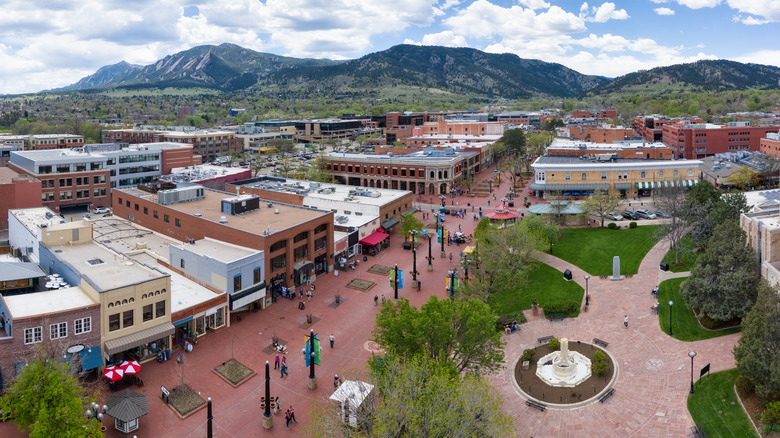 It can be easy to dismiss a place like Boulder as anything other than a wintertime destination. While it is an incredible home base for snow activities, it's equally lovely in the springtime as well. Since areas like Colorado and Utah are so heavily impacted by wintertime travel, warmer months can be slower. That slower season means savings (and fewer crowds) on your spring break vacation.
Boulder's Pearl Street, a shopping district paved in brick, comes to life during the springtime. Thousands of tulips bring this street to life each year with the blooms at their most colorful in mid to late April. Here is where you'll find tasty eateries, street performers, and some of the unique boutiques that Boulder has to offer. If the Pearl Street tulips inspire you, you can hit up one of the area's many hiking trails along the Flat Iron Mountains to spot some wildflowers dotting the springtime landscape.
Springtime also brings other kinds of visitors to the Boulder area, including lots of migrating birds. Birdwatching is a favorite activity in Boulder during the spring as birds make their way back after the cold winter months.
Pittsburgh, Pennsylvania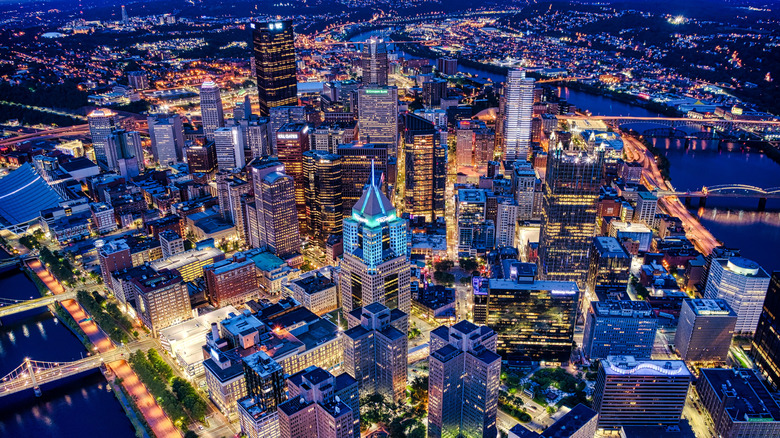 The Iron City will probably still be in its springtime warm-up during many spring break vacations, but that doesn't mean it's not a great spot on its own. Even if your spring break attire is more sweaters than swimsuits, there is so much to do in Pittsburgh, even in its tourism off-season. You could check out the Andy Warhol Museum, or go see the Pittsburgh Zoo or Phipps Conservatory. Or for something completely different you can check out Hofbräuhaus, which is fashioned after the one in Munich and the first of its kind in Pennsylvania.
Go bar hopping in the South Side, which is home to over 80 bars and pubs, go on a food tour of the Strip District, or just admire the sights of the city from Mt. Washington. If you want to have a spring break without any solid plans, Pittsburgh is the best place to do that. As one of the country's most walkable cities, it's easy to be spontaneous in Pittsburgh.