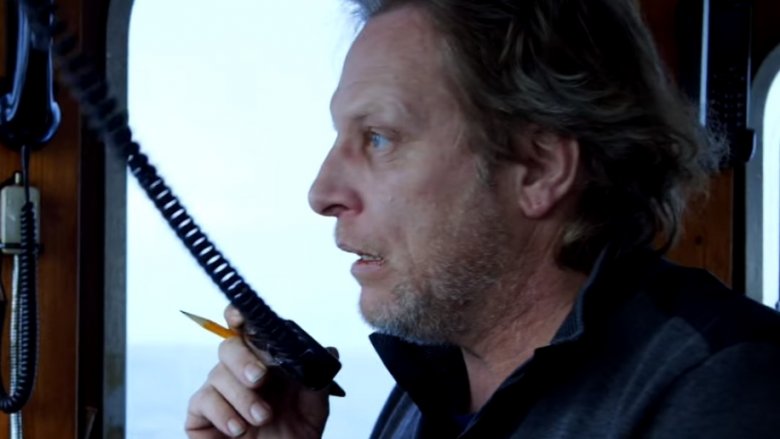 The Discovery Channel's bracing look at the lives and losses of Bering Sea crab men, Deadliest Catch, has been packing a punch since it debuted in 2005. Deadliest Catch distinguishes itself from other reality television in that creative editing is rarely necessary to craft a compelling story line. The set-up — cameras following fishing vessels as their crews try to extract Alaskan king crab, opilio crab, and bairdi crab from the rough waters that churn off the Aleutian Islands — is full of ready-made drama. Shipwrecks are common, as are deadly fires and gruesome accidents and drownings. Crabbing is not for the faint of heart or the fragile. The ocean, in other words, offers no safe spaces.
Unfortunately for the stars of Deadliest Catch, the drama has not been confined to the high seas. Tragedy has followed the show's captains and crew members on-shore, landing several of them in court and even in jail cells. And some who have escaped sinking or burning ships have done so only to die in hotel rooms or in their own front yards. Others, blessed with great hauls and good health, have had to spend their hard-earned money on funeral suits. It's like that old saying: "Red sky in the morning, sailor take warning." Fifteen seasons into the show, it seems that many involved with Deadliest Catch are cursed to see more than their fair share of red skies.
Deadliest Catch saw a father and sister leave too soon
Jake Anderson, the captain of the fishing boat Saga and a staple of Deadliest Catch since 2007, has suffered two devastating losses during his tenure on the show. In February 2009, his sister, Chelsea Dawn Anderson, died of pneumonia at the age of 37. A year later, his father, Dr. Keith Anderson, vanished.
A retired high school counselor, Dr. Anderson disappeared during a trip to Snohomish County, Washington. Authorities found his cell phone in the mud near the family home and his truck stuck on a logging road. A search was launched immediately, but Anderson's father was not found until two and a half years later when a hiker spotted his bones, just a mile from his truck.
Keith Anderson, who had not spent a night away from his wife in 43 years, was reportedly distraught on the day of his disappearance over the approaching one-year anniversary of Chelsea's death. Jake Anderson had earlier expressed concerned that his father might have been the victim of foul play — citing blood on Keith's car keys and the odd way his truck was stuck as possible clues — but the family also admitted that Keith was addicted to oxycodone, which he often got from a friend he had planned to visit the day he vanished.
Mourning, then melting down
Jake Harris (pictured left, with his brother, Josh) lost his father, Phil, the immensely popular captain of the Cornelia Marie, in January 2010. That loss came during the sixth season of the show, and Jake, who had often struggled with drugs and was even suspected of doing them on the clock, began to fall apart shortly thereafter. First, he was involved in a hit-and-run accident in Seattle. Then, when sharing a ride home from a Washington casino with three new "friends," he was robbed and beaten within an inch of his life. Later, he was charged with drug possession and grand theft auto in Phoenix while joy-riding with another man's wife, and still later, in February 2019, having been stopped by park rangers for a possible DUI, he led state troopers on a dangerous chase around rural Washington in an RV. When authorities were finally able to search his vehicle, they found heroin, a stolen shotgun, and a suspended license. Police booked him for DUI, possession of a controlled substance, maintaining a vehicle for the purposes of drug distribution, and possession of a stolen firearm.
Whether Jake's behavior can be blamed on grief over his father's death or whether he's simply his own worst enemy, it seems his run-ins with the law could constitute a sad reality television show all their own.