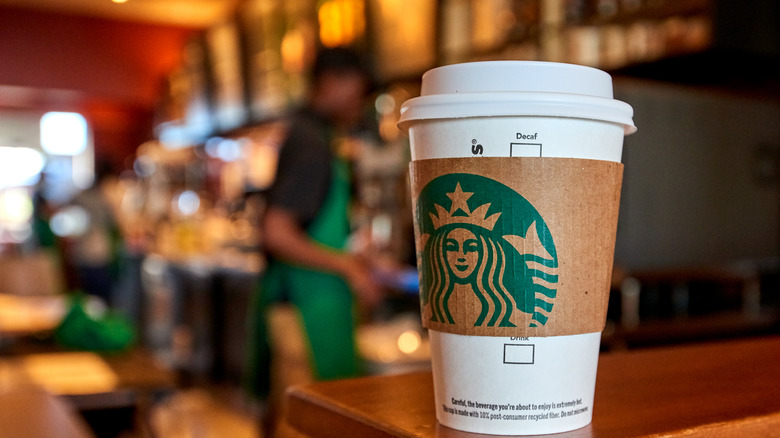 If you're like the majority of Americans, you need your daily coffee. Thankfully, the beloved bean elixir comes in different forms, and from a variety of brands, so there is something out there for everyone. In addition to coffee's energy-boosting caffeine, it is also known to provide several meaningful health benefits related to energy, mental health, and even a reduced risk of cancer. While coffee contributes to a stable routine, sometimes a caffeine fix needs to come in the form of something a fun hack from Starbucks – one that can shake up a morning routine in a creative way. Starbucks provides delicious and creative drinks and has developed a dedicated following thanks to its customizability. From the influencers who pose with the most popular menu items to the corporate ladder climbers who simply need it to start the morning, Starbucks is a valuable asset to people everywhere — including vegans.
In recent years, Starbucks has become known for the "secret" additions fans of the brand have added to the actual menu, which has provided a wide variety of fun and unique beverages that can cater to different dietary needs. Whether you need dairy-free, gluten-free, sugar-free, or vegan, Starbucks will be there for you with a seasonally shifting menu. With the assortment of individually created fan favorites from over the years, some of the best drinks at Starbucks are those that came from the "secret menu" after being invented by creative Starbucks consumers. Here are some of the best vegan drinks from Starbucks' secret menu that you need to try.
Lucky Leprechaun Frappuccino
Just in time for Saint Patrick's Day, is the Lucky Leprechaun Frappuccino. While it's not a low-calorie coffee option, it is definitely a fun and colorful choice for your own inner child. It has a fresh, chocolatey, and minty flavor, with a fun green color to match the holiday. The original secret menu drink is made with a green tea Frappuccino, peppermint syrup, java chips, and whipped cream. Since the java chips are not vegan, you need to make the following substitutions.
To order the vegan Lucky Leprechaun, ask for a vegan green tea Frappuccino (made with the vegan milk of your choice). Next, add peppermint syrup. Ask for one pump for a tall, two pumps for a grande, and for a venti, ask for three pumps. Finally, add a single pump of mocha syrup. Stick to a single pump to maintain the green color. The mocha syrup serves as a vegan alternative to the java chips but still provides the chocolatey goodness, in a vegan-friendly form. At the moment, Starbucks does not offer vegan whipped cream, so you would also order with no whipped cream.
Cadbury cream egg
Who doesn't love a Cadbury cream egg in the spring? To revamp the Easter-themed nostalgia from childhood, why not try to recreate the happy flavors with a caffeinated boost? The Cadbury cream egg Frappuccino is a sweet, gooey, caramel and chocolate treat — one that perfectly resembles its candy counterpart. The classic recipe involves a java chip Frappuccino, vanilla syrup, Frappuccino roast, caramel syrup, and vanilla bean powder, all topped with whipped cream. How indulgent!
To make this candy-themed beverage vegan, you need to substitute the java chip by ordering a vegan mocha Frappuccino with your favorite plant milk. Then, ask your darling barista to add one pump of vanilla syrup and limit the drink to one pump of Frappuccino roast. If you also weren't previously familiar with Frappuccino roast, it is a signature ingredient designed specifically for Frappuccinos. It starts out as a powder and is then mixed with water to give the Frappuccinos that you love their coffee flavor profile. Finish your vegan creation off with one pump of caramel syrup, and two scoops of vanilla bean powder. You'll have to skip the caramel drizzle, as the drizzle is not plant-based, and similarly remember to skip the whipped cream.
Banana split Frappuccino
Banana splits bring back the memory of spring and summer stops at the ice cream shops (charming rhymes included). The fabulous combination of textures, toppings, and colors make a classic banana boat a joyful treat indeed. Of course, there is a Starbucks secret menu recipe to mimic the charm — the banana split Frappuccino. The classic recipe starts out with a mocha swirl at the bottom of the cup. Next, ask your barista to add strawberry puree to the bottom, and swirl. A strong foundation is everything, after all.
To make this delight into a venti, order a venti vanilla bean Frappuccino, blended with a banana (crucial detail). The Frappuccino should be topped with mocha drizzle and strawberry inclusions, which are freeze-dried strawberries — delicious. The classic is topped with whipped cream, but to make this vegan, you will leave that out. Otherwise, you only need to ask for a vegan milk-based vanilla bean Frappuccino and leave everything else as it is, sans whipped cream. Then, enjoy your banana split in Frappuccino form, with all of its vegan-friendly vibes.
Harry Potter hot Butterbeer latte
Bringing in the magical cozy vibes, we have the Harry Potter-inspired hot Butterbeer latte. While this secret menu drink may cater to fall and winter, it is just as delicious at any time of year, and a perfect treat for people who prefer their coffee to be hot and cozy. Grab your wand and cast your memory charm because this is a recipe you won't want to forget.
The classic recipe starts with a whole milk steamer, followed by caramel syrup, toffee syrup, cinnamon dolce syrup, whipped cream, and salted caramel bits on top. To magically transform this into a vegan delicacy, order a vegan milk steamer (almond, oat, or whatever floats your boat), and add the syrups. To order a tall, ask for two pumps of each of the following syrups: Caramel, toffee nut, and cinnamon dolce. For a grande, you'll need three pumps, and for a venti, four. Once your vegan milk has its syrups, you will skip the whipped cream, and skip the caramel crunch on top. It is made with butter and milk, so a no-go for vegan customers. Feel free to add extra syrup on top to replace the whipped cream and crunch, if you feel like it's missing several more grams of sugar. Even better, ask for dense foam to mimic the sensation of cream on top.
Mermaid Frappuccino
If you like to channel your inner Ariel and go around looking at stuff, thinking it's neat, this Frappuccino is for you. The Mermaid Frappuccino is a colorful, wondrous creation of sugar-based creativity and will surely delight anyone who feels at home in a sparkly tail or the sea. The classic Mermaid recipe is based on a vanilla bean Frappuccino, freeze-dried whole blackberries, whipped cream, matcha powder, and green mixed drizzle. The classic drizzle contains white mocha sauce, toasted coconut syrup, and matcha. Some Starbucks locations may make it differently, but that's a typical go-to.
For the vegan version, order a vegan vanilla bean Frappuccino, and add in the freeze-dried blackberries. To adjust the drizzle to vegan standards, skip the white mocha sauce, as it contains dairy. As a substitute for the white mocha, you can add your choice of vegan syrup, with the option of brown sugar, caramel, cinnamon dolce, hazelnut, peppermint, raspberry, sugar cookie, toasted vanilla, toffee nut, vanilla, or sugar-free vanilla. Whew.
Most likely the vanilla, raspberry, or sugar cookie syrups would pair best with the flavor profile. Then add in toasted coconut syrup and matcha to give it a bright green color (and some healthy antioxidants). Finally, skip the whipped cream, per usual, and top with extra matcha powder for a dash of color. The Mermaid Frappuccino can also be made with strawberries instead of blackberries if your inner mermaid is picky.
Blue drink
Feeling blue? Channel your angst into a color-themed, vegan beverage. The Starbucks secret menu has recently dabbled in bringing a pop of color to its options via its Refreshers, and one such color emerges as the Blue Drink. This refreshing option has been completely vegan since its inception and includes a base of iced passion tango tea, coconut milk instead of water (or another vegan milk), and vanilla syrup. It is a light, bright, and fun spring or summer beverage, and challenges its color-based rivals, the purple drink and the pink drink. It has a fruity and floral flavor, with a sweetness that varies based on how much vanilla syrup you add. The general amount of syrup is four pumps for a grande, but to make it less sweet, you can ask for fewer.
As for its color, the Bue Drink gets its color from the base of passion tea, which contains hibiscus, apple, and lemongrass. If you want a more vivid blue color, you can ask your barista to add blueberries, or can add them at home if you choose to. Surely the vegan blue drink will cheer up even the bluest of moods.
Ferrero Rocher Frappuccino
Based on the scrumptious round candy, is the Ferrero Rocher Frappuccino. The gold-wrapped truffles are famous for their whole hazelnut, wrapped in crispy wafer and chocolate, and the Starbucks secret menu beverage does a great job of bringing those flavors together in liquid form. The classic recipe is a double chocolate chip Frappuccino, plus two to three pumps of mocha syrup, one to two pumps of hazelnut syrup, and hazelnut drizzle on top.
To make this sweet drink vegan, switch out the double chocolate chip Frappuccino for a mocha Frappuccino, as the chocolate chips are made with dairy. Then, add in the mocha syrup and hazelnut syrup, and skip the drizzle (as it is a different recipe from the syrup, and not vegan-friendly). If you want to make it extra fancy, you can add dark chocolate curls on top. For an extra boost of caffeine, and a richer flavor, you can also ask for a shot of espresso, which goes beautifully with the flavor profile.
Samoa cookie Frappuccino
Girl Scout cookie season is an exciting time for cookie lovers, and it often brings back the popular and classic Girl Scout cookie, Samoas. With a chocolate, coconut, and caramel blend, the Samoa cookie is a fan favorite, and a natural choice for the Starbucks secret menu item, the Samoa cookie Frappuccino. What could be better than pairing a favorite cookie, with coffee?
The classic recipe for the Samoa cookie Frappuccino is suggested as a grande, but feel free to go bigger if that makes you happy. The classic, non-vegan order includes a grande coconut milk caramel crunch Frappuccino with mocha drizzle at the bottom of the cup, plus one pump of toffee nut syrup, and mocha drizzle on top. To make this one vegan, there are a few necessary changes.
First off, the caramel crunch topping is unfortunately not vegan. So, ask for a grande caramel Frappuccino with coconut milk, and ask for mocha sauce at the bottom of the cup. Unlike the white mocha, the mocha sauce is vegan-friendly. Then, add one to two pumps of toffee nut syrup and more mocha syrup on top. As always, skip the whip, and enjoy.
Apple martini Refresher
Apple martini lovers, this is for you. Not only does this drink bring the best flavors of the apple martini to a non-alcoholic drink, but it also comes caffeinated! Now you can have your apple martini flavor at any time of morning or afternoon, with no judgment or repercussions. Behold, the apple martini Refresher. With its bright green color, fresh, fruity flavors, and sweet-to-tart ratio, this Starbucks secret menu recipe is an absolute winner.
To start this recipe off, order a Venti Kiwi Starfruit Lemonade — sounds delicious already, doesn't it? Next, ask for three pumps of apple syrup, and ask for light lemonade. Short and oh-so-sweet, that's all you have to do! You can easily adjust the amount of ice to your liking and play around with the ratio of apple syrup if this version is too sweet. Make it your own and find the perfect balance. To boost the tart flavor, ask for more lemonade.
This drink is vegan as it is, so no substitutions are needed. If you want to truly set yourself up for success, you'll order two because these go down easy.
Cotton candy Frappuccino
It's time to feature a carnival classic that has graced fairs and festivals with hyperactive children and sticky fingers for years and years — cotton candy. With its pink, blue, or purple hues, and delicately woven sugar strands, cotton candy is a favorite of children and adults, and it has finally been adapted to Frappuccino form. Now, parents and children alike can enjoy the beloved festival-themed sugar boost with a convenient and quick stop at Starbucks. Luckily, this drink is caffeine-free, so it won't send your children completely through the ceiling.
The cotton candy Frappuccino's original recipe is easily adapted to a vegan-friendly form. To make this vegan creation come to life, order an almond milk (or other plant-based milk) vanilla bean Frappuccino, add one pump of raspberry syrup (yum), and nix the cream. Don't be fooled by this drink's plain, white color. While simple and sweet, this recipe tastes remarkably like cotton candy, and will wow cotton candy fans of all ages. Feel free to adapt the recipe to your liking by adding more raspberry syrup, or even go wild and mix in some strawberry syrup, too. Then, enjoy the cotton candy fun without having to deal with sticky hands and creepy carnies.
Gummy bear drink
Fruity, sweet, and bright flavors make the gummy bear drink another popular favorite of Starbucks' secret menu connoisseurs. This recipe is another naturally vegan option and is an excellent way to cool down and treat yourself in the spring or summertime. Its base is classic lemonade, which is usually made with water, lemon juice, and sugar. To elevate the lemonade to gummy bear status, add three pumps of raspberry syrup. The raspberry adds richness and depth of flavor that compliments the contrasting bright lemon. Many gummy bear drink fans order this with added strawberry puree, to achieve the ruby red color that dazzles on Instagram.
This is another beverage that you can underestimate from looking at it, as without the berry inclusion, the result will be a pale yellow, and nothing spectacular. However, the flavor is very close to that of gummy bears, and will likely become a favorite order on your Starbucks app. To dress it up and make it your own, feel free to add freeze-dried strawberries as a garnish. You really can't go wrong with this one.
Cocoa Puffs Frappuccino
Are you now, or were you once, "cuckoo for cocoa puffs?" If so, then the Cocoa Puffs Frappuccino will take you down memory lane and back to your chocolate-fueled, manic joy. This Frappuccino is a rich, sweet, and indulgent drink if there ever was one. With a combination of mocha and chestnut praline flavors, it provides a lovely nutty chocolate flavor, much like the cereal of your childhood. The classic recipe starts with a mocha Frappuccino, plus chestnut praline syrup, and whipped cream.
To adapt this to a vegan-friendly drink, order a mocha Frappuccino with your choice of plant-based milk, and ask for two pumps of chestnut praline syrup. The chestnut praline syrup is a winter-specific item, so you may have to time this order accordingly. Otherwise, you can also ask for toffee nut syrup, which is available all year. Supposedly, the toffee nut will work well as an alternative to the chestnut, to provide the same nutty balance of flavor. If you feel adventurous, you can also order this hot as a mocha latte.
Captain crunch berry Frappuccino
Continuing the journey on the childhood cereal train takes us to the next stop, which is the Captain Crunch Berry Frappuccino. If you love the taste of Captain Crunch Berry cereal but grew tired of damage to the roof of your mouth, then this is a great alternative. The Frappuccino version of the berry and nutty-flavored cereal offers a great balance of similar flavors. The classic recipe starts with a strawberry and cream Frappuccino, followed by toffee and hazelnut syrups, and whipped cream.
Interestingly, while the strawberry cream Frappuccino is vegan today, that was not always the case. In 2012, the red coloring that Starbucks used came from an ingredient called cochineal extract, which was sourced from crushed red beetles. While the ingredient was FDA-approved and harmless, it was not happy news for vegans. Since then, Starbucks has switched to a lycopene-based product, which is happily, vegan-friendly. So, to make this drink vegan, order plant-based milk with your strawberry cream Frappuccino, add the toffee and hazelnut syrup, skip the whip, and enjoy the frosty trip down memory lane.
Three Cs latte
The three Cs latte is a lesser-known Starbucks secret menu option, which is surprising considering its obviously brilliant combination of flavors. Chocolate, cinnamon, and caramel — why wasn't this always an established thing? To enjoy this latte hot, you can order the three Cs latte to your preference with ease, which includes making it safe for vegans. Start out by ordering a cinnamon dolce latte, plus two pumps of chocolate syrup, and one pump of caramel syrup, sans whip. Then, enjoy the trifecta goodness of the three Cs, and sip away.
This would undoubtedly be delicious hot, iced, or frozen and blended, so customize it to your heart's content. Also, this one isn't as arduous for your barista to make as some of the secret menu items, so you won't frustrate your barista with a time-consuming order. Remember to ask for no whipped cream and try out different plant-based kinds of milk to see which one works the best with the flavor profile.
Pineapple Dole whip latte
Calling all Disney fans! This secret menu item is a gift to everyone who misses the pineapple dole whip from Disneyworld and Disneyland — and can't afford a ticket to suit their every craving. The base of the pineapple Dole whip latte is the new Paradise Drink Refresher. The classic recipe tops it with sweet cream cold foam, but since that's not vegan, here is the alternative.
To craft the pineapple Dole whip latte, order the Paradise Drink Refresher, and ask your barista to add vanilla syrup for an extra decadent addition that is also safe and vegan-approved. This version will carry the pineapple Dole whip flavor in liquid form, on the rocks. If you want more of a frosty, frozen-blended consistency, ask for a Paradise Drink Refresher with one scoop of vanilla bean powder blended with ice. Starbucks' vanilla powder is made with natural forms of vanilla and is vegan-friendly. The powder adds a nice texture which brings this drink closer to the Disney parks classic and also gives that extra flavor profile of vanilla and pineapple, which comes very close to the real deal. Just make sure to add the creme base Frappuccino syrup for a smooth texture.
Chocolate-covered strawberry pink drink
With a mouthful of a name comes a delicious mouthful of chocolate and strawberry flavors. If you're familiar with the Starbucks pink drink, this chocolate-strawberry pink drink is an elevated version that includes mocha, and what's not to love? The basic pink drink consists of a strawberry acai Refresher with coconut milk and freeze-dried strawberries mixed in. To make the pink drink into a chocolate-covered strawberry pink drink, the classic recipe calls for the addition of vanilla sweet cream cold foam and two pumps of mocha sauce.
However, to make it vegan, several changes must be made. The first step is to order the pink drink Refresher as a base for your drink. With coconut milk and strawberries, it's the first step. Next, instead of vanilla sweet cream cold foam, opt for a vanilla bean Frappuccino with plant-based milk. Add one scoop of matcha, and add two pumps of mocha sauce. So, to order this elaborate treat, ask for a pink drink blended with a vanilla Frappuccino. Don't forget to ask for an additional scoop of matcha and two pumps of mocha to really give this a decadent twist.