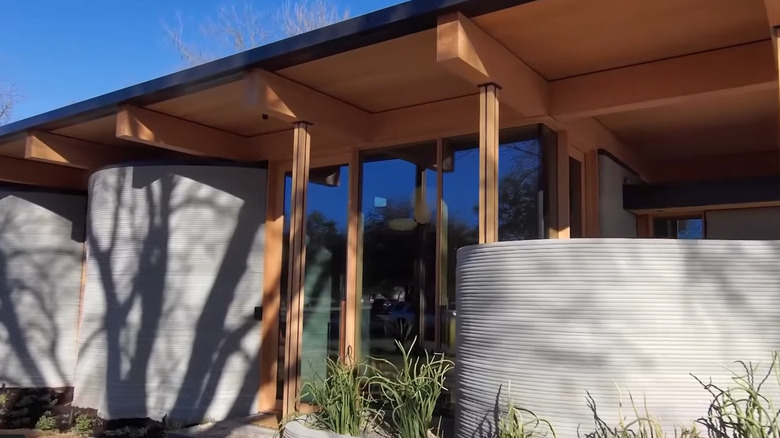 Ready to step inside the new world of 3D-printed homes? Home designers and builders are having a ball exploring what can be done with large-scale 3D printing. Most significantly, not having to adhere to framing walls with corners makes organic curves and rounded shapes a natural progression for home design. In fact, some 3D-printed housing options don't have any straight walls at all. The architect behind Europe's first 3D-printed house described it as a "primordial cave."
Others are excited about the possibilities for creating unique single-family dwelling designs — and all done for a fraction of the cost of traditional construction. With technology companies, architects, and builders exploring this new innovation together, 3D printing is expected to be a $55.8 billion industry by 2027, reports the New York Times. As 3D-printed homes become more common, the associated costs are likely to go down, and you may see these creative designs in a neighborhood near you.
Homes shaped like boulders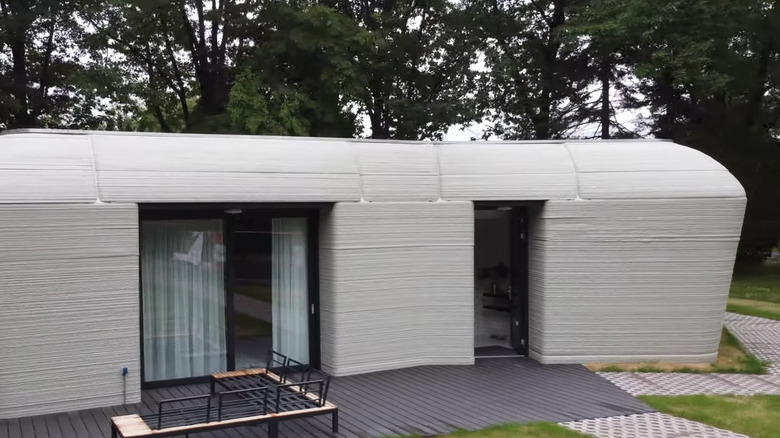 In 2021, a home shaped like a large, curved rock earned the distinction of being the first home with 3D-printed load-bearing walls to be fully permitted, fully finished, and home to paying renters. It's about 1,000 square feet, one level, with two bedrooms and two bathrooms, and is located in the Netherlands. Per The Guardian, the home was constructed in 24 parts that were printed off-site in about 120 hours.
The designers chose a free-form boulder design to showcase the boundless possibilities with 3D printing, and planned four additional buildings, to make a series of five total (some two stories), to be built on the tree-covered site. According to the project's website, the aim is for the collection of residences to appear like a natural rock outcropping, as if they "have always been" there, like "erratic blocks in a green landscape," and are intended to last for several decades. Rounded walls make the first boulder home feel spacious, says Jarett Gross, who toured it in 2021. Like this project, other 3D-printed designs are likely to draw inspiration from the natural world's imperfect shapes.
Southwest-inspired flat roof designs with curved walls
A new take on southwestern homes looks futuristic and nostalgic at the same time. Perhaps the coolest part is that there is an entire neighborhood of them. A project that broke ground in 2019 and was completed in 2022 provided single-family homes for 65 families in need of stable housing. The two-bedroom, one-bathroom residences, located in southeastern Mexico, are 500 square feet each, reported CNN. At the time, it was the first 3D-printed housing development in the world.
According to The New York Times, these concrete homes are strong enough to have survived a major earthquake within their first year of being built. It took 24 hours to 3D-print two homes at a time, giving the building industry a glimpse at how quickly entire housing communities can be built from the ground up. If your city gets a 3D-printed housing development soon, it may or may not look like these southwest-style homes, but it will likely have been inspired by them. This philanthropic project proved what can be done with a 33-foot-long, 11-foot-tall printer, a minimal amount of laborers, and an easily replicated floorplan. It set the stage for larger communities like a more traditional-looking 100-home development currently underway in Texas.
Designs based on nature's revered geometric spiral
A 3D-printed two-level tiny home near Nelson, British Columbia, completed in 2021, was designed based on the Fibonacci curve, aka the Golden Spiral, with a mosaic-tiled shower at its center. Per their website, the builders chose the design as a nod to nature, as this is the spiral pattern observed in the nautilus shell, pinecones, galaxies, and more (see the home's door handles). These curvatures are difficult to achieve with traditional building methods, so as 3D printing becomes more common, this design may be replicated more and more.
According to Belinda Carr, who visited the home in 2021, its foundation and 20 wall pieces were printed in sections at a nearby manufacturing facility and placed with a crane over the course of five weeks. Concrete wall sections were reinforced with rebar, filled with polyurethane foam insulation, and painted with waterproof elastomeric paint. The cost of the house was $100,000. Only six percent of that was 3D printing costs; there are also locally-sourced cedar and fir wood window frames, roof, siding, interior loft, and a covered porch that brought up the total. This home is available to rent on Airbnb, and in fact, it was the rental site's first 3D-printed listing.
Sustainable earth huts and domes
Most 3D-printed homes are made with concrete, however, some designers have experimented with locally-sourced earth. Prepare to see a 3D-printed earth hut with walls made from local clay, sand, silt, and straw in your city someday. Starting back in 2012, an Italian design firm set out to solve how to cheaply build a 3D-printed home using raw earth, fiber, and other natural materials. According to Kristen Dirksen, who toured the homes, the designers were inspired by wasps that use materials from their surroundings to build their nests.
The team completed a tiny 320-square-foot home in 10 days in 2018, which they called "Gaia," forming it in a round shape to get the most space possible with a single printer. They then moved on to the sci-fi-looking "Tecla," a pair of adjoined domes that also use natural clay. Tecla was completed in 2021 in about eight days of print-time, and was the first 3D-printed house entirely made of local terrain. Tecla is also unique because it is a zero-waste home, and unlike Gaia and many other 3D-printed homes, doesn't rely on a timber roof system. The designers told Dirksen that raw earth was more challenging to 3D-print into a dome shape than concrete likely would be.
In 2020, an experimental project in Colorado inspired by pottery and studies on local clay resulted in a wild 3D-printed trio of adjoined domes in adobe. Housing a bedroom, bath, and gathering space, each rugged yet elegant dome has an oculus open to the sky above. As of March 2023, a domed housing and hospitality development is in the works for Marfa, Texas by some of the most innovative names in 3D-printing, architecture, and hospitality. Renderings show "organic curves and domes, a primordial architectural language that can only be achieved by 3D-printing."
Concrete combined with wood for an upscale look
Cutting-edge spaces coming to a residential street near you may be the stunning result of mixing concrete, wood, and glass in 3D-printed homes. This can create both an organic and modern look and feel. A prototype 3D-printed home located in Austin, Texas features undulating tree-inspired shapes along the facade to greet visitors and let them know they're not entering a regular, straight-line kind of house, but rather a well-appointed, innovative, and high-end dwelling. Douglas fir throughout keeps the home from feeling dark, heavy, or cold, which is a concern when using concrete as the main building material.
This three-bedroom concrete home was the world's first home designed to show off the capabilities of 3D-printing technology, per Matt Risinger, who toured the home in 2022. In addition to the custom millwork, the use of wall finishes, architecturally-considered spaces, floor-to-ceiling windows, and mid-century modern furniture all contribute to the home's light, warm, soft, and spacious feeling. The site also boasts a 400-square-foot accessory dwelling unit (ADU) with a kitchenette and cylindrical shower. Both structures were printed on-location in eight days. If your city has an upscale neighborhood, this may be the kind of high-end custom 3D-printed home showing up there soon.
On a smaller scale in which wood and concrete complement one another well, a Serbian company designed a modern-looking 260-square-foot demo home in 2021. Its makers placed an emphasis on sustainability and affordable housing.
Rotor-shaped homes
Keep an eye out for rotor-shaped 3D-printed homes. This design is livable yet unique, and an eye-catching conversation piece. When a 400 square-foot, one-level, single-family home was 3D-printed in Russia in 2017, it was hailed as the world's first 3D-printed residential house and received rave reviews from building industry pros. They not only loved that it was built entirely on-site in 24 hours for $10,000, per All3DP, but they also loved that the rotor shape showcased the possibilities for 3D-printing curved walls (in other words, printing beyond the traditional square).
It also showed how adaptable 3D printers can be, as printing took place in below-freezing temperatures. Since circles are the most efficient way to gain square footage out of a perimeter, the rotor shape layout maximized the space available within the operational reach for the hard-working 3D printer, which itself was transportable. The home's flat roof is designed for heavy snow, per the builder, and inside is a living room, bathroom, and kitchen. The exterior received a coat of plaster and bright yellow paint, which helped it pop against the snow-white landscape.
3D-printed houseboat homes on water
Cities and towns with scenic rivers and waterways may see more homes in the future that float. In 2020, an example of a 460-square-foot, three-room 3D-printed houseboat, or mobile home on water, was made in the Czech Republic. It was built in three sections off-site, then placed atop a barge and moored at an island in Prague's central river for visitors to tour. The 3D-printed walls were made in 22 hours, with the entire construction process taking two months, including a timber roof that also functions as a green roof.
According to the builder, this eco-friendly home is expected to last 100 years. Its oval shape is inspired by protozoa, the single-cell microorganisms, per Stir World. The organic, curved shapes that are made possible by 3D printing are a theme throughout the home's design. This was the world's first floating concrete 3D-printed home, according to Interesting Engineering, and will probably not be the last.
Spaceship and futuristic looking homes
The design of the world's first 3D-printed office building could easily translate to home design. The reveal of this spaceship-like building in 2016 in Dubai was notable because the United Arab Emirates simultaneously declared that 25 percent of their buildings will incorporate 3D printing by 2030. According to Jarett Gross, the project is also unique because printing actually took place in a different country.
Like many 3D-printed buildings, it was printed off-site in sections and then assembled on-site – but in this case, the off-site printing and testing were done thousands of miles away in China by a Chinese technology company. The office building was printed using a 20-foot-tall printer in 17 days, per All3DP. It is made with concrete that was reinforced with rebar and finished with smooth, white plaster that enhances its futuristic look. Building costs were over $140,000 for this 2,000 square feet office complex.
Geometric wall designs that are unique to each home
Homes with protruding or hollowed-out surfaces, as well as unique wall patterns, can easily be designed with computer software and implemented with 3D printing. This is a game-changer for home design and opens up endless opportunities for creativity and wild designs. For instance, take the black, three-dimensional honeycomb-patterned "Urban Cabin" in Amsterdam. It "showcases different types of façade ornament, form-optimization techniques, and smart solutions," per the architect. The exterior pattern even gives the building more structural support, reported Dezeen. The Urban Cabin was printed in 2015 with biodegradable plastic and is less than 100 square feet. It also has an exterior bathtub.
Patterned walls allow for a lot of creativity. Imagine a series of homes printed in the same layout, but each with its own custom wall patterns, suggests Jarett Gross, who explored such a prototype project in Shenzhen, China in 2022. The building highlighted 3D printing's ability to master concave and convex surfaces, as well as geometric wall patterns, with ease.