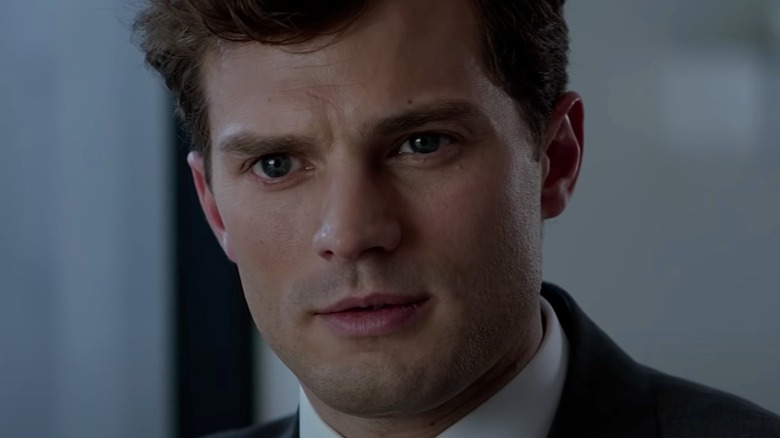 "I exercise control in all things, Miss Steele," are the immortal words of Christian Grey (Jamie Dornan), in the 2015 smash hit "Fifty Shades of Grey." The film, based on the erotic novel by E.L. James, is the story of college graduate Anastasia Steele (Dakota Johnson) and her pursuit of a sadomasochistic relationship with dominating billionaire Grey.
Despite the film, directed by Sam Taylor-Johnson, receiving loads of negative reviews, it was a massive success, earning a massive $569 million worldwide. The film also spawned two sequels, including 2017's "Fifty Shades Darker" and 2018's "Fifty Shades Freed." Despite Dakota Johnson being rather ashamed of her role in the film, there's no denying that the project helped launch a very successful acting career for the actress.
It's been quite a while since the "Fifty Shades of Grey" trilogy concluded, leaving fans hungry for more sexy, erotic films. If you're one of those fans, here are 20 steamy movies like "Fifty Shades of Grey" that you're going to love.
Belle de Jour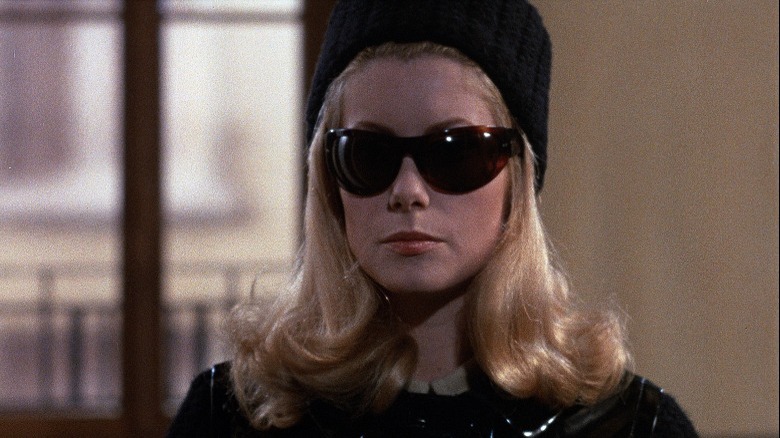 Starring the legendary French actress Catherine Deneuve, who became a major star three years prior with "The Umbrellas of Cherbourg," Luis Buñuel's "Belle du Jour" is a scintillating masterpiece that explores female sexuality. The 1967 film features Deneuve as Séverine, a disenchanted 23-year-old wife of a surgeon who has become unbearably bored with her day-to-day life. In order to explore her innate desires, she begins working at a brothel a couple of afternoons a week. It's not long before Séverine becomes the "Belle de Jour," or "beauty of the day."
Though the film features one of Deneuve's best performances, the actress had a frustrating time filming, saying, "There were moments when I felt totally used. I was very unhappy." Still, Deneuve recognized the excellence of "Belle de Jour," calling it a "wonderful film." According to the late Roger Ebert, "It is possibly the best-known erotic film of modern times, perhaps the best. That's because it understands eroticism from the inside-out — understands how it exists not in sweat and skin, but in the imagination."
Secretary
Lee Holloway (Maggie Gyllenhaal) certainly didn't have it easy growing up: her deeply dysfunctional family gave her great difficulty in her life and played a big role in her recent stint in a mental hospital, which stemmed from a life-threatening incident. Holloway finds some stability in her new role as a secretary, working for an erratic attorney, E. Edward Grey (James Spader). What seems like a normal job quickly turns in an unexpected direction, as Holloway and Grey become entwined in a kinky dominant-submissive power dynamic that pushes Holloway to her limits and ultimately allows her to become a woman reborn. Gyllenhaal is no stranger to challenging roles, having starred in John Waters' crazy "Cecil B. Demented" two years prior. "Secretary" is where the actress really made a name for herself as a bold and exciting performer, which has helped establish her as a formidable talent over the last couple of decades.
With a character name like E. Edward Grey, it is pretty clear to see that "Fifty Shades" gets its inspiration from Steven Shainberg's film, as both are linked by the idea of a woman discovering her sexuality by exploring the world of BDSM. Shainberg's film doesn't hesitate to tackle difficult conversations like sexual taboos and mental health and is a compelling portrait of a woman coming into her own as a sexual being.
If you or anyone you know is having suicidal thoughts, please call the National Suicide Prevention Lifeline​ at​ 1-800-273-TALK (8255)​.
In the Realm of the Senses
A film that makes "Fifty Shades of Grey" look like "Winnie the Pooh," Nagisa Ōshima's 1976 "In the Realm of the Senses" is all about breaking sexual taboos and crossing boundaries. Sada Abe (Eiko Matsuda) is a hotel maid in 1930s Tokyo, who previously worked as a fairly successful prostitute. Kicizo Ishida (Tatsuya Fuji), the owner of the hotel, assaults her, which marks the beginning of an affair that can only be described as hardcore. The pair take every opportunity to take their sexual experiments to the next level, indulging every sexual whim, seemingly without hesitation. The film also features one of the most shocking endings in film history, which you have to see to believe.
The film is so shocking that in its native Japan, it has never been screened uncensored. Bizarre, slow-burning, and indelible, you'll never forget watching Ōshima's "In the Realm of the Senses."
The Cook, The Thief, His Wife, and Her Lover
Peter Greenaway's film, "The Cook, The Thief, His Wife, and Her Lover" features Helen Mirren as Georgina, who finds herself deeply emotionally repressed from her marriage to criminal Albert (Michael Gambon). Georgina finds herself drawn to Michael (Alan Howard), a rather sheepish bookshop owner who frequents the same restaurant Georgina and Albert find themselves at every night. It's not long before Georgina and Michael are sleeping together at every opportunity. When Albert discovers his wife's affair, all hell breaks loose, and the film features some truly shocking, depraved horrors, including torture, murder, and a hearty dose of cannibalism.
Greenaway's film is visually sumptuous, thanks to exquisite cinematography courtesy of Sacha Vierny, the accomplished French cinematographer responsible for breathtaking films like "Hiroshima mon amour" and "Last Year at Marienbad." The beautiful visuals allow the film's disturbing, boundary-pushing eroticism to come to life, and some of the film's most haunting images will linger long after the film is over.
Basic Instinct
In Paul Verhoeven's "Basic Instinct," detective Nick Curran (Michael Douglas) investigates the murder of a rock musician, with his prime suspect being Catherine Trammell (Sharon Stone), the victim's girlfriend and the author of a crime novel featuring a similar killing. Despite a lack of evidence, Curran is convinced Trammell is responsible for the murder — even as he begins an affair with her.
Verhoeven's film is full of iconic moments, though none compare to Sharon Stone uncrossing her legs – sans underwear — while being interrogated by a group of male police officers. In fact, it may be one of the best moments in 1990s cinema. As Clare Mulkerin for Looper explains, "As the police grow increasingly frustrated, Catherine uncrosses her legs, then re-crosses them the opposite way … This is a display of dominance over the incompetent men who've failed to intimidate her to even the slightest degree."
Verhoeven is no stranger to making bold films that draw controversy -– this is, after all, the man who directed "Robocop," "Showgirls," "Elle," and "Benedetta." This shocking moment is emblematic of the director's fearless career, and the rest of "Basic Instinct" positively simmers with sex, power, and desire.
Lust, Caution
Focus Features
You can never predict what kind of film Ang Lee will make next. After his foray into superheroes with "Hulk," Lee directed the sensitive and stunning "Brokeback Mountain," then pivoted again to an erotic espionage period film, "Lust, Caution." The expansive film takes place both in 1938 Hong Kong, and then 1942 Shanghai, which is under occupation from the Imperial Japanese Army. The film focuses on a group of University students who plot an assassination of a special agent to try and overthrow the occupation. The group decides to use one of their own, Wong Chia Chi (Tang Wei), a beautiful woman who acts as a honeypot to seduce and destroy Mr. Yee (Tony Leung Chiu-Wai).
Lee's film is full of lush period detail, enticing performances, and explicit sex. The film is massive, running at nearly three hours, but Lee flexes his muscles like a great filmmaker, and "Lust, Caution" doesn't feel nearly as long as it is.
Friends with Benefits
Screen Gems
Definitely the lightest film on this list, Will Gluck's "Friends With Benefits" is sort of the antithesis of a rom-com. It begins with Jamie (Mila Kunis) and Dylan (Justin Timberlake) getting dumped by their respective partners. This happens just before Dylan travels from Los Angeles to New York to meet Jamie, who is recruiting Dylan for a major role at GQ magazine. After Dylan ends up taking the job, the pair strike up an affair, but they set a major rule: they'll keep their involvement strictly physical, without the emotional pitfalls of a romantic relationship.
This results in sex -– and an awful lot of it. But Kunis and Timberlake's chemistry is palpable, and it's a lot of fun to watch the two first get busy and then arrive at the inevitable, as the film quickly moves from being an anti-rom-com to a full-blown, all-in romantic comedy.
Eyes Wide Shut
Dr. Bill Hartford (Tom Cruise) and his wife Alice (Nicole Kidman) appear to have it all. They have a lovely daughter, plenty of money, and a beautiful home. So when Alice admits that she's been having sexual fantasies about a man she encountered, it greatly unnerves Bill, who quickly becomes completely obsessed with having a lurid erotic encounter of his own. He uncovers a mysterious sex cult that wears masks and holds hedonistic gatherings in enormous mansions, but when he attends one of the meetings, he realizes he's gotten himself into a lot more than he bargained for.
Legendary director Stanley Kubrick's final film, 1999's "Eyes Wide Shut" is an unsettling masterpiece that's all about discovering and following your deepest sexual desires. Both Kidman and Cruise are tremendous, but Cruise is especially fascinating playing against type, as a man completely unable to process erotic impulses, which challenges the actor's image as a sexual icon.
Stranger by the Lake
At a French nude beach popular with gay men, Franck (Pierre Deladonchamps) — who engages in frequent, meaningless sexual trysts there — finds himself infatuated with an attractive newcomer named Michel (Christophe Paou). One fateful night, Franck watches Michel drown a man in the lake. Despite his horror, he cannot resist his desire for Michel and continues to pursue him, even after it becomes all too clear that Michel is dangerous to anyone who comes within his reach.
Alain Guiraudle's "Stranger by the Lake" offers a compelling mystery and an erotic romance, complete with unsimulated sex performed by body doubles for the actors. The film was a huge hit with critics, with Tirdad Derakhshani of the Philadelphia Inquirer calling it "a stunning minimalist erotic thriller that explores with arresting photography and economical use of dialogue how human identity is defined and sometimes imprisoned, by our desires, drives, and passions."
Sex, Lies, and Videotape
Steven Soderbergh's prolific career began in 1989 with his feature film directorial debut, "Sex, Lies, and Videotape." The movie instantly made the 26-year-old Soderbergh a filmmaker to watch, winning the prestigious Palme d'Or at the Cannes Film Festival. It stars Andie MacDowell as Ann Mullany, who is in a miserable marriage to her husband, successful lawyer John (Peter Gallagher). When John's old college friend, Graham Dalton (James Spader), reappears in their lives, Ann finds herself oddly drawn towards Graham and his strange "hobby" of recording women on videotape as they discuss their sex lives.
What sets "Sex, Lies, and Videotape" apart is, despite the film's title, the movie is actually pretty low on actual sex. Much of the eroticism of the film comes directly from dialogue, as characters are pushed to the limits and reveal their deepest desires. Soderbergh's film is a relentlessly probing, sexually charged drama that forces us to wonder how well we know ourselves and the ones we love.
The Handmaiden
Park Chan-wook's twisty and deliriously steamy erotic thriller "The Handmaiden" is an absolute blast. The complex film is about Sook-hee (Kim Tae-ri), a pickpocket hired as a handmaiden to an exceptionally wealthy collector's young niece, Lady Hideko (Kim Min-hee), who has recently inherited an enormous fortune. Count Fujiwara (Ha Jung-woo) plans to seduce Hideko into marriage, so he can steal her immense wealth; he's not actually a count, but a conman who has manipulated Sook-hee into his plan. But there's a complication –- Sook-hee and Lady Hideko develop feelings for each other, which provides a serious threat to Fujiwara's plot.
"The Handmaiden" is fantastic entertainment that is far more provocative than "Fifty Shades" could ever hope to be. The film received great critical acclaim, with a 95% approval rating on Rotten Tomatoes. Beautifully shot, tremendously acted, and incredibly sexy, it's an absolute must-watch for fans of "Fifty Shades of Grey."
Love
Wild Bunch
Cinema's enfant terrible Gaspar Noé starts "Love" off with a bang — literally, as the film opens with an explicit, extended and unsimulated sex scene. The film, which is overflowing with hardcore sex, was even filmed and presented in 3D to make Noe's film as in your face as it gets. The film follows Murphy (Karl Glusman), an American who's recently arrived in Paris to study filmmaking. Sexually adventurous and handsome, Murphy falls in love with his girlfriend Electra (Aomi Muyock). Their pair share serious sexual chemistry, but things aren't quite as harmonious in other facets of their lives. As their courtship begins to fray at the edges, the two engage in progressively more transgressive sexual attempts to try and repair a seemingly unrepairable romance.
Noé's film is bold, brash, and adventurous — which should come as no surprise as those familiar with his filmography, which includes "Irreversible" and "Enter the Void." Murphy even says at one point in the film, "I want to make movies out of blood, sperm, and tears," which Noé has apparently taken very literally.
Nymphomaniac Parts I and II
Zentropa Entertainments
The marketing for "Nymphomaniac" made it clear that audiences were in for something truly wild — as a wide range of posters were made that feature various characters in the film reaching orgasm. What else can we come to expect from director Lars Von Trier, the wildly outspoken director whose previous film "Antichrist" opens with an explicit sex scene that results in the death of a baby.
This two-part, four-hour epic traces the life of Joe (Charlotte Gainsbourg, with Stacy Martin as young Joe), a self-diagnosed nymphomaniac (sex addict), who recounts her countless erotic experiences to Seligman (Stellan Skarsgard), who helps her recover from a physical assault. While critics were mixed on the film, many appreciated the madness of it all. Critic Adam Nayman noted in The Ringer that the film has "an amazingly eclectic cast of weirdos" whose "stamina goes a long way toward keeping things sweaty, grotesque, and funny."
The Dreamers
Two-time Oscar winner Bernardo Bertolucci's 2003 film "The Dreamers" follows Matthew (Michael Pitt), an American student and film fanatic who arrives in Paris to study French. He meets the mysterious twins Théo (Louis Garrel) and Isabelle (Eva Green) at a protest, with the trio connecting over their love of all things cinematic. It's not long before Matthew ends up living with Isabelle and Théo in the siblings' Left Bank haven, where they find themselves in a heated and passionate relationship of sorts. Clothes are rarely worn in their paradise, with "The Dreamers" tackling taboo subjects like incest head-on.
"The Dreamers" is in many ways a love letter to cinema, as the group debate various questions regarding the history of film, and re-enact scenes from classic movies like "Queen Christina." Critics loved Bertolucci's film: Xan Brooks of The Guardian named it "the best film he's made in decades," while Philip French of The Observer called it "an amusing, sophisticated movie, true to its times, cheerfully erotic, and played with unselfconscious conviction by its three young actors."
Exotica
Alliance Films
Atom Egoyan's erotic labyrinth of a film, "Exotica," is a steamy, masterful movie and a classic of Canadian cinema. The film's main setting is an upscale strip club, the titular Exotica, where Christina (Mia Kirshner) is the club's most in-demand dancer. She's visited every night by Francis (Bruce Greenwood), an infatuated tax auditor who feels as if Chrstina is his only escape from his depressing existence. As we watch their relationship unfold, we also meet Eric (Elias Koteas), the club MC, who has never gotten over his relationship with Christina, and Exotica owner Zoe (Arsinée Khanjian), who is in love with Eric. "Exotica" takes the idea of a love triangle and turns it into something representing more of a love hexagon, an exciting twist in Egoyan's tale of repression and obsession.
A startling character study and a complicated thriller, "Exotica" oozes with sex and obsession. The film holds a very impressive 97% approval rating on Rotten Tomatoes and had critics and audiences alike under its spell. Roger Ebert called it a "deep, painful film about those closed worlds of stage-managed lust," adding that it was also "a tender film about a lonely and desperate man and a woman who is kind to him."
The Piano Teacher
Isabelle Huppert is a legendary French actress, and her work has rarely been better than in Michael Haneke's explosive "The Piano Teacher." The unsettling psychosexual thriller features Huppert as Erika, an immensely talented yet deeply repressed piano teacher in a Viennese conservatory. Erika's repression likely stems from her complicated relationship with her family, but like all great Michael Haneke films, we are left guessing as to what has really caused such problems within this woman. Erika's repression manifests itself in shocking displays of sexuality and self-harm with her student Walter (Benoit Magimel), explosive moments that punctuate the deep quiet of Haneke's film.
Haneke's film is grim, often miserable, and yet simmering with a disturbing sexual energy, which was enough for it to win the Grand Prix, Best Actress and Best Actor awards at the 2001 Cannes film festival. For those who wanted "Fifty Shades of Grey" to be a lot darker, "The Piano Teacher" is your perfect next watch.
Boogie Nights
Director Paul Thomas Anderson's ("Phantom Thread," "There Will Be Blood") sprawling second film, "Boogie Nights," takes place during pornography's golden age. The film looks at Eddie Adams (Mark Wahlberg) a high-school dropout in the 1970s who works as a dishwasher and lives with his emotionally abusive parents in California. Adams meets porn filmmaker Jack Horner (Burt Reynolds), who sees great potential in Adams. Adopting the screen name Dirk Diggler, Eddie becomes one of the biggest names in pornography.
Anderson's sex-filled film is a glorious romp through the 1970s and 1980s that charts the rise and fall of Diggler and the adult film industry as a whole. The incredible cast includes Julianne Moore, Don Cheadle, John C. Reilly, and Heather Graham, and Anderson's script features plenty of exciting, memorable characters. Critics were also high on the film, with the Chicago Tribune's Gene Siskel calling "Boogie Nights" a "beautifully made survey of '70s excess, filtered through the trashy world of the burgeoning porno film industry in southern California."
Crash
Telefilm Canada
Not to be confused with the 2004 Best Picture winner, David Cronenberg's "Crash" focuses on a very different kind of collision. Based on the J.G. Ballard novel, the film stars James Spader, Elias Koteas, Deborah Kara Unger, Holly Hunter, and Rosanna Arquette. The story follows a film producer named James Ballard (Spader), who is in an open marriage with his wife Catherine (Unger). Though the two try to explore their desires with one another, their sex remains without passion and enthusiasm.
However, they do get off on talking about their extramarital activities, so perhaps not all hope is lost for the couple. After getting in a car accident, James meets Dr. Vaughan (Elias Koteas), who attends secret meetings for people who fetishize car crashes. They obsessively watch car safety test videos, traffic collisions, and even go so far as to recreate the deaths of celebrities who died in car accidents. Cronenberg pushing the limits of what is acceptable is nothing new, but "Crash" is one of his finest films — strange, uncompromising and beguiling, even as it flirts with the bizarre and dangerous.
The Duke of Burgundy
Film4 Productions
Peter Strickland's "The Duke of Burgundy" is a visually sumptuous and unique erotic drama. The film centers around the relationship of Cynthia (Sidse Babett Knudsen) and Evelyn (Chiara D'Anna), who both engage in lepidopterology, the scientific study of moths and butterflies. Their romantic relationship is seemingly entirely centered around power structures, in which Cynthia is the dominant and Evelyn the submissive. The pair struggle with the expectations they have for one another and their sexual dynamic, attempting to preserve their relationship under the crushing weight of each other's needs.
Strickland's film gleefully tackles tough taboos and sexually deviant ideas — an extended sequence includes a conversation with a carpenter who specializes in sexual furniture, including a bed that has a drawer underneath where Evelyn can sleep as punishment. "The Duke of Burgundy" is a strange and intriguing delight, and the film's universe is made up entirely of women — there's not a man in sight. Taking the sexual politics of "Fifty Shades of Grey" and turning things up to 11, "The Duke of Burgundy" is a tremendous exploration of love, sex, and romance.
365 Days
Called the Polish "Fifty Shades," Netflix's "365 Days" was hugely popular on release as viewers flocked to the film to see what it was all about. The film tackles taboo notions of Stockholm syndrome, as Laura (Anna Maria Sieklucka), a high-level executive, is kidnapped by Massimo (Michele Marrone), a mob boss who tries to force Laura to fall in love with him. The hugely problematic film has definite echoes of "Fifty Shades of Grey," although Laura is a far less willing participant, at least initially, than Dakota Johnson's character.
The film is filled with raunchy sex scenes, as Massimo gives Laura one year to fall madly in love with him, all while keeping her as a literal prisoner. The film was torn apart by critics, earning a rare 0% approval rating on Rotten Tomatoes. However, it still has spirited fans, and "365 Days" has a shocking and controversial ending that sets up opportunities for another film. That's exactly what fans are going to get, as Netflix has confirmed a second –- and third –- entry to come.