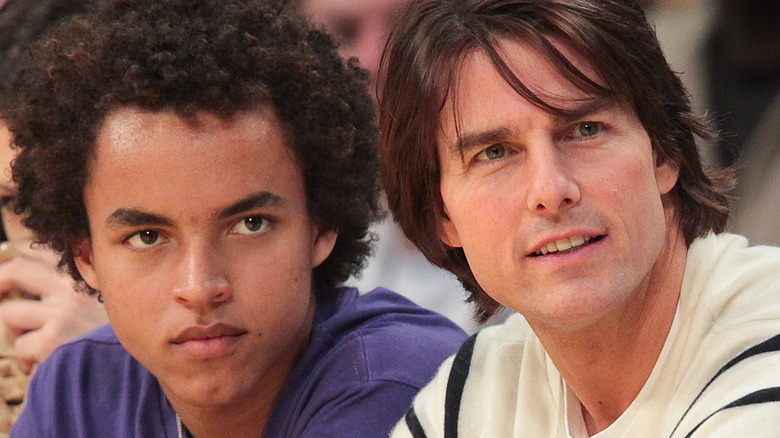 Tom Cruise has secured the spot as one of the most successful actors of our time. From his role as the seemingly innocent Joel Goodsen in "Risky Business" to the Bond-like Ethan Hunt in "Mission Impossible," the actor has spent the last four decades making a name for himself. In addition to being a successful actor, Tom Cruise is also a well-known father of three — sharing two kids with his ex-costar Nicole Kidman (Connor and Isabella) and one with the "Dawson's Creek" actress Katie Holmes (Suri).
While his relationship with Suri hasn't been the best, he does seem to maintain a strong connection with Connor and Isabella. In 2016, Isabella assured The Daily Mail that she still talks to her beloved father, stating, "Of course, we talk. They're my parents." Due to Tom's private nature, however, it's hard to pinpoint if that connection is as strong as his relationship with his son, Connor. Like his sister Isabella, Connor was adopted shortly after his birth in 1995. Over time, Connor developed a strong bond with the "Mission Impossible" actor. Although the two were last photographed in 2021 (via Hollywood Life), his bond with his father has followed him well into his adult life, and it doesn't seem like it is fading away any time soon. Despite the father-son duo keeping a low profile, their love for each other is well-documented. To gain more insight into their nurturing relationship, here are some details about Tom Cruise's relationship with his only son.
Connor chose to live with his father after the divorce
Tom Cruise and Nicole Kidman's decade-long marriage came to an end when Cruise suddenly filed for divorce in 2001. According to Kidman, this came as a surprise, since she believed that they had a relatively happy marriage. "It took me a very long time to heal," she told DuJour Magazine (via People). "It was a shock to my system." In light of this, Cruise wanted joint custody of Connor and Isabella due to "irreconcilable differences." Whatever those differences may have been surely left Kidman confused, as it led to Connor and Isabella leaving her to live with Tom in Los Angeles, California (via Vogue).
According to an interview with Hello! Magazine in 2010, she revealed that she was open to the idea of Connor and Isabella living with her and her husband, Keith Urban (via Vogue). Unfortunately, she revealed that the choice for them to live with their father was purely their own, stating, "They live with Tom, which was their choice. I would love for them to live with us, but what can you do?" Despite his sudden departure from his mother, Connor iterated that the two still maintain a strong connection with each other. "I don't care what people say, I know that me and Mum are solid," he told Women's Day Magazine. "I love her a lot. My family means everything. … the family comes before everything else."
He was heavily supervised due to Scientology
Being the son of two major actors isn't easy, since it usually leads to unwanted attention from the public. Despite this, Tom Cruise and Nicole Kidman have done a good job keeping their two kids away from the limelight. Due to Tom's religious beliefs, however, supervision was high in the Cruise household. Although Connor never opened up about his strict living conditions, ex-Scientologist Leah Remini claimed that his childhood was heavily centered around his father's religion. From homeschooling to Scientology-based summer camps, Connor experienced an exclusive way of life that was heavily monitored by those in the Church of Scientology.
In an attempt to expose the celebrity-centric religion for its alleged malpractice, Leah Remini wrote a book titled "Troublemaker." In it, she recalled multiple instances regarding the children of Tom Cruise — like Isabella calling her mother a "suppressive person" or Suri crying on the floor at her parent's wedding (via New York Daily News). Through expressing her resentment of the community she was a part of, she suggested that the life of the Cruise kids was heavily controlled. Remini wrote, "The siblings, who were supervised by Sea Org members, often had their computers taken by the security force at CC to make sure they weren't up to anything and to keep filters on so they couldn't go on any websites that might get them asking questions" (via The Richest). Although it's all speculation, there's a good chance Connor grew up following strict Scientology rules.