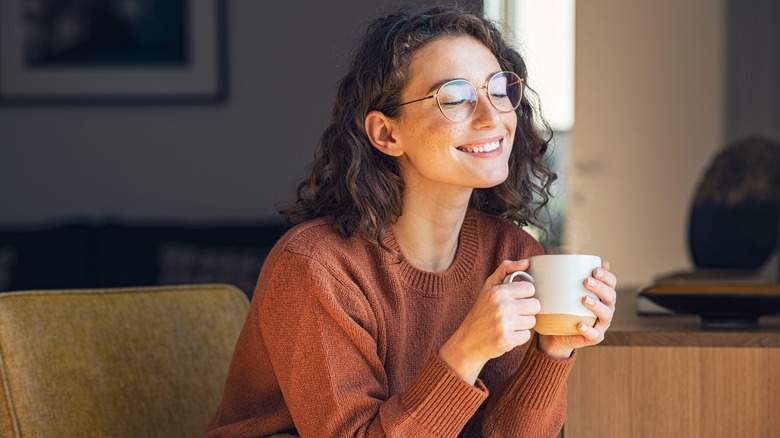 With fall in full swing, there's never been a better time to tap into a cozy ambiance in your own home. The New Yorker shares what the term "hygge" means, which is exactly what we think you should embrace during the colder months of the year. This term is Danish, and it is defined as, "​​a quality of coziness and comfortable conviviality that engenders a feeling of contentment or well-being." The closest word in the English dictionary to hygge is "cozy," for reference. Everyone became infatuated with hygge decor and the overall lifestyle back in 2016, and the emphasis on it still exists today.
Since you likely spend quite a bit of time in your living space — especially as the temperature starts to drop — it's the perfect chance to ramp up the coziness factor in your home. Luckily, there are so many easy ways to do so. Even small changes can make a huge difference in the feel of your living room, making it a cold weather oasis for all things comfortable and snuggly!
Go for some flameless candles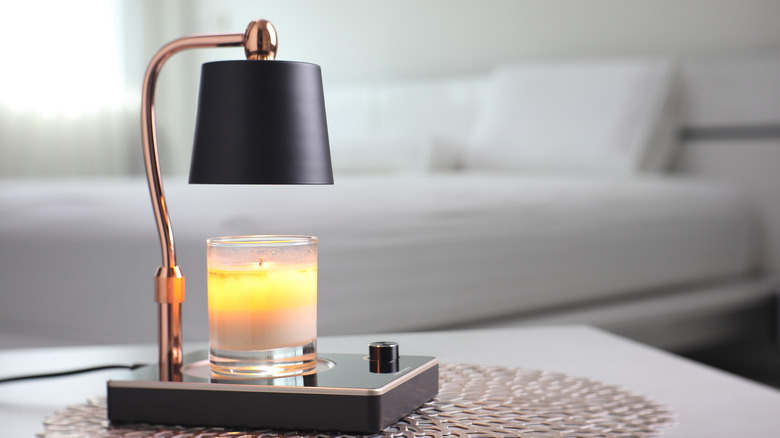 The first way to ramp up your living room's coziness is to use flameless candles in your space. These do an amazing job of adding a subtle glow, allowing you to turn down any larger lights and really set the mood for all things cozy. One great thing about these is there's no fire risk when you use them, really putting your mind at ease.
Balsam Hill shares how you can decorate your space with flameless candles to add not only moody light, but also more style to the room. Their first tip is to place them inside a glass lantern. You can use lanterns of different heights for a more layered and dynamic look. This is a wonderful way to make your space feel cozy while contributing to its sense of style. Another tip they share is to place flameless candles on a shelf. If you have a mantel in your living room, use it as a place to arrange candles of different heights to add a beautiful, glowing display! Floating shelves are another great spot.
Layered lighting will set the mood
United photo studio/Shutterstock
Speaking of lighting, you will want to add lighting "layers" to your living room to make it feel as cozy as possible. Alden Miller Interiors explains the three lighting types that you'll want to include in your layers. The site notes that doing this is the most effective way to achieve quality lighting in your space, but to do so successfully, you'll need to use a combination of ambient, accent, and task lighting.
Ambient lighting is that which is installed into a room — think of a chandelier or recessed lighting. Next up, accent lighting is used to directly illuminate the items you want accented in a room. For instance, a standing lamp next to a plant puts the emphasis on that focal point. Finally, task lighting is designed specifically to help people in that room with activities they want to carry out. For example, a table task lamp is helpful for reading a book or writing in a notebook. Having a mixture of these lighting styles will surely make your living room feel cozy, and will also allow you to customize the lighting to fit your mood every time you enter the space.
Add cozy scents
Selecting scents to fill your home is a very personal thing, and choosing ones you love will help allow you to feel totally relaxed in your space. Ambius mentions some of the scents that are renowned for being cozy. The first is that of freshly baked chocolate chip cookies. This is a pretty universally loved smell, emphasizing notes of chocolate and warm vanilla. Studies have even shown that businesses use this sweet scent to make customers stick around longer.
The next scent mentioned is mulled spices. Warm apple cider combined with cinnamon, clove, peppercorns, and orange peel creates a strong yet comforting smell. Vanilla is another noted as cozy — it's a simple one that has a big effect. Warm, buttery, sweet, and creamy, vanilla is a no-fail choise! The last scent mentioned is cinnamon gingerbread. This incorporates elements of cinnamon, vanilla, nutmeg, and sugar. Filling your living room with this will make you feel like something delicious is baking in your oven, making it nearly impossible not to feel warm and happy!
Swap out throw pillow covers to match the season
Throw pillows are a great way to elevate your space no matter what the season, but one way to make them a cozy add-on in your living room is to swap out their covers to match the time of year. The thing is, buying numerous pillow covers can get pricey, especially when you're collecting ones for every season. Thankfully, Momma From Scratch offers some insight as to how you can create your own beautiful pillowcases for pennies (via YouTube)! Her various tutorials teach you how to make pillow covers out of materials like kitchen towels, drop cloths, extra scrap fabric, and napkins. Other supplies you'll need to have on hand are fabric, a hot glue gun, fuse tape, and Fabri-Tac glue. You'll also need a sewing machine or sewing materials, as well as scissors and a measuring tape. This allows you to completely customize your fall pillows, too, which ensures they perfectly match the cozy aesthetic you're curating for your living room.
Add more warmth to the room with mirrors
Mirrors have an excellent way of giving warmth to a room. Thus, the addition of these to your living room will make it a more cozy space. This phenomenon occurs because light reflects off of mirrors in an almost artful way, enhancing everything around it.
Hang a mirror in your living room to take advantage of this hack. If you're hanging one that's particularly heavy, Picture Hang Solutions has a resource to help you. To safely hang a hefty mirror, you'll need measuring tape, a level, pencil, drill, hammer, stud finder, and hanging hardware that is suitable for the weight of the mirror. From there, you'll need to determine what type of wall you're hanging the mirror on. Walls typically fall into one of three categories: drywall, plater, or masonry.
Drywall — also known as wallboard — is the most common and comes in large, rigid sheets. Plaster walls, on the other hand, are made of strips of wood that have been layered on top each other. From there, layers are affixed to wall studs with nails, then they receive a coat of plaster. Finally, masonry walls are constructed out of brick, concrete blocks, or clay tile. Given what they're made of, they're the most durable type of wall. You will hang your mirror differently depending on what type of wall you have, so this is important to know what you're working with.
Consider layering your rugs
It may seem counterintuitive to put an area rug on top of a carpeted space, but it's actually a great way to make your living room more cozy! This can add a heightened sense of style, too. Valeria Jacobs of Rebecca & Genevieve shares how you can do this to make your space look gorgeous and kick up the comfort factor.
The base comes first. You may have a space with wall-to-wall carpets, which makes the base that you work with predetermined. If not, you'll have to choose one. Jacobs suggests using a natural fiber or jute rug due to its neutral look. As you choose the base rug, you need to ensure it's the correct size. Measure your space and make sure that you are accounting for all furniture in the room to sit on top of it, or at least partially on top of it. Next, choose a rug to layer on top of the base. This should be 1 to 3 feet smaller than the base rug. Choose one with a pattern that incorporates the color of the base rug into it. Go as bold or as neutral and muted as you want — it's really up to you to choose the best living room rug with your space!
Choose the right fabrics
Believe it or not, the fabrics that fill your living space can really affect how cozy it feels! That means that you'll want to choose fibers that best enhance the aesthetic and feel that you're going for in your living room. With that being said, start with your sofa since this accounts for a big part of the materials in the room. Living Cozy notes the best fabrics for a couch. Cotton is revered as a comfortable fabric, and there are other pros associated with it as well. For instance, cotton is highly breathable, which makes it particularly good for a warm climate. Another fabric option to consider for coziness is velvet. The look and feel of velvet exudes warmth, and it's known to add a bit of glamor and style to a room. Other upsides to going with a velvet couch are its natural resistance to liquid and easy maintenance — making it a durable fabric, especially for a furniture piece as frequently used as a couch.
Lean into a neutral palette
A neutral color palette in your living space is calming and encourages that cozy mindset you're after. This is in contrast to a bold and bright palette, which is fun, but not quite as tranquil. On Sutton Place is a useful source for how you can design your living room to be stylish with a neutral color scheme, and particularly how to elevate and liven up that palette to make it feel even more cozy. The blog notes that using wood tones amidst other neutral tones is a great compliment to the color palette, and it also offers some variety. Adding depth with rugs and furniture pieces also enhances the look. Linen pillows, crisp white flowers with a hint of greenery, and a rug with a subtle pattern can do a lot to warm up the space. Finally, add some finishing touches to bring it all together, such as a well-styled bookshelf.
Have ample seating
Another great way to make your living room feel extra cozy is to have an array of seating options. Not only does this accommodate guests when they come for a visit, but it also ensures that you can sit or lay however you're most comfortable at any given moment. Whether you want to lounge on the couch or read curled up in an armchair, having different seats makes it all possible!
Ballard Designs offers simple ways to add more seating to your space. Their first idea is to use an ottoman as a coffee table, which doubles as extra seating or a foot rest when you need it. Another route is to invest in some floor cushions that you can use when you eat at the coffee table, meditate, or if you have an abundance of guests. Finally, have an occasion chair you can bring into the living room when you need it. You'll be glad to have this option on hand should you have extra people over or want a different place to sit.
Display photos of loved ones
Displaying photos of your loved ones is a great way to make your space feel cozy in an instant! Having these pictures on display will give you the warm and fuzzy feeling of love whenever you look at them — and not much could be more comforting than that. If you want to keep the neutral palette going, you can opt to have these printed in black and white, which will also look quite artful.
The Emily Henderson blog writes about how you can hang family photos to match your interior style. One suggestion is to go with one large framed photo as a statement piece, and mentioned is to hang up a grid of photos — think two rows of three or four photos in a symmetrical design. Finally, consider a classic gallery wall with framed photos in an assortment of sizes and with differing frames to make the look of the arrangement more dynamic. All are great options — it really depends on your personal preference!
Add curtains for privacy and a heightened aesthetic
Curtains in a home have a dual purpose: They block out the outside and provide privacy, and they also contribute to the overall style of a room. With that being said, equipping your living room with beautiful curtains can really add to its coziness, allowing you to completely tuck away from the world and feel completely enclosed in your little oasis.
Choosing curtains that match your style and home aesthetic is usually the fun part, while hanging them can sometimes be a dreaded task. Luckily, MasterClass has some insight as to how you can hang them without doing any drilling. This is best done when the curtains are lightweight, as a heavy ones may not stay up without a drilled-in rod. Either magnetic or tension rods work well, resting inside window frames for an easy hanging method. These are especially great for renters who don't want to drill holes in their wall, but still want to enjoy the benefits of curtains.
Have blankets and pillows nearby
Blankets and pillows are a cozy living room must-have! There's nothing better than curling up under a big, fluffy blanket, watching your favorite movie, binging the latest Netflix show, or diving into a book. Find your favorite blankets that match the aesthetic of your living room and they'll double as decor!
Simply Organize on YouTube shares how you can organize your blankets from a storage standpoint, putting them in a large basket in your living space. Believe it or not, arranging throw blankets in a large basket is somewhat of an art — liken it to creating a flower arrangement! Fold your blankets first in half, and then roll them from the shorter side. Then, gently place it in the basket and continue the process until all of your blankets are rolled, stored, and neatly organized. You can even partially unroll one so it's artfully overflowing over the edge of the basket for aesthetic purposes. It's as easy as that!
Add seasonal accents
Adding seasonal accents to your living room is another fun way to bring the comfy vibes. For instance, as we make our way through fall, there are so many decor items you can use to enhance the space. Ella Claire & Co shares her best fall decorating ideas that lend themselves nicely to a cozy space. Making these accents more fall-centric, rather than Halloween focused, means you can leave them out longer, too. White pumpkins are a nice touch that pair well with a neutral palette, while faux fall foliage can be easily be placed on a mantel or side table to really play into the vibes of the season. Apples are another item that exude fall, as is the color copper, such as votive holders or candlesticks. The blog notes that fall decor relies heavily on warm colors, so really leaning into that palette as far as accent pieces is sure to aid in your success in mission cozy-meets-seasonal!
Have creature comforts on hand
An effective way to ensure your living room is as cozy as possible is to have all of your favorite creature comforts (items that contribute to physical comfort) on hand. Maybe that means a stack of your favorite books, or even coasters to accommodate your coffee mug or wine glass. One great place to store all of these must-have items is a decorative tray, which you can place artfully on your coffee table. Style Degree offers advice as to how you can style your tray with ease, starting with a few things you can place in your tray to make it chic yet functional. Start with fresh or faux flowers or greenery, depending on your preferences and style. Next, add a fragrance accent, such as your favorite candle or a diffuser. After that, go for frequently grabbed items, so that they're at the ready whenever you come into your living room to relax.