Introduction
What is it about a grilled cheese sandwich that we find so comforting? Is it the nostalgia as we remember eating it on the regular as a child? Is it the fact that it requires two or three ingredients? Or is it the gobs of melted cheese tucked inside warm, toasted bread? Whatever it is, the classic childhood favorite isn't going anywhere any time soon. Restaurants have long offered variations on the classic, each claiming their version is the "ultimate grilled cheese." But no one can make a grilled cheese quite like you! We think you'll agree that there's no place like home to make this comfort food favorite. We're going to walk step-by-step through the basics of how to make the ultimate grilled cheese sandwich.
How to Make Grilled Cheese
Before you get fancy with your grilled cheese, perfect the original. Let's start with how to make our Grilled Two-Cheese Sandwich. This recipe is simple, but satisfying.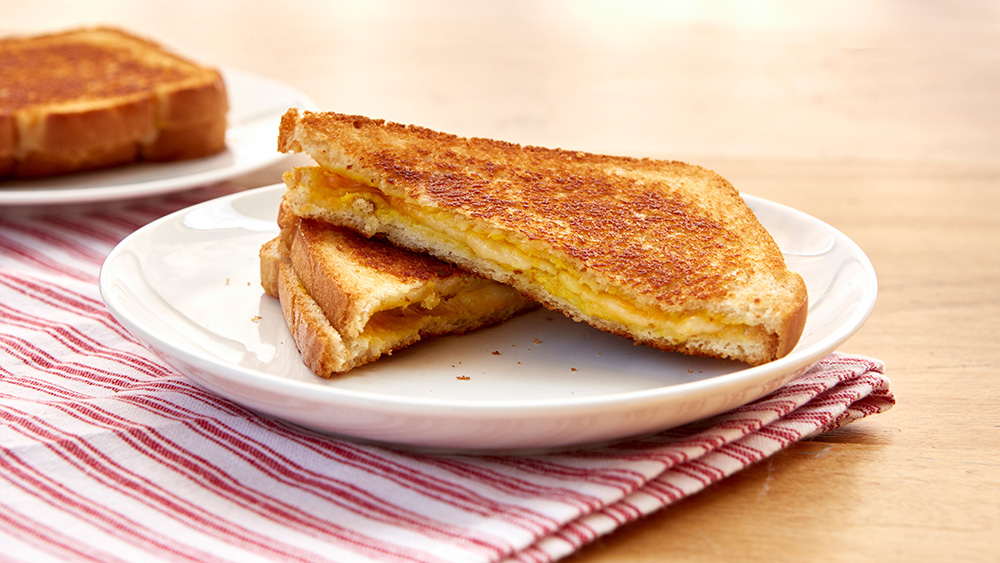 What You Need:
Skillet or griddle
Spatula
Ingredients:
2 slices of bread
1 teaspoon prepared mustard
1 slice of Cheddar cheese
½ slice of Swiss cheese
2 teaspoons butter or margarine, softened
Step 1: Spread one side of each slice of bread with mustard. Top one slice with your Cheddar and Swiss cheese slices.
Step 2: Cover with the other slice of bread, with the mustard side facing down. Spread the outside of the sandwich with butter or margarine.
Step 3: Heat your skillet or griddle over medium heat until hot. Place the sandwich in the skillet and cook for about two minutes, or until golden brown. Then flip the sandwich over and reduce the heat to medium-low. Cover the skillet and cook for an additional two to four minutes, or until the entire sandwich is golden brown and the cheese is melted.
Best Bread for Grilled Cheese
One of the easiest ways to customize grilled cheese is to experiment with different types of bread. While the basic grilled cheese uses sliced white bread, you can use whatever kind you have in your kitchen. Wheat or multi-grain make for a delicious, easy grilled cheese sandwich, too.
Don't think you have to stick to the traditional grilled cheese and use sliced bread, either. You can use biscuits for the crust as we did with our Grands! Grilled Cheese Sandwiches or even a can of crescents like we did with our Sheet-Pan Crescent Grilled Cheese. This recipe is perfect if everyone in your family is super hungry. You can even take it a step further and use pizza crust in our Spinach-Artichoke Grilled Cheese Sandwiches!
Best Cheese for Grilled Cheese
The most important part of the sandwich is the cheese. There isn't a "right" cheese for grilled cheese, but there are a few you should avoid if you're after that gooey, melted middle. Avoid using hard, aged cheese or dry, crumbly cheeses. Add dynamic flavor to your sandwich by mixing and matching different options to find the best cheese combination for grilled cheese.
When you've selected your cheese, don't slice it too thick, otherwise, it won't melt evenly. To get that gooey perfect middle, keep your stove temperature at medium heat so the middle has time to cook without the bread burning.
Best Gourmet Grilled Cheese Ingredients
It's easy to turn this kid-favorite into a sandwich that adults will love. Gourmet grilled cheese ideas use different cheeses like gouda or brie, or you can add apple slices or caramelized onions to the dish. Other popular additions are bacon, guacamole, and tomatoes. Try Caprese Grilled Cheese or Spinach-Artichoke Grilled Cheese Sandwich to shake things up.
Spinach-Artichoke Grilled Cheese Sandwiches
Ingredients
1can (13.8 oz) refrigerated Pillsbury™ Classic Crust Pizza Crust
3/4cup thawed frozen chopped spinach, drained, squeezed to dry
3/4cup drained rinsed Progresso™ artichoke hearts (packed in water), chopped
1/3cup mayonnaise
1/2teaspoon garlic powder
1 1/2cups grated Parmesan cheese
3tablespoons butter, softened
Directions
1Heat oven to 400°F. Lightly spray cookie sheet with cooking spray.
2Unroll dough onto cookie sheet; press into 14×9-inch rectangle. Bake 5 minutes. Remove from oven. Use spatula to carefully flip dough over. Return to oven; bake 5 minutes longer. Remove from oven; cut into 8 equal-size rectangles.
3Heat griddle or large skillet over medium heat.
4In medium microwavable bowl, stir together spinach, artichokes, mayonnaise, garlic powder and Parmesan cheese. Microwave on High 30 seconds. Stir; microwave 30 seconds longer.
5Spread butter on one side of 1 slice of pizza dough; place buttered side down on hot griddle. Top with one-fourth of the spinach mixture. Butter another slice of pizza dough; place buttered side up on spinach mixture, forming a sandwich. Cook about 2 minutes. Turn sandwich; cook 2 minutes longer. Repeat with remaining pizza dough slices and spinach mixture to make 3 more sandwiches.
Cooking Grilled Cheese
There's more than one way to make a grilled cheese and that includes cooking techniques. When you're in a pinch, using the toaster and microwave might be your best bet, but if you have a little more time, it's worth making grilled cheese on the stove or in the oven.
What You Need:
Small bowl
15x10x1-inch sheet pan
Ingredients:
2 tablespoons melted butter
1/4 teaspoon garlic powder
2 cans Pillsbury™ refrigerated crescent dough sheet or 2 cans (8 oz each) Pillsbury™ refrigerated crescent dinner rolls
6 ounces deli-sliced American cheese
6 ounces deli-sliced Cheddar cheese
¼ cup grated Parmesan cheese
8 cherry or grape tomatoes, sliced in half
Step 1: Heat your oven to 375°F. Using a small bowl, mix melted butter with the garlic powder. In sheet pan, brush 12×8-inch area with half of the melted butter mixture. Unroll and press one can of dough over the melted butter mixture.
Step 2: Layer both the American and Cheddar cheeses onto the dough leaving a 1/2-inch border around the edges. Unroll the second can of dough and stretch it over the filling.
Step 3: Press the edges to seal and brush the remaining melted butter mixture over top. Sprinkle with grated Parmesan cheese.
Step 4: Bake for 20 to 23 minutes or until deep golden brown. Cut into 4×4 rows and top with tomato halves.
How to Cook Grilled Cheese on the Stove
How you cook your grilled cheese is up to you. You can spread mayo or mustard on one side and spread butter or margarine on the other side. Cook the buttered side directly on the skillet while the side with the condiment of your choice will be topped with cheese.
First, heat the skillet over medium heat until it's hot, then place the sandwich in it. Cook each side over medium heat until the outsides are golden brown. Reduce the heat to medium-low and cover with a lid to allow the cheese to melt. The end result will be a crispy sandwich with just the right amount of melted cheese in the middle.
How to Cook Grilled Cheese in the Toaster
When you need a quick fix, throwing bread in the toaster and making grilled cheese is perfectly acceptable. Put two slices of bread in the toaster and toast to your preference. Spread the condiment of your choice on one side of each slice and top it with the cheese of your choice. Then wrap the sandwich in a paper towel and microwave for about 15 to 20 seconds to melt the cheese.
What to Eat with Grilled Cheese
Tomato soup is unequivocally the best soup to dunk your grilled cheese in, and if that's what you're into, look no further than this three-ingredient, 10-minute recipe. In warmer months, pair grilled cheese with potato chips, a couple of pickle spears, or a side of applesauce.