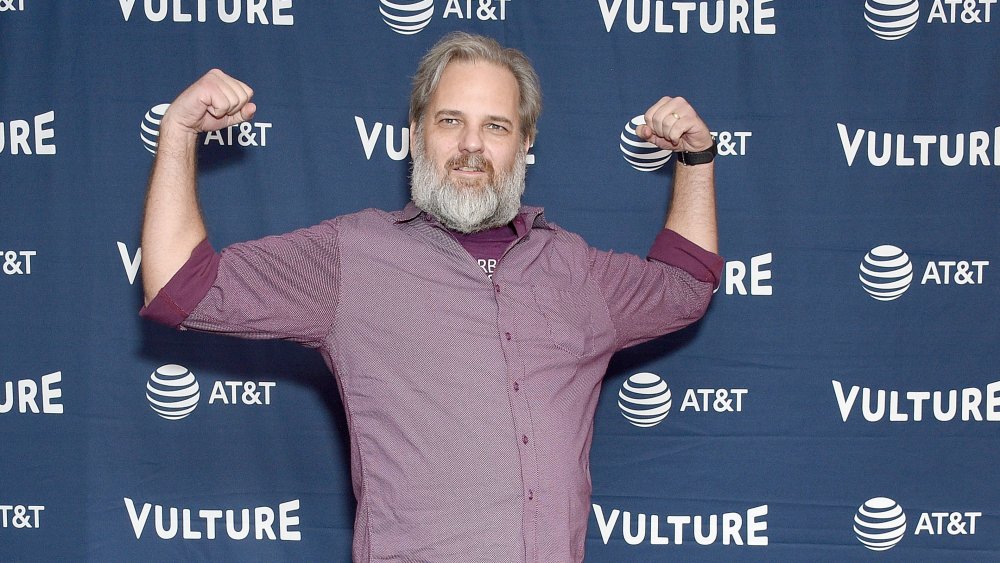 A showrunner is, in the simplest terms possible, the person in charge of running a television show. They're in charge of the creative direction of a series while also handling budget and talent. Given that television as a medium generally means different writers and directors work on each episode, the showrunner is needed to maintain consistency over a season or series. Showrunners can come and go, and it's common for long-running shows to go through several.
A rare few get to both create a show and act as showrunner. Sometimes this works out — after all, who knows a show's intent better than its creator? Other times, it fails miserably. This happens for many reasons. Maybe the person just didn't have the skillset to manage a show. Maybe they butted heads with the wrong people. Or maybe, as is a risk anywhere, they created or enabled a bad work environment. No matter what, it's got to sting getting fired from your own show. Here's a look at some showrunners who understand that pain firsthand.
Dan Harmon got expelled from Community before getting readmitted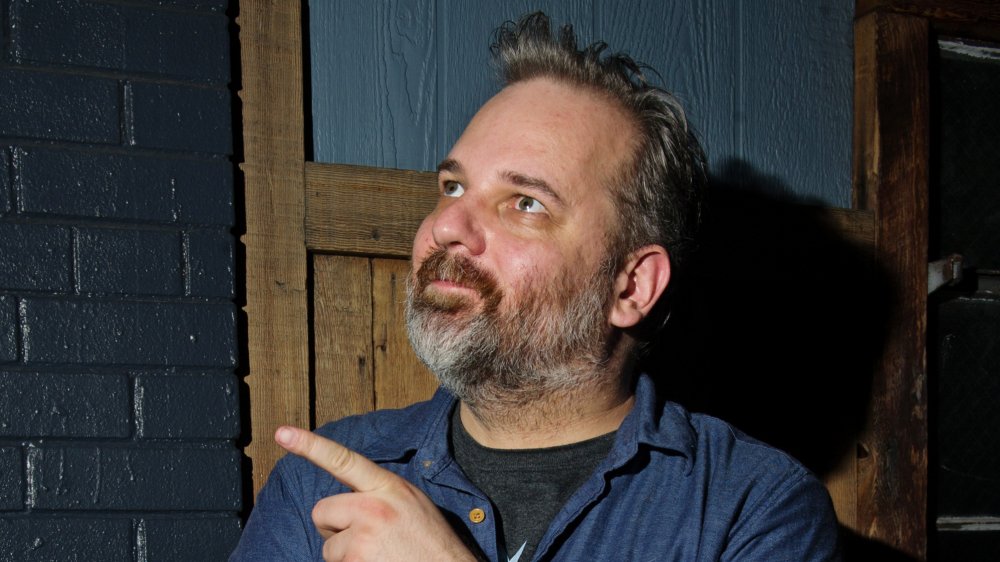 Dan Harmon is the name most people probably think of when they think about showrunners getting fired from their own shows. His time running Community, getting fired from Community, and returning to Community is the stuff of TV legend.
Harmon's creative talents were admired by all around him, but his odd and abrasive behavior wore people's patience. He often showed up late and didn't plan properly, which led to table reads being canceled or delayed. Sometimes sets and scripts weren't even ready until a week before shooting. On top of everything, the show never had great ratings — which wasn't entirely on Harmon, but as the showrunner he bore some responsibility. All this and more led to NBC and Sony firing him from his own show after season three.
After his firing, he spent a fair amount of time seemingly trying his hardest to burn bridges. He wrote a long Tumblr post ripping into NBC. He called NBC Entertainment chairman Bob Greenblatt "Darth Vader." He continued his never-ending feud with Chevy Chase.
Under new management, season four saw a decline in quality and is referred to both in-universe and by fans as "the gas leak years." Community star Joel McHale orchestrated Harmon's return to the show, which saw him stay at the helm through season six. Still waiting on that movie, though.
Jeff Franklin
Jeff Franklin is best known for creating family-friendly Full House, and later its family-friendly sequel Fuller House. He was then fired from Fuller House before season four due to allegations of not-so-family-friendly behavior — a firing he responded to with a lawsuit.
Franklin was canned from Fuller House in February of 2018, with early reports indicating bad behavior and warnings that he was a "walking lawsuit waiting to happen." Variety stated such reports stopped short of sexual harassment but included inappropriate comments and verbally abusing staffers.
New showrunners were announced the following month, including Bryan Behar. In April 2019, Franklin filed a lawsuit against Behar. Franklin claims that Behar lied and used the #MeToo movement to oust Franklin and make himself showrunner.
This was countered by WB Studios, who filed a sworn declaration laying out in detail that the probe into Franklin's behavior started in 2016. The declaration also brought to light a litany of new allegations against him, ranging from him discussing his sex life in the workplace to a having a distaste for hiring non-male directors.
Terri Minsky was fired from Lizzie McGuire because Disney wanted something tamer
Terri Minsky has written and created TV shows for decades now, but her most famous creation is Lizzie McGuire. The most popular Disney Channel show of the early aughts and the launchpad for Hilary Duff's career, it was a global sensation. As such, it only made sense for Disney to revive the show for Disney+, where the company planned a sequel series following 30-year-old Lizzie living in New York. Duff agreed to reprise her role, and several other regular cast members signed on as well.
In late February of 2020, two episodes into production, Minsky was fired from the show by Disney. The show has since been halted while Disney looks for a new showrunner.
Variety reported that it was largely a difference of philosophy — Disney wanted a family-friendly show, while Minsky and Duff wanted a more mature show, perhaps one that could be put on Hulu instead of Disney+. Since the Mouse signs the checks, Minsky got canned. Much of the production crew believed in Minsky and Duff's vision, so finding someone who can balance those and Disney's views is a tall order.
Bryan Fuller has gotten fired from every show on TV
Bryan Fuller is one of the most acclaimed writers and producers in modern television. He also seems to be on a holy quest to quit or get fired from every show on TV.
When Star Trek: Discovery was announced in February 2016, Fuller was the showrunner and — for a time — the face of the operation. It was a logical choice: Fuller has a long history with Trek properties, specifically Voyager and Deep Space Nine. He helped guide the direction of the show, but by October 2016 he had stepped down. Publicly this was an amicable breakup because he couldn't dedicate his time to the series while also working on American Gods. Variety, however, reported a year later that Fuller was pushed out after issues with budgets and deadlines.
Fuller helped bring Neil Gaiman's American Gods to television, creating the show and signing on as a showrunner in 2014. The show debuted in 2017, and he was fired after one season. Fuller claims that this was due to battles over budget. More in-depth reporting by The Hollywood Reporter indicated that the issues went deeper, including butting heads with Gaimain over how to adapt the source material.
In 2015, Fuller signed on to run Amazing Stories. The show was originally set for NBC before getting picked up by Apple TV+. Sure enough, he left the project in February 2018 over "creative differences" — before Apple TV+ even launched.
Scott Buck failed upwards to, and off, Iron Fist
Frederick M. Brown/Getty Images
Scott Buck's TV career is checkered, to put it mildly. He made his name in drama writing for Six Feet Under and later joined Dexter, reuniting him with Michael C. Hall. Buck was a writer and producer until he took over as showrunner in season six and stayed on until the end, so yes, he was behind the storyline in which Debra semi-incestously falls in love with Dexter and the much reviled finale.
Somehow Marvel saw this and decided he'd be a great fit for their Iron Fist show on Netflix.
As the man tasked with bringing Danny Rand to the small screen, Buck had his work cut out for him. Yet he flubbed that, too, putting out the lowest-regarded Marvel Netflix show. Someone at the studio got the message, and Buck was replaced as showrunner for season two by Raven Metzner. Season two was far better received, but the damage was already done, and it became the first Marvel Netflix show to get canceled.
Buck still had concurrent work with Marvel, heading up production of Inhumans. Unfortunately, it was a monumental bomb that most people have already forgotten.
Andrew Kreisberg was kicked out of the Arrowverse after #MeToo accusations
Frederick M. Brown/Getty Images
The Arrowverse is one of DC's most rousing successes in years. One of its guiding voices was Andrew Kreisberg, who had a hand in many Arrowverse shows and was co-showrunner on both The Flash and Supergirl. His tenure on both ended in ignominious fashion after allegations of workplace sexual harassment surfaced.
Warner Bros. suspended Kreisberg in early November of 2017 and launched an investigation into workplace misconduct allegations. Variety interviewed 19 sources, 15 of whom were women, about his behavior. They described the textbook definition of workplace sexual harassment, where it happened so often that it felt like "white noise." Allegations include a torrent of comments on female staffers' appearances, unwanted touching, and an overall toxic atmosphere. Many feared sitting next to him, and some left the room when he entered.
Kreisberg denied almost every accusation, despite witnesses corroborating stories. Three weeks later, Warner Bros. terminated Kreisberg's employment. Greg Berlanti, whose production company oversees the entire Arrowverse, acknowledged some responsibility in the matter for putting too much distance between himself and the product. He put in place several new steps to avoid a repeat and said the atmosphere at his shows was noticeably better after Kreisberg left.
Aaron Harberts and Gretchen Berg couldn't last on Star Trek: Discovery
Aaron Harberts and Gretchen Berg signed on to Star Trek: Discovery at the beginning. Having worked with Bryan Fuller on Pushing Daisies, they were a natural fit. After Fuller inevitably left Discovery, Harberts and Berg were promoted to full showrunners. They oversaw the show's first season and were partway through production of season two before getting fired.
CBS barely commented on their departure, but The Hollywood Reporter indicated a litany of behind-the-scenes issues. The season premiere went over budget, which forced cuts later. There were also reports of abusive behavior toward staff members. Harberts in particular was accused of cursing out staff members and threatening anyone taking issues to HR instead of handling them internally. Fortunately, Harberts and Berg were fired right around a production break, which gave Alex Kurzman a chance to step in and regroup as the new showrunner.
Kurt Sutter got kicked off Mayans M.C. after angering Disney
Rich Polk/Getty Images
Kurt Sutter, the man who created Sons of Anarchy and spinoff series Mayans M.C., has certainly had his ups and downs with studio executives — he even keeps a framed letter detailing his less-than-professional workplace conduct as a reminder that that such behavior creates lawsuits. This behavior seemed to catch up to him when he got kicked off Mayans M.C., though he has more specific ideas why.
Sutter was fired as Mayans M.C. showrunner in mid-October of 2019. The Hollywood Reporter cited multiple claims of bad behavior, and Sutter himself sent out an email apologizing to his staff. He admitted he was probably out of line and his intention to remove himself from production that season caused problems both when he was and wasn't there.
Deadline interviewed Sutter a few weeks later, where he revealed his own theory for his dismissal. "Bottom line," he stated, "I created the circumstances that led to my being forced out." He called it a business decision, saying that if it were about on-set conduct HR would have sat down with him. A tense relationship with Disney, which had just acquired Fox, made him realize this wouldn't work. He traces his firing back to including an off-color joke about Walt Disney in his script out of spite, which he then replaced with an off-color joke about Mickey and Pluto.
Chris Savino left The Loud House after his bad behavior became public
Vivien Killilea/Getty Images
Chris Savino has worked in children's cartoons as a writer, animator, and producer since the early '90s, contributing to shows for Nickelodeon, Cartoon Network, and the Disney Channel. Among his credits are stints as showrunner for Dexter's Laboratory and The Powerpuff Girls. He finally got a chance to create and run his own show, The Loud House, on Nickelodeon in 2016. His time at the helm only lasted for about a year before he was kicked off after years of bad behavior finally caught up with him.
On October 19, 2017, Nickelodeon suspended Savino after a dozen women came forward alleging he sexually harassed them. Two days later, he was fired. He issued an apology via his Facebook page, saying he was "deeply sorry and ashamed" and offering praise for the women brave enough to come forward. The show continued without him.
Savino faced a union trial from the Animation Guild, in which a years-long pattern of sexual harassment was documented. Some women he inspired to enter the industry left it entirely after working under him. The Guild penalized him with, among other things, a one-year suspension and mandatory counseling.
Savino re-emerged publicly in October of 2019, stating that he became a born-again Christian in the aftermath of his suspension. He claims that his new faith has helped him better himself. Savino also wants to return to animation, but recognizes that people probably don't want to work with him, so he's making his own projects now.
Dan Schneider left Nickelodeon under a cloud of rumors
Michael Buckner/Getty Images
Dan Schnieder was once called "the Normal Lear of children's television," which on camera is about as accurate a description as you'll find. He had a hand in the creation of All That, Kenan & Kel, and The Amanda Show — and those were him just getting started. Via his production company Schneider's Bakery, he also created — among other things — Zoey 101, iCarly, Sam & Cat, and Victorious. He's credited with discovering countless young stars, including Kenan Thompson, Ariana Grande, and Amanda Bynes.
He also left Nickelodeon, and his showrunner position at Henry Danger, under weird circumstances.
In March of 2018, Schneider and Nickelodeon parted ways after not renewing his contract. The two parties issued a joint statement stating, "Since several Schneider's Bakery projects are wrapping up, both sides agreed that this is a natural time for Nickelodeon and Schneider's Bakery to pursue other opportunities and projects." This included the aforementioned Henry Danger, which was still running and would continue under new management.
His departure came alongside various allegations. These included rumors about treatment of his younger stars, but also focused on his volatile temper and propensity for production delays. Page Six, which should be taken with a grain of salt, cited a source saying he may have gotten a $7 million payout after fighting with new management. Little has been made clear since.
Frank Darabont was fired from The Walking Dead and is still suing over it
Emma Mcintyre/Getty Images
Frank Darabont is more responsible than most for bringing The Walking Dead to TV. He's a fan of the source material, penned many horror movies, and directed several Stephen King movies, including The Shawshank Redemption. His mere involvement helped sell the series to AMC, as it played to their "prestige, but approachable" image. It was, by all appearances, a perfect hit for a show that would become a smash hit, but it was not to last.
Before the second season finished production, Darabont was fired as showrunner. This came on the heels of an appearance at the San Diego Comic Con mere days earlier. Early reports indicated that he had difficulty adjusting to TV shooting schedules after coming from the world of movies. Later, more detailed reports indicated that he clashed with AMC over the budget — AMC wanted twice as many episodes on a much smaller overall cost.
Darabont has since launched two separate lawsuits against AMC. The first one, started in 2013, seeks $280 million in unpaid profits from licensing fees. The second seeks additional profits by calculating he's owed at least as much royalties as comic creator Robert Kirkman, since they had the same role on the show.
Bob Kushell was fired from Fam before it failed anyway
Frederick M. Brown/Getty Images
Bob Kushell has been writing for and producing TV shows since the late '90s, but seems to have problems branching out on his own. He was co-creator of the 2015 Muppets TV show that was axed after one season. He also created Way to Go, a British comedy about men who run an assisted suicide business, which was also gone after a lone season. His 2017 show Me, Myself & I also lasted — you guessed it — one season.
2019 was going to be his year — he was the co-showrunner of CBS sitcom Fam, a modern take on the "unlikely family members move in together" formula. Before the show could debut in January of that year, though, Kushell was kicked off his own creation.
On November 5, 2018, TVLine reported CBS fired Kushell midway through production. Later that day, several other sources confirmed that he was fired for using "inappropriate language in the workplace." Corinne Kingsbury, his co-showrunner, became the full showrunner for the rest of the series. It still got its January 2019 premiere date before getting canceled after — all together now — one season.
Edgar Rosenberg's firing ended Joan Rivers's talk show
The Late Show Starring Joan Rivers — which bears no relation to the CBS Late Show — is something of a curio in TV history. Joan Rivers was the permanent guest host on Johnny Caron's Tonight Show, but left to start her own show after feeling that NBC was holding her back and taking her for granted. Carson never spoke to her again. As with all Carson challengers, the show eventually fell apart.
Some of it was ratings, some of it was Carson's iron grip on late night viewership, some of it was guests not wanting to cross Johnny and go on a competing show. Most of it, however, was Edgar Rosenberg, Joan's husband and showrunner.
Edgar ran an unrelentingly tight ship, often compared to Captain Queeg from The Caine Mutiny. One staff member noted that "there was hardly anyone who worked there that he didn't manage to alienate." He'd rip into staffers over minor infractions, such as bringing a drink into Joan's dressing room. He fought with network management over anything and everything. It got so bad that the network forbade his involvement with day-to-day operations on the show.
Eventually Joan challenged the network over their treatment of Edgar, which resulted in them both getting fired. Joan's career was left in ruins — her show was a public failure, she couldn't go back to Carson, and her professional prospects were dismal. All of this preceded Edgar's suicide in August of 1987. After hitting her lowest point, Joan eventually came back on TV hosting red carpets and daytime talk shows.
Donald Bellisario lost a behind-the-scenes power struggle at NCIS
When you're not only the showrunner but the show creator, you'd think it'd be safe to assume you have no shortage of job security. That typically tends to be the case, but it wasn't so for NCIS creator/showrunner Donald Bellisario, who surprised fans and industry onlookers in 2007 when he abruptly departed the hit series after less than five years on the job.
As it turns out, Bellisario butted heads with star Mark Harmon, who reportedly objected to Bellisario's "chaotic management style" and ultimately forced him out. Although Bellisario held onto his executive producer credit, the whole thing served as an object lesson in Hollywood politics — when a popular show sparks a power struggle, it's often the onscreen talent that wins, especially when the talent in question is the undisputed star. After his dust-up with Harmon, Bellisario retired, later suing CBS for breach of contract and settling "amicably" in 2013. All's well that ends well — that ugly chapter notwithstanding, Bellisario compiled an impressive list of credits during his long career.