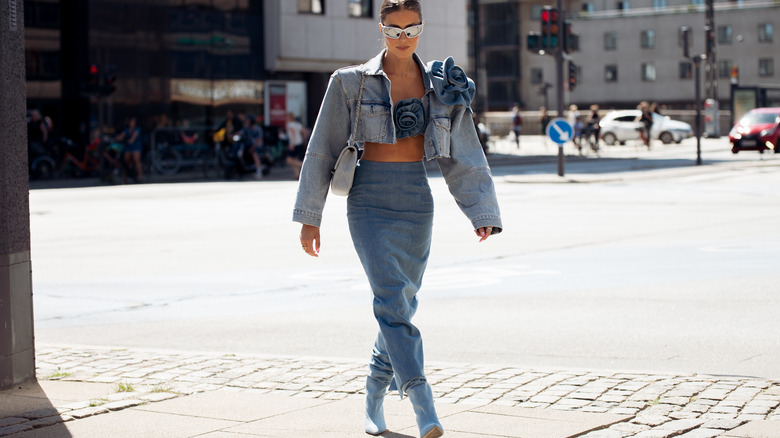 Trend alert! While mini skirts have slipped onto the fashion scene, maxi skirts are continuing to top trend charts because you can style them all year round, and because they're as versatile as they are practical. Denim maxi skirts are extremely adaptable to your wardrobe with a variety of styles and washes of denim, making them perfect whether you're on a trip to Trader Joe's, or out to brunch with the girls.
Simply put, the term maxi means that the skirt at least grazes your ankles, if not the floor. The style has existed in both bohemian and vintage styles, but you can transform a denim maxi into a modern look with new silhouettes that flatters almost any body type, as Vogue gushes. Some styles include flare, peasant, or side-slit options. Plus, with A-list names like Gigi Hadid reviving the style, the trend appears to keep cycling back, but this time, with more styling options than ever before. So, with so many versions of the skirt to choose from, here's how you can modernize your next maxi denim skirt.
The peasant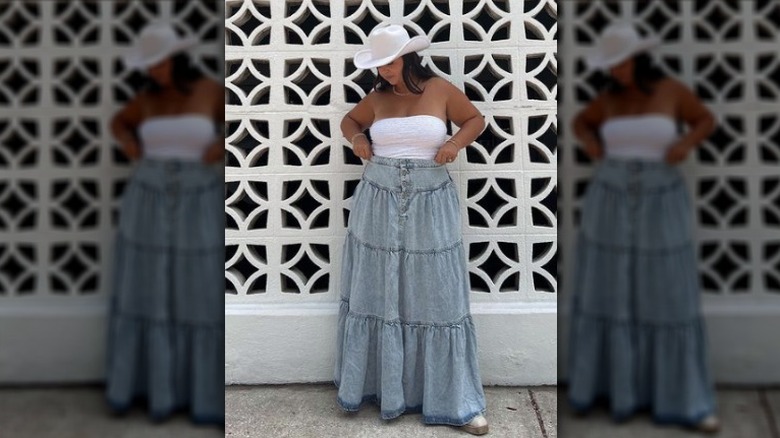 One variation of the maxi denim skirt is the peasant skirt. This style is a full-length, tiered skirt in that works well with your boho outfits. This skirt is best paired with a cropped sweater or tight-fitting top. However, just because it's called peasant doesn't mean it doesn't have to be casual. Adding small, delicate pieces like accessories, or even metals or a variation of fabrics can instantly glam up your skirt for any formal occasion. Among the pieces that can make the skirt look a bit fancier are sunglasses, clutch purses, and fine-fabric sweaters (like cashmere or wool).
Go for the curve
The mermaid — or flare — maxi denim skirt is a fitted style in the waist and thighs, with seams running down the face of the skirt. The fabric then flares out past the knees, closer to the ankle. This particular style is popularly paired with cowboy boots for a dash of western flare (no pun intended), however, can be styled in many other ways. To modernize the look, go for dimension with tops or sweaters that have longer, billowy sleeves, or even off-the-shoulder, asymmetrical tops. Pastel and neutral purses, belts, or sunglasses also make for a great modern twist.