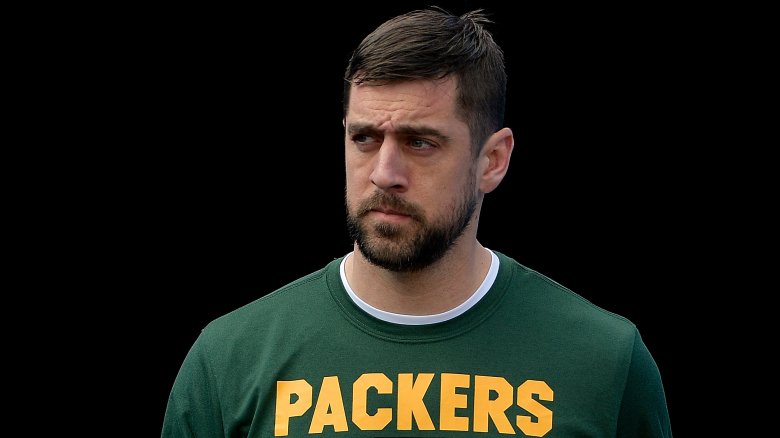 Aaron Rodgers is one of the NFL's golden boys: amiable, talented, handsome, and eligible, but there's a lot more to the quarterback than meets the eye. Rodgers' personal life has been a mess ever since the Green Bay Packers quarterback first made it big, and his relatives — and even his famous ex-girlfriend, Olivia Munn — have been more than happy to go public about the acrimony within his family tree. It's not entirely clear how the bad blood in this bloodline began, and different sources report different causes for the feuding. No one seems to want to take responsibility for it. While Rodgers and Munn were dating, the tabloids seemed eager to blame her for the beef, despite it existing years before she entered the QB's life.
The more this star athlete's family members pursue fame and relevance in their own right, and the more his exes speak out, the clearer a picture we're able to paint about just what went wrong in this family, and how Aaron may not be entirely the victim in all of this. This is the double life of Aaron Rodgers.
He's supposedly estranged from his brothers and parents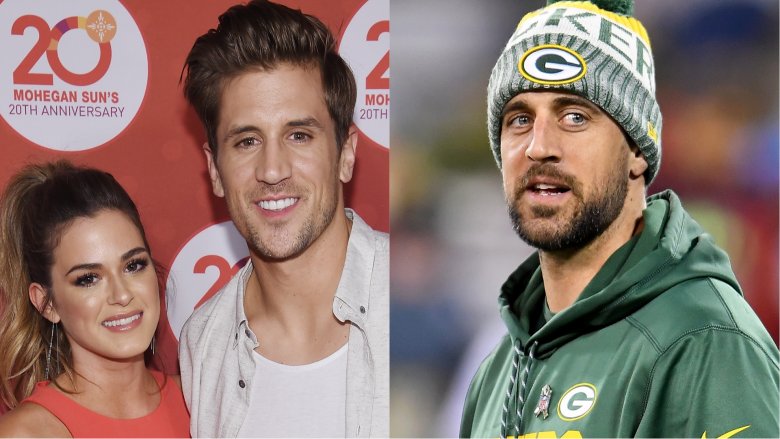 Though Rodgers' younger brother, Jordan Rodgers, won The Bachelorette in 2017, Aaron doesn't seem too thrilled about it. On the show, Jordan described his family's relationship with Aaron as "complicated," and Jordan's hometown visit revealed some clear tension when Aaron's name came up. One family member said on air (via Fox News), "The past year or two, his brother hasn't been a part of [Jordan's] life…he really misses Aaron, but doesn't like talking about it." Jordan claimed on air that the QB "doesn't approve of my lifestyle." Aaron also is noticeably absent from family photos on Jordan and brother Luke Rodgers' Instagram accounts.
"I haven't seen the show, to be honest with you, so it hasn't really affected me a whole lot," Aaron told WISN. When the hosts prodded him on why he and Jordan are supposedly distant, the QB was evasive. "I've always found that it's a little inappropriate to talk publicly about some family matters … but I wish him well in the competition."
A former teammate threw him under the bus
While many of Aaron's teammates adore him and comment frequently on his friendliness, he has reportedly iced out others. Tight end Jermichael Finley told Bleacher Report Aaron never gave him his cellphone number through six seasons together, and he doesn't view the quarterback as a good leader. "In my opinion, he's a different guy," Finley said. "To tell you the truth, it was all about his game and his stats in my opinion … He kept grudges close to his chest … I just don't think he was a natural-born leader. He wasn't put on Earth to lead."
Finley added, "Aaron Rodgers is so scared of what guys are going to say that he doesn't say nothing at all. He doesn't get vocal. He goes into his little shell. … He's real self-centered [and] very sensitive. If he's joking with a guy and the guy comes back at him, he doesn't take it too well," Finley continued. "Because of what position he's in, he thinks guys are supposed to bow down to him I guess."
His lifestyle may clash with his family's beliefs
Though Aaron Rodgers is happily engaged to actor Shailene Woodley as of this writing, rumors that he is gay almost broke the internet in December 2013. Gossip site The Fame Driven (via Queerty) alleged the quarterback was in a relationship with his roommate and personal assistant, Kevin Lanflisi, citing some shady (now-deleted) tweets from Lanflisi and some local chatter. According to a source quoted in PerezHilton, "There has been speculation for years here in Wisconsin that Aaron is gay."
It's an individual's choice to decide if one wants to discuss their sexuality, but if the rumors are true, they could create tension with some of Aaron's conservative Christian family members. When the gossip emerged in the tabloids, Rodgers' father threatened to sue an outlet. Brother Jordan Rodgers was a member of a Christian fundamentalist group at Vanderbilt University, where, according to a commenter on Outsports article, he allegedly voiced his opposition to allowing gay students to join the group. Perhaps Aaron disagrees with his family members' views, or maybe he just doesn't want to get dragged into the mess. Either way, it's no surprise the football star may want to keep his distance.
Did he ditch his fam for his girlfriend?
Aaron Rodgers' family members reportedly weren't fans of ex-girlfriend Olivia Munn, who he dated from 2014 to 2017. A source told Us Weekly that Aaron ditched the rest of the Rodgers clan to be with Munn. "Aaron is the one that has pulled away from the family, not the reverse. When he got together with Olivia Munn, his family told him they didn't trust her and thought she wasn't with him for the right reasons. That made him furious, and he ended up choosing Olivia over his family," the insider claimed, alleging Munn's "strong personality" clashed with his family's values.
Aaron's father, Ed Rodgers, told The New York Times that a Bleacher Report story that claimed the family feud began when Aaron and Munn began dating was "accurate," adding, "Fame can change things." Aaron reportedly told the Times that he didn't want to discuss the situation in the press, but Ed said, "It's good to have it all come out … It's complicated. We're all hoping for the best."
Aaron said Olivia was not the problem
A source close to Munn told People that despite what Aaron's family claimed, she was not behind the Rodgers rift. "This is not her issue; this is the Rodgers family issue. Aaron has never wanted want to air this out in a public forum."
Aaron made his feelings about Munn clear when he told ESPN, "With Olivia, I have that person who is in my corner always, is willing to make me a priority and be understanding with my life and everything that comes with it. Surrounding yourself with encouraging, positive people [helps me live a] healthier, happier, life on and off the field." If it's true that he ditched his family when he hooked up with Munn, that statement could be the baller's way of throwing some subtle shade at his brood, implying that his family members are not the positive type.
But did she fan the flames?
Though Munn insisted she was not involved in the Rodgers family feud, her social media activity told another story. After the Green Bay Packers lost to the Atlanta Falcons in the NFC Championship game, the actress posted a photo of a handwritten note that said, "So proud of this team. They faced a lot of adversity on and off the field, but battled to get this far. THANK YOU to those of you who encouraged and supported them by choosing to put out only positive energy. It helped them get this far." No shade there, right?
Except after posting that, sports gossip blog Terez Owens reported that she promptly began liking comments from fans who were dissing the quarterback's family, including this one: "Thank you for standing by Aaron when his own family sold stories to the media in recent weeks and tried very hard to wreck his momentum. He is lucky to have found you. Real love is a gift." Munn could have just as easily done nothing, but by liking comments like that, she may have deliberately sent a very passive-aggressive message to her boyfriend's fam.
Munn spilled the beans on the Rodgers family rift
On SiriusXM's Andy Cohen Live in May 2018, Olivia Munn said Aaron Rodgers and his relatives are all at fault for the acrimony within their relationship. The actress said she was friendly with Jordan Rodgers and met Aaron's parents a couple of times. She also claimed Aaron hadn't spoken to his family for eight before they began dating and that she tried to get them to reconcile. Olivia claimed Aaron renewed a dialogue with his parents, but the good will didn't last, in part, because the Rodgers' clan may be too into Aaron's sports career. "I do believe that family and fame and success can be really complicated if their dreams are connected to your success," Olivia said, adding,"There's a lot of complications. I don't think either side of the road is clean, but I do think it's not OK if you try to stand on someone's shoulders then throw dirt in their face."
Perhaps unsurprisingly, Aaron never responded — but Jordan did! Speaking with Us Weekly, he said, "I'll say I have no idea why she's still talking about an ex, I don't get that."