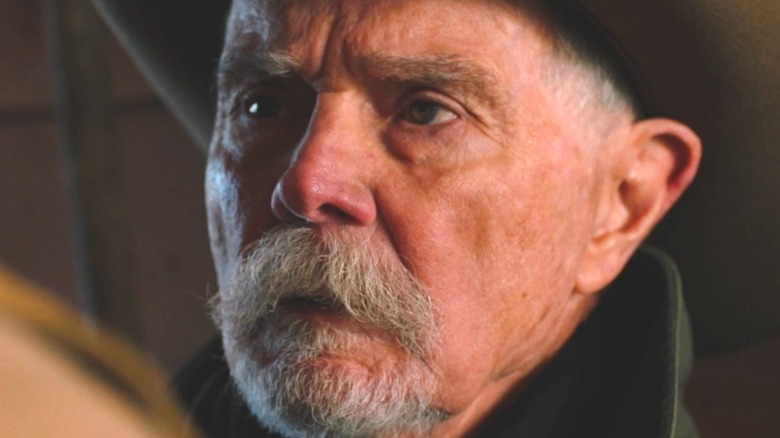 The Dutton Family featured in "Yellowstone" has a fair amount of allies and enemies. Of course, the family's enemies are almost always stopped by John Dutton (Kevin Costner) or one of his children, who protect their family ranch with a type of fervor rarely seen outside of homesteaders. Luckily, John's focus on family and land earns him at least a couple of friends, with one such example being Emmett Walsh (Buck Taylor).
Walsh appears in the very first episode of "Yellowstone," and occasionally throughout the show's five seasons, as a close personal friend of John. As the chairman of the Stock Growers Association, Emmett is a lifelong cowboy with love and respect for the animals, lands, and people who share the same feeling. Unfortunately, in the Season 5 episode "Cigarettes, Whiskey, a Meadow and You," Emmett dies during the annual cattle drive to the Dutton Ranch. This causes John to comment that his friend died doing something that he loved and that his passing was the ultimate way for an old cowboy to go.
Beyond the emotional moment of the episode, fans watching might be wondering why Emmett looks so familiar. According to IMDb, Taylor has well over 100 acting credits, and there is definitely a reoccurring trend, giving fans plenty of previous opportunities to have seen him on-screen.
Taylor's first major role was in Gunsmoke
Buck Taylor has recorded a long and illustrious career, starting with the famous "Gunsmoke" television show. Appearing in 173 episodes as Newly O'Brien, Taylor helps channel the mythos of the cowboy. "Gunsmoke" predominately focuses on Dodge City, Kansas, and is about the citizens, criminals, and law enforcers of the time and era. The main characters of "Gunsmoke" are U.S. Marshall Matt Dillon (James Arness), Doc Adams (Milburn Stone), and Kitty Russell (Amanda Blake). However, the show also had a truly surprising supporting cast, with several notable actors gracing the "Gunsmoke" stage, either as regulars or guest stars, including Harrison Ford, William Shatner, and Charles Bronson (via MeTV).
Taylor's character of O'Brien originally started off in the show as a gunsmith, but was later deputized to help bring law to the lawless. Taylor popped up in "Gunsmoke" from 1967 to 1975. During a 1973 interview with TV Guide (via Gunsmokenet), Taylor said, "I think I've got one of the better jobs in Hollywood. If I never did anything but 'Gunsmoke,' I'd be happy. I don't work very hard, I'm not overexposed, and I'm not typed. The money is good. I've got nothin' against makin' money. It's afforded me the things I want to do."
"Gunsmoke" set a precedent for Taylor, kicking off a career that has often seen him playing some kind of rugged frontiersman.
Taylor plays a Union cavalry officer in Gettysburg
Buck Taylor has an extensive career in playing cowboys and other related characters, popping up in shows like "The Young Riders," "High Mountain Rangers," "T.J. Hooker," and "Barnaby Jones," but arguably the next most significant and prolific piece of entertainment people may notice Taylor from is the 1993 film "Gettysburg." This rousing war epic is based on the real-life event battle that ultimately sealed the fate of the upstart Confederacy of the United States in the small Pennsylvanian hamlet of Gettysburg.
Buck Taylor plays the real-life Union Colonel William Gamble, a cavalry officer and engineer. Colonel Gamble, who was part of the division for General John Buford (Sam Elliot), is instrumental in "Gettysburg" because he is one of the first Union officers to spot the approaching Confederate army bearing down on Gettysburg while riding at the front of the cavalry column. As part of the Union's fast-moving regiments, Colonel Gamble provides enough time for other Union divisions to get into place by harrying the Confederate flanks. Considering Taylor's reputation, riding on horses and firing pistols is definitely in the actor's wheelhouse.
Taylor is a part of Wyatt Earp's posse in Tombstone
In 1993, Buck Taylor popped up in another historical epic, "Tombstone." This movie is based on the famous story of the Gunfight at the O.K. Corral and the subsequent fallout and violence between the likes of Wyatt Earp (Kurt Russell), Doc Holiday (Val Kilmer), Virgil Earp (Sam Elliot), and Morgan Earp (Bill Paxton) against a group of rogues, killers, and rapscallions led by Curly Bill Brocius (Powers Boothe). Although Wyatt and his family and friends move to Tombstone, Arizona in order to retire and live peaceful lives, Curly Bill's group acts with impunity, often terrorizing the town. Of course, when a group of reluctant and legendary lawmen comes up against such a force, conflict is inevitable.
Taylor plays the role of Jack "Turkey Creek" Johnson, and he aids the Earp group in fighting against Curly Bill's group of red sash-wearing cowboys during the culmination of the movie. Speaking with Elena Sandidge, technical assistant Peter Sherayko, who also plays Jack Vermillion, spoke about how some of the actors involved in "Tombstone" needed horseback riding lessons, but mentioned that Taylor didn't need such training. Sherayko added, "We'd also sit with the actors to help strengthen their riding. If you look at the posse chase scenes, you'll see that Buck Taylor and I were riding on the ends. We called ourselves the 'bookends.'"
Taylor pops up in the prequel to Gettysburg called Gods and Generals as a different character
Continuing his stint with historical epics, Buck Taylor appears in 2003's "Gods and Generals." The film is actually a prequel to "Gettysburg," though Taylor does not play the same character. "Gods and Generals" is helmed by the same "Gettysburg" director, Ronald F. Maxwell, and brings back some of the same actors, including Taylor, Jeff Daniels, Robert Duvall, and Stephen Lang. This movie, unlike "Gettysburg," which simply took place over a few days, spans an era in the life of Stonewall Jackson (Lang), from the onset of the American Civil War to his ultimate death at the Battle of Chancellorsville.
Taylor appears in the original film as a Union officer, but in "Gods and Generals," Taylor plays Confederate General Maxcy Gregg, which represents quite a change. In an interview with True West Magazine, Taylor spoke about his role, and his fellow co-star Lang, saying, "I was playing General Maxcy Gregg in 'Gods & Generals,' and when they were shooting my death scene, I looked up at Stephen Lang. Stephen was playing Stonewall Jackson, and he'd also played Ike Clanton in 'Tombstone.' So when I saw Stephen, I just moaned, 'Ike Clanton — I've caught up with you at last.'"
Taylor makes a bad decision in Cowboys and Aliens
Universal Pictures
Aside from "Yellowstone," another recent piece of entertainment that saw Buck Taylor utilize his cowboy skills is 2011's "Cowboys and Aliens." Starring Harrison Ford, Daniel Craig, Sam Rockwell, and Olivia Wilde, "Cowboys and Aliens" highlights what might have happened if aliens decided to invade Earth during the period of time denoted by the American West. Though many would suspect that cowboys would be sorely outmatched against a space-faring species seeking gold, one cowboy, known as Jake Lonergan (Craig), possesses an alien bracelet that can utilize advanced technology with explosive results. Taylor plays Wes Clairbourne, a bandit who, unfortunately, comes across Jake and makes some rather bad decisions, which causes Jake to lash out.
During a red-carpet interview with Comic Book Movie on YouTube, Taylor spoke about his experience on set, and said, "I just had a great time working on the film and worked with both of my sons, who are stuntmen. We played a family that confronts Daniel Craig and he's a real gentleman until I stick a shotgun in his face and, oh man, he goes nuts."
With all of these examples of Taylor's career, one can definitely see that he has a preference when it comes to acting. Chances are, people have likely seen Taylor don a revolver, spurs, or cowboy hat at some point in their lives.