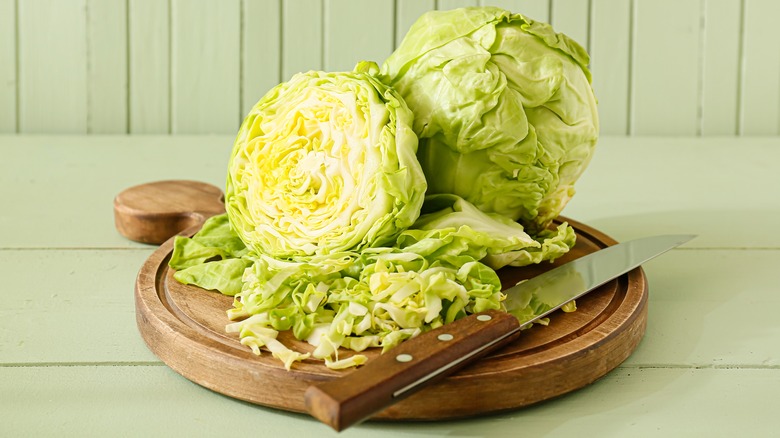 Cabbage is a vegetable that's never been seen as unusual or trendy enough to get named a superfood – it probably doesn't help that it's been the "butt" of many jokes due to its, er, malodorous after-effects that may make you think twice before eating cabbage. What's more, superfoods tend to be pricey, and cabbage has long been one of the cheapest vegetables in the grocery store. That makes it a kind of stealth superfood in our books due to the fact that it's low in calories and carbs as well as being packed with vitamins and minerals, yet seems unlikely ever to be elevated to gourmet status with a resulting boost in price.
As cabbage is quite hearty and filling as well as inexpensive, it has long been used as the foundation for dishes all around the world. The recipes on this list span the globe from China to Poland to Ireland, with each culture putting its own spin on its cabbage preparations. Even a quick scroll through this list will show just how versatile this vegetable can be.
1. Cabbage Soup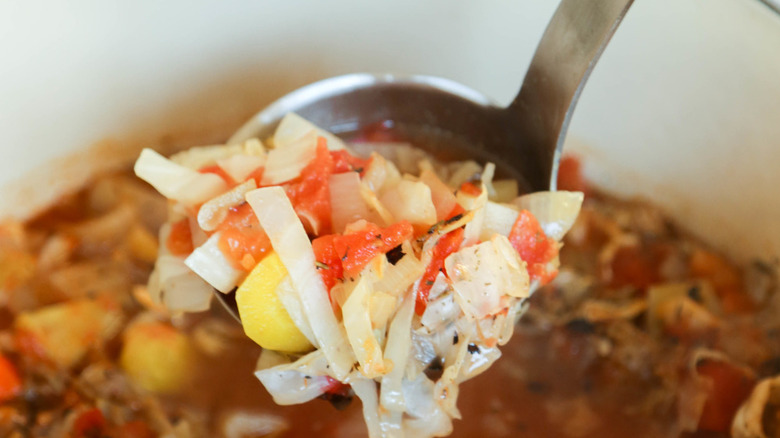 Fad diets come and go, but then they often circle back around again, as is the case with the cabbage soup diet. While the diet has been disparaged by nutritionists, cabbage soup itself hasn't been canceled. This version, which is made with onions, potatoes, and carrots in a tomato broth, may not be the only food you need, but it can make for a light yet satisfying lunch or a side or starter for your main meal.
Recipe: Cabbage Soup
2. Traditional Coleslaw
Quick, name a recipe made with cabbage! Chances are one of the first things you thought of was coleslaw. The very name is an Anglicization of the Dutch "koolsla," which literally translates to cabbage salad. This recipe is the mayonnaise-based version that's served up at backyard barbecues and fast food restaurants all over the U.S., although here we're using both green and red cabbage as well as carrots in order to give this slaw an extra-colorful appearance.
Recipe: Traditional Coleslaw
3. Sauerkraut
Another one of cabbage's greatest hits is sauerkraut, a fermented cabbage dish whose name reveals its German roots. You might think of sauerkraut as something that comes from a can, but in recent years all things fermented have been in vogue due to the digestive benefits they offer. Artisanal sauerkraut, therefore, is now a thing, but you can save big bucks by making your own at home. The main ingredients are cabbage and salt, both of which are super cheap, and while this recipe calls for champagne vinegar, the distilled kind will work just as well if you don't have the fancy stuff on hand.
Recipe: Homemade Sauerkraut
4. Corned Beef And Cabbage
Cranberry sauce and candied yams may have Thanksgiving, and lamb-shaped butter has Easter. But even the humble boiled cabbage gets a holiday of its own: On St. Patrick's Day, it is the must-have side for its BFF, corned beef. Truth be told, corned beef and cabbage is not something people typically eat in Ireland, but it's long been a staple of American celebrations on a day when everyone's said to be a wee bit Irish (at least after a glass or two of green beer). In our version of the dish, the cabbage and beef aren't boiled on the stove top, so your house won't be quite so cabbage-perfumed. Instead, they are oven-braised in white wine for a slightly more upscale meal suited for a holiday celebration.
Recipe: Corned Beef And Cabbage
5. Colcannon
Should you want to celebrate St. Patrick's Day with the type of dish that's well known on the Auld Sod, you can always cook up a pot of colcannon. Colcannon at its simplest is mashed potatoes mixed with cooked cabbage, although here we're adding garlic and green onions for a little extra flavor. Colcannon works well as a side for roast pork, chicken, or sausages and of course, it's the perfect accompaniment to a hearty Irish stew.
Recipe: Colcannon
6. Cabbage Rolls
As we continue our world tour de cabbage, we now come to Eastern Europe where we find a recipe for the stuffed cabbage rolls known as holubtsi in the Ukraine and golabki in Poland. The stuffing for the cabbage leaves in this recipe is made up of a mixture of ground beef, ground pork, and rice. Once stuffed, the cabbage is then baked in a sweet and sour tomato sauce. The resulting dish provides meat, starch, and vegetables all in one neat little package, how convenient is that? Best of all, the leftovers should last up to a whole week in the fridge.
Recipe: Cabbage Rolls
7. Polish Haluski
Another classic Polish cabbage dish is haluski, which is made by sauteing cabbage and onion in butter and then mixing them with peppered egg noodles. It may not be the quickest of recipes as it does require cooking the cabbage low and slow to the point where it starts to caramelize, but this does help to bring out this vegetable's hidden sweet side. One thing you won't have to spend much time on, however, is tracking down the necessary ingredients. Apart from the cabbage, everything called for here is your basic kitchen staple: salt, pepper, butter, noodles, and an onion. If you want to transform the haluski into a one-pot Polish meal, you could always slice up some kielbasa and add it to the cabbage and onions about 10 minutes before the vegetables are done.
Recipe: Polish Haluski
8. Kielbasa Stew
Speaking of kielbasa, this Polish smoked sausage plays just as nicely with cabbage as corned beef does. In this stew recipe, the cabbage is cooked in a tomato broth along with onions, carrots, and even a few parmesan rinds if you've got them. (If not, grated parmesan works, too.) The kielbasa, sauteed separately, goes in at the end along with some orzo pasta and, for an extra boost of nutritious greens, a few handfuls of healthy kale. Starch, vegetables, and meat make up your entire dinner, although you might want a thick slice of bread to help you get every last drop of goodness out of the bowl.
Recipe: Kielbasa Stew
9. Borscht
Although the main ingredient in borscht is red beets, the Ukrainian recipe blog Etnocook says there's a Ukrainian proverb that translates to "Without bread, it's no lunch; without cabbage, it's no borscht." In other words, beets alone do not a borscht make and cabbage plays a very important supporting role in this soup. Onions, carrots, and potatoes also help to bulk things up in our meatless version, while sugar and vinegar add some sweet and sour tang to the tomato-based broth. To finish things off nicely, don't forget a dollop of sour cream.
Recipe: Borscht
10. German Bierocks
Sauerkraut isn't Germany's sole contribution to cabbage cuisine. Bierocks are kind of a western European take on the Eastern European stuffed dumplings known as pierogi. Bierocks, however, are larger and more bread-like as they are made from yeast dough. The bierocks in this recipe are filled with a savory combo of cabbage, of course, along with ground beef and onions, and they're flavored with caraway, nutmeg, and paprika. Needless to say, they would go great with a cold stein of Becks, St. Pauli, or any other German beer.
Recipe: Authentic German Bierocks
11. Slow Cooker Belgian Chicken Booyah
Booyah may sound like a catchphrase the '90s would like to have back, but apart from its rather dated slang usage the word also refers to a type of stew that comes from Belgium by way of Wisconsin. While this recipe is billed as chicken booyah, it contains just as much beef as it does chicken and it also calls for quite the long list of vegetables: onions, peas, green beans, carrots, corn, tomatoes, and of course our old friend cabbage. Once you've gathered up all the necessary ingredients, though, it couldn't be much easier to cook: chuck everything into the slow cooker, then let that wonder appliance do its thing for a few hours. Booyah! Dinner is ready.
Recipe: Slow Cooker Belgian Chicken Booyah
12. Okonomiyaki
Europe does not have a monopoly on the world's cabbage use — far from it. Cabbage is widely used in Asian cuisines as well, and one dish that showcases it at its best is the Japanese pancake known as okonomiyaki. Okonomiyaki is typically made with flour and eggs, although finely-crushed dried breadcrumbs can also be used as in this recipe. The shredded cabbage that is mixed into the batter gives the dish its unique flavor. They are slightly reminiscent of potato pancakes, only with cabbage instead of potatoes and Kewpie mayo and soy sauce taking the place of sour cream and applesauce toppings.
Recipe: Easy Okonomiyaki
13. Crispy Donkatsu
Donkatsu, as any Japanese speakers are sure to know, translates literally to "pork cutlet," with the recipe version involving said cutlets being breaded, fried, and served with a sweet Japanese-style barbecue sauce. There's one other element to a donkatsu meal that really ties everything together: a small pile of shredded cabbage. Why the cabbage? Apart from enabling you to tell your mom that yes, you did eat some veggies with your meal, it also helps to absorb some of the grease from the fatty fried pork and makes the donkatsu easier to digest.
Recipe: Crispy Donkatsu
14. Ramen
Ramen, if you are a Pastafarian, is the word you use to end your paeans of praise to the Flying Spaghetti Monster. If you need a cheap meal, it's also a way to fill your belly for under a buck. If you live in Japan, however, you may know ramen as a complex, nuanced dish where noodles are just one of a long list of ingredients. This particular Japanese-style recipe calls for 20 different items (including cabbage, of course), and it requires a time investment of about three-quarters of an hour. What you'll reap in dividends, however, is a bowl of ramen that's a thousand times better than the kind that comes from a noodle brick and a seasoning packet.
Recipe: Ramen
15. Fried Pork And Cabbage Gyoza
Gyoza are Japans's answer to pierogi — they are dumplings that come in a wide variety of fillings, and they can either be steamed or fried. The gyoza in this recipe are the latter kind, and their filling, as per the name of the recipe, consists of ground pork (the ingredients list says "minced" pork, but that's just the British term for it) along with sliced cabbage. They also get plenty of flavor from the ginger, soy sauce, sesame oil, and chives used to season the pork-slash-cabbage mixture. While these dumplings do take some time to prepare, they're well worth the effort, plus you can always freeze the leftovers and heat them back up in the microwave or air fryer for a quick, tasty snack any time you wish.
Recipe: Savory Fried Pork And Cabbage Gyoza
16. Spicy Chicken Potstickers
Potstickers are Chinese dumplings that are very similar to gyoza in that they, too, are crescent-shaped and come with a variety of fillings. The ones in this recipe are stuffed with ground chicken and sweet potato vermicelli along with shiitake mushrooms, scallions, and carrots, with good old cabbage helping to pad them out. While these potstickers take a full hour to prepare and call for 19 different ingredients, they make a great meal prep project as they can be frozen prior to cooking.
Recipe: Spicy Chicken Potstickers
17. Twice Cooked Pork With Cabbage
Twice-baked potatoes, refried beans, and twice-cooked pork … while these are all very different dishes, the one thing they have in common is that they involve two different methods of cooking. The pork belly in this twice-cooked pork recipe is first boiled, then simmered in broth seasoned with soy sauce, ginger, and garlic. The cabbage that accompanies it is cooked just a single time, though. It is briefly sauteed in oil until it wilts and then dished up alongside the pork with a side of rice.
Recipe: Twice Cooked Pork With Cabbage
18. Drunken Noodles
Drunken noodles may have a name that prompts giggles, although the dish itself is not something you could really get tipsy off of. This recipe does contain a small amount of alcohol, but 1 ½ teaspoon of sherry per serving isn't something you're likely to feel any effects from, not least because of all of the noodles and the cabbage that can help to absorb this tiny bit of booze. Here we are using napa, aka Chinese, cabbage, which is softer and more delicate than green cabbage. This texture makes it perfect for stir-fries such as this one.
Recipe: Drunken Noodles
19. Pork Mei Fun
Mei fun is a Chinese dish made with rice noodles and this version, as the name indicates, is made with pork. The other ingredients called for here are the sorts of things you might expect to find in a stir fry — carrots, green onions, bean sprouts, and Chinese (aka napa) cabbage as well as some scrambled eggs. Plenty of protein, a whole bunch of veggies, and enough noodles to fill you up make for a meal that's sure to satisfy.
Recipe: Quick Pork Mei Fun
20. Egg Rolls
Egg rolls, while they are served by nearly all Chinese restaurants, are more likely to be American in origin. While they do have some similarities to the spring rolls known in China, the egg rolls familiar to us are probably the creation of an NYC Chinese restaurateur (which one remains unclear as there are several conflicting claims). Whatever their provenance, egg rolls are a fun and flavorful appetizer. Our DIY version uses that classic combo of ground pork and cabbage as a filling along with mushrooms, onions, carrots, ginger, garlic, and other good stuff.
Recipe: Delicious Egg Rolls
21. Fresh Vegetable Lumpia
Filipino cuisine has its own version of the egg roll, a dish called lumpia. Lumpia can be stuffed with any number of fillings including pork, chicken, shrimp, and even bananas (these last-named ones are a sweetened dessert version). This recipe, however, is for lumpia filled entirely with vegetables: onions, bean sprouts, carrots, jicama, and cabbage. The recipe could even be vegan as long as you choose your wrappers wisely — while traditional lumpia wrappers are often made with eggs, it should be possible to find ones that do not include this ingredient.
Recipe: Fresh Vegetable Lumpia
22. Pancit
Pancit is another Filipino specialty that may not be as well-known as lumpia but is equally tasty. The word pancit simply means noodles, which, as you can imagine, allows for a whole lot of leeway in preparation. Typically the noodles are stir-fried with meat or seafood, vegetables, and/or egg — if this sounds at all familiar, bear in mind that Filipino cuisine has been heavily influenced by that of China. This particular pancit recipe uses rice noodles in combination with chicken, carrots, onions, and cabbage, but it gets its distinctively Filipino flavor from the soy sauce/sugar combo used as a sauce.
Recipe: Authentic Pancit
23. Slow Cooker Beef Sinigang
Beef sinigang is a lesser-known Filipino classic, but it's one with a uniquely enjoyable flavor that comes from the tamarind broth (you can use a packaged mix for this). The sinigang itself, which is the Tagalog word for stew, is made of beef simmered until fall-apart tender, then rounded out with potatoes, shredded angel hair cabbage, and a different type of cabbage known as bok choy. There's some wiggle room with the vegetables used here, though, so you can feel free to sub in thin-sliced or shredded green or napa cabbage for either or both of these other cabbages.
Recipe: Slow Cooker Beef Sinigang
24. Kimchi
The Korean condiment kimchi wasn't always popular with non-Koreans, but it's had a recent image makeover and turned into one of the biggest flavor fads of the late 20-teens, early 20-twenties (or however we're styling these decades). While the kimchi craze originally kicked off due to people's realization of all the health benefits attached to fermented foods. you're probably not going to get a major power-up from kimchi-flavored mayo or a kimchi bloody Mary. Making your own homemade kimchi, however, will allow you to transform a head of cabbage into a large jar of spicy, nutritious goodness.
Recipe: Easy Homemade Kimchi
25. Jajangmyeon
If you're not a big fan of Valentine's Day, when everyone goes all ooey-gooey over romance and overindulges in cheap chocolate, you may prefer the Korean anti-V-Day known as Black Day. This holiday is for singles only — perhaps not entirely coincidentally, it takes place in April just in time for all those post-Valentine's breakups. The best part of Black Day is that it's observed not by stuffing yourself with candy, but by preparing a pork belly-slash-cabbage stir fry called jajangmyeon. While you may not be able to find this dish on the menus of hipster K-food restaurants, it's not at all difficult to make at home. This way, you can have your own private feast to celebrate your love … of Korean food.
Recipe: Traditional Jajangmyeon
26. Curtido
As we've seen, cabbage is a staple of both European and Asian cooking, but it's not unknown in Latin American kitchens either. In El Salvador, there's a traditional dish called curtido which is their version of coleslaw. It, too, starts with shredded cabbage, although the cabbage is briefly blanched to soften it. The not-quite-cooked cabbage is then combined with onions, carrots, and jalapenos and dressed with vinegar (although there's no oil involved). Curtido makes a great side salad, but you might also like to use it as a topping for tacos or sandwiches.
Recipe: Authentic Curtido
27. Cabbage Salad
From a distance, a head of cabbage might be mistaken for a head of iceberg lettuce in the grocery store, but before you even get close enough to notice the differences between the two, you may be tipped off by the price — cabbage often tends to be quite a bit cheaper. You may have wondered, particularly when funds are tight, if you can, in fact, substitute the cheaper cabbage for the pricier lettuce.
While they do have their differences, it turns out that cabbage works surprisingly well in a standard salad as well as in the coleslaw kind. In this salad recipe, a blend of napa and red cabbage is used, while the dressing is made from peanut butter, soy sauce, and sesame oil. If you prefer some tartness in your dressing, you could always add some rice vinegar or fresh lime juice, as well.
Recipe: Cabbage Salad
28. Cabbage And Sausage Casserole
Have you ever noticed how certain meats have their go-to sides? Steak has potatoes, burgers have fries, and chicken has waffles. As for pork, there's no meat that pairs better with cabbage. In this dish, pork sausage meat is mixed with chopped cabbage and baked in butter to make an incredibly simple, cheap, and filling casserole. Bonus: if you're counting carbohydrates, with this dish you can probably do so on the fingers of one hand. Well, you may need two hands, but still, this is an extremely keto-friendly recipe.
Recipe: Cabbage And Sausage Casserole
29. Quick Cabbage And Noodles
Need a quick side dish for some pork chops or perhaps baked chicken? You've got two directions you can go in — either a vegetable or a starch. Or you could combine the two by mixing up some cabbage and noodles. Here we're sautéing cabbage in butter with some sliced onion, while in the meantime boiling some egg noodles until they're still slightly chewy. The two named ingredients are mixed together along with more butter, salt, and pepper to make for a cheap, filling side dish. You could also transform the cabbage and noodles into a one-pot meal by stirring in a couple of sliced smoked sausages.
Recipe: Quick Cabbage And Noodles
30. Quick Chow Mein
Chow mein has been a staple of Chinese-American restaurant menus since back in the days when these types of places, along with the occasional pizzeria, were the only ones offering takeout or delivery. (Yes, children of the DoorDash era, your elders really had things tough back in the day.) It can also make for a thrifty make-at-home meal — in this recipe, just over half a pound of chicken is stretched out with noodles and cabbage to feed four people.
Recipe: Quick Chow Mein
31. Fried Cabbage
This dish of fried cabbage is the ultimate budget-stretcher. It starts with a head of plain green cabbage, which is probably going to be one of the cheapest things in the produce section on a pound-for-pound basis. The cabbage is shredded, pan-fried in just a bit of butter, then flavored with a few strips of crumbled bacon and some crushed red pepper. In fact, if you want an even cheaper, more flavorful dish, you could replace all or part of the butter with the drippings from the bacon.
Recipe: Fried Cabbage
32. Sauteed Cabbage
If you need a plain, basic side dish to accompany a meaty main course, chances are you're going to think of something along the lines of potatoes, rice, or pasta. What if you're trying to cut down on carbs, though? In that case, a hearty, yet non-starchy, vegetable is going to be your best bet, and we can't think of one better suited for the purpose than cabbage. Slice, it, sauté it in heart-healthy olive oil, then season it with salt, and pepper, along with vinegar or lemon juice, and it's fit to accompany any type of meal.
Recipe: Sauteed Cabbage Recipe
33. Spicy Cabbage Soup
What to do if you've got a produce bin full of vegetables that need to be used up ASAP before they start going bad? Vegetable soup is a great choice, as it's inexpensive, healthy, and filling, and is also easy to make as you pretty much put your vegetables in a pot (peeling, chopping, or otherwise prepping them as necessary first, of course) with some broth, then simmer away until it's soup. While some vegetable soups are bulked up with noodles and pasta, in this soup cabbage serves a similar purpose without running up the carb count. The cabbage also adds a sweet, earthy flavor of its own to the mélange, while a small pinch of crushed red pepper lends an ever-so-slight spiciness to the soup.
Recipe: Spicy Cabbage Soup
34. Slow Cooker Cabbage Rolls
Cabbage rolls, which are Eastern Europe's answer to the stuffed pepper, are a great dish for feeding a crowd without breaking the bank. In this recipe, just two ounces of ground beef is used per serving as that beef is stretched out with plenty of rice and onions before being wrapped in a large leaf of cabbage. The rolls are then slow-simmered in tomato sauce in a preparation that's made fairly effort-free via the aid of a crockpot.
Recipe: Simple Slow Cooker Cabbage Rolls
35. Instant Pot Corned Beef And Cabbage
If you are a traditionalist at heart, you may insist on preparing corned beef and cabbage every March 17. If you're a fan of modern kitchen gadgetry, you most likely have an Instant Pot in your arsenal. Since there's no reason you can't be both traditional and up-to-date when it comes to cooking, here is a recipe that will allow you to prepare the old classic in your newfangled gizmo. While this dish isn't exactly instant — it takes an hour and a half to cook, plus the necessary time for the pot to heat up and then let off steam — it still beats the heck out of having your house smell of boiled cabbage for an entire day. (While cabbage has many wonderful properties, it's not known for its fragrance.)
Recipe: Instant Pot Corned Beef And Cabbage
36. 20-Minute Egg Roll In A Bowl
Egg rolls are great as an appetizer, but they're not the sort of thing you'd typically make a whole meal of. Not if you're concerned about your health, that is, as deep-fried foods are delicious but not so nutritious. With this recipe, however, we're taking the ingredients typically found in an egg roll filling — seasoned ground pork, onions, carrots, and cabbage — and serving them up minus the crunchy outer coating. Eaten on its own, this bowl is tasty, healthy, and low in both carbs and calories. If you spoon it over rice or noodles, though, you could double the number of servings for just pennies more.
Recipe: 20-Minute Egg Roll In A Bowl
37. 15-Minute Deconstructed Sushi Bowl
While we often think of sushi as a dish of raw fish, it turns out that the term translates to "sour rice." This means that rice, plus a vinegar dressing, are the only truly essential components. By that light, this recipe isn't really a deconstructed sushi bowl as it lacks the vinegar, although you could always sprinkle in some rice vinegar to make it more sushi-like. What you're getting, instead, is a fish-free brown rice bowl topped with edamame, carrots, cucumbers, and shredded red cabbage. While the mayonnaise dressing makes this rice bowl not quite vegan, you can use a plant-based mayo substitute to make for an entirely plant-based bowl.
Recipe: 15-Minute Deconstructed Sushi Bowl
38. Cabbage Steak
When you're hungry for a thick, juicy steak, well, we're not going to lie to you, cabbage is no substitute, no matter how you cook it. If you've already gone meat-free, though, you may enjoy these cabbage wedge "steaks" baked with a light coating of olive oil and a sprinkling of garlic, salt, and pepper. Plus, if you're Team Omnivore, there's no reason you couldn't serve these green steaks alongside the beefier kind as a garden-and-turf combo plate.
Recipe: Quick And Easy Cabbage Steak
39. Unstuffed Cabbage Rolls
Unstuffed cabbage rolls? What are they, just plain old rolled-up cabbage with no filling? While that doesn't sound too appealing, what you're actually getting with this recipe is something that could more accurately be described as unrolled cabbage rolls. The sausage meat, rice, and onion filling are still there, as is the tomato sauce. But the cabbage, rather than being used as a wrapper, is instead chopped into chunks and stirred into the rest of the ingredients. Not only is this recipe super-easy due to lack of rolling, but you're even using a crockpot to do the cooking.
Recipe: Unstuffed Cabbage Rolls
40. Creamy Pineapple Coleslaw
The standard coleslaw you get with your fast-food fish or chicken is likely to consist of little more than green cabbage, carrots, and mayonnaise, but this tropical-inspired slaw is anything but basic. It ditches the mayo, for one thing, in favor of a yogurt-lime dressing, while red cabbage takes the place of the green stuff to add some vivid color. What really makes this coleslaw stand out, however, are the cilantro and the tangy fresh pineapple that give it a whole flavor makeover.
Recipe: Creamy Pineapple Coleslaw
41. Summer Pea Salad
Peas are not typically used in salads, but then again, neither is cabbage, unless that salad is of the coleslaw variety. In this recipe, however, these two underutilized salad veggies get together with radishes, scallions, and parsley in a light dressing of olive oil, lemon juice, and vinegar. Not your standard salad, to be sure, but one that can make for a refreshingly different healthy summer side dish.
Recipe: Summer Pea Salad
42. 20-Minute Fish Tacos
Typical tacos made with ground beef are often topped with lettuce, but with fish tacos, you're more apt to see cabbage. Why the veggie swap? Probably because cabbage is associated with coleslaw and coleslaw is often served with seafood. While you can use any kind of cabbage in this recipe, the purplish kind would make for a nice contrast with the pink salmon and the green from the avocado-lime sauce.
Recipe: 20-Minute Fish Tacos
43. Mini Shrimp Egg Rolls
Making your own egg rolls, as opposed to heating up the frozen kind, is a true labor of love as it can require a bunch of different ingredients — in this recipe, there are 19 in all! While the ingredient that gets star billing is the shrimp, its trusty sidekick cabbage fills up much of the space. While you'll need to put in time and effort to prep and combine the ingredients that go inside each egg roll and then to stuff, roll, and fry each piece, the taste of just-fried egg rolls is well worth the effort.
Recipe: Crunchy Mini Shrimp Egg Rolls Recipe
44. Smoked Corned Beef
Corned beef is usually sold already prepared, but if you're a true DIY aficionado and happen to have a lot of time on your hands, it is possible to make it yourself out of beef brisket, salt, sugar, and a whole bunch of spices (mustard seeds, peppercorn, ginger, and allspice, to name but a few). After you brine your beef, you'll then smoke not only the meat but also the accompanying vegetables: potatoes, carrots, and, of course, cabbage. The best part of smoked corned beef and cabbage is that, unlike the boiled kind, it actually smells amazing as it cooks.
Recipe: Smoked Corned Beef
45. Chick-Fil-A Copycat Coleslaw
Once upon a time, the beloved fast food chain Chick-fil-A used to offer coleslaw, but then the big bad marketers came along and convinced the chain to replace it with the trendier kale salad instead. Despite the angry outcry, to this day coleslaw is still missing from Chick-Fil-A's menu while kale remains. If you want a taste of this old favorite — or to try it for yourself if you were too young to remember the original — you'll have to make it yourself. Luckily our copycat recipe will allow you to whip up a pretty good facsimile out of nothing more than a head of cabbage, a carrot, some mayonnaise, and a vinegar dressing.
Recipe: Chick-Fil-A Copycat Coleslaw
46. Turkey Reuben Sandwich
A classic Reuben is one of the all-time great sandwiches, but admittedly it's not the healthiest thing out there as it can be rather fatty as well as messy. Here we're giving it a leaner, cleaner makeover, using whole grain bread instead of rye, thin-sliced turkey in place of pastrami, low-fat Swiss cheese, and light Thousand Island dressing. Even the sauerkraut is replaced with raw shredded cabbage for a sandwich that's not your typical Reuben but is less likely to drip all over your shirt or raise your cholesterol.
Recipe: Healthy Turkey Reuben Sandwich
47. 15-Minute Veggie Lo Mein
Lo mein, like its cousin chow mein, belongs to the pantheon of American-Chinese classics from back in the days when few in the U.S. had ever heard of xiaolongbao, jiǎozi, or mapo tofu. It's a popular takeout order but is also something that's fairly easy to make at home. Our version is an all-vegetable one made with bell peppers, broccoli, carrots, edamame, and cabbage. While there's not enough protein for this noodle dish to work as a standalone main course, you could always use it as a side dish or add meat, eggs, or tofu to make it into a one-pot meal.
Recipe: 15-Minute Veggie Lo Mein
48. Corned Beef Egg Rolls
Ever notice how nearly every recipe seems to include the word "enjoy" as if it were a directive? Well, unless Marie Kondo's in your kitchen, it's not likely that every single thing you eat is going to spark joy in your life. Corned beef and cabbage, in particular, is a dish that has quite the opposite effect on many who simply don't care for the stuff despite the fact that it seems to be considered de rigueur for St. Patrick's Day and thus gets trotted out year after year.
Using those same ingredients to fill crunchy egg rolls, however, may in fact, bring some real joy, This dish completely changes the nature of the old standby while, at the same time, giving more than a passing nod to tradition. Plus, as has previously been noted, corned beef and cabbage is in itself a type of fusion cuisine due to the fact that the meat originally used to make this Irish-American dish was supplied by Jewish delis. In that case, why not throw a little Chinese influence into the melting pot, as well?
Recipe: Corned Beef Egg Rolls
49. Caramelized Green Cabbage And Bacon
Caramelizing is a popular, if polarizing, method of vegetable preparation — not polarizing in the sense that anyone really dislikes caramelized veggies, but in the sense that true caramelization of onions and other vegetables can take over an hour of constant stirring over low heat. Many recipes claim to caramelize in a much shorter cooking time, but they're really only sauteing the vegetables. You can, however, save yourself the effort of hovering over the stove for the entire time by involving your oven in the caramelization process, as is the case with this roasted cabbage recipe. Does the cabbage truly caramelize after half an hour of high-heat baking rather than low-and-slow stir-frying? It's hard to say without a degree in culinary chemistry, but this preparation does taste pretty good, especially with its bacon topping.
Recipe: Easy Caramelized Green Cabbage And Bacon
50. Fried Pork Gyoza
The great thing about gyoza, besides the way they taste, is that these cabbage and pork-stuffed Japanese dumplings are a perfect dish for meal preppers to make. While the gyoza in this recipe do take some time to stuff, fry, and steam, once they are cooked, they can be frozen for later use. You don't even have to thaw them when you want to heat them back up — just put them in a frying pan with a bit of water and they'll thaw and reheat in just that single step.
Recipe: Authentic Fried Pork Gyoza
51. Mixed Vegetable Paratha
Paratha is an Indian flatbread that is usually plain and unflavored, although it is often stuffed with a variety of ingredients such as potatoes or cheese. Sometimes, however, other ingredients are incorporated into the paratha dough itself, as is the case with this vegetable version. Here a mixture of cabbage, carrots, bell peppers, and onions is sauteed, seasoned, and stirred into the dough, then fried to create a bread that goes great with curries and other South Asian-style meals.
Recipe: Mixed Vegetable Paratha
52. One-Pot Vegetarian Mushroom Goulash
Goulash is a meaty, paprika-spiced stew, although the American version is a more of school cafeteria mishmash of ground beef, canned tomatoes, and elbow macaroni that often omits the paprika. This veggie version, while it lacks the meat that defines a true goulash, does at least retain its signature spice. This dish is primarily composed of mushrooms, although it also includes cabbage, onions, carrots, celery, potatoes, and canned tomatoes. It makes for a great side dish as-is, although you could also add some protein to it to turn it into an entrée.
Recipe: One-Pot Vegetarian Mushroom Goulash
53. Copycat KFC Coleslaw
Coleslaw is a side dish that often features at picnics, barbecues, and other outdoor gatherings, as does fried chicken. KFC, perhaps drawing a line between the two, has long offered coleslaw as a side dish for its own chicken creations. If KFC's take on coleslaw is your idea of this dish done right, you may wish to try your hand at a DIY version. Sure, it takes some work to put it together, although using a bag of pre-shredded coleslaw mix will make things a whole lot easier. Our version does, however, make a pretty close facsimile of the fast-food favorite, only you'll get a much bigger batch at a much smaller price.
Recipe: Perfect Copycat KFC Coleslaw
54. Sweet Kale Salad
Kale is very nutritious, to be sure, but it can also be tough and bitter. If you want to get all of the health benefits while minimizing the less palatable aspects of this not-so-super-tasting superfood, it helps to include a lot of other ingredients in your kale salad. Here we're supplementing the leafy greens with a wide variety of wholesome produce including cabbage, broccoli slaw, brussels sprouts, apples, and cranberries, while the dressing is made from orange juice, lemon juice, olive oil, honey, and vinegar. In keeping with the whole healthy motif, pumpkin seeds are used in lieu of croutons to add some crunch.
Recipe: Sweet Kale Salad
55. Cauliflower Tacos
For a vegan take on tacos, you can always use beans as a filling, but if you want to experiment, you could also try using cauliflower. This cruciferous vegetable has been pretty popular lately, standing in for everything from pizza crust to macaroni to chicken wings, so why not taco meat? The spiced, cooked cauliflower in this recipe is tucked into taco shells, topped with cabbage and white beans, and doused with avocado-lime sauce to give it some extra flavor. The one thing this dish does not offer, however, is much in the way of protein (just over 5 grams per serving), so you may want to double or triple down on the beans or eat it with a very protein-heavy side.
Recipe: Quick Cauliflower Tacos
56. Easy Chicken Egg Rolls
If you think egg rolls are kind of "meh," that may be because you've never had truly fresh ones. If you get them with an order of takeout, they've had quite a bit of time to cool down en route from the fryer to your house, and sadly, the quality of an egg roll depreciates even faster than the value of a new car once you drive it off the lot. Egg rolls made from this quick and easy recipe, however, go together with minimum effort. All you need is a pound of ground chicken, a bag of shredded cabbage and carrots, and a few other seasonings, plus a package of egg roll wrappers. Fill them, drop them in hot oil, then eat them fresh from the frying pan and you'll finally understand what an egg roll can truly be.