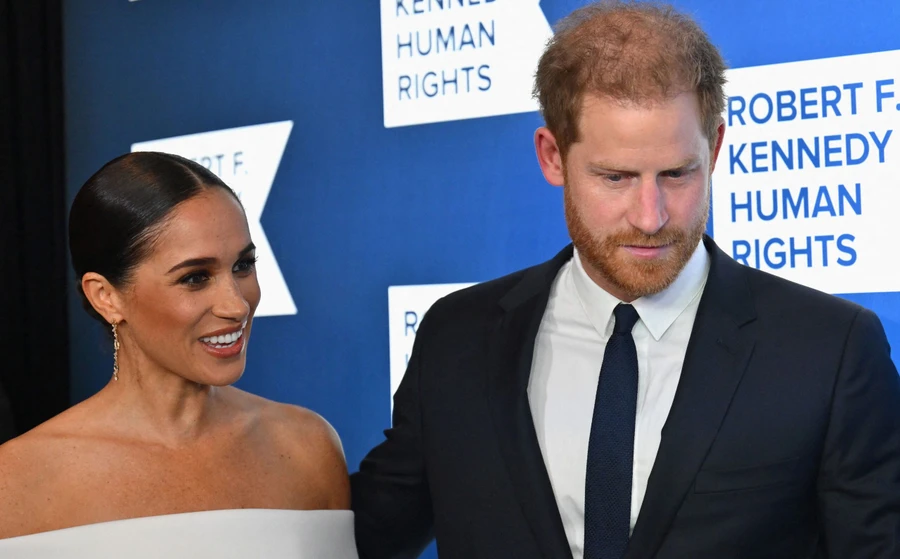 … and a very unpopular royal looks poised to replace them.
Prince Harry and Meghan, the Duchess of Sussex, have reportedly been asked to vacate Frogmore Cottage, their British home away from home that was gifted to them by the late Queen Elizabeth.
"We can confirm The Duke and Duchess of Sussex have been requested to vacate their residence at Frogmore Cottage," the couple's global press secretary Ashley Hansen said in a statement Wednesday.
Buckingham Palace is yet to comment.
The impact on the couple's security in the U.K.
The news comes as a particular blow given the couple's security needs, which have been a major point of contention between Harry and his family.
"With the Sussexes still unable to access royal police protection when in the U.K., there is just one remaining space that meets the family of four's security needs when visiting – Frogmore Cottage," Yahoo's Royal Executive Editor Omid Scobie writes.
The 10-bedroom house is just a five-minute walk from Windsor Castle, inside the Metropolitan Police-led "ring of steel surrounding the Windsor Estate." It has, says Scobie, become the "only sufficiently secure refuge in the country since their access to armed police protection was taken away in 2020."
Harry and Meghan, who ceased to be working royals in 2020 and left the UK soon afterward, currently live in California with their two children, Archie and Lilibet. Having been financially cut off by the royal family they self-fund their life there, which by necessity, includes a pricey security team.
Harry has been outspoken about his belief that his family forced their exit, and has reiterated the fact that the couple's preference had been to remain in service to the Crown.
"They drove me from my country," Harry said of his family on CBS' 60 Minutes in January.
Harry and Meghan refurbished Frogmore Cottage at a cost of around $3 million dollars back in 2018-19. The couple carried out the work using taxpayer cash from the Sovereign Grant — a proportion of the money generated by a huge state-run property empire — but Harry paid the money back in full.
A new resident-in-waiting?
It's been reported that Prince Andrew, who currently occupies the nearby 30-bedroom Royal Lodge, will be moved in to replace Harry and Meghan at Frogmore. According to some outlets, King Charles plans to cut his younger brother's annual grant, meaning that he'll no longer be able to afford the running costs of the larger property.
Andrew stepped down as a working royal in 2019 following a catastrophic interview with the BBC's Emily Maitlis. During the interview, he attempted to explain his friendship with the late Jeffrey Epstein amid accusations that he sexually assaulted Virginia Giuffre when she was a teenager. He repeatedly denied that he'd done so, but proved so unconvincing — and so inept at justifying his connection to Epstein — that days later, he announced he was giving up public duties for the "foreseeable future."
"It has become clear to me over the last few days that the circumstances relating to my former association with Jeffrey Epstein has become a major disruption to my family's work and the valuable work going on in the many organizations and charities that I am proud to support," he said in a statement.
Andrew paid $16.3 million to settle Giuffre's U.S.-based civil sexual assault case against him last year. The late Queen, who reportedly paid a significant proportion of his legal bills, apparently contributed to the settlement as well.
Want more great content?
Sign up here to jumpstart your mornings with Katie's dynamic daily newsletter, Wake-Up Call.