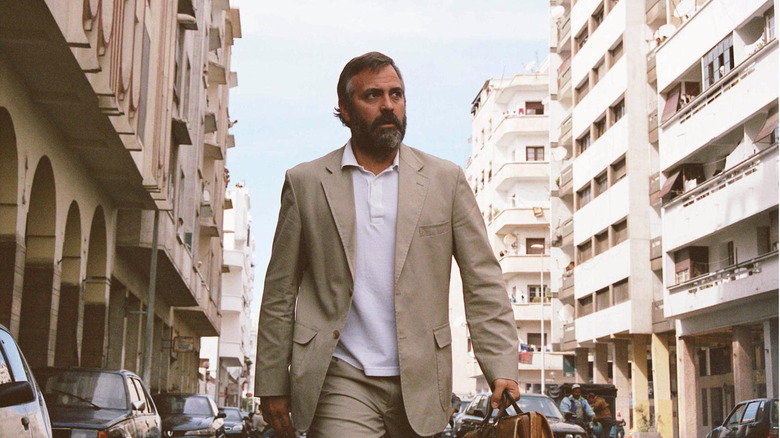 The characters actors play can go through some pretty intense stuff at the movies, but as real as it can seem onscreen, we know it's all pretend — and we assume none of those stunts have permanently damaged the actors' bodies after the cameras roll. After all, when it comes to starring in a major Hollywood film, there are tricks that can transform ordinary actors into something amazing. They don't call it "movie magic" for nothing. But while many performers are willing to transform themselves for roles, from gaining and losing weight, to prosthetics, and more, some actors take it to the extreme.
While there are Oscars, Emmys, and Golden Globes, for outstanding acting work, there aren't any awards we can give out for "most pain endured in the performance of a role." But if there were, these actors — who all permanently hurt their bodies in the name of acting — would win.
Jared Leto in Chapter 27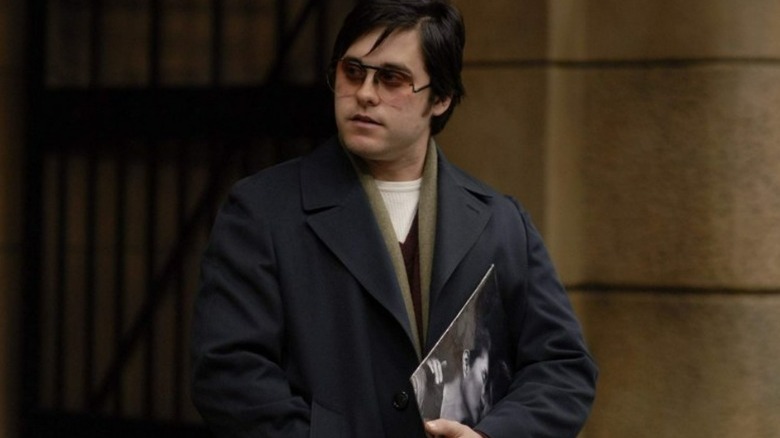 Jared Leto has lost weight for films such as "Requiem for a Dream" and "Dallas Buyers Club," but it was gaining weight for the 2007 indie "Chapter 27" that really did a number on the actor.
Playing Mark Chapman, the man who shot and killed John Lennon, Leto admitted he gained so much weight so abruptly that he suffered gout. "Towards the end of the shoot, one of the glaring issues was the pain I had with my feet," he told the Los Angeles Times. "I had a wheelchair because it was so painful. My body was in shock from the amount of weight I gained. It took about a year to get back to a place that felt semi-normal. I don't know if I'll ever be back to the place I was physically."
Well, at least dying his hair green and donning metal teeth to play the Joker in "Suicide Squad" left no indelible marks.
Tom Hanks in Philadelphia and Cast Away
Tom Hanks isn't necessarily one of those actors who loses himself in roles, but he's gone to a few extremes. Both in 1993's "Philadelphia," in which he plays a lawyer diagnosed with AIDS, and 2000's "Cast Away," in which he's stranded on a desert island for four years, Hanks lost a lot of weight.
Hanks thinks losing and gaining the weight back, along with possibly being "genetically inclined," may have contributed to his Type 2 diabetes diagnosis. "The gaining and the losing of weight may have had something to do with it because you eat so much bad food and you don't take any exercise when you're heavy," he said at the 2013 London Film Festival (via The Daily Mail). "I've talked to a number of actors who have gained weight for roles and just out of the sheer physical toll on one's knees and shoulders, no one wants to do it again. I think that's more or less a young man's game."
George Clooney in Syriana
While filming a torture scene for the 2005 film "Syriana," George Clooney cracked his head open during a stunt and severely injured his spine—a mishap that's had severe lasting effects on the acclaimed leading man's sense of physical well-being.
He told Rolling Stone at the time that the injury was so bad, he considered taking his own life. Doctors couldn't quite pinpoint where the injury was at first, but finally noticed fluid leaking from Clooney's spine, and realized that the condition was more serious than anyone had thought. The actor later revealed to The Hollywood Reporter that he was forced to take strong pain medication as part of a long process that turned a positive corner when he finally turned to therapy, explaining, "I went to a pain-management guy whose idea was, 'You can't mourn for how you used to feel, because you're never going to feel that way again.'"
Jackie Chan in basically all of his movies
Jackie Chan has never held back—he views any injury he sustains while filming a stunt as just part of the gig. He has broken fingers, noses, ankles, tailbones, even his hip; he's dislocated his shoulders more than few times; he's suffered multiple concussions and spinal injuries. However, there's one particularly serious incident that made a lasting impression on his banged-up body. Chan told Parade, "The most serious injury I had was during the shooting of 'Armour of God II.' It was actually just a simple stunt, jumping from a slope. But I was seriously injured and had a surgery to my brain. I still have a metal plate in my head and can feel the indentation from the impact."
Still, Chan shows no signs of taking a break — he released two action films in 2017 ("Bleeding Steel" and "The Foreigner"), and followed those by filming the fantasy actioner "Journey to China: The Mystery of Iron Mask."
Sylvester Stallone in The Expendables 3
Sylvester Stallone knows a thing or two about on-set battle wounds. "I grade the quality of a film by the intensity of the injuries," he once joked. "When I shot "Stop! Or My Mom Will Shoot," I never got hurt. Through "Rambo" and "The Expendables," I break my neck and my spine and I dislocate both shoulders." In 2014's "The Expendables 3," in which he reprised his role as mercenary Barney Ross, Stallone admitted he suffered his worst on-set fall, permanently injuring his back. "I… had some metal put in there," he noted, "so if you hear any squeaking, it's not my shoes but my back. But I'm getting better."
The third "Expendables" also almost killed co-star Jason Statham. While driving a truck on a loading dock, the brakes failed and it plunged 60 feet into the Black Sea. Thankfully, Statham — who once competed as an Olympic diver — was able to get free and swim to safety.
Linda Hamilton in Terminator 2: Judgment Day
Linda Hamilton's badass turn as Sarah Connor in 1991's "Terminator 2" set a precedent for female action stars to follow. She took the role very seriously, training her ass off to play the hardcore mother of the leader of the future world. But for all the fight sequences and stunt work, it's hard to bounce back when a shotgun blast goes off near your ear.
While shooting the scene in which Sarah is trying to escape the psych ward and has to reluctantly accept help from Arnold Schwarzenegger's new and improved Terminator, the actress forgot to put her earplugs back in after a take. When Schwarzenegger let off a round in the elevator, trying to stop the liquid Terminator T-1000 (Robert Patrick), the amplified sound caused Hamilton permanent hearing loss. Those suckers are really loud.
Bruce Willis in Die Hard
The same type of injury also befell Bruce Willis while he was making his action thriller breakthrough "Die Hard." According to the actor, after firing off a fateful round, he suffered "two-thirds partial hearing loss" in his left ear. He added that now has the "tendency to say, 'Whaaa?'"
Rumer Willis, his oldest daughter with ex-wife Demi Moore, concurred, explaining (via ContactMusic) that the reason her dad isn't as talkative while promoting a movie is because he sometimes struggles to hear the questions. "I think part of the problem is sometimes he can't hear… because he shot a gun off next to his ear when he was doing 'Die Hard' a long time ago, so he has partial hearing loss in his ears. If me and my sisters get together and he's at a dinner table and we start talking about fashion and things, the poor guy…" Indeed.
Jaimie Alexander in Thor: The Dark World
While making 2013's "Thor: The Dark World," Jaimie Alexander—who plays the warrior Sif, part of Thor's (Chris Hemsworth) team—described a painful-sounding injury. Speaking with MTV News, Alexander explained she slipped and fell from something "very high" and "herniated a disk in my thoracic spine, dislocated my left shoulder, tore my right rhomboid, and chipped 11 vertebrae."
She thought maybe she was going to be okay, the next morning, it was still pretty bad—and then it got worse: "I got in a car to go to the hospital, and I sat in the car and compressed my spine a little bit, and went paralyzed in my right leg and my right hand." With a month of physical therapy, Alexander was back on set swinging a sword, but you have to believe those spinal injuries linger. Playing an Asgardian isn't always everything it's cracked up to be.
Michelle Yeoh in Crouching Tiger, Hidden Dragon
It comes as no surprise Michelle Yeoh injured herself during the spectacular "Crouching Tiger, Hidden Dragon." With all the incredible stunt choreography involved, there had to be a misstep, and at one point in filming, Yeoh landed wrong and her knee gave out. She told USA Today about the experience, recalling, "The first action sequence was very intensive. I was doing a forward jump kick that I've done thousands of times but I had a mishap landing… I thought, 'I'm fine, I can keep going.' You have to give it your all because celluloid is forever. But I knew it was bad when I turned left and my leg kept swinging right."
Sure enough, the action star completely tore the anterior cruciate ligament (ACL) in her knee. Yeoh had to have surgery and months of physical therapy, and while she was able to recover, she admitted, "You never get all the way back to what it was."
Tom Cruise in Jack Reacher
You'd think for all the crazy action movie stunts Tom Cruise performs, he'd have a myriad of lingering injuries to hamper his abilities. Maybe he does and just doesn't tell anyone, but he has described what he considered his "worst injury."
In 2012, Cruise appeared on "The Tonight Show" and told host Jimmy Fallon (via E! News) he hurt his foot while making "Jack Reacher." Falling from a building? Jumping from a car? Nope. It was having to kick a guy in the groin over and over again. Cruise explained, "There's a scene where I'm kicking a guy in the balls, the testicles… It was a human being, [but] no testicles were injured in the making of the film! We had to do the take over and over again, and the first 10 times it was like 'Yeah!'" he joked. "After about 50 times in, my foot was swelling… I kept having to loosen my shoe." Just so long as the guy's crotch survived…
Angelina Jolie in Salt
In her 2010 action thriller "Salt," Angelina Jolie plays a CIA officer accused of being a Russian spy who must prove her innocence while on the run. To prep for fight scenes, Jolie had to learn a combination of Muay Thai and Krav Maga, and some of her stunts included walking on a narrow ledge atop a 12-story building and jumping off a highway underpass onto a moving truck. But it was a "ridiculously" easy scene, she said, that caused her to permanently scar her face. Speaking at Comic-Con, she said it happened during a scene that involved her rolling onto the floor. Her stunt trainer Simon Crane told Us Weekly, "During her final fight with Liev [Schrieber] … She had to dive through an opening door firing a gun … as she carried the sequence on, she rushed into a corner piece of a set and bumped her head." At least they got the shot.
Daniel Craig in Spectre
Daniel Craig's time playing James Bond has left him with his fair share of injuries. In "Casino Royale," two of his teeth were knocked out; in "Quantum of Solace," there was a blow to his face that required plastic surgery, and he was rushed to the hospital after slicing off the top of his finger. He also tore a muscle in his shoulder, and suffered badly bruised ribs.
However, it was Craig's time on Spectre that left him permanently injured. While filming a fight scene with the hulking villain Mr. Hinx (Dave Bautista), he hurt his knee. It required surgery and threatened to halt filming for six months, but Craig didn't want to wait and worked through the pain. He told Empire (via Daily Mail), "I was like: "F*** that." I don't give a f***. Stick two planks of wood on it and I'll f***ing crack on." Crack on he did; in the end, production was stopped for only two weeks.
Dylan O'Brien in Maze Runner: The Death Cure
Production on the final chapter in the "Maze Runner" series was suspended indefinitely due to a horrific on-set accident involving Dylan O'Brien. The franchise's young star suffered severe brain trauma when a stunt involving a motorcycle went wrong and he "broke most of the right side of [his] face," as he put it to The Salt Lake Tribune.
"[I have] four plates that will be a part of me forever," he said. "I feel really lucky to have come away from it — in terms of coming away from it at all on the day, and really how my face has healed." He went on to thank his "brilliant doctor," adding, "He salvaged a lot of what I used to look like. To anybody who saw me after it happened, I think it's really astonishing how well everything healed and how my doctors fixed me up."
Mila Kunis in Black Swan
"Black Swan" star Natalie Portman put herself on a strict diet and lost 20 pounds to play the part of fragile ballerina Nina. She wasn't the only one to take a method approach to her character, though her co-star Mila Kunis didn't get nearly as much attention for her transformation.
"I had to look skinny in order to look like a ballerina," Kunis told Howard Stern (via ET). "I used to be a smoker, and so I smoked a lot of cigarettes and I ate a limited amount of calories. Twelve hundred calories, and I smoked. I don't advocate this at all. It was awful."
Kunis later revealed that her body has "never been the same" since Black Swan, telling Harper's Bazaar, "My shape is different. When I got down to 95 pounds, I was muscles, like a little brick house, but skin and bones. When I gained it back, it went to completely different areas."
Blake Lively in The Rhythm Section
Getty Images
Her 2016 hit "The Shallows" proved Blake Lively had some genuine action chops, and she was duly rewarded with a part fronting her own spy thriller, "The Rhythm Section."
Sadly, things went south for Lively, as an on-set injury she sustained while filming an action sequence in late 2017 caused the film to halt production. Sources informed The Hollywood Reporter that Lively's hand injury wasn't thought to be all that serious at first, though the surgery she underwent after sustaining it apparently failed to fix the issue.
Further surgeries followed, with both Paramount and Lively awaiting instruction from surgeons on how best to proceed. They had to take a more patient approach than they'd planned, but it paid off in the long run: in early 2018, she was cleared to return to the set, and filming resumed later in the year.
Uma Thurman in Kill Bill: Volume 1
Getty Images
In a candid interview with The New York Times, Uma Thurman revealed she'd been harassed by producer Harvey Weinstein — and shared some revelations about director Quentin Tarantino, who reportedly forced her to perform a dangerous driving scene for "Kill Bill" that left her with lasting damage.
"I was scared," she admitted. "He said: 'I promise you the car is fine. It's a straight piece of road. Hit 40 miles per hour or your hair won't blow the right way and I'll make you do it again.' But that was a deathbox that I was in. The seat wasn't screwed down properly. It was a sand road and it was not a straight road."
Thurman lost control of the Karmann Ghia and it veered off the road, crashing into a tree and leaving her so much pain that she believed she'd "never walk again." While it wasn't as bad as she initially feared, she was left with a "permanently damaged neck" and "screwed-up knees."
Spectre part two: Maximum damage
Daniel Craig wasn't the only person on the set of "Spectre" to suffer permanent damage. The production maimed veteran assistant director Terry Madden, who sued for $3.5 million after sustaining an injury he described as career-ending.
According to a report by Deadline, Madden was filming in the Austrian Alps, picking up shots with a camera mounted on a Range Rover. The Rover spun out of control and struck Madden, crushing his legs and forcing him off the production with multiple fractures and nerve damage that ultimately required several surgeries. "To have a career you worked hard over many years to build up, taken away within a few seconds in this horrendous accident, has been soul destroying," he said.
Between Craig's injury and Madden's, one has to wonder just how much of the film's budget ended up getting diverted to pay out for their multiple surgeries. It's a good thing the U.K. has universal health care, but these Bond movies are kind of abusing it.
Hugh Jackman in Wolverine
Wolverine, the adamantium-claw wielding member of the super-heroically mutated X-Men, is one of the most pronounced and famous grumps in all of popular culture. Every iteration of the character, in print, on the small screen, and in a series of feature films spanning two decades, has depicted him as a scowling, grumbling, tough guy who alternately mutters dialogue in a raspy mutter or angry shout. No one has played Wolverine (and Logan) more often than Hugh Jackman, who has strapped on the claws and taken on that distinctive voice in nine "X-Men" universe movies between 2000 and 2016.
Seven years after last playing the role, Jackman revealed that his voice and vocal cords still suffer. "My teacher at drama school would have been horrified by some of the things I did in 'Wolverine,'" he told BBC Radio 4's "Front Row" in 2023. "I've done some damage to my voice, through playing Wolverine." Specifically, Jackman says, when he performs in musicals he can't reach the high notes the way he once did. "I put that down directly to some of the growling and yelling I did."
Jason Momoa in Aquaman and the Lost Kingdom (and Braven)
The star of the DC Universe may look like an unbeatable, impossible-to-hurt superhero because he often plays one, but Jason Momoa is only human. After his star-making role in the first "Aquaman" movie in 2018 became a global box office blockbuster, Warner Bros. quickly ordered a sequel, "Aquaman and the Lost Kingdom." Throughout the filming of the physically demanding and stunt-heavy action movie, Momoa suffered for his art, chalking up his vulnerability to his advancing age.
"I'm getting old," the then-42-year-old actor said on "The Ellen DeGeneres Show" in 2021. "I messed up my eyes. I just got something in it that kinda cut it up, and then I've gotta get surgery, I have a hernia, I've got ribs out. I'm just getting beat up."
In addition to what he confirmed was a scratched cornea and hernia, Momoa revealed to Yahoo! that he wound up with a facial scar after a fight scene in the 2018 movie "Braven" went wrong. "I got knocked out," he said. "A stunt guy hit me. He blindsided me. We didn't make eye contact, and he hit me before I could grab for him, and everything went black." Momoa required hospitalization for the incident and shooting on "Braven" was put on hold for a day.
Jessica Chastain in The Eyes of Tammy Faye
Searchlight Pictures
One of the most acclaimed actors of her generation, Jessica Chastain won an Academy Award on her third nomination for the 2022 biopic "The Eyes of Tammy Faye." Chastain portrayed Tammy Faye Messner, formerly Bakker, a disgraced televangelist who famously and frequently wore heavy amounts of makeup during her many TV appearances.
As such, a lot of face paint was necessary to transform Chastain into that well-known cultural figure. According to the Los Angeles Times, it took anywhere from four to seven and a half hours for makeup artists to get Chastain ready each day of filming.
The actor doesn't think it was particularly healthy for her delicate facial skin. "I think for sure I've done some permanent damage to my skin on this," Chastain admitted. "I take very good care of my skin and I stay out of the sun and all that stuff. But it's heavy. And when you're wearing it all day every day — the weight of it on your body, it stretches your skin out."
Burt Reynolds in Deliverance
Burt Reynolds was among the most bankable movie stars in America in the 1970s. He made a name for himself in comedy-laced action spectaculars like "Hooper," "The Longest Yard," and "Smokey and the Bandit," but his first major role in a movie was in the hit dark drama "Deliverance." Reynolds led an ensemble cast in the film about a river rafting trip that goes dangerously awry, such as when his character's occupied small boat violently goes over a waterfall. After watching the crew shoot the scene with a dummy, Reynolds volunteered to film it for real, seeing little danger in doing so because the production had control of the falls via a dam farther up the river.
"Then they let the water go and I heard this sound — I dream sometimes of the water coming — I looked around and there was a tidal wave coming at me," Reynolds told The Hollywood Reporter of his memories of shooting that scene. "I went over the falls and the first thing that happened, I hit a rock and cracked my tailbone." More than 45 years later, the actor still felt pain from the injury.
Zazie Beetz in Deadpool 2
After breaking through with her role as Van on FX's award-winning dramedy "Atlanta," Zazie Beetz suddenly got offered work in movies much bigger than the shorts and indies in which she was used to performing. In 2018, she co-starred in the big-budget superhero comedy "Deadpool 2" as Domino, a member of the titular hero's X-Force of powerful rogues. Domino's special power? She had unbelievably good — if not miraculous — luck.
Life did not imitate art on the set of "Deadpool 2," however. According to USA Today, the film was a physically grueling experience for the actors, with Beetz training for four hours a day for months before filming began, and then shooting her scenes in a leather bodysuit which she called "wildly impractical." During one action sequence that involved a high-speed truck chase, she fainted. During a gunplay scene, a casing from a fired shell hit Beetz hard in the chest, leaving a permanent scar.
Steve Martin in Three Amigos!
A lot can go wrong on a movie set, even on a relatively low-tech comedy. In 1986, Steve Martin (and Martin Short and Chevy Chase) starred in "Three Amigos!," an action-tinged comedy about three silent-era Western film stars who get stuck in a terrorized Mexican village and have to save its residents who think they are the brave heroes they play in the movies — not spoiled and cowardly actors.
Martin's character, Lucky Day, deals with a number of uncomfortable situations to which he's unsuited, including plenty of shootouts. That may have led to a case of tinnitus — a persistent, high-pitched, and grating ringing of the ears. The actor and comedian has suffered from the condition ever since the production of "Three Amigos!" but he thinks something else could've triggered it.
"I blamed it on gunfire at the time but since then I realized it was just my destiny after listening to music too loud my whole life," he told Pitchfork. Prior to his move into acting, Martin was a popular stand-up who played giant, and very loud, arenas. "It was like being in a football stadium." Martin says he's learned to deal with the tinnitus. "It becomes your natural background noise."
Alfre Woodard in Star Trek: First Contact
Alfre Woodard agreed to take on the role of 21st-century spacecraft builder Lily Sloane in the 1996 film "Star Trek: First Contact" because she was friendly with several members of the cast, including Brent Spiner, LeVar Burton, and Jonathan Frakes, also the movie's director and Woodard's godson, she told Collider.
A pivotal scene called for a massive explosion when the enemy Borg runs into a ship in deep space, which sends many of the good guys flying. Woodard recalls practicing the sequence for many hours, in which she, Frakes, and about 200 stunt performers were to jump in the air as if they'd been knocked into the air, spin around, and then land so the cameras would capture their reactions. "Then when it happened the explosion was so intense it just knocked us off our butts," Woodward said. "We just fell any way we could."
At that point, Woodward realized she'd torn up her costume and her arms were covered in blood. Frakes got his shot, but Woodard still bears scars on both of her arms from the stunt.
Buddy Ebsen and Ray Bolger in The Wizard of Oz
MGM/Loew's
In "The Wizard of Oz," the 1939 film adaptation of L. Frank Baum's fantasy novel, Jack Haley played the Tin Man, the friendly metal monster on his way to see the Wizard to acquire a heart. However, Haley wasn't studio MGM's first choice for the role or even the first actor cast.
According to Vanity Fair, Buddy Ebsen (best known for his later leading gigs on "The Beverly Hillbillies" and "Barnaby Jones") was hired first. When rehearsing in makeup and under studio lights, according to the Orlando Sun-Sentinel, the crew repeatedly dusted Ebsen's face with aluminum dust to keep his white grease paint from running. One night during the rehearsal period, Ebsen awoke with painful cramps in his limbs, his face had turned blue, and he couldn't breathe. The actor spent two weeks of hospitalization in an oxygen tent — his body had to divest itself of the large amount of toxic aluminum sitting in his lungs. With his recovery taking longer than they liked, MGM fired Ebsen and installed Haley.
Another cast member of "The Wizard of Oz" also experienced a severe medical reaction. Ray Bolger portrayed the brainless Scarecrow, and on the final day of shooting, he took off his rubber-and burlap-based prosthetic mask for the last time, the one that made his face look like it was made of burlap. He discovered that he had burlap-like scars all over his chin and mouth.