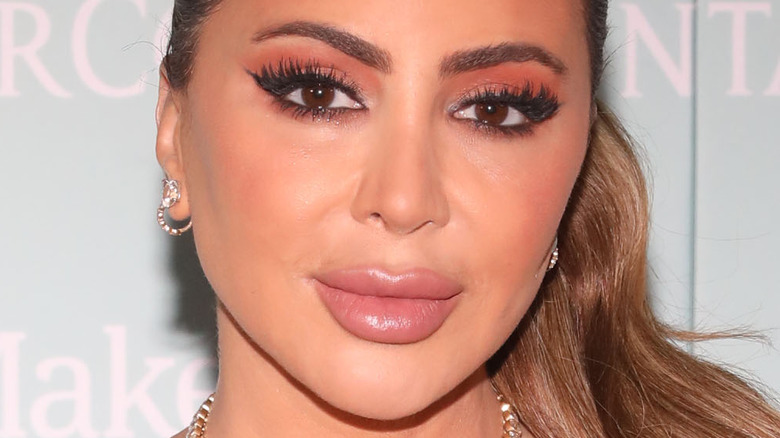 Like so many of her fellow Real Housewives, Larsa Pippen's dating life has garnered plenty of interest. True, Pippen's relationship history isn't all that long, given she was married to Scottie Pippen for nearly two decades and they only decided to part ways in 2016, however, she has been linked to some big names. "The Real Housewives of Miami" starlet briefly dated Future, stirred up plenty of controversy by having a relationship with a married Malik Beasley, and was even rumored to be dating Scott Disick. The reality TV star is the first to admit she's struggled with dating, but she's seemingly found something more serious with Marcus Jordan. Yes, Michael Jordan's son.
The pair was first linked back in November 2022 when TMZ spotted them having lunch in Miami, Florida. Pippen tried to deny the union, saying they were just friends, but jump to January 2023 and they were seen kissing. Shortly after, a source fessed up to People, saying, "It is still casual and they're having fun." Pippen herself made the relationship Instagram official that same month when she took to her Stories, per People, to post and snap of her and Marcus in front of his sneaker store, Trophy Room, in Orlando, Florida. However, despite Pippen calling her new beau "My forever Valentine" on Instagram, their relationship has already raised a few red flags.
Their relationship was built on… jealousy?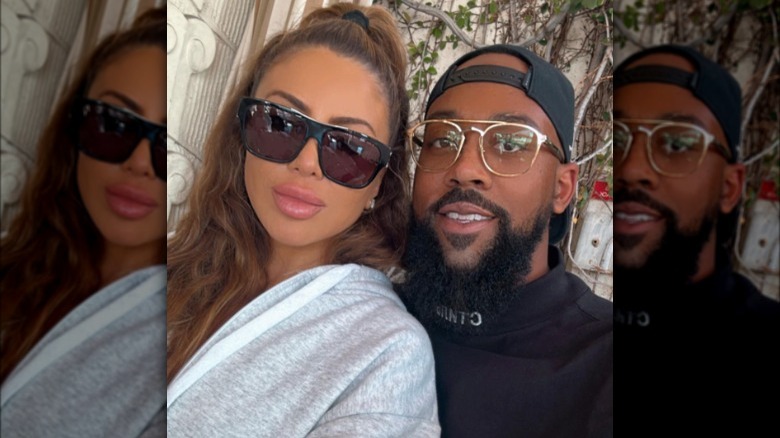 After initially keeping quiet about — and even denying — her relationship with Marcus Jordan, Larsa Pippen opened up about their romance during a February 2023 interview with People. Asked to share the exact moment when she realized she wanted to be more than friends with Jordan, Pippen admitted it was all about… jealousy?! Turns out they had met at a party in Los Angeles four years earlier where they were introduced by mutual friends. They hit it off and kept in touch, but at first, their connection wasn't a romantic one. "I do feel like timing is everything and it started off just getting to know each other," she told the mag. Then, everything changed during one night on the town. "There was a girl that was there, she was trying to talk to him, and I was getting jealous over it," Pippen recalled. It was those feelings that got her thinking about possibly pursuing something more with Jordan and, as she put it, "That kind of sealed the deal."
Despite jealousy making a wobbly foundation for love, Pippen has been adamant that her feelings for Jordan are real. Indeed, an insider told People, "They are definitely into each other." And she herself has revealed that her new boyfriend is her best friend. "I feel like we're in a great place," Pippen gushed on the "Tamron Hall Show." "We motivate each other [and] we're really happy being together."
She has a habit of comparing boyfriends to her ex
Larsa Pippen's longest relationship to date has been with her ex-husband, Scottie Pippen. They tied the knot in 1997 and had four kids together, but called it quits in October 2016 after 19 years of marriage. Their divorce was finalized in December 2021 and, given how long they were together and the great life that they built, Larsa has been the first to admit that her past has made dating hard. Sitting down with the "On Display with Melissa Gorga" podcast in August 2022, she admitted to comparing potential boyfriends to her ex. "I was married to a really famous guy that was really cute; that had a good body; that was really successful; that gave me four gorgeous kids, so where the hell are you gonna find a guy that can, like, fill in?" she mused. "It doesn't have to be all of those, but like, a few of those boxes."
She later told People that she also struggles with being open and honest with men, as well as with setting realistic expectations. "I would find faults in every guy," she admitted. That being said, she was adamant that all of that changed when she met Marcus Jordan. "I like to be led [in relationships], but I haven't trusted anyone to lead me — until now," she said.
Larsa Pippen once vowed to stop dating athletes
Larsa Pippen has spent most of her life immersed in the world of basketball, so it's no big surprise that after splitting from Chicago Bulls star Scottie Pippen, she found herself continuing to date pro athletes. "It's almost like a nurse and a doctor — if you're a nurse and you've worked in a hospital, you're more likely to have friends that are doctor[s]," she told Us Weekly in 2022, explaining that it was all a matter of circumstance. Even so, she wanted to break that pattern and told the outlet, "I'm trying to avoid athletes."
Well, things didn't exactly work out that way. Since her divorce from Scottie, Larsa has been linked to a number of sportsmen. As she told the "Hollywood Raw" podcast in 2020, she actually dated Tristan Thompson before introducing him to the Kardashians in 2016. "I was kinda seeing Tristan before Khloé, before Khloé or any of them knew he existed," she shared. She was then linked to NBA player Malik Beasley for four months in 2021. And that affinity for athletes has only continued. Although Marcus Jordan never went pro, he did play college basketball and is the son of an NBA GOAT. So much for sticking to her word.
She has been accused of cheating multiple times
Larsa Pippen cannot stay away from cheating rumors. In 2020, she revealed that she was seeing Tristan Thompson before introducing him to the Kardashians and she was accused of maintaining a relationship with him even after he started dating Khloe Kardashian. "I would never do that," she told People. "That's not even my personality." Except that maybe it is.
Pippen caused all sorts of drama in November 2020 when she started dating married NBA player Malik Beasley. She took to Twitter to clear her name and alleged, "Malik and his ex were separated before I ever met him that's a fact." However, Malik's estranged wife, Montana Yao, shut that down real fast. "This is 100% false," she tweeted. "Receipts don't lie."
While Yao didn't actually share those receipts, it wasn't the first time Pippen was accused of such behavior. In October 2016, a source told Us Weekly that the real reason for Pippen's divorce from hubby Scottie Pippen was that she allegedly cheated on him with Future. In 2020, she told "Hollywood Raw" that she had actually separated from Scottie in 2015 and did nothing wrong. "It was definitely, like, a respectable relationship," she said. Pippen also argued that people like to gossip and that all rumors about her being unfaithful were false. "Scottie wasn't even living at home with me," she concluded.
Marcus Jordan's questionable behavior
When Marcus Jordan and Larsa Pippen were first linked in late 2022, Jordan was caught on video getting cozy with another woman. The U.S. Sun obtained the clip in November, which showed Marcus meeting an Instagram model outside his home in Orlando, Florida. The pair kissed, then headed inside holding hands. "They are friends with benefits," a source told the mag. Just one day later, Jordan was seen partying with another woman. While an insider alleged Pippen would be crushed because "she thinks she's in an exclusive relationship with him," another source disagreed. They told Page Six the reality star wasn't fazed because "Larsa and Marcus aren't exclusively together."
Either way, the pair appeared to brush the incident under the rug, but it was far from the first time Jordan exhibited seriously questionable behavior. In 2010, when he was just 19, he boasted about gambling in Las Vegas. In a since-deleted tweet seen by ESPN, Jordan said he dropped $35,000 at Haze at Aria Resort & Casino. Given that he was underage, the revelation prompted Nevada gambling regulators to investigate MGM Resorts International. Then, in 2012, he was arrested outside a hotel in Omaha, Oklahoma where he was reportedly drunk, fired up, and arguing with two women. According to ESPN, it took several officers to subdue him and get him cuffed and he was booked for "resisting arrest, disorderly conduct, and obstructing."
There's a big age gap between Larsa Pippen and Marcus Jordan
Another red flag in Larsa Pippen and Marcus Jordan's relationship is their substantial age difference. It's actually something Tamron Hall pressed Pippen about on her show in February 2023, arguing they couldn't have much in common given the 16-year age gap. Pippen wasn't having it. "We have everything in common," she assured. Arguing that age is just a number, she mused, "I feel like if you can drink at 21, you can go to war at 18, you know, there's different circumstances." The reality star also pointed out that her ex-husband, Scottie Pippen, was 10 years older than her and that never posed an issue. "I don't really view age as, you know, you're mature or you're immature," she concluded.
Hall also pushed Pippen on the fact that she's dating the son of Michael Jordan, someone who famously has beef with her ex-husband. Michael and Scottie played together for the Chicago Bulls, but after Michael released his 2020 docuseries, "The Last Dance," Scottie accused him of failing to give credit where it was due. "They glorified Michael Jordan while not giving nearly enough praise to me and my proud teammates," he wrote in his 2021 memoir, "Unguarded." Hall asked Larsa how Michael felt about her dating his son and she was adamant, "Our whole family's fine." She also argued the focus should be on something else: "I feel like it's more about where I am, where he is, you know, I feel like we're in a great place."