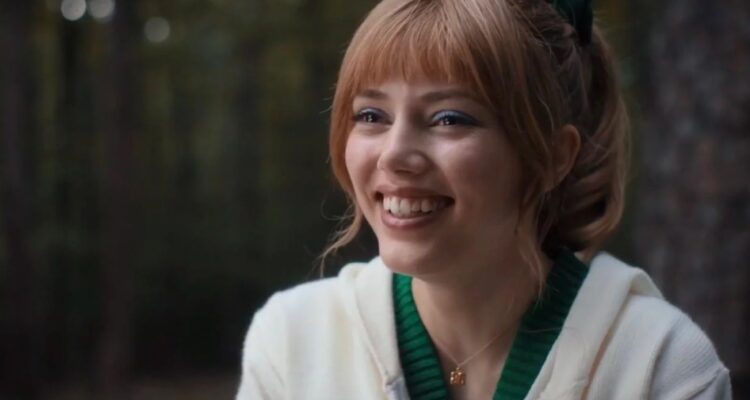 "Stranger Things" Season 4 started with a shock last year, with (spoiler alert) Grace Van Dien's Chrissy possessed and killed by Vecna in the first episode. Van Dien isn't in the show long, but her connection with Joseph Quinn's Eddie set up a lot of the season's later emotional turmoil. But don't expect to see Van Dien in anything else soon. IndieWire reports that the actress wants to take a break from acting for a while, citing an uncomfortable on-set incident with a movie producer.
READ MORE: Duffer Brothers Tease Secretive 'Stranger Things' Spinoff Is "Different Than What Anyone Is Expecting"
Van Dien shared her story during a Twitch live stream, where she also said she would pause her acting career for the time being. "I've actually turned down, in the last two and a half weeks, four movies," said Van Dien. "Here's the thing: I've seen that some people are upset with me for turning down acting projects and deciding to stream more, but the fact of the matter is, the last few projects I've worked on, I didn't have the best experiences with some of the people I had to work for. And with streaming, I get to choose who I hang out with, who I talk to, etc. etc."
Then Van Dien shared a disturbing on-set incident. "One of the last movies I did, one of the producers asked me to…like, he hired a girl that he was sleeping with and then he had her ask me to have a threesome with them," the actress continued. "So like, that's my boss. I didn't [do it] and I cried and I was so upset, but it's like, when people are like, 'How is streaming better for your mental health?' That's how. I get to stay inside my home and play video games and I don't have my boss asking me to have sex with him. That's how this is better for my mental health." Other recent work for Van Dien, daughter of "Starship Troopers" actor Caspar Van Dien, includes "The Fix," "V For Vengeance," "Julius Caesar Live!," and "The Binge."
Others corroborate Van Dien's story, too. "But I handled it the right way. I told my management. My castmate, she was there with me and was like, 'Did I just hear that correctly?' And I was like, 'Yeah.' And she was like, 'Want to go talk a walk?' I was like, 'Yeah.' And we just had a miserable time. We cried a lot on that shoot." But the incident has Van Dien looking to do something for a while. "That's why I'm going to stick to streaming for a little bit," the actress concluded, "and I hope that's not a huge wrench in your plans for me, but I'm happy here. And I'm developing my own projects and I'm hoping that someone decides to fund them because then I can be in control of my own set and I'm not going to ask my actors to sleep with me, so that's cool, right?"
Van Dien has also had to deal with online backlash for being the onscreen love interest of Quinn's Eddie in "Stranger Things." Granted, their "romance," if one could call it that, lasts barely one episode, but Quinn spoke out about the venomous shots at Van Dien's Chrissy in a recent Digital Spy interview. "It's so awful," said Quinn, "I was talking to her about it. The internet is a very unforgiving place. It's a place where people can show a lot of support, or where people can rally around hatred and misinformation. It's indicative of where we are culturally, just through association she was getting lambasted. It's disgusting. I don't know what to say other than it sucks."
One wishes Van Dien the best in her live-streaming endeavors, and hopefully, she returns to the big screen soon. Chrissy deserved better than her fate in 'Stranger Things,' and so does Van Dien as an actress and person.