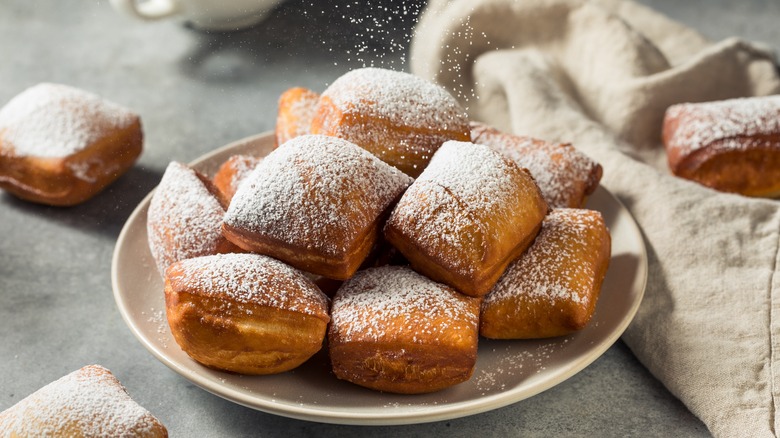 "Beignet" may be the French word for "doughnut," but in New Orleans, there's no mistaking these sugar-dusted delicacies for anything else. For centuries, fluffy squares of dough blitzed in powdered sugar have been a feature of the city's cuisine, taking on an almost mythic quality due to its accessibility and simplicity. You can find them at any cafe, at any hour, often paired with chicory coffee or a creamy Cafe Au Lait.
For those who live nowhere near New Orleans, your only hope of scoring authentic beignets comes during the Mardi Gras season. Once the party's over (or the rainbow beads have been put away), your quest for sugary-sweet bliss is essentially at a crossroads. Contrary to this conundrum, however, living in Crescent City — let alone traveling as a tourist — isn't the only path to securing decadent French pastries.
Many people in the United States claim roots in the Big Easy, and those folks have generously spread the joy of Cajun cuisine all over the country. If you can catch blackened seafood and gumbo on the menu, then a beignet isn't far behind. These are the bakeries, coffee-shops, restaurants, and food carts that are serving excellent beignets beyond the Bayou — and believe us, they're worth making the trip.
Delaney's Tavern — Orlando, Florida
To kick off this list with a savory beignet seems like…a choice, but as anybody who's traveled to New Orleans can see, there's plenty more to the pastry than plumes of powdered sugar. Delaney's Tavern in Orlando puts a creative twist on pub-style starters and entrees, with a hip yet approachable air that's earned accolades from Orlando Magazine and Scott Joseph's Orlando Restaurant Guide. The menu, courtesy of head chef Anthony Albino, covers the main bases for American cuisine, including a few dishes channeling the Bayou in spirit.
Looking at these Blue Crab Beignets, you soon realize how different they are from the carnival treat of NOLA. Instead of sweet dough, the crisp fritters arrive filled with minced pieces of seafood. The normal showering of confectioners sugar is replaced with an apple fennel slaw that, combined with a drizzle of horseradish on top, comes together in tongue-tingling harmony. It's apparently a go-to for Albino's wife, and for many restaurant-goers for its mouthwatering, piquant taste. Order a round for $13 to whet the appetite, and keep the Creole theme going with Shrimp Macaroni and Cheese and a drink from its dizzying beverage selection.
Huey's On The River — Savannah, Georgia
Savannah, Georgia is a city bearing its own traditions, but as a Southern town it's also quite familiar with Creole cuisine. Huey's on the River has laid in the thick of River Street since 1987, a historic strip of shops and restaurants with a booming nightlife culture that's not unfamiliar to New Orleans. The charming dining room immerses visitors in the Big Easy with fried-up catfish, gumbo, and other delicacies made for soaking up views of the Savannah River.
The restaurant's Bloody Mary usually guzzles up all the praise from locals, but in terms of fanaticism, the beignets don't trail far behind. Available for brunch and dessert, these big squares of dough are fried to perfection with three, four, or a dozen pastries per order. Purchase yours cloaked in powdered sugar (the old-fashioned way) or paired alongside a sultry praline sauce you'll go nuts over dunking with. Knowing how rich the menu is (Crawfish Etouffee and Po'Boys, anyone?) one diner advises eating them before the main course, lest your stomach is too swamped to enjoy them.
Junebug Cafe — Chicago, Illinois
A family with Creole roots is bound to fry up excellent beignets, as evident by Junebug Cafe. Based in Chicago, Jacqueline Mancias' eatery channels the old-time charm of traditional New Orleans cooking with biscuits, Po'Boys, and meat-filled hand pies. The recipes prepared in its West Town and Portage Park locations were passed down by Mancias' grandmother (the eatery's namesake, writes Chicago Mag) so every dish exudes authenticity and a heavy hand of love.
According to Block Club Chicago, it's Mancias' sister who's in charge of making the choux pastry, and like everything on the menu, none of it takes any short-cuts. Steaming-hot and sheathed in blankets of sugar, a plate of two palm-sized fritters will cost $5, or $6.50 should the temptation for a silky dipping sauce overpower you. Diners can choose between two syrups embracing Cajun cuisine's penchant for salty-sweet extravagance: Caramel Bacon and Strawberry Basil. The cafe menu boasts a variety of espresso beverages made with Dark Matter coffee, and the non-coffee selection is decent too. Cafe Au Lait is the drink of choice with beignets, even infused with chicory root, but you can't go wrong with Sweet Tea or Lavender Lemonade.
Eli's Table — Charleston, South Carolina
Scouring the nation for beignets on par with, say, Cafe Du Mond is a tough feat, but if any place is going to come close? Look to Eli's Table. It's a slightly more upscale establishment in Charleston that peddles dishes inspired by Creole cuisine's heat-kissed aromas. Although Charleston City Paper reports that it took the place of another landmark eatery called Joseph's Restaurant, Eli's Table didn't have to work long to convince the city of its worth. With artisanal ingredients sourced close to home, it's hard to find a fresher meal around.
Brunch is held seven days a week from 9 a.m. to 3 p.m., which is also the time of day when these sugar-dusted fritters shine. Each $8 batch is paired with a dark berry coulis, a syrup that's rendered out of simmering the fruits down to a pureed mush. It's very similar to compote, and even easier to mistake the two. The key difference between them is that coulis is smoother, on account of straining any chunks out of the mixture, and creates a spell-binding sensation when met with steaming-hot pastry dough. With the sound of jazz playing in the background (live on Fridays), you'll feel even more at home than in the Big Easy.
Voodoo Gumbo — Nashville, Tennessee
If Voodoo Gumbo conjures any sort of black magic, it's the temptation for cloud-like doughnuts. Thankfully, the curse is breakable. Po'Boys, etouffee, jambalaya, and red beans and rice dominate this strip-mall stop, and the no-frills space exudes something very authentic. While the Cajun haunt earned Nashville Scene's title for the city's best gumbo (naturally), there's no doubt the beignets are equally deserving of your time. How do we know? The hole-in-the-wall replicates Cafe Du Mond's prized recipe.
Residing on the dessert menu alongside Amaretto Bread Pudding, these pastries can be ordered as singles, but a big-enough group (or appetite) warrants purchasing them by the basket. The amount is capped at four beignets, for under $6 a round. And as if that isn't sweet enough for your tastebuds, up the ante with an indulgent treat. The Deluxe Beignet Sundae contains pillowy rounds topped with vanilla ice cream and of course, extra powdered sugar. Keep in mind the menu is quite heavy and rich, so you'll definitely need to reserve a trip just for the beignets, the star of the show.
Beignet Box — Los Angeles, California
Since 2019, The Beignet Box has run on star power and killer confections. Singer Christina Milian and Elizabeth Morris originally launched the cafe-on-wheels in Louisiana, but today it fries up sugar-dusted delights all over Los Angeles. In addition to a permanent storefront in Studio City, the food cart brings beignets to street-dwelling Angelenos, and in select cases, A-List shin-digs. Some of the biggest stars on the planet are fans of the pastry peddler, including Kim Kardashian and Beyonce.
Wherever the bakery cart parks for the day, the menu sticks to the basics — beignets, hawked by the box in either regular fritters or miniature puffs almost reminiscent of another carnival staple, funnel cake. What makes Beignet Box so distinctive, LA Weekly reveals, is the airier texture of the dough. The duo acknowledge taking inspiration from Cafe Du Mond's recipe, except tweaked to melt in your mouth while not going overboard on the buttery indulgence. Three full-sized pastries cost $6, which is labeled a small compared to the $9 large containing five. For a masterpiece of Bayou-sized proportions, spoon your way through the Beignet Sundae with its flowing rivers of chocolate and caramel sauces.
Bootleg Special — Boston, Massachusetts
Massachusetts may be a hike from New Orleans, but Bootleg Special manages to bring the Bourbon Street experience straight to Boston proper. Established by high-school pals Stephen Chan and Chris Young, the joint takes inspiration from the underground speakeasies of yore with plenty of booze and a spice-kissed menu. Bites of Boston reports that the duo embraced Cajun cuisine specifically, since the city didn't offer much in the way of Louisiana cooking, and today that void has been filled thanks to its fusion of New England staples like oysters and seafood boils.
In true Creole spirit, beignets appear as a brunch offering as well as dessert, where the puffed fritters arrive powdery and hot to the touch. Most restaurants shower on the sugar and call it a day, but Bootleg Special is not most restaurants, proffering a handful of special flavors in addition to the classic sugared pastry. For $15 apiece, Bootleg Special will craft a spellbinding dessert in the flavors Chocolate Hazelnut, Strawberry Fraiche, and Bananas Foster — the latter being a fan-favorite due to its glorious semblance to the caramelized dessert. Chopped bananas and vanilla ice cream on a bed of feathery fritters? Say no more!
Le Petit Marche — Atlanta, Georgia
Sometimes, a sprinkling of sugar is all you need to enjoy the New Orleans staple. Le Petit Marche whips up a splendid batch in Atlanta that's authentic enough to garner comparisons to a French Quarter fritter. Today the Kirkwood cafe is heralded for its all-day brunch, but it originally began as an artisanal grocer when Marchet Sparks launched the concept back in 2008. Recent shake-ups in management have yet to affect its menu, a cornucopia of home-style breakfasts done the Southern way.
First, hunker down with a nice cold drink, preferably with booze – we recommend the Butterscotch Bourbon Mimosa — before plunging into the beignets, ranked with The Grit Stack and French Toast Sandwich as one of the must-try dishes. Pillowy, golden-brown orbs peek out of a charming ceramic dish, lightly dusted in confectioners sugar and for a final touch, swirls of Tupelo Honey. The pieces are rounder and fluffier compared to what's commonplace in Crescent City, but an 8-count order helps make it shareable for a group. Admire the French-inspired furnishings, and don't forget to peruse the charming wares in the gift shop — the name is French for "the little market," after all!
The Beignet Stand — San Antonio, Texas
If doughnuts can incorporate salty, savory, and spicy ingredients, why not the beignet? The Beignet Stand, a pop-up bakery launched by couple Michael Grimes and Elisa Trevino, uses the New Orleans dessert as a template for some pretty fearless combinations. The main flavors consist of Original and Churro, but a special lineup gives visitors the option to upgrade dough with sugary abandon, including Cream Cheese, Blueberry, Strawberry, and Churro Honey Butter.
Even better, beignets are actually utilized as buns for an array of sandwiches, most notably for smash-burgers and fried chicken. One combination, The Breakfast Beignet, is far from the choux pastry slung in NOLA but the staggering size makes it as show-stopping as a Mardi Gras parade float. Egg, cheese, and your choice of ham and bacon arrives fresh off the grill and pressed between a hot, buttery doughnut that gleams in the light.
In addition to weekends at the Pearl Farmers Market, the San Antonio business now has a walk-up window where its concoctions are fried by demand Wednesday through Friday from 7 a.m. to 2 p.m. in the afternoon.
Lucille's Creole Cafe — Boulder, Colorado
On the West Coast, you'll find blissful beignets at this Colorado diner the Denver Westword awarded "Best Brunch" of 2022, and that's just the tip of the iceberg. Lucille's Creole Cafe has grown to six brick-and-mortar locations since 1980, and it's essentially credited to launching Cajun cuisine in the Centennial State as we know it. The spread that awaits you is true Southern eatin,' with spice-fueled variations on Eggs Benedict and Omelettes. Its star dish is a Louisiana tribute to the classic English breakfast, complete with hearty red beans and scratch-made biscuits.
When it comes to purchasing a platter of the beignets, do so before digging in to your breakfast — the main course Lucille's dishes up until closing time (2 p.m. at all locations). Each order proffers four pastries, and for $4.95 a plate you're getting your money's worth. Not only is each fritter doused in sugary goodness, but the brunch nook dishes them up fresh. No soggy dough or craggy edges apply — here, these babies come steaming hot out of the fryer and melt in your mouth from the first bite. Stay true to New Orleans tradition by sipping a toasty mug of chicory coffee or a cold glass of orange juice — not out of a carton, but squeezed by hand.
Mo'Bay Beignet — Mobile, Alabama
For some delectable beignets along the Gulf Shores, you can't go wrong with this small business in Alabama. Mo'Bay Beignets crafts homespun French pastries onsite, and with seven shops statewide (including two food trucks), Alabamians have many ways to get their hands on Jaclyn Robinson's irresistible wares. AL.com reports that Robinson initially conceived of the idea to open a shop after raising money for her daughter's college aspirations. She went from proffering jarred sweet sauces to eventually rolling out a proper cafe in Mobile, now the company's flagship.
From the moment you walk in, you'll see this bakery doesn't mess around. Beignets are fried fresh before your eyes, and the the dipping sauces (based off Robinson's original recipes) come in cinnamon and buttercream flavors, although seasonal varieties appear from time to time. Facebook posts show tasty options like peanut butter and lemon cream. And if one visit isn't enough to satiate your cravings, you can recreate the magic at home with mixes sold on the bakery's website and in stores. Make sure to try a coffee beverage while you're there — the bakery's proprietary blend is the only caffeination these beignets need.
Tibby's New Orleans Kitchen — Winter Park, Florida
Keep the good times rolling — or in this case, good beignets — at a Florida-area chain of restaurants where Mardi Gras isn't just an annual party, but a way of life. Family-owned and operated, Tibby's New Orleans Kitchen pays respect to the clan's beloved uncle Walter "Tibby" Tabony by preparing the treasured dishes of his Crescent City upbringing. It's common for locals to soak up live music in its lively dining rooms, adorned in folk art and photographs recalling the Big Easy in its prime.
Simple powdered sugar beignets can be purchased as a dessert in its three locations daily, but if you ask us, the weekends are when the sweet treat really goes to town. That's because during brunch, there's two additional styles of beignets to try that go beyond the Big Easy's usual decadence. Consider splitting up your bottomless Bloody Mary with a King Cake Beignet or an over-the-top pick simply called "Indulgent" thanks to a trinity of confectioners sugar, caramel sauce, and shaved chocolate coating its fluffy layers. Both cost a dollar more than the original at $8.25, but the heaping fritters on your plate should satiate any hunger pangs, assuming a stack of Praline Belgian Waffles don't do the job.
Bayou Bakery, Coffee Bar & Eatery — Arlington, Virginia
Roughly a two-mile drive from the Lincoln Memorial, Bayou Bakery, Coffee Bar & Eatery specializes in beignets and chicory coffee that are so authentic, they may as well have the stamp of approval from the Big Easy itself. The French doughnuts have drawn rave responses from locals and outlets like the Washington City Paper since opening on North Court Road over a decade ago.
Frankly, this kind of reaction isn't surprising. That's because Bayou Bakery's founder David Gaus is originally from New Orleans, and he's painstakingly documented the recipes of his birthplace in cookbooks and on TV. In many ways, the cafe is his ultimate tribute to the region's culinary gifts. While Southern bites reign supreme, it's the beignets in particular that shine. One thing that separates these fritters from the rest? They're fried in peanut oil, an excellent option that leads to the crispy shell of dough and pillowy center beyond heavenly. Snag a trio for under $5 and watch them vanish out of thin air — they're that good.