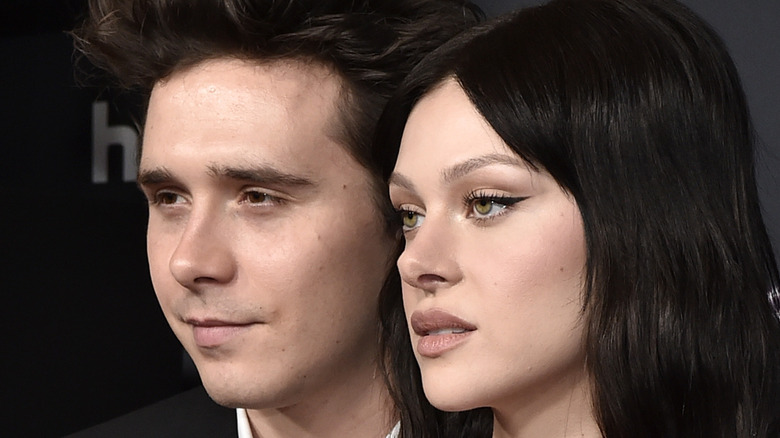 Brooklyn Beckham is only in his twenties but he's already amassed quite a long relationship history. David and Victoria Beckham's oldest child has dated everyone from Chloë Grace Moretz to Sofia Richie and Rita Ora and, along the way, he's had many a fling and even been accused of cheating on a number of occasions.
However, his casual approach to dating appears to have changed as soon as he fell for Nicola Peltz. It's clear he can't get enough of his now wife, even immortalizing her face with a huge tattoo on his arm — but their union may not be as strong as they'd like fans to believe. Rumors of Peltz's rift with the Beckhams have been rampant for ages and have included accusations of a major feud between Peltz and her mother-in-law. Apparently, it got so bad that David had to step in and set some boundaries.
Outside of the alleged headline-making drama, there are also a number of things about Brooklyn Beckham and Nicola Peltz's relationship that simply don't make sense. Are they red flags signaling the beginning of the end? We'll let you be the judge.
Nicola Peltz didn't like Brooklyn Beckham at first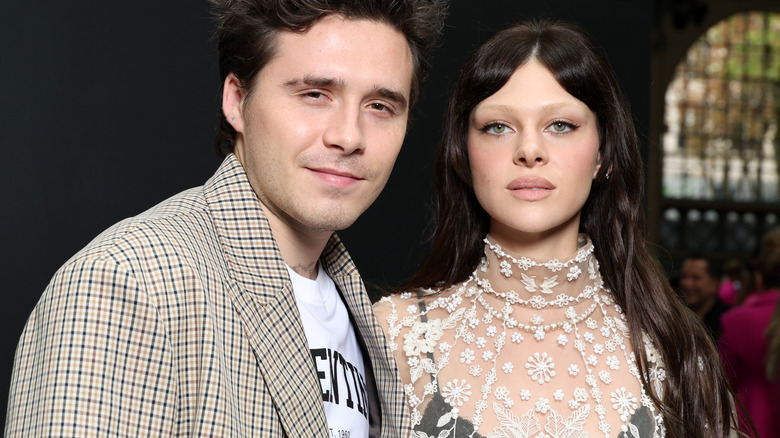 Not every couple experiences love at first sight, but for Nicola Peltz, her first impression of Brooklyn Beckham was actually one of dislike. As she told Vogue Hong Kong, she was introduced to her future hubby by her brother Diesel at Coachella in 2017 and she confessed to British Vogue, "We didn't get along at first."
Over the next five years, Beckham would continue his friendship with Diesel, as well as with Peltz's other brother, Brad, and so, the pair would occasionally bump into each other. However, there were still no sparks. "She did not like me at first at all," Beckham told GQ in 2022. It would be five years before they really spent time together at a Halloween party, which changed everything. As Beckham told the outlet, they had their first kiss that night and became inseparable. "We started hanging out every night and we drove around till like 7:00, 8:00 in the morning," he recalled. "I showed her that I could be, that I am a gentleman and, you know, she fell in love with me."
From there, a whirlwind romance ensued and after just six months of dating, Beckham proposed. Showing off a complete 180 in her emotions, Peltz took to Instagram to celebrate the milestone in July 2020. "You've made me the luckiest girl in the world," she gushed. "I can't wait to spend the rest of my life by your side."
The alleged war between Victoria Beckham and Nicola Peltz, explained
Nicola Peltz appeared to initially have a great relationship with her future mother-in-law, Victoria Beckham. In 2021, she even celebrated the designer's birthday with a sweet Instagram post in which she enthused, "You're such a role model to me, I love you so so much!" However, that sentiment was either fake or it was changed when wedding planning began. According to Page Six, Nicola didn't want Victoria to be involved at all. "They can't stand each other and don't talk," a source claimed. "The build-up to the wedding was horrendous."
Another insider alleged that Victoria didn't appreciate Nicola taking her son away from her while yet another told Page Six the feud actually ran much deeper than Nicola and Victoria. "It's pretty obvious there's an issue between the two families," they said. An issue that allegedly stemmed from differing approaches to parenting and business, as well as cultural differences. Apparently, while the Peltzes are happy funding any of their daughter's dreams, "the Beckhams are quite old-fashioned – they believe that everyone should make their own way up in the world."
The rift is believed to have been exacerbated by Nicola telling Grazia US in 2022, "I was planning on wearing Victoria's wedding dress," then claiming it was the designer who pulled the plug. A source told MailOnline, "David was really appalled" and lost his cool with his son for the first time, reportedly telling Brooklyn. "What happens next is up to you, but we are done with the drama."
Their Halloween costumes raised many eyebrows
Brooklyn Beckham and Nicola Peltz have been adamant that there's no feuding between their families. In 2022, Beckham even told Variety that "everyone gets along, which is good." As for Peltz, she tried to clarify the alleged wedding dress drama by explaining why she chose to wear a Valentino gown rather than one designed by Victoria Beckham. "I was going to and I really wanted to, and then a few months down the line, she realized that her atelier couldn't do it, so then I had to pick another dress," she told the mag.
But while their words said one thing, their actions painted a different picture. For Halloween that year, the couple decided to dress as Romeo and Juliet from the 1996 film adaptation "Romeo + Juliet" starring Leonardo DiCaprio and Claire Danes. Given that the characters famously come from rival families who try to keep them apart at all cost, many saw the couple's costume as a dig at their own parents. Indeed, a source told Page Six that things were so tense, Victoria and David Beckham were losing touch with their son."They haven't spoken to him much in the last few months," the insider claimed.
Nicola Peltz's dad called her wedding a 's***show'
Wedding planning may have been contentious, but the actual Brooklyn Beckham-Nicola Peltz wedding was reportedly an absolute hot mess. The young couple tied the knot at the Peltz mansion in Palm Beach, Florida in April 2022 and, according to Brooklyn, it was perfect. Recalling the moment Nicola walked down the aisle, he told British Vogue. "It was the first time ever in my life when I felt like I couldn't catch my breath." However, the reality may have been very different. The wedding, which cost a reported $3 million, was allegedly falling apart at the seams and, according to Page Six, Nicola's father almost canceled it, calling it a "s*** show."
According to wedding planners Nicole Braghin and Arianna Grijalba, who were fired after just nine days of work, prepping the nuptials was chaos. They claimed that Nicola and her mother, Claudia Peltz, weren't cooperative and couldn't even be bothered to put together a guest list. Instead, Claudia was said to have been focused on keeping the event's rising costs a secret from her husband and both "insisted that Victoria Beckham could not know about any internal mistakes regarding the ongoing planning of her son's wedding." The planners also alleged that Nicola didn't trust Brooklyn to make any decisions and dubbed Nicola's dad, Nelson Peltz, a "billionaire bully." They said he was ready to pull the plug, but "Claudia begged Nelson not to cancel the wedding because it would 'destroy Nicola's career.'"
The Beckham-Peltz wedding sparked two lawsuits
Brooklyn Beckham and Nicola Peltz's wedding was drawn into the midst of two lawsuits after the family's original planner, Preston Bailey, bowed out in March 2022. While some headlines claimed his departure was caused by Nicola turning into a bridezilla, he told Page Six it had nothing to do with that. "I was overcommitted," he said. "I couldn't deliver to the quality I was used to." There were six weeks left before the wedding when Nicole Braghin and Arianna Grijalba were hired to replace Bailey, but just nine days later, they were let go. According to Nicola's dad, Nelson Peltz, they failed to deliver and when they refused to return his $159,000 deposit, he sued them. In the suit, seen by MailOnline, Nelson claimed that the planners lied about their qualifications and abilities and failed to grasp "the opportunity of a lifetime" by missing meetings, making mistakes, and not signing vendors fast enough. He eventually hired a third planner, Michelle Rago, to complete the task, but he wanted his cash back. Well, Braghin and Grijalba hit back with a countersuit, citing breach of contract, per Page Six, and placing the blame back on the Peltzs for failing to cooperate.
British TV personality Lorraine Kelly may have summed up the ordeal best on her show. "Can I just say, that sounds like the most utterly joyless wedding, devoid of fun and happiness and all of that," she said, per Independent. "How silly that it's ended up in a courtroom."
Nicola Peltz fired Brooklyn Beckham from her movie
Nicola Peltz may best be known for her work on "Bates Motel," but in addition to acting, she's also interested in writing and directing. So much so that, at the age of 23, she penned a drama called "Lola James" which she went on to star in, as well as co-direct. According to Deadline, Nicola plays the 19-year-old title character who struggles with addiction while trying to earn enough money to get her brother out of a rough home environment.
The film's cast features one of her brothers, William Peltz, and nearly included Brooklyn Beckham as well — until she fired him. Speaking about the movie's production with The Times in 2022, Nicola revealed that when her beau first asked if he could be in the film, she was excited. "I was like, 'Oh my gosh, I would be honored, but we have to disguise you,'" she recalled. "So he did a few parts in the background, which if you pay attention, you can find, but in one scene he's like, 'Can I put the mic on? I wanna say a line.'" That's when things took a turn. Nicola agreed, but quickly backtracked because his accent was overpowering. "I started laughing so hard," she shared. Then, she cut him from the flick in the most brutal way possible. "He sat there, in the editing room, he was like, 'Did you really just cut me out while I'm sitting here?'" She did. Savage!
With no solid career path, Brooklyn Beckham still wants lots of kids
Brooklyn Beckham initially planned to follow in his father's footsteps and began playing soccer at the age of two. In his teens, he joined Arsenal FC's Hale End Academy, but his dreams of playing professionally came to a halt at 15 when he was dropped by the school. As MailOnline reported, he simply wasn't playing at a high enough level to earn a coveted scholarship. Rather than trying to pursue the sport with another team, Beckham called it quits at 16, later telling Variety, "To try and live up to what my dad did in football, I was just like, that's going to be a bit difficult."
With soccer behind him, he tried modeling, then studied photography at Parsons School of Design, but dropped out to pursue cooking. Nicola Peltz was all for his chef dreams, telling Tatler, "You can tell that when Brooklyn's in the kitchen he's in heaven." Unfortunately, when "Cookin' With Brooklyn" premiered on social media, he was called out for not actually cooking. A source even told Page Six he needed a 62-person team to shoot an episode in which he made a sandwich.
But even with no clear career path, Beckham wants a huge family. He told Vogue Hong Kong, "I would love as many kids as possible." Indeed, Peltz told The Times in 2022, "He wants kids yesterday," adding they'd like to have both biological and adopted kids. "I've always wanted to be a young dad," Beckham told Entertainment Tonight. "I could have, like, ten."
They've shown their love in some extreme ways
Brooklyn Beckham and Nicola Peltz like showering each other with gifts and shows of affection that can be quite, well, unique. Like the matching gold necklaces Peltz had custom-made for her and her beau in 2021. As she shared on her Instagram Stories, per Page Six, they weren't your average gold bling. "I got our wisdom teeth made into necklaces," she enthused while Beckham gushed, "The best gift from my best friend and the most amazing fiance."
As for Beckham, he's decided to show his love for Peltz in the most permanent way possible: with 20 tattoos and counting. Some of the biggest tributes include Peltz's eyes inked on the back of his neck with a love letter she wrote him tattooed underneath. "My forever boy," it starts. "Read this anytime you feel anxious. I want you to know how deeply loved you are." Beckham also has his entire wedding vows immortalized on the inside of his upper arm, as well as his wife's face on the outside. Other smaller nods to his wife include the letter "N" and a heart on his ring finger, the word "Nicola" on his neck, "Peltz" across his chest, "Married" on the side of his hand, and the name of Peltz's late grandmother, Gina, on his wrist. He also has her date of birth tattooed alongside the words "My life, my love, my truth, my breath, my reason, my beauty, my precious."
What does their body language reveal?
Brooklyn Beckham and Nicola Peltz aren't shy about showing off serious PDA – and they're adamant that their love is the real deal. In a joint 2022 interview with Vogue Hong Kong, the couple said they're best friends and enthused, "We always have each other's back, no matter what." But is that really true? Women's Health asked body language expert Karen Donaldson to analyze a number of photos of the young lovers taken over the span of three years in an effort to analyze their connection. According to Donaldson, their words and actions do match up. She spotted a high level of intimacy and believes that Beckham is protective of Peltz and "he's enamored by her."
However, not everyone agrees. Dr. Carmen Harra, a psychologist and relationship expert, told MailOnline that the couple's public professions of love may be a front. While she conceded that their chemistry appears to be real, she also spotted warning signs. "Their overt displays of affection only signal the existence of greater issues behind the curtain, namely insecurities and disagreements, hence why they need to show others that they're doing well," she mused. "They should engage more in trying to fortify their relationship and deepen their bond instead of trying to convince us that they're a picture-perfect couple."