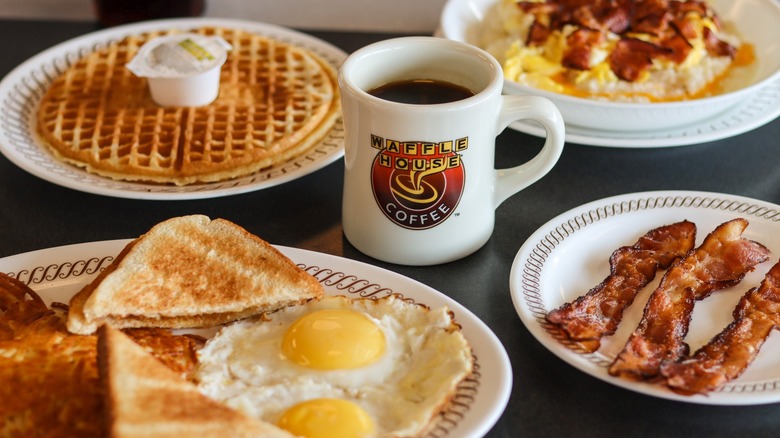 Picture this: It's 4 a.m. and maybe you've had a few cocktails or been out with your friends all night. You had dinner, but that was hours ago, and now you need another meal in your belly before you head home to pass out. What do you do to feed your empty tummy? For most of us, that answer involves copious amounts of grease, carbs, and cheese. If you live somewhere in the southern half of the U.S., there's a very good chance your go-to spot in this situation is Waffle House.
Waffle House has built its reputation on its excellent renditions of American diner classics, especially breakfast foods like its eponymous waffles (via Atlanta Eats). There are other breakfast chains out there, like IHOP and Denny's, but none inspire the devotion from fans that Waffle House does — sorry Northerners and West Coasters, you're just going to have to take a road trip to the South if you want to eat at one of the best chain diners in America. Waffle House devotees have created their own culture with its own special language and customs, and Waffle House regulars are very attached to their favorite menu items.
Just because Waffle House is universally beloved doesn't mean it has a completely unblemished track record, though. We dug into Waffle House's lore to uncover the scattered, smothered, and covered story behind this American icon.