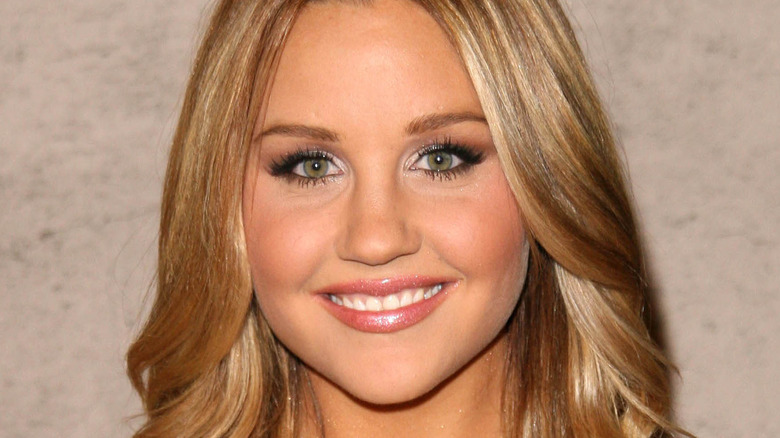 If you're a millennial, chances are you remember Amanda Bynes best frozen in time as the quirky and adorable kid on "All That" and "The Amanda Show," the series that also launched Drake Bell and Josh Peck on Nickelodeon. Bynes made her mark on Hollywood as a child star and proved to be a delightful rom-com lead in her teen years, particularly with her London adventure, "What a Girl Wants." Flash forward to 2010, when Bynes was in her mid-20s and seemed to have proven she had staying power beyond her child star roots. Her career was still going strong. She appeared in what would end up being her final film role to date, opposite Emma Stone in "Easy A" that year.
Bynes shocked the world by announcing out of the blue that she was retiring from acting. The surprises didn't end there, though, because for the next few years, a series of bizarre appearances and legal troubles culminated in Bynes being placed under a conservatorship. Here's a look back at some of the most tragic details of Amanda Bynes' public life.
Amanda Bynes quit acting abruptly in 2010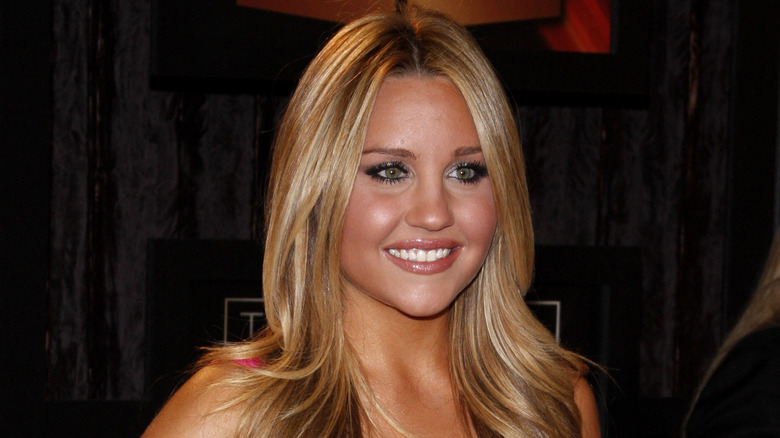 Amanda Bynes' retirement decision came on the heels of hits like "She's the Man" and "Hairspray," and just before the release of "Easy A," which she starred in opposite future Oscar-winner Emma Stone. At the time, the only explanation Bynes offered for her unexpected choice was that acting wasn't "fun" for her (although she did eventually reveal that there was more to the story). "If I don't love something anymore, I stop doing it. I don't love acting anymore, so I've stopped doing it. I know 24 is a young age to retire, but you heard it here first," she tweeted in 2010 (via Entertainment Weekly).
In a 2018 interview with Paper magazine, Bynes revealed that her self-esteem had hit rock bottom, and she was so disappointed while watching herself in "Easy A." In the film, she played the very religious Marianne. "I literally couldn't stand my appearance in that movie and I didn't like my performance. I was absolutely convinced I needed to stop acting after seeing it," Bynes explained. "I was high on marijuana when I saw that but for some reason it really started to affect me. I don't know if it was a drug-induced psychosis or what, but it affected my brain in a different way than it affects other people. It absolutely changed my perception of things."
Her mugshot went viral
Things quickly went downhill for Amanda Bynes, and a lot of her struggles played out publicly. In April 2012, the actor was arrested for a DUI and, as just about any celebrity who goes through the booking process learns the hard way, her mugshot was soon plastered across the pages of tabloids and on gossip sites.
In the picture, Bynes' hair is dyed pink, which led some outlets to drag her appearance in the now-infamous photo. According to TMZ, "Bynes allegedly swiped a cop car as she was trying to pass." This put her sobriety into question. The star's $5,000 bail got her out of jail, but her struggles behind the wheel continued throughout the year.
By September 2012, the Associated Press reported that Bynes had been charged in two hit-and-run incidents after leaving the scenes of two separate accidents without making her information available for the other affected parties, according to Frank Mateljan, a spokesperson for the Los Angeles City attorney.
Serious concerns about Amanda Bynes' mental health
When it comes to Rough Years for Amanda Bynes, 2013 would rank very high on the list. Although her official Twitter account has since been deleted, she was still active on the site at the time and, in 2013, she had a habit of tweeting bizarre rants on the platform, including calling then-president Barack Obama and his wife Michelle Obama "ugly" and asking Drake to "murder [her] vagina" (via Us Weekly).
In July of that year, Bynes had another notably rough moment when she was placed on a 5150 psychiatric hold after she allegedly set fire to an old woman's driveway in Thousand Oaks, California. As TMZ noted, the incident came just a day after the actor was photographed shopping at Bloomingdale's in Santa Monica, wearing a blonde wig and a long t-shirt without visible pants or shorts. In 2014, Bynes started making public appearances (including to court dates) looking unlike herself in long, sometimes colorful wigs, huge sunglasses, and facial piercings. One set of photos of her from this time, where she's wearing a long blonde and teal wig with bangs and oversized sunglasses, has become particularly associated with this phase in Bynes' life.
Her dog was possibly injured during one of her incidents
While everything about Amanda Bynes' downward spiral is tragic, one of the most heart-wrenching moments in the saga came in July 2013, when reports circulated that her small dog may have been injured during the incident that resulted in her first psychiatric hold. The actor set fire to an old woman's driveway in Thousand Oaks, California, by lighting a cloth over a gas tank (and prompting a concerned neighbor to call 911 out of fear the tank might explode), according to TMZ. The neighbor/witness to the now-infamous incident told reporters that Bynes' pants were literally on fire when he found her, but that she was able to put it out quickly and seemed unscathed.
Her dog may not have been as lucky, however. "I saw this girl laying down right here with her left pant leg on fire. I quickly pulled over and there was this gas can right here and it's trailing fire," the eyewitness said (via TMZ). "Pull over, went to go help her, she had the flames, by then, extinguished out. She went over there to grab her dog. … She was really frantic like she wanted to get out of there. She was like, 'My dog has been burnt.'" Bynes rushed her small Pomeranian to a nearby liquor store, where the store owner claimed he saw her rinse the dog (who allegedly smelled of gasoline) in the sink.
If you or someone you know is struggling with mental health, please contact the Crisis Text Line by texting HOME to 741741, call the National Alliance on Mental Illness helpline at 1-800-950-NAMI (6264), or visit the National Institute of Mental Health website.
Disturbing abuse allegations against her dad that she recanted
In October 2014, Amanda Bynes once again made headlines for her Twitter use. This time, the celeb tweeted allegations that her father, Rick, had abused her (verbally, physically, and sexually) and that her mother, Lynn, had been complicit in the abuse. Her parents denied the claims and their lawyer, Tamar Arminak, made a statement to TMZ: "My clients are heartbroken by these false accusations. Their older children are also horrified at the situation." Lynn Bynes attributed the outburst to "Amanda's mental state at the moment." In a statement to E! News, she added, "It saddens me beyond belief that my husband's character could be slandered in such a way."
Shortly after making the allegations, Bynes recanted her claims of abuse, but levied new claims that she was being controlled by a microchip. "My dad never did any of those things The microchip in my brain made me say those things but he's the one that ordered them to microchip me," she tweeted (via E! News). Amid this drama, the actor was placed on another 5150 hold and taken to a hospital in Pasadena, California, according to TMZ. After the second psychiatric hold, Bynes publicly revealed she had been diagnosed with bipolar disorder and was receiving treatment, according to E! News.
If you or someone you know is struggling with mental health, please contact the Crisis Text Line by texting HOME to 741741, call the National Alliance on Mental Illness helpline at 1-800-950-NAMI (6264), or visit the National Institute of Mental Health website.
She was found guilty in her DUI case
Amanda Bynes experienced another low moment in New York City in 2013, when police were called to her Times Square apartment because she was smoking marijuana in the building lobby, leading to an incident that reportedly left her facing several potential charges, including drug possession, reckless endangerment, and even a possible felony for evidence tampering (via the New York Post). Like so many stories involving Bynes at the time, the details were a bit bizarre. According to the Post's sources, police met with Bynes in her apartment on the 34th floor, where she reportedly threw her bong out of the window (thankfully, no one was hit or injured). Her behavior must have concerned the officers on the scene, because Bynes reportedly underwent psychiatric observation at a hospital before she was taken for booking.
In February 2014, she was back in L.A. to face legal consequences for her 2012 DUI arrest. The star ended up pleading no-contest to reckless driving and received a relatively light sentence that didn't include any jail time, just probation (for three years) and a few months of mandatory alcohol education classes. According to the Los Angeles Times, the DA offered Bynes a plea to one of the lowest charges possible in the case, one known as "wet reckless," which means the defendant isn't technically convicted of a DUI at all, but of reckless driving with a note on their record that says the incident involved drugs or alcohol.
Amanda Bynes was evicted from her New York City apartment
Not long after her bong-throwing incident, news broke that Amanda Bynes had been kicked out of her NYC apartment, the Biltmore in Times Square. In Touch was the first to report on the development in 2013, citing a source close to the situation who said, "[Bynes] was notified that she is no longer welcome as a tenant in the building in light of recent events." According to the insider, by the time the report was published, the struggling star was already fully moved out of the building since her belongings had been removed.
The eviction came shortly after her marijuana-related arrest (the bong incident occurred on May 27, 2013, and news of her eviction made headlines just days later, in early June of that year). In Touch reported that an NYPD source revealed that Amanda's fate at the building had already been sealed by a long string of complaints from other tenants. "Even before her arrest, residents had constant complaints about the smell of marijuana coming from her apartment," the source explained. "She had also cursed out residents and the doormen, and the smell of pot from her apartment was really annoying people."
She got another DUI in 2014
In 2014, Amanda Bynes went through both ups and downs in the legal woes department. In June of that year, things were looking up for her (at least a little) when the charges related to her 2013 bong-throwing incident were officially dropped, after she struck a deal to voluntarily get regular treatment for her mental health. "The defendant has done very well [in treatment]," judge Laurie Peterson of Manhattan Criminal Court remarked on Bynes' progress at the time, according to a Page Six report.
Unfortunately, Bynes had a down moment in September 2014 when she was arrested on a second DUI. TMZ reported that she had a "serious weed problem" at the time of the arrest, but noted that law enforcement sources said she was actually under the influence of a stimulant when she was pulled over for the DUI. According to E! News, officers pulled her over when she went into an intersection while stopping at a red light. The authorities gave her "a series of field sobriety tests, which she was unable to complete." The actor was charged with a misdemeanor in the incident and was released the same day on $15,000 bail.
If you or anyone you know is struggling with addiction issues, help is available. Visit the Substance Abuse and Mental Health Services Administration website or contact SAMHSA's National Helpline at 1-800-662-HELP (4357).
Amanda Bynes was reportedly kicked out of fashion school
In January 2014, things were optimistic for Amanda Bynes when she enrolled at the Fashion Institute of Design and Marketing (news that she excitedly shared with her fans on Twitter). In addition to being a positive and productive new direction for Bynes, fashion school seemed to come easily to her. "She's a great student who always participated and really cared about her classes," a source told E! News. "She really fit in and loves her school." The source added that Bynes would be on the fence about even accepting acting gigs if they came up, because school was such a priority to her.
Alas, this chapter in the Amanda Bynes saga also took a turn for the tragic. In September 2014, she was reportedly kicked out of FIDM, and classmates told TMZ that she frequently skipped classes and was often high for those she did attend (one student, Rachel Loritz, told the site that it was pretty obvious when Bynes was under the influence — her sunglasses and loud, poorly-timed laughter supposedly were signs. Other issues Bynes had while attending FIDM reportedly included intense mood swings that led to "horrendous arguments," as well as multiple forms of cheating (including repeatedly paying classmates to complete her homework assignments for her).
However, Bynes later returned to her studies and graduated from FIDM in 2019 with an Associate's of Art in Merchandise Product Development, with plans to continue on for a bachelor's degree.
She was legally placed under a conservatorship
Amanda Bynes' mother, Lynn Bynes, was granted a temporary, emergency conservatorship over her daughter after the celeb's public struggles with mental health in 2013. On October 10, 2014, Amanda was put on a 72-hour 5150 psychiatric hold after her DUI arrest and abuse accusations on Twitter (described in more detail above). On October 13, the hold was extended by two weeks, after which it was extended yet again, this time for an additional 30 days of involuntary commitment.
Just a day after the 30-day extension came the full conservatorship, giving Lynn legal control over Amanda and her estate, which was reportedly valued at over $5 million at the time. Amanda's spending habits seemed to play a role in the decision to grant the conservatorship. "It has been reported that she has recently made extensive purchases as gifts from jewelry stores, such as Cartier, for strangers," court documents related to the conservatorship said, per People.
Amanda Bynes' parents made their daughter's well-being the top priority, opting to hand the reins over to professionals who were more qualified to make decisions about her care and finances. Shortly after the permanent conservatorship was put into effect, they filed to transfer control of their daughter's health decisions to an appropriate mental health practitioner, TMZ reported. At the same time, they were reportedly working to transfer financial conservatorship powers to a money manager. Per The Cut, Bynes took back her financial responsibility and freedom in 2017.
She opened up about her substance abuse
After her conservatorship went into effect, Amanda Bynes faded from the spotlight as she focused on her mental health and getting the care and support she needed. Several years later, in a 2018 interview with Paper magazine, Bynes candidly discussed her history with drugs, including the fact that she was able to get Adderall under false pretenses to stay thin while filming "Hairspray," and the fact that she began smoking pot at age 16. Her early experimentation with drugs didn't rise to the level of addiction, she said, adding, "I wasn't going out and partying or making a fool of myself… yet." She added that she did molly and ecstasy; while she tried and then decided against cocaine, Bynes shared that she had a problem with her Adderall use.
She also discussed her past Twitter rants, saying she was ashamed of them in retrospect. "I can't turn back time but if I could, I would. And I'm so sorry to whoever I hurt and whoever I lied about because it truly eats away at me. It makes me feel so horrible and sick to my stomach and sad," she said. "Everything I worked my whole life to achieve, I kind of ruined it all through Twitter."
If you or anyone you know is struggling with addiction issues, help is available. Visit the Substance Abuse and Mental Health Services Administration website or contact SAMHSA's National Helpline at 1-800-662-HELP (4357).
Amanda Bynes finally ended her conservatorship in 2022
Over the next few years, Amanda Bynes continued to work to repair her relationships and manage her mental health. In 2020, she announced her engagement to a man named Paul Michael, with whom she's had some serious ups and downs. By 2021, Bynes had reportedly repaired her relationship with her parents. "Her relationship with her parents is wonderful at the moment," an insider told E! News in September 2021, adding that quarantining away from each other during the pandemic had played a big role in improving the relationship. "It really made her appreciate her loved ones even more. So when they were finally able to see each other again, they were able to spend that quality time together and that strengthened their bond a lot."
In 2022, Bynes' parents publicly supported her bid to end her conservatorship, with her mother's attorney, Tamar Arminak, stating: "Amanda's mother, Lynn, is so proud of her for all the hard work and progress Amanda has made, and she supports Amanda's petition to terminate the conservatorship" (via Vulture). A judge officially terminated the conservatorship in March 2022, nearly nine years after it took effect, ruling that it was not needed anymore and adding that Bynes had met the court's expectations and requirements in the intervening years.