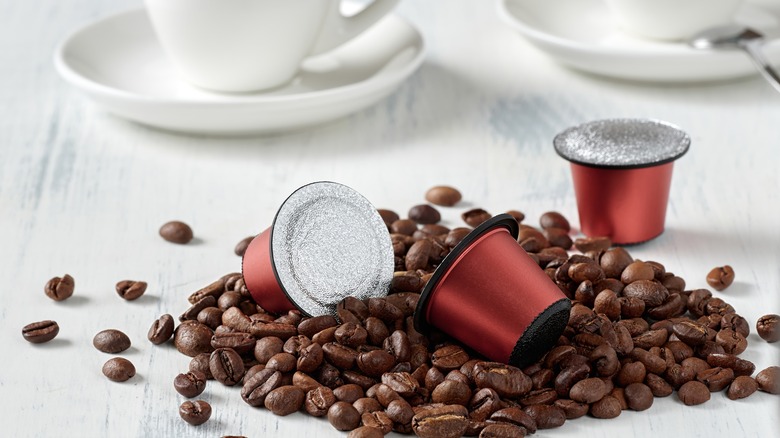 We may receive a commission on purchases made from links.
Few things exemplify modern American convenience quite like pod-style coffee brewing. It's not our favorite way to brew a cup of joe (there are ways that are cheaper, less of a strain on the environment, and capable of producing better-tasting coffee) but we can't deny coffee capsules their appealing ease of use. Plus, this style of coffee has improved a thousand-fold in the decades that it's been around — since 1986 for Nespresso and since 2003 for Keurig. Manufacturers improved the coffee pod brewing process through more sophisticated extraction methods, higher-quality coffee grounds, and desirable cafe features like milk frothing.
So nearly 40 years after the very first pod-style brewer emerged, there's no shortage of this type of coffeemaker on shelves. What's the best coffee pod brewer out there? Is Keurig the best coffee capsule brewer, or are other options worth exploring? The answers largely depend on your budget and whether you want the machine to simply shorten the distance between A and B (A being you rolling out of bed and B being a hot cup of black java in your hand) or if you want it to help you explore different types of coffee and barista-level craft drinks. Regardless, wading through the options is overwhelming, and for that reason, we've compiled a list of the best coffee pod machines to buy in 2023 to help identify the best product for your needs. Prices included in this list are current as of this article's publishing date.
How we selected the coffee pod machines
We have personally used many of the products on this list, so firsthand experience in ease of use, value for price, quality of coffee, and build integrity/product longevity were significant factors at play. Catering to a wide variety of coffee pod users — a home shared by six college roommates that all drink multiple cups per day, for example, vs. a single adult who enjoys a latte or cappuccino daily — was a priority.
Keurig being a leading coffee pod machine manufacturer was kept in mind. There's a lot of models under this name out there, so we wanted to include our recommendations for the best Keurigs while also being inclusive of great choices from other brands. For brewers we haven't personally used, we made our choices based on features like multifunctionality, automatic brewing and shutoff, water capacity, and espresso compatibility. We looked for key perks like a carafe and a milk frother. And finally, we vetted products for their price-to-value ratio and overall customer satisfaction before including them on our roster.
Best overall coffee pod maker
This Ninja coffee pod machine truly does it all at a price that won't make you cringe. While coffee pods like the ones from Keurig aren't compatible with this machine, espresso-style pods, such as Nespresso's, are — and it can still brew single-serving cups over coffee grounds. It features all of the key functions for brewing coffee at home: a brewer capable of creating single-serve coffees, travel-mug-size coffees, or a full-sized 12-cup carafe, an espresso brewer compatible with Nespresso pods, and a milk frother to assist in creating cappuccinos, lattes, and cold foam.
Ninja's espresso and coffee barista system brews espresso pods in regular or lungo style, giving you freedom in your craft coffee drinks. The brewer for loose coffee grounds offers nine different brewing sizes (in ounces), plus a classic and rich style option. Even better, this machine can optimize each function for brewing espresso or coffee over ice.
The Ninja CFN601 is currently available on Amazon for $199.99.
Best simple coffee pod machine
For the rejectors of bells and whistles, or perhaps for the working professionals that are awake for the sunrise, the Black + Decker CM618 single serve coffeemaker offers a no-nonsense, fuss-free solution. The compact size of this brewer — only about 9.4 inches tall and 6 inches wide — makes it an unobtrusive countertop addition, too. A simple suite of features makes the Black + Decker appealing for folks who routinely want one thing: A fresh mug of hot, black coffee for their morning commute. It comes with an automatic shutoff, a permanent filter, and an easily-removable basket for quick cleaning.
For an absurdly affordable price, this brewer includes a dishwasher-safe 16-ounce travel mug that fits snugly under the brewer spout to prevent splashing. One caveat to this brewer, though, is that it's compatible with soft coffee pods, not plastic cups. Fortunately, these are still widely available through major grocers and Amazon.
You can make the Black + Decker single serve coffeemaker your own for $24.99.
Best coffee pod machine for lattes
Looking for something to combat the Starbucks itch? Try out the Keurig K-Cafe SMART, our favorite coffee pod brewer for milk-based coffee drinks. Many coffee pod models with milk frothing functions require you to hold the pitcher while frothing, but we like this brewer because the pitcher (on the right) has an internal frother and doesn't need to be held while running — which makes this a great coffeemaker for those sleepy shuffles into the kitchen on the hunt for caffeine. Its frother comes with three heated froth settings, plus a cold foam option.
The SMART makes use of Keurig's latest perks: Remote brewing via a Wi-Fi connection, Alexa compatibility, an app full of recipes and brewing guides, smart detection of brand-name coffee pods and recommended brewing by the coffee type, improved five-stream brewing design for a better-tasting cup of Keurig pod coffee, plus an auto-ship coffee pod subscription. While you can make just about anything with it — from pseudo-espresso shots to brewed coffee to Americanos to tea — this machine is a great choice for cafe lovers who prefer milky drinks and never need a full carafe of brewed coffee.
You can get a Keurig K-Cafe SMART on Amazon for $249.99.
Best coffee pod machine under $50
A simple, affordable coffee machine ideally comes with a good list of features without the big-brand coffee machine price. The Chefman single serve coffee maker can brew both plastic coffee pods, like Keurig pods, as well as coffee grounds in a reusable filter basket. With brew sizes ranging from 6 to 14 ounces, you can easily make a cup of coffee for sipping at home or a quick travel mug to take on the go. This brewer includes a self-cleaning feature, handy operation with one touch of a button, and overheating protection.
The Chefman brings minimal maintenance to basic coffee pod necessity, all in a slim 4.5-inch-wide design — it's an awesome affordable alternative to baseline Keurigs, which can be up to double the cost for a similarly-featured entry-level coffee pod machine.
Right now, the Chefman single serve coffee maker is a great coffee pod brewer to get for under $50 because it's on sale at Amazon for $43.71, but the regular listed price is $49.99.
Best basic Keurig coffee pod brewer
The Keurig K-Mini looks and functions similarly to a couple other brewers on this list: the Black + Decker and the Chefman. The Black + Decker, though, uses soft coffee pods so it's sort of playing in a different field. The K-Mini is just as wide as the Chefman (4.5 inches) but a bit shorter. It includes an auto-off feature and can brew anywhere between 6 and 12 ounces of coffee. As with the Chefman, the water reservoir of this brewer is intended to hold a single-use amount of water and thus will brew as much coffee as the amount of water you put in allows (there's no controlling this electronically).
The K-Mini is quite a bit more expensive than its competitors, but Keurigs do generally last longer than more affordable brands and are more reliable in consistent puncture and extraction of plastic coffee pods — so it's understandable if you want to stick to the leading coffee pod brand. That's why we recommend the K-Mini as the best basic and affordable Keurig, but if you want to add a number of features such as the chrome drip tray, coffee pod storage, a strong brew feature, and a detachable water reservoir, consider upgrading to the K-Mini Plus.
The Keurig K-Mini is listed on Amazon for $82.39 at the time of this list's publishing — its regular price is $99.99.
Best coffee pod and carafe brewer duo
If your household is the simple coffee-and-creamer kind of household, but there's that odd family member out that always wants an evening cup, needs a way to make single mugs of decaf, or just always wants one more refill than everyone else, we recommend the Cuisinart SS-15BKSP1 Coffee Center for you. There aren't many frills to this machine — no fancy app, no Wi-Fi connection, no milk frother, not optimized for espresso pods — but it's still exceedingly good at its job, which is to simply brew coffee by the cup or carafe.
Notable features of the Cuisinart include the 6, 8, and 10-ounce options for coffee pod brewing, a deep drip well under the single-serve side to catch overflows and spills, warming with automatic shut-off and automatic timed brewing, hard water filters for both reservoirs, a generous 40-ounce reservoir on the single-serving side, and a bold brewing option. It's a practical coffeemaker for a family of practical coffee drinkers.
The Cuisinart SS-15BKSP1 Coffee Center is available on Amazon for $194.95.
Best large capacity reservoir coffee pod brewer
The Cuisinart SS-10 Premium Single Serve Coffee Maker is an excellent choice for coffee pod users who live alone or are the only coffee drinker in the house. It's a feature-loaded brewer that stands out because of its large 72-ounce water reservoir. You could go all week without filling that bad boy up — even if you drink a healthy amount of coffee. Besides the generous water supply, the Cuisinart brewer also comes equipped with a rinsing feature to keep the machine clean, a hot water dispenser for tea and hot chocolate, and brew temperature options. You're also given plenty of serving size options with a 4, 6, 8, 10, and 12-ounce brewing selection, and we have to remark on that sleek stainless steel design.
There are a few cheaper brewers that compete with the Cuisinart in terms of functionality — namely the Mixpresso single serve K-cup coffeemaker and the Hamilton Gen 3 FlexBrew single-serve coffeemaker — but neither holds a candle to the Cuisinart's reservoir size.
You can find the Cuisinart SS-10 Premium Single Serve Coffee Maker for $169.95 on Amazon.
Best espresso pod machine
What's the best pod brewer for Nespresso lovers? None other than the Nespresso/De'Longhi VertuoPlus Deluxe, a powerful but easy-to-use espresso pod brewing system. Nespresso is by and large known for its espresso pods, but the VertuoPlus Deluxe is also able to brew the brand's coffee pods in 5 and 8-ounce sizes. Espresso can be brewed as single or double shots for a total of four brewing sizes. One important note about this machine is that it is only compatible with the Vertuo line of Nespresso capsules, not the older/classic capsules. We like this brewer for its adjustable water tank position, so you can either position the reservoir perpendicular to or directly behind the brewer to best suit the layout of your space.
The Deluxe features a large 60-ounce reservoir, but if you'd like to save a few bucks, you can go for the VertuoPlus Standard, which offers a 40-ounce tank. The Deluxe can also store up to 10 Vertuo capsules and 17 spent capsules, which are automatically ejected from the brewing area after use. When purchased brand new, the Deluxe is paired with a hot and cold milk frother, which is entirely separate from the brewing machine.
The Nespresso VertuoPlus Deluxe costs $249.00 on Amazon.
Best portable espresso pod machine
The WACACO Nanopresso Portable Espresso Maker is a great way to get some go-go juice while on the go. This petite brewer is only about 6 inches long and just under 3 inches in diameter — meaning it'll slip effortlessly into backpacks, suitcases, etc. Plus, the whole thing weighs less than three-quarters of a pound (without any coffee or water in it). There's no batteries or electricity needed to operate the Nanopresso brewer, so it'll be convenient in even the most inconvenient of situations, like making coffee by a campfire or in a hotel room. All that you need is hot water and enough hand strength to operate the pump; the pump protrudes perpendicularly to the machine, so it takes a gripping motion to force the hot water through the grounds.
The Nanopresso has the capacity to brew a single serving of espresso either from loose grounds or original (non-Vertuo) Nespresso pods (using the included adapter). Another adapter is available for purchase that makes the brewer compatible with Nescafé Dolce Gusto coffee pods. There's no disposable filter to hassle with, and the portafilter easily disassembles for quick cleaning.
Get the WACACO Nanopresso Portable Espresso Maker for $84.90 on Amazon.
Best iced coffee pod machine
Are you a dedicated iced coffee drinker, opting for the chilled beverage even when outside temperatures are in the single digits? Many higher-end coffee capsule brewers have a function for brewing iced coffee, but if you want to cut through the frills (the hot coffee functions), try out the Famiworths Iced Coffee Maker. While this brewer does still offer hot coffee brewing functions, it is optimized for creating iced coffee. It has a higher clearance to fit taller glasses and purposefully brews rich, strong coffee. This is because the hot liquid will cause some of the ice to melt, thus watering the strong coffee down to a more balanced level. Pro tip: Combine the iced coffee brewer with coffee pods meant for iced coffee, use dark roasts, or use frozen coffee cubes instead of ice to maximize the outcome.
It's also worth mentioning that Keurig has a new K-Iced Single Serve Coffee Maker, but this machine is double the price of the Famiworths and it's too new for us to have tested it or heard accounts from other users.
The Famiworths Iced Coffee Maker is currently $42.20 on Amazon, 40% off its regular listed price of $69.99
Best extra large water capacity coffee pod brewer
In this list of the best coffee capsule brewers, we included a large-capacity coffeemaker, which had a reservoir of 72 ounces. This probably covers the needs of most, but some — a house full of coffee drinkers who opt for multiple cups a day, for instance, or the lobby of a small business like a salon or a bank, or perhaps a teachers' lounge — may need even more. There's nothing to ruin your morning quite like going to brew a cup of coffee and getting the dreaded "refill water" message, being forced to rectify someone else's negligence before you've had a proper waking up.
An extra-large capacity Keurig brewer, like the K155 Office Pro, will definitely reduce the frequency of that problem with its colossal 90-ounce water tank. We wouldn't recommend this for offices or businesses with more than, say, 15 employees — you're better off looking for a plumbed Keurig machine at that point to prevent any water tank refilling hassle in the first place. But for the six to 14-ish number of coffee drinkers range, this machine is likely very well-suited. Besides the huge reservoir, there are plenty of attractive features in this brewer: Four cup sizes, varying brew temperature, and an automatic brewing and shutoff timer — all programmable from the handy touchscreen.
Understandably the priciest machine on our list, the Keurig K155 Office Pro Commercial Coffee Maker is listed for $294.95 on Amazon.