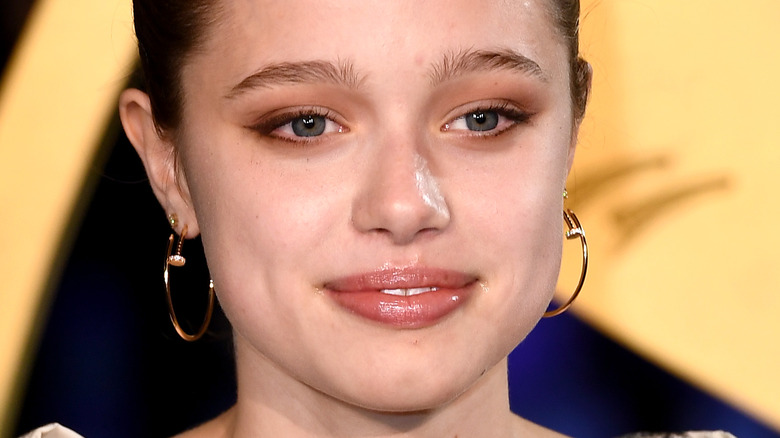 Growing up in the spotlight isn't easy. That's a universally accepted truth the Jolie-Pitt kids know all too well. They've been in their parents' shadows since day one, and despite their attempts at anonymity, have been a constant source of curiosity.
None of the six kids have been more subject to speculation than Shiloh Jolie-Pitt. Shiloh is the first biological child of Brad Pitt and Angelina Jolie, born after they adopted Maddox, Pax, and Zahara, but before the birth of twins Vivienne and Knox. Always standing out from the rest, she has a unique sense of style and is often seen sporting a T-shirt and cargo pants combo over dresses and heels. She also reportedly enjoys helping her mom with her humanitarian work, per People.
If you follow any Jolie-Pitt news, you already know that, as of 2021, Shiloh has been in the news way more than usual. She's been photographed attending industry events with her mom, and these days she looks a lot different from the little kid in cargo pants she once was. Her transformation has been impressive; below, we break down all of Shiloh's looks and changes from early childhood to her teen years.
Shiloh Jolie-Pitt was born in Namibia
Shiloh Jolie-Pitt came into the world with a bang. When she was born, her parents were probably the hottest couple in Hollywood, and, as their first biological child, the world was eagerly awaiting her arrival.
On May 27, 2006, Shiloh was born at the Cottage Medi-Clinic in Namibia — a long way away from the luxurious parts of LA she would soon call home. Brad Pitt and Angelina Jolie opted to give birth in Namibia because of Jolie's deep love for the beautiful country (per Moms). Jolie's LA-based obstetrician flew to Namibia to assist in the delivery. The then-couple's respective families also joined them shortly after the birth, People reported. Shiloh was adored by her family right off the bat. "[Maddox and Zahara] were very, very excited — especially Mad, who was aware of what was happening, that he was about to have another sister," Jolie's brother told the outlet. "Angie obviously got him prepared. He knew exactly what was going on. He was very ready to welcome her into the world."
Shiloh's birth wasn't just a big deal within the family or her parents' fan base, either — it was a huge selling point for tabloids. Pitt and Jolie reportedly sold the exclusive rights to Shiloh's photos — taken shortly after her birth — to People, for a cool $4.1 million, per The U.S. Sun.
She had her own sense of style
Shiloh Jolie-Pitt may have grown up in her parents' shadow, but she has always been her own person. For years, she was distinguishable from her siblings by her apparent preference for dressing in traditionally masculine clothes. It may have raised a few eyebrows, but Angelina Jolie and Brad Pitt have been nothing if not supportive of her choices.
According to her parents, she's had a very defined sense of style from an early age. "I think she is fascinating, the choices she is making," Jolie told Reuters of the 4-year-old in 2010. "And I would never be the kind of parent to force somebody to be something they are not. I think that is just bad parenting." She also added: "Society always has something to learn when it comes to the way we judge each other, label each other. We have far to go."
When she was two years old, Shiloh allegedly picked out a new name to go with her masculine look. During an appearance on "Oprah," Pitt told the talk show host that Shiloh was very into "Peter Pan," and as such, had insisted that everyone refer to her as one of her favorite characters, via People. "She only wants to be called John," Pitt explained. "John or Peter. So it's a Peter Pan thing."
Shiloh Jolie-Pitt excelled at sports
Shiloh Jolie-Pitt's childhood might not have been the most traditional — her parents, Brad Pitt and Angelina Jolie, are celebrities after all — but that doesn't mean she didn't have her fair share of "normal" kid experiences. When she was around the age of 8, Shiloh was a devoted pee-wee soccer player. She played on the same team as her older sister, Zahara, and reportedly loved the sport. She was often photographed playing in recreational games on the weekend, per the Mirror. Her parents were often spotted at the games and sometimes even bought snacks for the team, OK! reported. But even if Pitt and Jolie couldn't make it, Shiloh and Zahara still played. In one instance, onlookers noted that a bodyguard brought the kids to the game so they could still participate.
These days, Shiloh has reportedly moved away from soccer and is much more into dance. "Her main love right now is dance, and she's really good at it," a source told In Touch in 2021. "She loves that she can feel the music, let go and be free, which is super important. She likes all styles of dance but hip-hop and freestyle are her favorites."
While her soccer days may be long gone, physical activity seems to be in her future no matter what.
She struggled with her parents' divorce
After 11 years together, Brad Pitt and Angelina Jolie decided to go their separate ways in 2016. As far as Hollywood divorces go, this one was exceptionally messy. Jolie alleged that Pitt was abusive, which led to a years-long custody battle, per PopSugar.
Their eldest biological daughter, Shiloh Jolie-Pitt, was particularly hurt by the divorce. "She's the most sensitive of all the kids, and she's definitely the most upset by the divorce," a source told Star, via Closer Weekly. "It's been two years and she is still struggling: it's been one upheaval after another. Brad and Angie say they want what's best for the kids, but they're both too stubborn to let the small things go." According to the source, all the tension between her parents caused the then-12-year-old to act out. "She gets into fights with her brothers and just pummels them! Shiloh is taking out her frustration on her siblings. She's a tough girl and is acting out."
Around the same time, insiders alleged that Shiloh was furious with her mother for the divorce and had plans to write a tell-all memoir about the events. "Shiloh's tell-all is likely to shed light on Ange's erratic behaviour since the split, details of her and Brad's fiery rows, and her and her sibling's own breakdowns," a source told Women's Day. It's important to note that the rumors are just that, rumors, and three years later, no book has materialized.
Shiloh Jolie-Pitt had a serious surgery
On top of dealing with the ongoing stress of her parents' divorce, when she was 13, Shiloh Jolie-Pitt underwent surgery on her hip and had to use crutches. Around the same time, Zahara Jolie-Pitt had to have multiple surgeries as well. Their mother, Angelina Jolie, wrote about it in Time for International Women's Day, and was reportedly very dedicated to caring for her daughters during their recovery.
"[Shiloh and Zahara] know that I am writing this, because I respect their privacy and we discussed it together and they encouraged me to write," Jolie explained. "They understand that going through medical challenges and fighting to survive and heal is something to be proud of." The actor went on to describe how both girls had cared for each other in the wake of their respective surgeries.
Though Jolie didn't go into details about Shiloh's specific medical conditions, whatever they were caused her to be on crutches for a while after the surgery. "Shiloh looked like she was used to walking with the crutches," a source told People after the teen was spotted out shopping with her mom. "She was pretty quick and didn't struggle. She only needed some help getting into the car."
She's spoiled by her dad
Shiloh Jolie-Pitt and her dad, Brad Pitt, have always been close, even in the wake of her parents' divorce. Though things were tough when Pitt and Angelina Jolie split, the actor has reportedly worked hard to make sure he and Shiloh stay close. For her 14th birthday, he threw her a lavish pizza party in LA. "Brad really wanted to make Shiloh's day special and had been planning it for a while, he can't believe how grown up she is," a source told The U.S. Sun. "He has an expensive pizza oven at his house and made her favorite dish for the party, while also celebrating with a cake."
Pitt was also moved to make the party extra special because he knew how hard the pandemic had been on Shiloh. He reportedly organized a special present for her big day. "One of Brad's film editor pals put together a video of messages from her family and friends all over the world, some of whom she hadn't seen in a while due to the pandemic," the source explained. To top it all off, Pitt gave her a fancy polaroid camera to inspire her budding photography hobby.
According to sources, Jolie also had a birthday party for Shiloh, though it was more toned down and virtual. She reportedly promised Shiloh "a big do-over as soon as things are back to normal," per Hollywood Life.
Shiloh Jolie-Pitt has an edgy style
Shiloh Jolie-Pitt has changed a lot over the years. When she was a child, she seemed to be uninterested in celebrity and was even a little camera shy. As she's grown older, though, she's started to blossom into an impressive young lady. "She's really come out of her shell these last couple of years," a source close to the family told OK!. "Shiloh blows people away with how smart she is. She knows a ton about art and architecture from her dad and is versed in humanitarian issues thanks to her mom. There's a maturity to her that just draws people in."
To go with her new mature vibe, the 15-year-old has upgraded her style as well. For most of her life, Shiloh was a well-known tomboy and was often spotted in cargo pants or shorts and sported a cool, cropped haircut. As she's gotten older, however, her style has evolved to be more confident and a bit more feminine. She's grown out her hair and has been spotted wearing ripped jeans and hoodies to premieres and out and about in LA, per the Daily Mail. She's even worn a few dresses, like those upcycled from her mom.
While she's still on the tomboyish side, she doesn't seem too concerned with fitting into one particular box, instead content to explore her identity like a traditional teenager.
She borrows her mom's clothes
Shiloh Jolie-Pitt has taken her fashion game to the next level — thanks to a little help from her mom. At the 2021 U.K. premiere of "Eternals" (starring Angelina Jolie), Shiloh sported a black and white Dior dress on the red carpet. Apparently, when it comes to dressing up, the teenager turns to her mom — err, her mom's closet — for advice. The dress in question was actually a piece owned by Jolie, who lent it to Shiloh for the occasion. When Shiloh asked if she could borrow the stunning floor-length gown, Jolie agreed and even let her alter it to a shorter, more casual length, per Life&Style.
It wasn't the first time Shiloh's nabbed her mom's clothes, either. Just a week before that U.K. premiere, Shiloh attended the LA screening of the film, this time in her mom's old Gabriela Hearst dress. Her siblings were also there and were equally well-dressed. Fans noted that the 15-year-old looked quite different from the little girl in cargo shorts they'd become accustomed to. "My kids are all mixed with vintage, and in my old Oscars dress," Jolie explained at the event, per ET. "We did all vintage and upcycled my old stuff."
One thing's for certain — whether Shiloh's borrowing clothes from her mom's closet or rocking a simple hoodie and jeans, she's a beautiful girl inside and out.