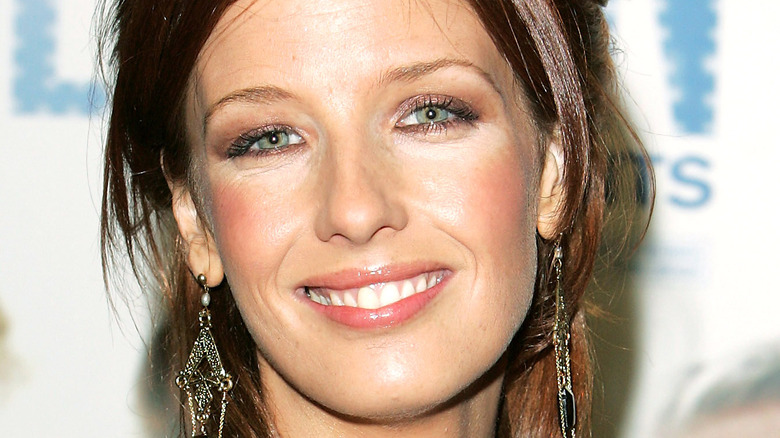 Kelly Reilly is a force to be reckoned with on stage, in movies, and on TV. She started acting in the theater as a teenager in her native England before moving to Los Angeles in her 20s to pursue a Hollywood career, per Parade. Eventually, she landed roles in blockbuster movies and TV shows and worked alongside some of the biggest names in Hollywood, including Kevin Costner in Paramount Network's "Yellowstone." Of that experience, she told Looper that she grew as an actress and artist just by watching the veteran actor in his role. "I admire his stillness as an actor. It's things like that that he teaches me inadvertently," she said.
Reilly has enjoyed much success in her personal life, and although she tends to keep her personal life private, according to Parade, she wed hubby Kyle Baugher, a non-actor, in 2012, and splits her time between England and the states.
From a shy aspiring actress in England to a highly coveted actress worldwide, here's the stunning transformation of English actress Kelly Reilly.
Kelly Reilly discovered drama as a teen, and it changed her world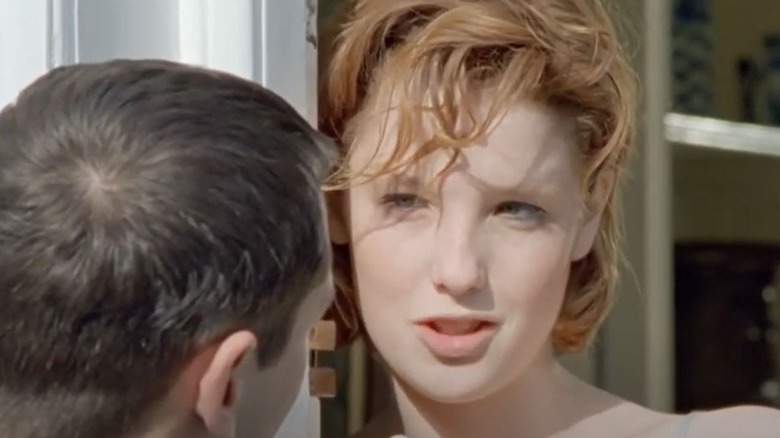 Kelly Reilly found out she wanted to be an actress as a teen. That's all thanks to her drama teacher at Tolworth Girls' School & Sixth Form in Kingston, England, who introduced her to the world of acting. "He put me in his wife's drama group — and suddenly I was reading Chekhov and Shakespeare. My world suddenly became much more exciting," Reilly told the Evening Standard.
In the interview with the Evening Standard, Reilly, who was raised in Surrey, described her young self as shy and not interested in schoolwork, adding, "I wasn't very academic." Once she discovered acting and developed her skills, a new world opened up for the actress, who grew up with non-actor parents. Her father served as a police officer for over two decades, Reilly told The Guardian, and her mother was a hospital receptionist, according to Express.
Kelly Reilly thought she'd grow up caring for horses
Before English actress Kelly Reilly discovered her love and talent for acting, she loved working with horses and thought she'd have a future in it. As she explained to the Evening Standard, most days after school, she'd ride horses and help care for them at a stable. "I couldn't afford a horse, but I kind of adopted one and spent a lot of time with him. It was an obsession — and if I hadn't discovered acting I wouldn't be here talking to you," she was quoted as saying in the Evening Standard piece.
In an interview with a Texas ABC affiliate, Reilly went more into detail about her horse-riding days and said she worked as a groom at a polo club and typically exercised the horses there, presumably in preparation for competitions.
While Reilly doesn't do a lot of riding on her show "Yellowstone," which airs on the Paramount Network, she takes advantage of downtime while shooting on location in Montana to go horseback riding, according to this Instagram post. "It's always been where I get my head screwed back on — just being in nature and being on horses," she told Parade.
She pursued theater and TV work early on
When Kelly Reilly fell in love with acting and theater, she knew she had to pursue it. At 16, she left home and landed a few theater roles before making her TV debut as Polly Henry on "Prime Suspect," a '90s British TV movie series starring veteran actress Helen Mirren (per DuJour). Reilly played the role of Polly twice, on "Prime Suspect: Inner Circles" and then on "Prime Suspect: The Scent of Darkness," according to IMDb.
Years later, in 2009, she'd star as Anna Travis in "Above Suspicion," another crime thriller TV series from the mind of "Prime Suspect" creator Lynda La Plante, as reported by the Daily Mail.
Reilly, who worked as a waitress as she auditioned, told the outlet that her dad, a retired cop, was happy to see her playing a police detective. He even came on set to help her in her role as a detective constable. "The chance to see me playing not only someone decent but somebody in the same profession as he was in delights him," Reilly added.
She received encouraging advice from veteran actress Helen Mirren
English actress Kelly Reilly received encouraging advice from a veteran actress upon making her TV debut at age 17. In an interview with the Daily Mail, Reilly confessed she couldn't sleep the night before Helen Mirren's '90s series "Prime Suspect" began shooting. It was 1995, and Reilly had never worked on a TV set.
She described the first day of shooting as hectic and explained that she was being "dragged here, there and everywhere, being told 'Just say your lines,' without having a clue about technique, where the camera was or even the onset lingo," she told the outlet.
If it wasn't for Mirren, Reilly doesn't think she would've made it through, adding, "She was incredibly supportive, with a great sense of humour." She recalled asking the actress if she should go to drama school, and Mirren said no. "Helen reckons that to be an actor you have to experience life, rather than disappear inside a drama school for three years. So I took her advice and carried on acting," Reilly told the outlet. According to an interview with Parade, she moved to L.A. to pursue a career in acting in her 20s.
Kelly Reilly received a prestigious Laurence Olivier Theatre Award
At age 26, Kelly Reilly received a Laurence Olivier Theatre Award nomination in 2004, making her the youngest actor to receive such an honor, according to Broadway World. Per Official London Theatre's website, the Olivier Awards are "Britain's most prestigious stage honours."
Reilly received the nomination after starring in "After Miss Julie," a Michael Grandage production at the Donmar Warehouse in London's West End in 2003. Before the play opened, Reilly spoke to the Independent and said she was excited about the opportunity to be a part of the production. "It's amazing," she told the outlet, adding, "There are so few roles like this for women my age. It's a fantastic playground to be in. I'm aware every day of what an amazing opportunity this is for me." This nomination surely opened up the doors for Reilly and helped her make a name for herself in the film world.
She had many TV and movie parts before her breakout role on Yellowstone
According to IMDb, in 2005, she played Caroline Bingley in the Keira Knightley period film "Pride & Prejudice" based on the Jane Austen novel. In 2008, she starred alongside Michael Fassbender in the thriller "Eden Lake" before appearing on-screen alongside movie stars like Denzel Washington in "Flight" and Robert Downey Jr. and Jude Law in the "Sherlock Holmes" franchise.
All those roles eventually led her to play Beth Dutton in "Yellowstone," a drama centered around a ranching family in Montana, which premiered in 2018, also starring veteran actor Kevin Costner. In an interview with Elle, Reilly said that although she had never played a character like Beth before, she was up for the challenge almost immediately. "It was just something [about her that was] so powerful and broken and human. Every single line of hers in that first pilot I read, I couldn't believe what I was reading," she told the mag.
Kelly Reilly was briefly engaged to a fellow actor
Keilly Reilly once found love with fellow actor Jonah Lotan, who had a starring role in Iraq War drama "Generation Kill." The couple got engaged in 2007 but split up two years later. The notoriously private "Yellowstone" star won't be drawn on the particulars of the relationship, telling The Independent in 2009, "I'd … rather not talk about it. Only because I'm trying to protect myself and my life. … It's a bit complicated."
When the outlet wondered whether the breakup came about because they found it too difficult to spend time together given their respective busy careers, Reilly acknowledged that was certainly part of it. The Scotsman noted Reilly went on location with Lotan in Namibia while he was filming "Generation Kill," but the couple ultimately couldn't figure things out. As she pointed out, part of the reason English actors do TV series stateside is because of the security such jobs provide.
Reilly argued, "They know they're working for ten months of the year, then come home for two, and they have family with them, and it's the closest thing to a regular job."
Kelly Reilly was nominated for a British Independent Film Award
Kelly Reilly's star-making turn in British shocker "Eden Lake" put her on the map, particularly with horror fans, but her impressive work as a woman fighting for her life against local criminals also caught the attention of the British Independent Film Awards, who nominated Reilly for Best Actress in 2008, per their site. The actor was recognized for her performance alongside the likes of Keira Knightley and Sally Hawkins. She ultimately lost to Vera Farmiga for "The Boy in the Striped Pyjamas," but clearly Reilly made an impression.
Elsewhere, it took four seasons for "Yellowstone" to be recognized by the Screen Actors Guild, who finally nominated the show in 2022, per Variety. "There's no bigger compliment to an actor than being recognized by their peers. Congratulations to our incredibly talented cast on this wonderful and well deserved nomination," series co-creator Taylor Sheridan enthused in a statement. Unfortunately, and much to critics' consternation, Reilly was not individually recognized for her role as Beth Dutton, nor were co-stars Cole Hauser, Kevin Costner and Gil Birmingham. Surely, though, it's only a matter of time.
She was reluctant to do another horror movie after Eden Lake
Although plenty of people know Kelly Reilly first and foremost as Beth Dutton, for horror fans, she'll always be Michael Fassbender's doomed partner in "Eden Lake." The movie characterized much of Reilly's early onscreen career, particularly in the U.K., but it also made the actor more hesitant to do darker fare further down the line. As Reilly explained, in an interview with The Playlist, "It was an unexpectedly huge hit. Ever since then, I've been approaching a lot. I'm wary of them [horror movies]. They're difficult to get right."
The movie, which follows an unlucky couple who get hunted by a group of bloodthirsty thugs out in the middle of nowhere, has an infamously ruthless ending. As Reilly acknowledged, while chatting to Daily Dead, she knew it would turn a certain amount of viewers off. However, she said, "I loved the ending. I loved that she didn't get out because that made the horror feel all the more real. It was very disturbing. I really loved making that film."
She got married in 2012
Kelly Reilly has lived out plenty of romances on the screen, and she's living one out in real life too. Though there's not a ton of information out there about Reilly's relationship with financier Kyle Baugher, they wed in England in 2012 after meeting that same year, according to Parade.
When asked by The Guardian in 2011 what she does in her free time, Reilly shared a few details about Baugher. Reilly mentioned that, at the time, Baugher lived in New York, and she split up her time between New York and England, adding, "I'm not saying any more about him except that he's not an actor, not in the business." In 2018, Reilly shared a rare glimpse of her personal life on Instagram with a photo of Baugher and their dog presumably out on location in Montana for "Yellowstone." In the caption, she wrote, "Out west again with my loves."
Kelly Reilly returned to the stage in 2015
Kelly Reilly began her acting career on the stage, and after much success in TV and film, returned to her theater roots after an eight-year hiatus. In 2015, she starred alongside actor Clive Owen in "Old Times" in a New York theater, per the Evening Standard.
The reason she hadn't done a play for almost a decade, she told the outlet, was because she "couldn't manage a great personal life and do a play." But when she decided to go back on stage, she said she was happily married to her financier husband, Kyle Baugher, and thought it was the perfect time to return "to see if I could get that balance back."
After her return to the theater, she'd take on several TV projects, like "True Detective," also in 2015, and, of course, in 2018, she'd play her biggest TV role yet as Beth Dutton in Paramount Network's "Yellowstone."
She got used to traveling a lot for work
From shooting Paramount Network's "Yellowstone" to living in New York and spending time in her native England, Kelly Reilly is used to travel. In an interview with The Guardian in 2011, before Reilly took on the role of Beth Dutton on "Yellowstone," she said she spent "a lot of my time on aeroplanes" between her house in England and New York, where her then-boyfriend (and now-husband) Kyle Baugher lived.
In an interview with Parade in 2018, she said she mainly lives in New York. Although, she does spend some time in England appearing in productions. As seen on her Instagram feed, she travels a lot, and is mainly in New York, London, and Montana, where she shoots "Yellowstone." Talking to Parade, Reilly said she loves the west, adding, "I love Montana, Colorado, Utah, Idaho and Wyoming. It's somewhere that I've spent time when I've traveled, since I was a teenager actually."
She wasn't sure she could handle Beth Dutton
These days, Kelly Reilly is synonymous with Beth Dutton, but it's worth noting the British actor initially wasn't sure she was capable of transforming herself into such a caustic, complex character. Per Express, in an interview with Entertainment Tonight, Reilly admitted, "It took me a while to really find her." She added, "I mean, she's like stepping into a sports car," explaining, "It was like how do I go from nought to 100 in three seconds."
The actor shared that, when she first met "Yellowstone" co-creator Taylor Sheridan, she hadn't yet figured out a way into the character, so Reilly isn't entirely sure how he managed to envision her as Beth. In fact, Reilly revealed there was a moment early on when she freaked out over whether the role was even right for her, describing Beth as a "tremendously complicated" proposition.
Funnily enough, the rancher's daughter quickly became a fan favorite, thanks to Reilly's committed performance. Moreover, Reilly and Sheridan collaborated closely to bring Beth to life, with the British star admitting she has notepads filled with details, which she presumably referred back to throughout the process.
She had some scary moments while filming Yellowstone
Kelly Reilly had a scary moment onset of Paramount's TV drama "Yellowstone." She told People that while shooting the first season of "Yellowstone," her character had to run into a wolf pack in one of the episodes. Turns out that those wolves weren't computer animated; they were real.
While Reilly was nervous about the entire situation, her crew assured her she'd be okay. "I'm like, well, don't you think their most inner instincts might come out when there's a woman with a bottle of whiskey running up to them?" Reilly told the outlet about what she had said to the production crew. "They were like, 'Don't worry, we've got these like invisible pieces of cord, so if they do run at you, that will trip them up.'"
Reilly encountered another scary situation while in Montana shooting "Yellowstone." In an interview with Parade, the actress shared that she decided to venture out in the winter snow to a scenic byway on an off-day, and her GPS guided her through a scary shortcut. "It was like a 1,000-feet drop on either side. I did a drive to a place called Skalkaho Pass. When I got down and was in a bar, I was like, 'I can't believe I survived.'"
Kelly Reilly is always on the lookout to play a new, challenging character
Kelly Reilly never chooses the same role twice. She is always looking for acting roles that challenge her, even after two decades in the industry. In an interview with Looper, Reilly said since she's played the role of Beth Dutton in Paramount Network's "Yellowstone," she's received scripts for Beth-type characters. "Obviously, I play Beth and people like it. So, I'm inundated with very feisty, strong, violent-type women. I don't want to play that again," she told the outlet.
In any future role she decides to accept, Reilly wants it to be something that "takes me into different waters." What is she looking for in future roles? She doesn't know, she told Looper, adding, "I never really know what that is until I read it."
Since her days as a young actress in England, Kelly Reilly has truly transformed into an established TV and movie star!
Playing the complete opposite of Beth Dutton appealed to her
Given how popular "Yellowstone" is, it stands to reason Kelly Reilly is thrilled to be part of such a high-profile project. However, the problem with being known for one role, no matter how great, is that people gradually become unable to see you as anything else. Reilly has enjoyed an impressive rise from being a theater actor to a horror stalwart and now one of the most recognizable faces on television. Still, when she got the opportunity to break the mold, the British star jumped at it.
On teaming up with director Sean Ellis on werewolf movie "Eight for Silver," Reilly told Screen Rant, "As an actor, you really want to keep changing it up for yourself and dipping into different things to keep your own taste bud alive. Playing someone so utterly different from this character that I had been so immersed in for a few years, I was just like, 'Yes, I'm in!'" She also pointed to the desire to work with talented people, who challenge her as a performer, so the British star can continue to evolve.
Staying out of the public eye comes easily to Kelly Reilly
Despite her considerable success, Kelly Reilly remains remarkably similar to the woman who found her footing in the British theater scene. In a 2022 chat with Esquire, the actor was asked about "Yellowstone" becoming a worldwide phenomenon. Being part of such a hugely successful project must be overwhelming at times, but for Reilly, her life hasn't really changed too much — and that's by design.
The British star explained, "In my life away from 'Yellowstone,' I live between New York and the middle of the countryside in England. Even in New York, I'm out by the end of the island, by the sea. I'm cut off a lot from the world." She only really experiences the impact the show has when Reilly is out on location in Texas or Montana, or even when she heads out west for whatever reason.
She shared, "We film it, then you forget about it for eight months, then it comes out and you're hit with it." Still, Reilly also acknowledged, "It's a powerful thing to be part of. People have adopted it as their show. I'm really proud of it."