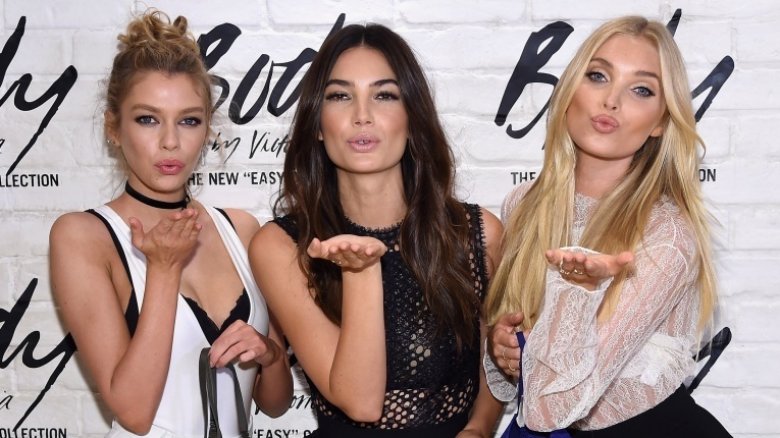 What's the downside of being one of the most beautiful women on the planet and making a living by parading around in fancy garments you didn't make or even put on your own body?
Well, you can't eat much, you have to work out like you're prepping for the Olympics, and you must be comfortable spending hours being sprayed, taped, waxed, curled, and costumed. Behind the glitz and glamour, a Victoria's Secret Angel has a lot of hard work to do. Here's the truth about being a Victoria Secret model.
You drink your meals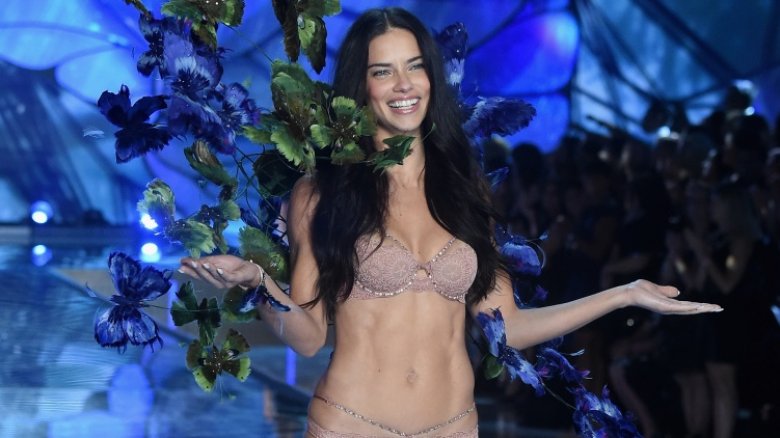 Supermodel Adriana Lima, who's been a Victoria's Secret Angel since 2000, said she went on a liquid-only diet for nine days before the 2012 fashion show. She said she needed to lose weight after giving birth to her first child. According to The Sun, Lima "guzzled powdered egg protein shakes and a gallon of water a day. Twelve hours before the show she stopped drinking altogether, declaring 'you can lose up to eight pounds just from that.'"
Do not try that at home. Starvation and dehydration are outrageously dangerous to your health. "I wouldn't recommend this diet to anyone, Dr. Mike Roussell told Shape magazine. "There are better ways to get the same results. "
You have to measure up
If you want to become a Victoria's Secret model, you have to fit the biological mold. According to The Sun, Angels must be about "5 feet 9 inches tall with a 24-inch waist and no more than 18 per cent body fat." Let's put that in perspective. "Healthy 'normal' women have between 21 and 24 per cent body fat, while athletes have between 14 and 20," The Sun reported. "Anything lower and you risk organ failure and death."
Pre-show workouts can be brutal
To master those aforementioned dimensions, models Erin Heatherton, Gigi Hadid, and Lily Aldridge, perform rigorous ballet workouts with Ballet Beautiful's Mary Helen Bowers, the same teacher that trained Natalie Portman for Black Swan. Others prefer boxing, swimming, Muay Thai, or Pilates. the ladies train like professional athletes, sometimes working out every day or even twice a day.
Trainer Dan Roberts, who works with some of the models, told The Sun, "I treat their bodies like athletes and prepare for shows through scientifically designed nutrition and exercise plans."
Model Candice Swanepoel said the workouts are worth it, telling Vogue, "The best part about training for the show is the amount of hard work, blood, sweat, and tears you put into something you always dreamed of doing."
Victoria's Secret's CMO plays God
Ed Razek, chief marketing officer of Victoria's Secret, reportedly has final say over who's in and who's out of the televised fashion show. "You don't get a free pass to this show, you don't get in because you are somebody, you get in because you earned it," Razek has said, according to The Sun. Some of the most famous names in the biz, including Kendall Jenner and Gigi Hadid, have reportedly not made the cut in the past.
For Hadid, the third time was the charm. She earned a coveted spot in 2015 after enduring some intense preparations. "I did cryotherapy," she told Refiney 29, "which is freezing-cold, but it's really good for blood circulation. And, you know, after having two workouts a day for a week, it's really good for healing your muscles and feeling fresh and having good energy." In case you were wondering, cryotherapy involves standing in a deep-freezing tank for several minutes—as in below -200 degrees Fahrenheit freezing! Hadid shared an emotional clip from her audition on Instagram, telling Refinery 29, she "cried all day… It's something I've dreamed about my whole life."
What's most important to Razek when choosing Angels for the show? "The answer will surprise you," he told Forbes. "It's how women respond to them." Not dudes? Nope. "We're interested in appealing to women because women do 99% of the shopping in Victoria's Secret."
What happens at the VS fashion show stays at the VS fashion show
Some Angels have fallen from grace just for expressing opinions that don't mirror the brand's. According to The Sun, model Jessica Hart lightly criticized performer Taylor Swift after the 2013 show, saying, "God bless her heart. I think she's great, but I don't know, to me, she didn't fit. I don't know if I should say that."
Apparently she should not have said that. VS exec Razek made a point to tell Us Weekly that "everyone at Victoria's Secret was blown away by Taylor's performance. She could not be more beautiful or talented." He went on and on, "…She is as good and strong and powerful and beautiful an artist as I've ever come across."
Hart has not walked for the brand since, The Sun reported.
You sleep in heels
Well, not actually, but pretty much. Angels wear heels constantly in preparation for the show. They wear them during fittings, rehearsals, and just about every other waking moment. The ladies need to make sure they're as comfortable as possible in heels on the catwalk, so they don't pull a Carrie Bradshaw.
Beauty is pain (and a whole lot of time)
Before a Victoria Secret fashion show, models are in the makeup chair for hours. There are at least six manicurists on hand, 32 makeup artists, and hairstylists that will burn through at least 40 cans of hairspray. Airbrushed makeup and bronzer is also applied not just to the ladies faces, but all over their bodies.
VS spray tanner Jimmy Coco explained his process to Harper's Bazaar: "I always define the center line of the abdominals and the spine of the back. I tan around the breast to give a lighter appearance at the top of the breast. This gives lift to the breasts and draws attention to the beautiful bra they'll be wearing. My butt contour is a heart-shaped contour which also gives the appearance of a butt-lift. This is done by shading from the tailbone around the hips and down to the bottom of the butt. The top part of the butt is tanned slightly lighter.
We're not done yet. Many models also utilize hair extensions, which can also take hours to install, and don't forget the waxing.
You actually get to eat at rehearsals
Getty Images
Though some models may not want to eat or drink 12 hours before the big show, there are reportedly three catered meals provided during rehearsals in case an Angel actually wants some nutrients to make it through the day.
Some models also told the Daily Beast they treat themselves to junk food after the show is over. Allesandra Ambrosio talked about a congratulatory ice cream sundae. Doutzen Kroes waxed poetic about French fries and burgers, but industry rule-breaker Cara Delevingne said she ate McDonalds and pizza before the show and brought her own bacon in her purse.