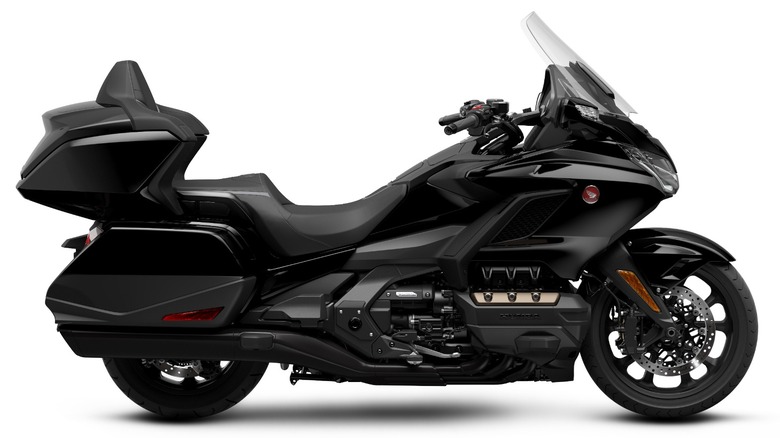 For the vast majority of motorcycle writers, the feeling of straddling a two-wheeled machine with a growling hunk of metal below and taking off, shifting through the gears is all part of the experience. Yet, a segment of would-be riders would prefer the convenience and carefree operation of an automatic transmission on a bike, and there are several styles and models to choose from, with a bike for everyone's taste.
The history of automatic shifting motorcycles can be traced to the late '70s, when Honda released the CM400A and CB750A models. Those bikes had centrifugal clutches and the Hondamatic transmission was geared in two selectable ranges of high and low. Honda also released what many consider the first modern scooter with the Aero 50 in 1983, which featured plastic body panels and a fully automatic CVT transmission. Since then, CVT scooters have dominated the arena of automatic two-wheelers, but recently, a few more options for automatics have arrived. Among the new models now on the market are many excellent choices worth looking into. Considering street-legal motorcycles along with a few of the largest scooter models, these 11 automatic bikes are the best you can buy right now.
Honda Gold Wing DCT
Auto manufacturers have been using dual-clutch transmissions on passenger cars for years with much success and high refinement. This technology offers quick shifts paired with the same efficiency as a manual transmission using about the same amount of space. This makes it perfect for a motorcycle as a hydraulic transmission is poorly suited to this application, and Honda is currently the only company to offer a DCT on any model.
Honda's flagship cruiser, the Gold Wing, is one of the recipients of a DCT. The Gold Wing is Honda's long-running highway cruiser that has for years represented comfortable long-haul cruising two-up while enjoying the legendary reliability the company is known for. The current model features a 1,833cc, six-cylinder boxer engine that makes 125 horsepower and runs as smoothly and quietly as a sewing machine. And to ensure a ride as pleasant as possible, Honda packs this bike with tech such as traction control, cruise control, multiple riding modes, throttle-by-wire, and electronically adjustable suspension. It is meant for luxury with the wind in your hair, and the DCT model adds to the carefree experience by eliminating shifting altogether. There really could not be a better model to equip with an automatic transmission, but this luxury will set you back $25,600.
BMW CE 04
BMW Motorrad, the two-wheel division of the company, is replacing its first electric C Evolution maxiscooter. The new model, dubbed CE 04, is a unique ride with unconventional styling and plenty of advanced technology. It almost looks like what people should drive who are in a '90s movie about the faraway future, but the tech is much better. The styling is nice, but people will either love it or hate and probably not much in between. It is decidedly modern, though.
Power is driven by a frame-mounted, permanent magnet liquid-cooled synchronous motor that delivers a respectable 42 horsepower via belt to the rear wheel, and the nearly unlimited rpm of the electric motor negates the need for a transmission, making it effectively an automatic. The battery pack is mounted low down the center of the lower frame rails, and that will give the scooter a very low center of gravity, contributing to excellent cornering abilities. With the excessive weight — it tips the scales at 509 pounds — compared to equivalent gas-powered models, the low center of gravity can add to its stability and prevent it from feeling like the heavy bike that it is. Range is said to be around 81 miles and Level 2 charging should get it to 80% in just a hair over one hour, with standard home charging requiring all night.
This BMW EV looks to be a fantastic choice for urban commuting and travel within crowded cities, but getting the BMW roundel will cost you a bit as the price is $11,795. However, if you want all the bells and whistles and the ability to hit 60 mph in under 10 seconds, you will be shelling out $14,180.
Honda Rebel 1100 DCT
Honda is pioneering the automatic motorcycle by offering its DCT in several models. With nobody else offering this technology, Honda has the opportunity to grab some market share that nobody else is going after at the moment, and that is a smart business move. Also smart is the automatic Honda Rebel 1100 DCT model.
The DCT Rebel is an attractive option to several niche buyers. It combines innovative technology with Honda reliability in an attractive package with classic bobber styling. What this bike does right is in offering the grunt that comes from having a larger engine, but in a more manageable size. It is particularly attractive for some novice riders who require a shorter bike — the seat height is just 27.5 inches — and want the ease of an automatic transmission, which includes many women riders. And even though it is lower and smaller than some American V-twins, it offers ample torque to keep up. Furthermore, as we all age, our joints and bones lose flexibility and range of motion, and an automatic Rebel can be the perfect bike for someone who had to give up their Harley when it became too cumbersome to ride. Furthermore, at $9,499, the price is reasonable.
Livewire S2 Del Mar
Harley-Davidson got off to a rocky start with its electric motorcycle project when its Livewire model was initially met with poor sales. However, the company has since spun off Livewire as a distinct brand and reconfigured its initial electric model as the Livewire ONE, and things are going a bit better. The rebranded ONE was brought back with a lower price, but has since been joined by an even more affordable S2 Del Mar model.
At just under $16,000, the Del Mar is within reach of a much broader range of customers. This is crucial as many electric motorcycle buyers will not be looking for expensive long-haul cruisers, but city riders whose riding needs should be satisfied on a single overnight charge. The Del Mar is perfectly suited for this, and its striking appearance blends classic and modern styling into a near-perfect form. Further cementing its urban bike image is the somewhat limited range of 110 miles and lack of fast-charging capabilities. This means any charge will take some time, but most casual daily riders without significant commutes should rarely need charging away from home. It is electric, so there are no gears and no clutch, which means it takes nothing but a twist of the grip to get going, and its 80-horsepower motor can shoot you to 60 mph in just 3.5 seconds.
This bike is very cool and looks great, but it comes with a caveat. It is in production right now and you can reserve one for $100, but delays in production mean delivery will occur later this year barring any other disruptions in manufacturing.
Honda Africa Twin
Honda's premier adventure bike returned to American shores after a long hiatus, and is now offered with a DCT and a red, white, and blue color scheme to match the original. A DCT really makes sense on an adventure bike where rough terrain requiring quickly changing torque demands can be handled effortlessly by a computer. The Africa Twin model has been in Honda's lineup since 1988, but was pulled from the American market after just a couple of years. It has been available in most other markets since then, garnering praise as a highly capable dual-sport bike that is equally adept at handling dirt and pavement, seamlessly transitioning from one surface to the other as its origins lie in a winning entrant into the Paris to Dakar rally.
The Africa Twin returned to the States for the 2022 model year and is reclaiming its place among top-performing dual-sport bikes. The Twin is a tough bike powered by a SOHC 1,100cc parallel twin engine with liquid cooling and fuel injection. Power output is rated at 100 horsepower and the drivetrain is complemented by modern tech such as Bluetooth audio with Apple CarPlay, USB charging, cruise control, and wheelie control. The six-speed DCT is a logical choice for an adventure bike as it can offer torque management on rough terrain much more quickly and efficiently than any rider could manually. For daring attempts in the wilderness or on mountain trails, the automatic Africa Twin looks like the perfect choice. Pricing with DCT for this model starts at around $15,000 and can be pushed up toward $20,000 with options and accessories.
Kymco AK550i ABS
Taiwanese manufacturer Kymco has been selling well-built scooters and ATVs in the U.S. since 2001. Its current flagship street model is the AK550i ABS maxiscooter, and it demonstrates this company's capabilities at every turn. The AK550i is equipped with one of the largest available engines for a scooter and possibly is the largest one offered in the U.S. Furthermore, Kymco's well-established network of dealers across the country offers peace of mind that parts and service will be readily available in most locations.
At the heart of the AK550i is a fuel-injected parallel twin engine with DOHC, liquid cooling, and a displacement of 550.4cc. The transmission is a CVT automatic engaged by a wet clutch and is integrated into the engine housing with a belt-driven final drive. As a scooter, it offers a naturally low center of gravity, providing stable and comfortable riding, even with a passenger. With its 53 horsepower, the AK550i is also ready to set out on the open road, and the ample under-seat space and optional hard cases provide ample storage. Additionally, Kymco has added its clever Noodoe-connected dashboard technology and keyless ignition. Noodoe connects to your smartphone for navigation and communication, including a feature that displays notifications such as missed calls and even news headlines while stopped at traffic lights. Furthermore, Noodoe is dynamic and can be configured to suit your needs and alert you to whatever you need through the bike's bright, large, and sharp digital display. The AK550i ABS is clearly a premium cycle with excellent features, and, at just over $10,000, it represents good value as well.
[Featured image by Laura Buononome via Wikimedia Commons | Cropped and scaled | CC BY 2.0]
Honda Navi
Honda has many entrants into the automatic category, but this one does not feature the innovative DCT and uses a more traditional arrangement instead. Honda launched the diminutive 125cc Grom in 2013 (2014 in the U.S.) with an enthusiastic response. A couple of years later with the help of Honda's Indian arm of the company, the Navi was born as a companion within the company's lineup. Unlike the four-speed GROM, which rides on a traditional motorcycle frame, the Navi is based on scooter architecture and is driven by a low-slung engine with CVT transmission. However, as a result of this arrangement, the Navi originally had a large void in the space that would usually be occupied by an engine, so Honda developed a lockable storage box to fill the space and normalize the overall appearance.
The Navi rides and handles much like any Honda scooter of a similar size, but with a unique and fun mini bike look. This little ride is admittedly a bit low-tech. Its 109cc four-stroke engine is carbureted and both brakes are old-school drums. Shocks are non-adjustable and additional tech is non-existent. But this is a small and economical bike that is perfect for a college campus or downtown cruiser. For someone with limited needs for distance riding and who lives in a congested area with limited parking, it is hard to do better, and its estimated 100+ mpg fuel economy adds to its cheap cost of ownership. Furthermore, its $1,807 price tag is nearly half of the slightly larger $3,499 Grom, making it the greatest bargain of them all.
Energica Experia
One of the emerging European companies bringing high-end electric motorcycles to market is Energica of Italy. Development of electric motorcycles commenced in 2010 with production models going on sale in 2015. With its parent company's history of serving F1 racing, Energica is privy to the knowledge and capabilities of designing and manufacturing equipment that performs at the highest level, and this includes its current offering of electric motorcycles.
While Energica offers models aptly called superbikes, the Experia is suited to riding at more reasonable speeds. It has the look of a supermoto, but is geared for long-distance riding. Its power output of 112 horsepower is more than adequate for highway cruising, but its range of up to 153 miles of high-speed driving is what benefits this the most — low-speed city driving can result in a range of up to 260 miles. The other feature that benefits the long-haul riding model is the available level 3 charging, allowing a charge from 0% to 80% in about 40 minutes, making interstate or cross-country tips feasible with minimal downtime for charging.
Having an electric drivetrain means this is a heavy bike, yet its handling remains nimble. The regenerative braking assists in cornering and the motor, battery pack, and chassis were all designed to keep the center of gravity as low as possible and centered between the wheels as well. All this is to say that the overall driving characteristics of this bike can mask its true weight, resulting in a fun and engaging ride. The tech and design of this model are all in the upper echelon of any motorcycle, but so is the price. At $25,880, it also sits near the top.
Honda NCX750X
The Honda NCX750X has been offered by the company since 2013 with a DCT as an option. For the 2023 model year, Honda has dropped the manual transmission altogether and is going all-in with its automatic transmission motorcycles. This bike is considered an adventure bike, which is built with an all-around riding experience in mind, and takes power and speed as well as flashy styling out of its priorities. If you ride a bike for people to look at you driving through the club district, this is not for you. Conversely, if you want a bike that can take you through mountain highways and country backroads comfortably at modest speeds, it might be perfect. Furthermore, the touring rider benefits from the DCT, allowing them to think less about the actual riding and more about the ride.
The NCX750X comes with a liquid-cooled parallel-twin engine producing 58 horsepower, which is plenty to get this nearly 500-pound bike moving at a brisk pace. Its riding position is upright, but with a seat height of 31.5 inches, it should be comfortable for most riders. Furthermore, most importantly for long rides, the respectable fuel mileage of 67 mpg means fewer stops between fill-ups.
The bottom line is that this is an attractive bike that is great for all-around purposes. It is not the fastest nor is it the prettiest, but it will take you anywhere comfortably and reliably without ever feeling cumbersome or underpowered. And at less than $10,000, it is a great value, too.
Zero SR/S
Perhaps the most successful electric motorcycle producer in the U.S. is Zero, and its SR/S model is a fast EV sportbike with a lot of impressive features. This bike is for fans of extreme speed, and its electric powertrain offers all of its torque at once for rocket-like acceleration with no clutch or gear shifting in near silence. The horsepower of this bike is rated at 110, which is similar to other mid-size sportbikes, but the torque comes in at 140 pound-feet, which is hefty. However, with an extra 100+ pounds of weight over its gasoline counterpart, the extra torque is needed to compete.
While the market is becoming populated by an array of electric motorcycles that look nothing like those we have seen in showrooms for decades, Zero has kept with tradition in keeping its SR/S very much in line with other sportbikes, yet it was designed explicitly not to ape comparable Japanese bikes. The resulting design is attractive and aggressive, and in lieu of a fuel tank is a roomy storage compartment. It is also a tech-heavy bike, but most of that goes into the drivetrain to offer a good-performing sportbike. The display is static and no frills by comparison to some other new models, yet does include some interactive features via thumb-operated switchgear.
Zero is working toward being the best electric motorcycle on the market. While it is up to riders to make that determination, it appears the company's efforts are in the right place and could put its models on the top of the heap. The $21,995 price tag puts it in league with the best.
Piaggio 530 MP3
Piaggio, parent company of Vespa, Aprilia, and Ducati, has been making its unique three-wheeled maxiscooter for many years now. The 2006 MP3 250 debuted the technology to have dual articulated wheels up front, offering an incredibly stable ride. Now approaching a 20-year anniversary, Piaggio has more than doubled the engine size and poured on a healthy dose of modern tech.
The most significant feature of the MP3 is the dual front wheels and the sophisticated suspension that makes it work. The front wheels are connected by a mechanism that allows the scooter to lean while maintaining contact with the road over all surfaces. It is also electro-hydraulically controlled to continuously maintain the optimal riding position. This results in an incredibly stable ride with a third contact patch good for wet conditions, and the independent suspension allows for smooth riding over uneven surfaces, such as railroad crossings. It may appear to be a gimmick at first glance, but it offers genuine benefits in real-world riding situations.
Power comes from its single-cylinder 530cc SOHC engine, providing 44 horsepower through the CVT transmission, and stopping is provided by single discs on all three wheels. Unique to three-wheeled cycles, it has reverse gear and a parking brake as it remains upright when parked. The current model also offers a connected digital display with Bluetooth, multiple drive modes, and comfortable seating. It is a unique model suitable for a wide range of riders, which includes police, without plans for long-distance rides.