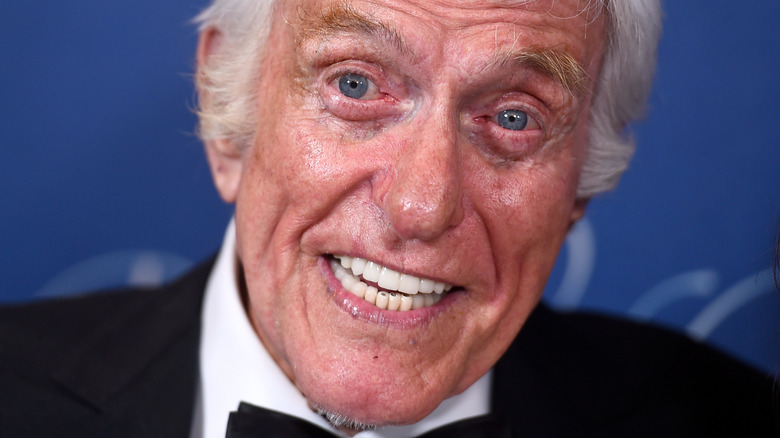 Dick Van Dyke is at least a quadruple threat. The talented and rubber-faced actor, physical comedian, singer, and dancer, first gained national attention (and acclaim) in the 1960s for his Tony Award-winning role as Albert Peterson in the original Broadway production (and film version) of "Bye Bye Birdie." From there, he became a TV legend, starring for six seasons as TV writer and family man Rob Petrie on the classic sitcom "The Dick Van Dyke Show." Throw in an indelible performance as a Cockney chimney sweep in "Mary Poppins," and Van Dyke's legendary status was sealed.
Van Dyke continued to be a friendly and welcome face on TV and in movies for nearly 60 years. As of this writing, he's in his 90s, but he hasn't lost a step. He's still acting, singing, and dancing — even showing up for a pivotal cameo in 2018's "Mary Poppins Returns." Don't fall over the ottoman as you take a trip into the private life of Dick Van Dyke.
He was almost the Reverend Dick Van Dyke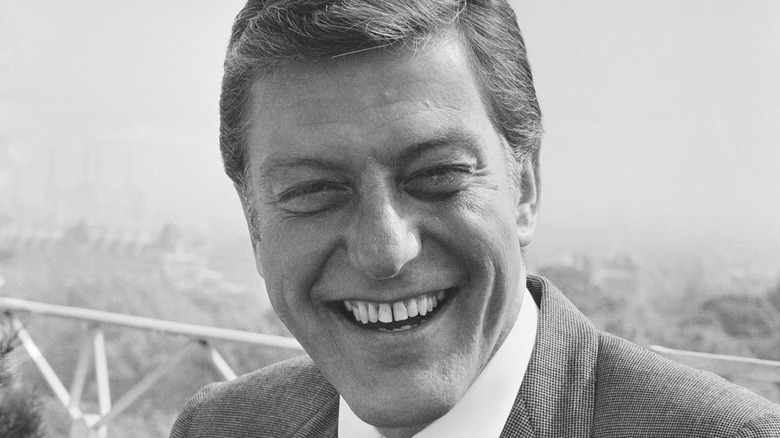 Dick Van Dyke was obviously born to be a people-pleasing entertainer. But despite growing up in Danville, Illinois, with Donald O'Connor — a very physical actor and dancer that one could call "Van Dyke-esque" — acting didn't initially present itself to Van Dyke. He grew up in a religious home, and for a while, he thought that he wanted to be a man of the cloth.
"Throughout my whole life I have pondered the big questions," Van Dyke wrote in his memoir "My Lucky Life In and Out of Show Business." "I've thought more like a philosopher or perhaps being a minister, a career I briefly considered when I felt the calling as a teen." Instead, he joined the military, and became an entertainer, but he still kept his spiritually instructive side active. He taught Sunday school at a New York area Presbyterian church even after his career in the lively arts took off.
The Dick Van Dyke Show almost went to someone else
It's nearly impossible to imagine "The Dick Van Dyke Show" without Dick Van Dyke. Sure, his name's right there in the title, so it would have to be called something else at the very least. That's actually how the classic sitcom about a hip, young married couple, one of whom worked on a TV show, began.
According to author Vince Waldron's "The Official Dick Van Dyke Show Book," comedian and writer Carl Reiner created "The Dick Van Dyke Show," which he initially pitched to CBS as a series called "Head of the Family." The star: Reiner himself. After ordering and viewing the pilot, network execs had to sit Reiner down for what had to have been a very awkward conversation. The good news: They loved the show, and wanted it. The bad news: They didn't think Reiner, the guy who wrote the show, was right in the lead role. So, Reiner and other decision-makers set about finding their Rob Petrie. After briefly considering the host of the game show "Who Do You Trust?" — some guy named Johnny Carson — executive producer Sheldon Leonard made a suggestion: Dick Van Dyke, at the time starring in "Bye Bye Birdie" on Broadway. (He got the part.)
He wasn't sure about Mary Tyler Moore's casting
"The Dick Van Dyke Show" made stars out of its two leads — Dick Van Dyke, obviously, and Mary Tyler Moore, who portrayed Laura Petrie. The cool, stylish, attractive duo became an iconic television couple for exactly those reasons, but also because Van Dyke and Moore had excellent chemistry — they felt like a real young married couple. It's shocking then that Van Dyke didn't want Moore anywhere near the show (at first). "I said [to Carl Reiner], 'She's a little young," Van Dyke told Entertainment Tonight. Moore, who to that point was primarily known as a model and a dancer, was indeed 11 years and two months younger than Van Dyke. Reiner ignored his star's concerns and put Moore on the show anyway, and told ET that "Nobody ever even mentioned" the wide age variance.
Van Dyke was clearly stressed out before he shot the pilot for "The Dick Van Dyke Show." He said in "The Official Dick Van Dyke Show Book" that he "lost five pounds" in the first week of production. That's not all. "I remember that they had to use a lot of makeup on me," Van Dyke said about the pilot episode, "because I had about four fever blisters that had popped up just from pure nerves." Not enough makeup, it would seem. According to Reiner, "If you look at the pilot, you can see that Dick's got a cold sore on his lip."
A very bad day on set
After rehearsing an episode of "The Dick Van Dyke Show" titled "Happy Birthday and Too Many More" for three days, Van Dyke and the rest of the cast and crew reported to work on their soundstage on the morning of November 22, 1963. If that date sticks out to you, it should, because that's the day President John F. Kennedy was shot and killed while riding in a motorcade through Dallas.
According to "The Official Dick Van Dyke Book," prop master Glenn Ross broke the news to the cast, and everyone dropped what they were doing — taping a scene set at little Richie Petrie's birthday party, which involved a horde of children — to listen to news updates on a radio. Van Dyke and company stood there silently, "crowded shoulder to shoulder amidst the incongruous clutter of party hats and tin horns." Showrunner Carl Reiner sent everyone home at 1 p.m., immediately after the president's death was announced.
Van Dyke's movie career wasn't quite a jolly holiday
Throughout the six-decade history of TV, a number of the medium's biggest stars have successfully made the jump to the larger screens and larger paychecks of the movies. Some A-listers past and present who topped their boob tube fame are George Clooney ("ER"), Bruce Willis ("Moonlighting"), and Pierce Brosnan ("Remington Steele"). Surprisingly not among that special club: Dick Van Dyke, one of the most notable TV personalities of all time. Viewers probably just associated him too much with Rob Petrie of "The Dick Van Dyke Show" to leave their homes and go pay money to see him play some other role.
But boy did Hollywood try to make a movie star out of America's favorite ottoman hater. He starred as the likable lead in a number of high-concept and not-widely remembered comedies and kids movies that quickly came and went from theaters in the '60s and '70s. A few examples: a modern-day Robinson Crusoe in the Disney flick "Robin Crusoe, U.S.N."; a Buster Keaton stand-in in "The Comic"; the leader of a town-wide drive to quit smoking in "Cold Turkey," and a man who grows a beard and is mistakenly thought insane because of it in "Some Kind of a Nut." Oof — if only they'd made "Mary Poppins Returns" about 50 years earlier.
He knows his Cockney accent was right awful, he does
While Dick Van Dyke never won an Academy Award, he did receive one honor for his work in film in 2003, however dubious. In an Empire magazine (via CNN) poll on which actors had the "Worst Movie Accents," Van Dyke finished in second place for his work as Cockney chimney sweep Bert in "Mary Poppins." (In first place: Sean Connery's inability to disguise his familiar Scottish brogue to play an Irish cop in "The Untouchables.") Look, Van Dyke knows it's bad, okay? In 2017, he went to the U.K. to receive an excellence in television award from BAFTA, where he took it upon himself beforehand to apologize to the people of England for mangling one of their most well-known accents.
"I appreciate this opportunity to apologize to the members of BAFTA for inflicting on them the most atrocious cockney accent in the history of cinema," Van Dyke said, per The Guardian. Then he threw his "Mary Poppins" cohorts under the bus. "I was working with an entire English cast and nobody said a word."
New show, old Dick
"The Dick Van Dyke Show" ended before it wore out its welcome in 1966. Just five years later, CBS wanted Van Dyke back on the air. (That's not a terribly long period of time, but the world and TV had changed a lot in those five years — for example, the hippie movement changed American culture, and TV moved from black-and-white to full color, respectively.) The Eye Network was positively thirsty to get Van Dyke back on the schedule and was willing to cater to the star in every way. Van Dyke made requests that few other stars could ask for, but he did, and he got them.
First, "The New Dick Van Dyke Show" got a three-season guarantee from the start. That meant they'd keep the show on the air for a full three years, and if they wanted to cancel it before that time, they'd have to give Van Dyke a lot of money. Van Dyke also didn't want to shoot the new series in New York or Los Angeles. By the early '70s, he'd moved to Arizona, and he wanted to make the show there. CBS said okay, and taped "The New Dick Van Dyke Show" in that show biz hub of Carefree, Arizona, according to The Los Angeles Times. Though the series debuted to solid ratings, its numbers declined for the rest of its run, which ended after three years.
Diagnosis: comeback
The moderate success of "The New Dick Van Dyke Show" got Dick Van Dyke used to the old grind of producing a TV show again, and from the mid-1970s to the early 2000s, he wasn't away from the small screen for long. In between truncated starring gigs, he starred in more than a dozen made-for-TV movies, including the alcoholism drama "The Morning After," which earned him an Emmy. In 1976, he joined the '70s variety show craze with "Van Dyke and Company," a show best known for helping to popularize comedian Andy Kaufman and Bob Einstein's "Super Dave" character. It won an Emmy Award for Outstanding Comedy-Variety or Music Series, beating early, classic seasons of "Saturday Night Live" and "The Muppet Show." Still, it only lasted one season, and Van Dyke jumped over to another vintage variety program, "The Carol Burnett Show," but left after fewer than a dozen episodes.
He made one more go at sitcom success in 1988 with the "Van Dyke Show," so named because it starred both Dick Van Dyke and his hunky son Barry Van Dyke. Dick played a Broadway star, and Barry played the Broadway star's theater operator son. CBS canceled it after six episodes. Finally, in 1993, Van Dyke experienced his first hit long-running show in decades: "Diagnosis: Murder." Forever your grandma's favorite show, Van Dyke starred as Mark Sloan, a jovial doctor who also solved crimes. It ran for eight years.
Dick Van Dyke quietly struggled with alcoholism
Thanks to hordes of professional paparazzi, not to mention just regular people with camera phones, the modern tabloid industry serves as an all-seeing eye of celebrity behavior. Basically, if a star does something remotely scandalous, the whole world knows about it in 15 minutes time. This wasn't the case back in the 1960s and 1970s, which means stars like Dick Van Dyke could keep his drinking problem secret for years.
On "Oprah: Where Are They Now," Van Dyke said he got started on alcohol because it's a social lubricant. "I was very shy — with strangers — I couldn't talk to people. And I found if I had a drink, it would loosen me up." But, as is often the case with addiction, the causes went a little deeper. "I was an alcoholic for 25 years, which inevitably impacted on family life," he told The Guardian in 2016. "When I went into therapy, I realized I was repeating my father's mistakes. He often came home drunk after lengthy road trips and my mother threatened to walk out unless he quit — which he did."
Van Dyke told Parade in 2013 that he'd been sober for nearly three decades, and that he hopes being open about his struggle has raised awareness about the condition. There's even a rehabilitation facility in western New York named after the actor: the Dick Van Dyke Treatment Center.
If you or anyone you know needs help with addiction issues, help is available. Visit the Substance Abuse and Mental Health Services Administration website or contact SAMHSA's National Helpline at 1-800-662-HELP (4357).
A bad Omen
While Dick Van Dyke's career as a big screen leading man fizzled out, he was a big star for years, and plenty of projects came across his agent's desk. There are two big ones he's confirmed to have been offered but turned down. One of them: "The Omen." On an episode of "Larry King Live" in 2000, Van Dyke revealed that he'd been asked to play Robert Thorn, the wealthy ambassador who unwittingly adopts the son of Satan. Gregory Peck ultimately played Thorn instead of Van Dyke. When asked about his decision to turn down the role, Van Dyke said, "A lot of violence, a lot of gore in it, and I just didn't want to do that kind of thing."
The other near miss of a hit: "Pleasantville." It's about two modern teenagers whisked into an idyllic black-and-white sitcom town via the machinations of a magical TV repairman. That was one of the last roles played by "The Andy Griffith Show" veteran Don Knott … although Gary Ross wrote the part with Van Dyke in mind. In fact, in the original script, the repairman character is even named "Dick Van Dyke," who is featured "stepping nimbly around [an] ottoman." Subtle.
Dick Van Dyke's serious computer animation skills
Older people are stereotyped as hostile avoiders of any new technology that comes down the wire. Dick Van Dyke is not that kind of person. The Lightwave 3D computer graphics rendering system hit the market in the early 1990s, and it let users make three-dimensional animations on their PC. Van Dyke bought the system, and as he told The Mirror, he was hooked, and he didn't care about the tedious work it took to make something good. "If you had 15 frames to render it took all weekend." Van Dyke made some caricatures of himself dancing, and those found their way into the 2004 special "The Dick Van Dyke Show" revisited.
He's also responsible for crafting a CGI action sequence for an episode of his show "Diagnosis: Murder." The script called for a motorcycle stunt, but the crew couldn't afford to film it as written. Van Dyke was on it. "I went out to the location and shot some background plates and then I came back and put a 3D computer-generated guy on a motorcycle doing the stunt and they used it on the show," Van Dyke told The Los Angeles Times. For his efforts, Van Dyke earned a cool 200 bucks.
He's only as old as the company he keeps
Getty Images
While in our minds and hearts Dick Van Dyke is forever young and married to Mary Tyler Moore in black-and-white wedded bliss, the real Van Dyke has had a complicated romantic life. Van Dyke and his first wife, Margie Willett, welcomed four children, including his "Diagnosis: Murder" costar Barry Van Dyke. But the bloom was off the rose by the '70s, instigated at least in part by Van Dyke's affair (according to his memoir) with his agent's secretary, Michelle Triola.
Triola and Van Dyke enjoyed a long-term, committed relationship, but never married, even after Van Dyke's divorce from Willet was finalized in the mid-'80s. Triola passed away in 2009, and before long, Van Dyke was spoken for once again. In 2012, the 86-year-old actor married 44-year-old makeup artist Arlene Silver, whom he'd met at a Hollywood event three years before Triola died. Van Dyke is well aware of the substantial age difference between himself and his wife, and he's tried to make light of it. On "Oprah: Where Are They Now" (via HuffPost), Van Dyke introduced Silver as "my beautiful child bride." Aw, that's not weird or creepy at all!
He didn't know his real birthday until he was 18
As he recounted in his 2011 memoir "My Lucky Life in and Out of Show Business," Dick Van Dyke wasn't aware of his real birthday and thus actual age until he was a young adult. In February 1943, he told his mother about his fears about getting drafted into the U.S. Army's infantry in the ongoing World War II and that he planned to instead enlist in the Air Force. All this would occur after he legally came of age upon his 18th birthday in a month's time. His mother then revealed to him that he was already 18 — he'd been born prematurely and his parents listed his birthdate as what it would have been.
Still curious, Van Dyke consulted his paternal grandmother for more details, who told him that the birthdate confusion resulted over an out-of-wedlock pregnancy, fudged to avoid seeming untoward. "I was probably the reason they got married," Van Dyke wrote. "It was still pretty shocking to discover that I was a 'love child.'"
He didn't receive his high school diploma until 2004
With the story of his actual birthdate and age sorted out, Dick Van Dyke indeed voluntarily signed up for military service in the 1940s, late in World War II. Enlisting with the Army Air Forces, Van Dyke was assigned to the troop entertainment division. Back at Danville High School in Illinois, he'd gotten his training for the post by being active with choir and the drama club, but in order to join the Allied effort in Europe, Van Dyke had to leave high school during his senior year, not completing his studies and not earning a diploma. After the war's end, Van Dyke returned to the U.S. and found some entry level work in the entertainment industry, but he never did go back and finish high school.
In 2004, Van Dyke finally closed his high school chapter. At the age of 78, the actor returned to Danville High School for a weekend of activities. After watching a production of "Bye Bye Birdie" (which Van Dyke starred in on Broadway and on film), he was named a lifetime member of the school's alumni association and given his diploma, 60 years after the fact.
He got married on the radio
Long before members of the Kardashian family invited reality TV camera crews to document their respective wedding days for all the world to see, Dick Van Dyke and Margie Willett tied the knot for all the world to hear. The pair of childhood friends started dating when Van Dyke was 20, and while they wanted to get married, they couldn't afford it. "But a radio producer offered to pick up the tab and send us on honeymoon if we got hitched on this show," Van Dyke recalled to The Guardian in 2016.
At the time, Van Dyke was performing in a variety show at the Chapman Park Hotel in Los Angeles, the same place where the radio program "Bride and Groom" taped, and the actor was friendly with the show's host. "I let it drop I was planning on getting married," Van Dyke told the Los Angeles Times. "He said, 'Come on the show.'" Van Dyke called Willett, who went to the hotel, and they got married live on the air to an audience of about 15 million people on February 12, 1948. "We got a honeymoon in Mount Hood, Oregon, and some free appliances," Van Dyke said. Talk about a sweet gig.
Dick Van Dyke did The Masked Singer
In 2023, at almost 100 years of age and six decades after he showed off his singing and dancing chops in "Mary Poppins" and "Bye Bye Birdie," Dick Van Dyke was still delighting audiences with his musical abilities — if not surprising them, too. On the ninth season of Fox's celebrity singing contest "The Masked Singer," a performer at first known only as Gnome (their identity customarily concealed under a massive costume) was the first to be eliminated. The man underneath the mask: 97-year-old Van Dyke. Audiences voted off Van Dyke after he sang Billie Holiday's "When You're Smiling," but once they realized it was him, they gave the veteran entertainer a massive round of applause. And celebrity panelist Nicole Scherzinger burst into tears, per Entertainment Weekly.
"When they asked me to do it, I had never seen it. So I looked at it on the air and it looked like fun," Van Dyke told EW. "I would say it's the weirdest thing I've ever done." His identity revealed, Van Dyke once more entertained the captivated audience with a performance of "Supercalifragilisticexpialidocious" from "Mary Poppins."