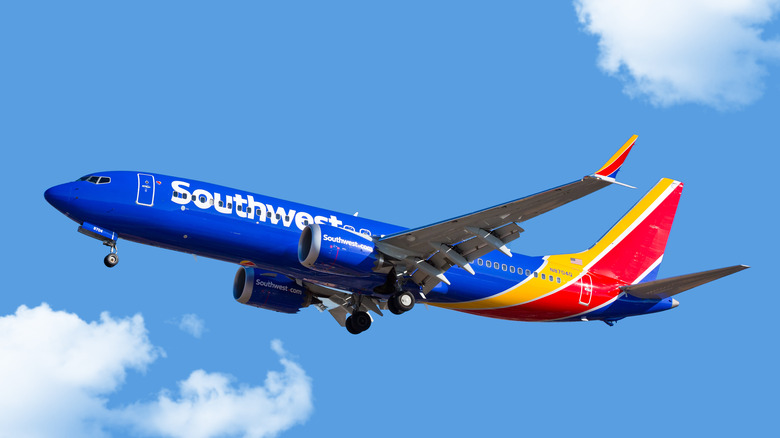 When traveling via plane, passengers have a number of airlines they are able to choose from. As far as North American airlines go, Southwest Airlines falls within the elite group of airlines known as the "Big Four," which means it's a pretty big deal. The other three airlines — Delta Air Lines, American Airlines, and United Airlines — have always been ahead of the curve, all dating back to the '20s while Southwest is a relatively young airline having taken flight in the early '70s. Still, Southwest manages to stand tall next to the older airlines and hold its own in the shared title of "Big Four" as well as provide service to 11 countries across North and Central America.
While price certainly takes some of the credit when travelers are choosing which flight and airline is best for them in their travels, there have been loyal Southwest customers who will always choose to fly Southwest. Whether you have flown with Southwest before and loved it, will be setting off on your first journey with the airline, or are still weighing your options on a future vacation, it helps to know just how an airline and its policies work before booking with them. Here are some of the most common questions about Southwest Airlines, for your consideration and hopeful future use.
How do I book my flight and get my boarding pass?
As far as booking goes, the digital age has made it pretty simple to reserve a seat on a plane. While it's certainly possible to use online travel agencies like Expedia or Hopper, it's a good idea to book flights directly with airlines and if you know you want to use Southwest, they actually have a pretty sweet setup for making online reservations and you can do so with either their website or app.
You don't have to look further than the homepage of Southwest's website to start booking your flight. Once you input your departure and arrival locations and dates, you will be presented with all the flights you have to choose from to fit your parameters. By sorting the flights by departure time or price, you can prioritize flight elements and choose the flight that best fits your needs. Southwest also offers a helpful flight map for travelers who are better with visuals which allows a point and click method of finding a flight.
Once you're all booked up, you'll receive email confirmation and will need to check in within 24 hours of your flight's departure time. Once you're checked in, either on the app or physically at your departing airport, you will receive your boarding pass.
Can I change or cancel my reservation?
As much stress and anxiety inducing the idea of a missed flight is, things do come up and it may be necessary for someone to move their travel schedule around to accommodate new situations. As far as Southwest Airlines are concerned, it's not a huge deal to cancel or change your flight plans.
For the most part, Southwest Airlines doesn't have a problem refunding the cost of the flight in some form or another. If a traveler wants to cancel either a Business Select or Anytime fare ticket, as long as it is done at least 10 minutes before the original departure time, it is fully refundable to the payment method used to purchase the ticket. As for travelers who purchased the two most affordable fare options, Wanna Get Away and Wanna Get Away Plus, they can get a refund in the form of flight credits. If a reservation is not canceled within 10 minutes before departure time, lower fares are out of luck and the higher fares will get refunded in the form of transformable flight credits.
There are neither cancel nor change fees for any level of Southwest ticket. Changing a reservation can be done at any time by either using the website or mobile app, and there is no limit to how many times you can change your flight. Like cancellations, changes to a flight need to be done no more than 10 minutes before departure.
How are seats assigned?
Southwest's boarding process is a little different than other airlines, and they are currently the only airline that has an open seat policy. This means that there are no assigned seats and passengers pick their seat upon boarding. Passengers are assigned a boarding order with a letter and number combination on their boarding pass that represents their place in line at the gate. While there is no way to reserve a specific seat, there are ways to get bumped up in boarding order.
Passengers who have purchased Business Select fare will be guaranteed A1 – A15 boarding, and those who purchase Upgraded Boarding will have an increased chance of the same boarding based upon availability. Southwest also offers an Earlybird Check-In, which allows travelers to check-in before the 24 hour period leading up to departure. This doesn't promise an A-level boarding time, but it will bump guests up to a faster boarding time. For travelers who do not want to purchase any upgrades, downloading the Southwest Airlines app will allow them to get a notification when the 24 hour check-in period begins, helping travelers check-in quickly for a decent letter level.
This open seating policy is actually a great solution to the common issue of families being separated on the plane or having to pay extra to ensure they sit together with other airlines. Southwest also offers family boarding after the A-level and before B-level, giving families with children an increased opportunity to be together.
Are there special fares for children?
Similar to most airlines, parents are not required to purchase a seat for their children under two years of age. As long as there is one person over the age of 12 to hold the small child in their lap, infants and young toddlers are considered lap children. Any child over two will need their seat purchased and their own boarding pass, and there is no discounted fare since they will be using up a seat the same way any other passenger would be.
Even though it's possible for babies to be free on a flight, parents may want to spend the money on a seat anyway. It's much safer to transport a baby and a child under 40 pounds in a car seat — yes, even on a plane. The use of a car seat, while not required, is strongly recommended by Southwest Airlines.
Even though there is no special fare for children using a seat, there are perks to Southwest's open seating policy when it comes to lap children. Parents who choose to take their infants and young toddlers on a plane as lap children have a decent chance of there actually being a seat available for their child. If the plane isn't fully booked, if no one chooses to sit next to you and your lap child, the empty seat can be used by your child — though, you absolutely shouldn't bank on this.
Can minors fly unaccompanied?
The majority of airlines in America have programs to help minors travel without their care providers, and according to USA Today, most 5-year-olds are developmentally ready to travel via plane alone. Southwest Airlines also allows minors to travel alone, and has a program for young travelers who are between the ages of 5 and 11-years-old. Those below the range will need to travel with another person who is at least 18 and those above the age range are able to travel alone and are not considered an unaccompanied minor, though Southwest discourages any older minors to travel alone unless they can properly navigate the many responsibilities and disruptions that come with airport travels.
The minor will be placed in the care of staff at the departure gate and, once landed, will only be released into the care of the person named as their recipient on their forms. Care providers at both departure and arrival will receive escort passes that allow them past security with their minor. The child and care providers must have photo identification and proper documentation. There is also a fee associated with the unaccompanied minor program of $50 each way. To maintain safety standards, unaccompanied minors will not be allowed to travel on flights that change plans, so the booking party will need to make sure the flight is either non-stop or if any stops occur, they do not need to change planes.
Is there entertainment on board?
If you expect a little entertainment aboard one of the United State's largest airlines, you would be well within your rights. Times have changed quite a bit in the decades that Southwest Airlines has been providing transportation to travelers, and we are now in the live TV 35,000-feet-in-the-air era. Flights with Southwest get a number of popular TV channels like TBS, FX, and USA — as well as music and relatively recent film options. And it's all free.
For the most part, the inflight entertainment is included in the ticket price, but if travelers want to use wifi on any of their devices, it's going to cost $8 for a day of access. While not all Southwest planes have the capability for wifi, frequent Southwest flier Katie Seemann (via Upgraded Points) says that out of the many flights she has taken with the airline, only one plane was not equipped with wifi.
If you are flying internationally with Southwest Airlines, not all of the entertainment amenities may be available for the full length of your journey. Even so, the ability to break up your flight with free entertainment is a valuable aspect of flying with Southwest.
Are meals and snacks served in flight?
While you certainly can bring snacks and some food on board with you to munch on during your flight, you may be entitled to a little grub from Southwest while on the plane. A good amount of domestic airlines offer some kind of complimentary light snack and non-alcoholic drinks for passengers of any flight or have snacks available to purchase, but again Southwest does things a little different than their competitors.
For flights that are more than 176 miles in distance, a complimentary snack and non-alcoholic drink are provided — along with the option to purchase an alcoholic drink. For travelers who are on shorter flights, though, water is all they will be given in terms of meals and snacks on board. Passengers of these flights may want to buy some snacks and drinks at the airport before departure, because Southwest does fully allow passengers to bring their own snacks on board.
Can I travel with my pet?
Flying with a pet isn't exactly a simple affair and while most airlines allow you to transport your dogs as cargo for a significant fee, Southwest Airlines does not allow animals to be transported in such fashion. According to Southwest's pet policy, only small dogs and cats are allowed to be transported and they must be in a carrier, stored under the traveler's seat, and be fully vaccinated — though no proof or documentation is required in this regard.
No pets are permitted on international flights for Southwest Airlines and flights to and from Hawaii are also a no-go for pets. There are places for animals to relieve themselves at both the departure and arrival destinations and the dog or cat must be well behaved, or you will be denied boarding the plane by Southwest staff.
According to Pet Travel, the fee for transporting a pet in the cabin — Southwest's only option for bringing pets along — is $95 each way, making it $190 round-trip. Trained service animals and professional dogs like police trainees are able to fly in the cabin with no fee.
Are flights accessible for people with disabilities?
Southwest Airlines absolutely makes accommodations to passengers who have disabilities — in fact, all airlines must make their flights handicap accessible by law. The Air Carrier Access Act was put into place in the '90s to prevent discrimination against people with disabilities in regards to air travel and has been amended a number of times since then to allow for further access to flights.
As far as Southwest goes, they have a number of ways they help people with disabilities safely get on a flight and reach their destination. Those with wheelchairs or other mobility assisted devices are able to board early, right after the A-level boarding group and right before family boarding.
Travelers who have a disability and need extra consideration to make their journey more accessible and comfortable can let Southwest Airlines know when they book their flight. When making an online reservation, there is a special assistance link on the payment page where travelers can express their unique travel situation, which can include but is not limited to things like visual impairment, deafness, and cognitive disabilities. While it's not necessary to tell them ahead of time, allowing the airline time to make specific arrangements will help with planning and having everything ready to go when the passenger gets to the gate.
What are the baggage fees and limitations?
Packing for a trip can be something of a nightmare — you don't want to be the traveler caught in the airport chucking things out of their bags to fit the airline policy. While it's common practice for an airline to allow you one checked bag and one smaller carry-on bag, Southwest Airlines' baggage policy actually allows passengers to check two bags while keeping both a carry-on bag and a personal item with them on the plane for no additional cost.
Of course, these items have to meet the dimension and weight guidelines. For checked bags, 50 pounds is the maximum weight and 62 inches is the biggest a bag can be after adding up its dimensions. A charge of $75 will be incurred if the bags are heavier or larger than allowed, and it is the same charge amount for adding an extra checked bag. According to the airline's carry-on guidelines, items like a car seat and umbrellas are not considered personal items and do not count toward your free item limit.
A carry-on can not be larger than 24 inches in dimension and a passenger's personal item is, truly, whatever a person decides they want and will make both their trip and the time that is spent after landing much more enjoyable. A purse or backpack is a good example of a personal item and either they're stored under the seat in front of the passenger or in the overhead compartment.
Does Southwest have a rewards program?
Most airlines, especially the large ones like Southwest, have some kind of rewards or loyalty program that come in the form of a credit card and/or a way of earning points for free trips and perks. Southwest Airlines' reward program is called Rapid Rewards and you earn points within the system by purchasing flights, with each level of fare being worth a certain number of points per dollar spent. Business Select fares earn 12 points to the dollar spent, with points decreasing by two with each tier of fares.
Travelers can redeem their points for rewards with More Rewards and once they collect 35,000 points in a calendar year they obtain the first tier status of A-List. At 70,000 they would be A-List Preferred. Both status come with perks, but the Companion Pass at 135,000 points is the real prize with a free flight for the traveler's designated companion everytime they fly.
Travelers who wish to participate in the rewards program can earn points faster by opening a Rapid Rewards Credit Card with Chase and using it for everyday purchases. This is a great option for anyone who wants to earn one of the tiered reward statuses without booking a large number of flights in a calendar year, as you would need 25, 50, and 100 flights to reach A-List, A-List Preferred, and a Companion Pass, respectfully.