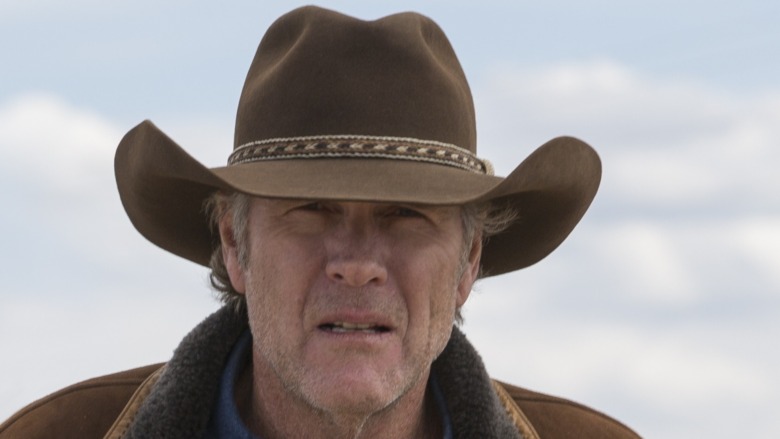 In the world of police procedurals, Longmire stands alone. Most police shows are set in big cities, following large teams of well-trained, quirky lawmen and women with high-tech crime labs. Meanwhile, there are only three or four people in the Absaroka County Sheriff's department. Most police shows aren't based on acclaimed book series, if there is any literary source material at all. They feature detectives in suit and tie while Sheriff Walt Longmire all but lives in denim, cowboy boots and a leather jacket.
The chases in Longmire are on dirt back roads, not hard concrete streets. And the tricky act of an old-fashioned frontier sheriff adapting to the modern world, in some cases despite his best efforts not to, makes Longmire worth a watch for people who normally aren't into CSI or SVU. And for fans of cowboy shows like Yellowstone, it's a must-watch.
But the story of Longmire is also far from ordinary. There's the fact that its production was jeopardized by wildfires and premature cancellation. Influences ranging from the magical state of Wyoming to Indiana Jones make the show so compelling. It is also based on a book series, and that there are differences between the show and its source materials. There's even differences between the show's Wyoming and the real Wyoming. Plus the story of how the project came together, a convoluted journey that runs from western yearnings to talent representation kismet, sounds like an American tall tale itself.
Absaroka County, New Mexico
Longmire is set in the fictional Absaroka County, Wyoming. The series, however, is mostly filmed in New Mexico. Specifically it's shot in Santa Fe, Pecos, Los Alamos, and Las Vegas, New Mexico (not the Nevada casino town). The Valles Caldera around Las Vegas stands in for many of the breathtaking Wyoming exteriors, including Walt Longmire's cabin. Then downtown Las Vegas plaza stands in for the town and workplace of Longmire, the sheriffs, the casino, everything that happens in an office. Even the interiors are shot in New Mexico, at a placed called Garson Studios in Santa Fe.
Why not shoot it in Wyoming? While New Mexico offers a 25-35 percent tax credit, Wyoming tops out at 15 percent so it's no surprise that Longmire shoots down south. New Mexico also has easier transportation and more airports. The busiest airport in the whole state of Wyoming is Jackson Hole, with only one terminal and nine gates. Plus its roads cross mountains, rivers and canyons where extreme winter weather has been known to cause closures in June, all of which would make filming a series in Wyoming a boondoggle.
Wide open mountainy landscapes and western dive bars, with large airports and open roads? New Mexico will do just fine.
Wildfires halted filming for season 2 in 2013
Sheriff Walt Longmire's cabin and ranch are set in the Valles Caldera National Preserve in northern New Mexico, as are many of the sweeping vistas. But as with any production shot in wild places, there are challenges. When filming out west, one of those challenges can be wildfires. In 2013, while filming season 2, wildfires surrounded the filming. The Thompson Ridge Fire raged on one side of the preserve, while the Tres Lagunas Fire hemmed them in from another direction, covering the sky with smoke.
At first producers tried to shift the shoot, and could have continued. After all, anybody who lives in Los Angeles is used to dealing with wildfire season. Given the fact that the small area in New Mexico was full of firefighters and emergency crews, however, producer Chris Donahue said to the Albuquerque Journal that they halted everything because they "didn't want to be in the way of any of the responders."
The Arizona-based Granite Mountain Hotshots were part of the team that eventually put out the fires. Unfortunately, on June 30, 2013, 19 of those smokejumpers died fighting the Yarnell Hill Fire near Prescott. All but four of them were in their 20s. The season 2 finale, "Bad Medicine," honored the deceased hotshots in the credits: "Dedicated to the Granite Mountain Hotshots and all the firefighters who saved the historic buildings in the Valles Caldera National Preserve."
Those heroic firefighters would end up inspiring their own movie, Only the Brave, starring Josh Brolin, Miles Teller, and Jeff Bridges.
Longmire was canceled by A&E for a surprising reason
Longmire opened up with strong numbers and its ratings grew over the first three seasons. In season 2 it rose about 9% from season 1, growing to about 6 million viewers. In season 3 it dropped only slightly to 5.6 million viewers. Put another way, Longmire was leading A&E's scripted offerings and would be a stalwart tentpole while A&E's golden goose, Duck Dynasty, was steadily declining.
And yet despite the ratings highs, in August 2014 Longmire got canceled after just three seasons. The move was originally explained as A&E looking to concentrate on unscripted shows and shows it owns (Longmire was created and produced by Warner Horizon). It was, however, unexpected considering the fact that season 3 ends in a cliffhanger involving a gunshot and a possible filicide. There was another reason for the cancellation: Longmire's fans were too old.
According to a Wall Street Journal article, A&E said it canceled the hit show because the median viewer age was 60 versus the 48-year-olds who made up A&E's average demo. So apparently it took A&E 3 seasons to figure out that a police procedural about a cantankerous old cowboy sheriff who refuses to get a cellphone might appeal to older viewers.
Luckily, that wasn't the end of the Longmire story.
Netflix revived it for the second half of the series run
While A&E saw a show that didn't fit its general strategy or demographic, Netflix saw a show that filled a gap in its own offerings. After Longmire was canceled by A&E, Warner Horizon, the producer of Longmire, began shopping it around. Given the large audience, there was obviously demand, especially due to the cliffhanger that ended season 3. A&E had said that a big reason for the cancellation was the older-skewing audience, which has less appeal for advertisers seeking the coveted 18-49 demographic. Netflix, which doesn't have to worry about advertisers, was therefore a perfect match for the series.
The subscriber model introduced by streaming services has reinvented television in many ways. With the streaming model, TV shows no longer have to cater to advertising's "key demographic." This allows shows like Longmire to continue entertaining its audience regardless of whether or not that audience is under 50.
Netflix picked up the first three seasons and announced it would launch new ones. Eventually, Netflix canceled the series too, though the streamer's reasons are still not fully known. It at least gave the team behind Longmire the ability to finish their series with a proper finale in season 6.
Jacob Nighthorse: TV villain only
Jacob Nighthorse is a shady businessman and antagonist throughout Longmire the TV series. Nighthorse plays a perfect villain — calculating, slippery and calm. Even his rise in the tribal committee can be traced to a murder early on in the series. Yet Nighthorse, while he plays an indelible Dr. Moriarty to Longmire's Sherlock, doesn't appear in the Longmire book series.
In many ways, Nighthorse is the most unpredictable and dynamic character in the TV series. A businessman and casino owner, he's often an enemy of the Absaroka Sheriff's department, and at times even an enemy of his own tribal law enforcement. Then he'll testify on Walt's behalf or support Cady Longmire's effort to become a lawyer for the tribe. The performance in the series by actor A Martinez is so compelling that his name ended up inspiring a character in the Longmire novel Depth of Winter, Dr. Adan Martinez.
Dr. Martinez has similarities to Nighthorse, especially his idea of justice for disenfranchised peoples. He gave up his practice because he was being asked by the state to do something he considered torture, and he also shares Nighthorse's belief that to correct grave injustices, radical measures are justified.
While the new character is a great show of appreciation to Nighthorse and A Martinez, this new doctor can't compare to Nighthorse for impact on the series and Longmire's life.
There have been many changes from the books to the television series. But this one, the addition of Jacob Nighthorse, adds great texture to the mythology of Walt Longmire.
Wyoming 24 plates
Wyoming is a unique state, from how spread out it is to how its auto registration works. Specifically it's one of the few states where you can tell exactly what county a car is from by a quick glance at the license plate. Every license plate starts with one or two numbers on the left separated from the remaining digits, the ones unique to every vehicle, by the classic Wyoming silhouette of a cowboy on a bucking bronc. The first number or numbers represent which Wyoming county the car is registered in. For example, license plates from Teton County, home to Wyoming's top tourist destination Jackson Hole, starts with 22, sometimes called "22 plates." In Longmire, the cars all carry 24 plates, which you'll notice if you're looking.
There's an issue with that, however: Wyoming only has 23 counties. License plates for Natrona county cars start with the number 1; plates for Sublette county start with 23, a system that hasn't changed since 1930, based on land valuation. Which would also mean that at least back in 1930, Absaroka County was considered home to the most worthless land.
Still, there is no 24th county. So there can be no cars from that county. Which means the 24 plates we see all over Longmire is one of the first definite signs that Longmire exists in an imaginary county.
Absaroka County, in the shadow of the Tetons?
There is no Wyoming license plate that starts with 24 and surprise surprise, there also isn't an Absaroka County, Wyoming. Is there any way to figure out where this fictional town and county would be, then?
Craig Johnson, the novelist who created Absaroka County in his Longmire book series, settled down in Ucross, WY, (halfway between Sheridan and Buffalo) after years of traveling around the country. However, Johnson has said that the basis for the town of Durant is Buffalo, Wyoming, and Absaroka County is based on the real Johnson County. Buffalo is the seat of Johnson County. Seems to be case closed. But would Walt Longmire stop there?
No. He'd look at the fact that the Wyoming counties named after mountain ranges, such as Teton and Uinta, have part or all of that range in it. The Absaroka Mountains run just east of Yellowstone and the Tetons and extend down to the Wind River Range. So Absaroka County would include part of this range and therefore include this range. In "Population 25," Vic Moretti's husband Sean says they're five hours from Jackson Hole. The combination of the distance from Jackson as well as the location of the range leads to Durant being near Cody, WY, or possibly Thermopolis, the seat of Hot Springs County.
On a map seen in the sheriff's office, however, the location for Durant is right where the real-world Sheridan is.
Where is this Absaroka then, really? That's a mystery fit for Walt Longmire himself.
Longmire Days in Buffalo
Buffalo, WY, gets the credit for being the real-life Durant. Johnson said that the town of Buffalo, from its layout to its buildings, served as his inspiration while writing the books. And it makes sense given the fact that it's a town small enough that there was no police department, just a county sheriff and his barebones team of deputies. Buffalo fully embraces its role as the inspiration for Durant, Wyoming.
There's a Longmire festival in Buffalo, Wyoming. Longmire Days, normally held in the summer but moved to September in 2021 due to concerns about COVID, features events inspired by the book and TV series as well as interactions with the cast and crew. Some of the highlights include talks with Robert Taylor and Craig Johnson, a horseback ride with some of the actors, a softball game, and an auction. There's a chance to grab a drink at "the Red Pony" and in the past they've had such interesting events as a talk from the "Two Henrys." That event happened during a Longmire Days festival when the organizers held a talk with Lou Diamond Phillips, who plays Henry in the series, and Marcus Red Cloud, Johnson's real-life friend and Native American advisor.
Sheriff Clint Eastwood and Indiana Jones
Robert Taylor, who plays Sheriff Walt Longmire, is another Australian actor who excels at playing an American tough. Show co-creator John Coveny said in an interview with AssignmentX that their "character combination for Walt was Harrison Ford, Clint Eastwood, and Steve McQueen." Coveny went on to explain that they found that all in Robert Taylor.
For his part, Taylor said to Front Row Features the role needed a "quietness of soulfulness" that isn't often seen anymore. "You would see it in actors like Gary Cooper and Clint Eastwood … But I didn't base my character on any of those guys." In another interview with Entertainment Today, Taylor said, "I just see Walt as Walt. He may have Marshall Dillon's qualities, that kind of western stoicism, decency, and honesty, but he's his own man."
While Robert Taylor may not have purposely channeled the intelligent resourcefulness of Indiana Jones, the quiet penetrating stare of the Man with No Name, or the coolness and quick action of Bullitt, they were obviously what the showrunners were looking for and those traits fit Robert Taylor like a pair of well-broken-in cowboy boots.
Kyle Chandler turned down the role of Longmire
Shutterstock
Robert Taylor has been kicking around Hollywood for years but his most popular and longest-running role is playing Sheriff Walt Longmire. However, the role of Walt Longmire almost went to another Taylor: Coach Taylor, or more specifically the actor who played him, Kyle Chandler.
Chandler's turn as the coach on the NBC show Friday Night Lights brought him a lot of industry buzz. He went on to other roles in many acclaimed movies, such as Argo, Zero Dark Thirty, The Wolf of Wall Street, and Manchester by the Sea.
One can only imagine his Walt Longmire. While Chandler's early career included a country movie, the actor himself is a bit of a joker and might've brought some of the levity to the series that Longmire carries through the book series. As he's matured, Chandler has also adopted a bit of the roguish tough cowboy look that would've fit the sheriff we all know.
Regardless, today it's hard to imagine Walt Longmire being played by anybody but Robert Taylor.
CAA was fertile ground for Longmire
Hunt Baldwin grew up in Chicago and worked in advertising in the Second City for many years. His parents moved to Wyoming and that bold move inspired him to leave his safe existence and move to Los Angeles to become a full-time writer. There he worked hard for many years before eventually fulfilling his dream, working with his writing partner John Coveny on series The Closer. Baldwin and Coveny are both represented by the same agent at talent agency CAA. It was the shared connection at CAA that birthed Longmire.
According to Coveny, they had talked to their agent over the years about wanting to do a modern western, Coveny mentioning that he had been a big fan of Butch Cassidy and the Sundance Kid. Then one day their agent mentioned that CAA also happened to be representing this author named Craig Johnson who'd written a series of modern day westerns centering on a cowboy sheriff. According to Coveny, they read The Cold Dish and "about ten pages in we knew it was something we wanted to develop."
The Closer cemented the team
Baldwin and Coveny's experience working together on LAPD police procedural The Closer was a big help when they began developing their own new western police procedural, Longmire. They still needed an executive producer with experience running a show, though. Luckily, while at The Closer, they met and worked closely with producer Greer Shephard. So they set up a meeting with her to discuss this new project.
Greer is a TV veteran. She produced her first series in 1997, Nothing Sacred. One of her first big hits as an executive producer was Nip/Tuck in 2003. She was the perfect person to shepherd two first-time creators through a decidedly unique police procedural.
According to Baldwin and Coveny's interview with AssignmentX, it took about three years from that first sit-down to Longmire eventually premiering on A&E. It's obviously cemented a relationship made in TV heaven. Shephard mentioned in a 2012 interview with The Hollywood Reporter that if she could add any writer to her staff, she "would clone Hunt Baldwin and John Coveny."
The team split off after Longmire. Coveny was EP on the 2020 Fox series Deputy, which made it just one season. Shephard continued to executive produce her The Closer spinoff, Major Crimes, for a year after Longmire wrapped up. Baldwin currently has no listed new projects.
Maybe it's time to get the team back together?
TV Longmire vs. literary Longmire
There are many differences between Craig Johnson's Longmire books and Coveny/Baldwin/Shephard's Longmire series, in addition to the character of Jacob Nighthorse. And while the book plots inspire the storylines, the series has created many new stories. For example, the first Longmire book, The Cold Dish, is somewhat condensed into the season 1 finale, "Unfinished Business."
In the books, Absaroka County only had five murders in 24 years, yet police procedurals tend to have lots of murders because it makes for very compelling television. In Longmire, there's a new murder almost every episode. In the books, Cady lives in Philly. Also in the books, Walt Longmire's wife dies of cancer, not murder. His wife's murder in the TV series is a central plot point in the series so this is a huge difference. But one of the largest differences is Longmire himself.
In the books, Walt Longmire is witty. Many would say he's wryly humorous. In fact, the books are often praised for their humor. But Robert Taylor plays Sheriff Walt Longmire in the TV series straight almost to a fault. The only comedy we see from TV Walt Longmire is when he makes social or technological faux pas, a humor generated from everybody else's reactions to his unwillingness to embrace the modern world. In the few moments when Walt says something funny, he doesn't seem to realize it.
Perhaps a good Longmire mystery would be where Walt's sense of humor went?
How Rainier became Longmire's beer of choice
There are many peculiarities that make Longmire and its eponymous protagonist so memorable. The fact Walt doesn't have a cellphone, nor does he ever use gloves at crime scenes, are just two. But one of the most well-noted ticks is Walt Longmire's devotion to Rainier beer. "I drink Rainier," says Walt in the series premier. "Always have, always will."
Rainier is a cheap beer that isn't found all over, comparable in price to PBR. In fact, it's currently owned by Pabst Brewing Company. In an interview with the Casper Star Tribune, Johnson explains he was surprised by how Longmire has impacted Rainier beer. "I figured Walt's not a blueberry, microbrew kind of guy," Johnson said to explain his choice. Johnson also charges one very inexpensive and unique honorarium for speaking at any and all Wyoming libraries — a six-pack of Rainier. Johnson probably likes Rainier given his proclivity for requesting it so the connection may end there.
There's one more connection, though: The Longmire Historic District in Washington is the location of Mount Rainier National Park. So perhaps that Longmire-Rainier connection may have influenced Johnson's naming of his most famous sheriff. There are no confirmed statements that say Walt's last name was inspired by his favorite beer. So this might just be another mystery for Walt Longmire. When it comes to tying together supposed coincidences to suss out the truth, there's nobody better.