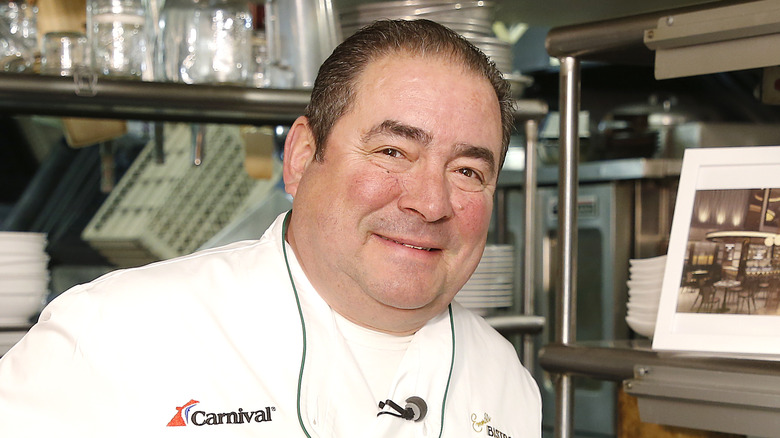 Food Network is the place to watch entertaining and informative cooking content, but it wouldn't be where it is today without the '90s staple "Emeril Live." These days, the network brings to mind celebrity chefs like Guy Fieri, Bobby Flay, and Ree Drummond, but back in the day, Emeril Lagasse was the name on everyone's lips.
Lagasse is a beloved chef known for his exuberant personality and cooking skills, which you can experience through his many restaurants and books. The East Coast chef spent his childhood in Fall River, Massachusetts, where he developed the accent his audience would come to love. His passion for cooking was sparked at a young age, growing up cooking with his mother. He then perfected his abilities in culinary school and with chefs in France before coming back to the U.S.
The talented chef had already begun to rise to fame during the '90s with Emeril's Restaurant, awards, and TV appearances, but he didn't become a household name until he created "Emeril Live" in 1997. The show was a trendsetter in many ways, setting Lagasse on the path of culinary stardom. While you might know the basis of the show, there's so much more to learn. Here are some interesting facts that even the biggest food fans don't know about "Emeril Live."
Famous celebrities starred on the show
Lagasse was undeniably the star of the show on "Emeril Live," but that doesn't mean he didn't bring on extra talent from time to time. The '90s show featured a number of celebrities during its 10-year run, with notable guest-star appearances from Charlie Daniels, Patti LaBelle, Michael McDonald, Joe Perry, Sammy Hagar, Aretha Franklin, Patton Oswalt, and Jimmy Buffett.
When Lagasse hosted celebrities, he made sure to make the episode as special as possible, introducing his guests enthusiastically and making even more delectable meals than average. When Aretha Franklin guest-starred, Lagasse told the audience, "Tonight, I'm entertaining royalty […] The place is ready to explode!" When Franklin finally made her entrance, the crowd went wild, and everyone sang together for a moment before the cooking began. The two celebrities then made Franklin's peach cobbler recipes together.
Charlie Daniels, on the other hand, spent his time with the band rather than in the kitchen when he was featured on "Emeril Live" on the "Gotta Have Garlic" episode. As you might intuit, the episode features Lagasse making garlic-centric recipes like soup, dressing, and jam.
It won an award within the first year of production
Lagasse was the true definition of "on fire" when he signed the contract for "Emeril Live." The show was an immediate success, winning the hearts of Americans with the host's authenticity and spirit. When it began airing, Lagasse's success snowballed and the personable chef rapidly became a national celebrity. In fact, back when tickets had to be purchased over the phone, the sheer volume of calls for "Emeril Live" once caused a telephone switchboard of a little town to stop working (via CNN).
Along with exponentially gaining fans, the show's awards immediately started pouring in. "Emeril Live" began airing in 1997, and that very year the show was selected for a CableACE Award for "Best Informational Show." Although many fans enjoy the show for reasons beyond cooking facts, like Lagasse's exclamations and the atmosphere from the live band, this award shows that it also provided the public with useful knowledge in the kitchen.
Also in 1997, Time rated "Emeril Live" among the top shows currently airing, no small feat for a newly created TV show with a formula that was completely unheard of. The following year, GQ listed Lagasse among its selection of "Men of the Year." The more attention Lagasse received, the more people he charmed. The first few years of "Emeril Live" were definitely Lagasse's time in the sun, and he has the awards to prove it.
It was the first show to have a band, live audience, and cooking
Lagasse's initial appearances on Food Network weren't as successful as "Emeril Live." His first show, "How to Boil Water," was a dismal failure. For his second attempt, he tried a scripted show called "The Essence of Emeril." Lagasse hated it as well, and it did little to showcase the chef's natural charisma and captivating personality.
As the saying goes, the third time's the charm. Lagasse's next shot with the Food Network allowed him the creativity to do whatever he wanted for an hour, and he let his imagination fly. His new show wouldn't just be him in a kitchen demonstrating to the audience how to cook — it would be a multifaceted show full of entertainment, one that almost defied the genre. Lagasse decided to have a band, live audience, and a cooking segment on his show, creating a form of entertainment that sold tickets like no other.
The beloved show has an unheard-of combination of factors that captivated his audiences, earning him widespread fame almost immediately. "Emeril Live" changed it up in a number of ways, from being the most out-there cooking show of its time and the first to feature a band and live audience along with a cooking demo.
Emeril Live was once the most popular Food Network show
A couple of decades ago, Lagasse was the chef everyone was talking about on the Food Network. Not only was "Emeril Live" a unique twist on cooking shows that had won a number of prestigious awards, but it was also the most popular show of its time.
"From Scratch: Inside the Food Network" by Allen Salkin highlights this: "Back then, most viewers thought Food was the Emeril Network. His show was on every weeknight at 8 p.m. and he overshadowed all the other stars." "Emeril Live" and Lagasse's other show "Essence of Emeril" were the two top-rated shows on the network when they first came out.
This was prior to the Food Network's eventual evolution to reality TV-focused programming and before Lagasse's old-school charm was replaced by flashier cooking stars like Sunny Anderson and Bobby Flay. Although the Food Network currently features chefs traveling the country in search of food or leading high-stakes cooking contests, Lagasse reigned when it was a simpler game. Back in the late '90s and early 2000s, Lagasse's classic and personable approach to entertainment was what brought the viewers to the network.
Lagasse took it badly when Emeril Live was canceled
Lagasse was used to being the king of the Food Network, so when the network began to want different things from him, he was resistant to the new formula. Despite hearing consistent feedback from the executives, he refused to get with the program, causing "Emeril Live" to eventually be canceled.
The show's slow downfall began in 2004 when the new president of the network, Brooke Johnson, began doing audience research to learn how viewers perceived the channel. Consultants found that many viewers saw it as a basic cooking channel, offering little more than recipes. As cooking shows gained popularity, the network's competition was growing, and other channels were offering more exciting entertainment.
Despite hearing feedback about his show and being told to try new things, Lagasse wasn't ready to give up his unique formula. When Johnson eventually told him that the show might need to end, Lagasse responded in denial, saying "you're full of it" (via "From Scratch: Inside The Food Network"). As promised, "Emeril Live" was canceled, leaving Lagasse devastated, angry, and full of self-doubt. He wasn't able to accept it and was resentful and confused that the network was moving on without him.
When the head of marketing, Susie Fogelson, suggested that Lagasse go on "Iron Chef" or "Next Food Network Star," he scoffed and replied, "How about 'platinum chef?' Have you thought of that?" The cancellation of Lagasse's beloved show was indeed a hard blow.
It showcased Lagasse's musical talents along with his cooking skills
Along with being a top-notch chef, Lagasse is also a talented musician. Audience members got to see this side of him during "Emeril Live," as he would often run over to the band and play the drums before commercial breaks. After graduating high school, Lagasse was offered a full scholarship to the New England Conservatory of Music, but he passed it up to follow his culinary aspirations. This led him to get a degree from Johnson and Wales University, subsequently training in Europe to further perfect his technique.
Lagasse's heart may be in the kitchen, but there's no denying that he's a multitalented man. Although the band that played for "Emeril Live" was run by musician Leonard Gibbs, Lagasse was known to dabble with the drums on occasion. This added a spark of fun and excitement to the show, as audience members got to experience the exuberant chef in new ways. Lagasse's spontaneity and playfulness are part of what drew viewers to him, as evidenced by his fun musical nature.
Lagasse threw treats at the audience
Part of the charm of "Emeril Live" was Lagasse's involvement with the audience. When he first showed up, he would typically walk through the crowd, shaking hands and patting the shoulders of his adoring fans. This exciting show was so much more than just a cooking series, giving audience members a fully immersive experience into Lagasse's world. Throughout the duration, he constantly bantered and joked with those who'd come to watch, and he was even known to give out tasty bites of what was cooking.
Lucky audience members who got to taste the food he prepared enjoyed an extra treat that made the show even more exhilarating. In some instances, he doled out ham, biscuits, and fruit, while at other times, he showered the audience with seasonings as he shouted out the odd exclamation. The generous and erratic host was also known to throw sweets like ice cream and frozen Snickers bars to amp up the audience. The potential of getting a bonus gift added to the novelty of "Emeril Live," giving the audience yet another reason to love the show.
The success of Emeril Live was a surprise to all
Hindsight is twenty-twenty, and looking back we can all see that this series from the early aughts was a raging success for the majority of the time that it aired. However, before the show was produced, not everyone was too sure about it. Although "Emeril Live" was an immediate hit, the show had naysayers from the start.
In his book about the Food Network, Allen Salkin notes that Joe Langhan, one of its founders, thought Lagasse was the least likely of all of the talented TV stars on the network to succeed as a celebrity chef (via Documentary Business). This negative impression was due to the chef's terrible ratings on his first two shows. After flopping so dramatically, it was hard to imagine that Lagasse had the potential to be a star. However, as the records show, the East Coast chef only needed to find the right show to display his talent and personality to the world.
The show made Lagasse's vocabulary a part of pop culture
No matter what you say about Lagasse, no one can deny that he marches to the beat of his own drum. He stole the hearts of food lovers across America with his ridiculous TV persona, making cooking fun and action-packed for even the least culinary inclined. Lagasse showed his wild side with a number of different antics, but his enthusiastic key phrases were some of his signature moves.
Lagasse seems to have invented his own vocabulary, coining words and phrases like "bam," "happy happy happy," and "Let's kick it up a notch!" One unexpected result of his success was that Food Network lovers around the country adopted his phrases, affectionately quoting him as they cooked his recipes. Not only did Lagasse change the way people experienced cooking television, but he also gave his fans a whole new set of expressions. In the days of "Emeril Live," these phrases were well-known by all, whether you watched the show or not.
It's the craziest show that was ever produced by Food Network
The appeal of "Emeril Live" wasn't its highly technical cooking methods or Lagasse's detailed instructions for making a top-notch dinner. While the show offered practical cooking skills and allowed viewers to feel confident in the kitchen, its main draws were more about the entertainment and fun of the band, jokes, and overall performance. More than just being a crazy version of your classic cooking show, this Food Network staple has since been described as the "wildest show" ever produced by the network.
Best-selling author David Sheff wrote, "Emeril Live" is the most popular, wildest cooking show to ever appear on American television." In fact, because of his unhinged behavior and constant, over-the-top antics, Lagasse was nicknamed the "Jerry Seinfeld of the Food Network." This '90s show will always hold the title as the craziest show ever produced by the network.
Watching "Emeril Live" could be less like watching a cooking show and more like a circus with Lagasse as the star act. He'd throw biscuits and ham at the audience, sporadically yell out "Bam!" and "gahhhlic!" and crack jokes with his fans. The impressive part is, he still managed to cook a delicious meal throughout each chaotic and fun-filled episode. Although the Food Network has aired a number of series by now that are out-of-the-box, "Emeril Live" may always hold the title for the wildest cooking show in the network's history.
Emeril Live popularized the Food Network
It's been established that this '90s and early 2000s show was the talk of the town in its heyday, but more importantly, it played a key part in making the Food Network popular. Back in the day, it was a small network trying to make its voice known, far from the household name it is today. As NPR wrote, "no one thought a scrappy startup dedicated to food would go anywhere."
This was the general view of the Food Network when "Emeril Live" started back in 1997. Along with being unpopular among viewers, the shows it featured had low ratings and were far from being a success. However, "Emeril Live" changed this with its incredible ratings and ardent followers. When Lagasse's first show was produced in the early '90s, the Food Network had a following of 6.8 million homes. A decade later when "Emeril Live" was canceled, that number had jumped to over 90 million. This Food Network's skyrocket to success was in large part due to Lagasse's out-there cooking show.
It was the first food TV show to have a 7-digit contract
When most food fans think of "Emeril Live," they remember Lagasse's chaotic and lovable presence, from his key phrases to his interactions with the audience. Whether the host was saying "gahhhhlic" in his distinctive East Coast accent or passing out sweets during commercial breaks, this iconic Food Network show was about so much more than cooking.
Along with being a memorable show that could never quite be replicated, "Emeril Live" was the first food TV show to involve a seven-figure contract. Back in the '90s, Lagasse was the man of the hour, and the Food Network chose to up its game with him rather than Bobby Flay or Mario Batali. For "Emeril Live," the network offered Lagasse a three year contract of $333,334 each year, advertising the contract as a "million-dollar deal" to showcase its financial wellness to affiliates. At the time this amount was a big deal, which only goes to show Lagasse's popularity and value.