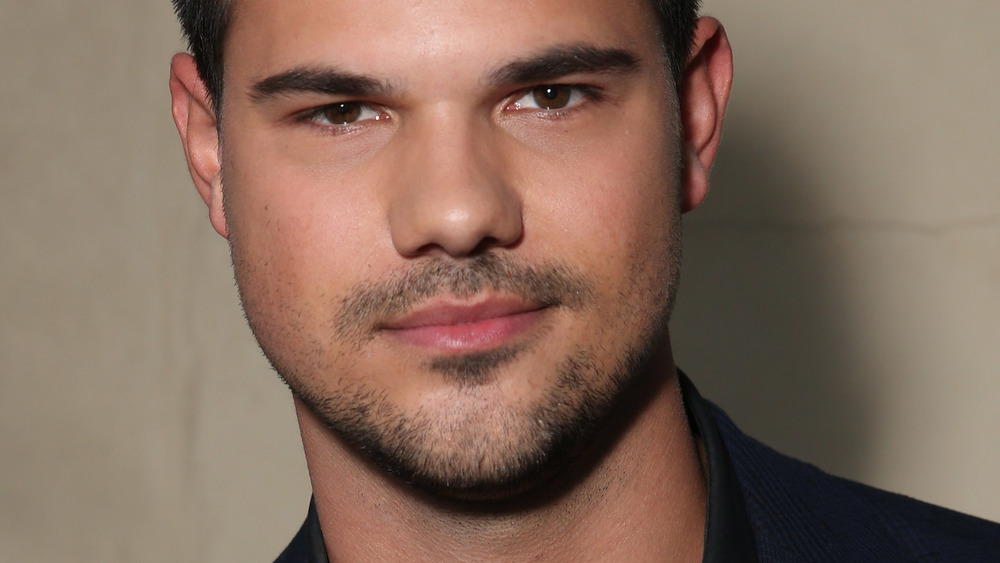 Between 2008 and 2012, there was only one pressing entertainment question on the world's mind: are you Team Edward or Team Jacob? Although Taylor Lautner got his acting start at an early age (hello, Sharkboy), it was the "Twilight" franchise that made him an overnight star as the werewolf with the golden abs, er, heart of gold. The massive success of the franchise earned him millions of screaming fans so it was assumed he would go on to make untold millions for himself and Hollywood studios who were more than ready to cash in.
Unfortunately, that wasn't the case. Immediately after his time in the iconic film series, Lautner had a series of flops that didn't do his career any favors. "I can't recall another teenage star so opaque. If his physiognomy — recessed eyes that don't seem to focus, a wide snub nose and Elvis-y lips — conjure Neanderthal manhood after a cosmetic makeover, his boyish monotone with its utter lack of inflection suggests that he is really an advanced robot simulating human speech without registering emotion or even comprehension," wrote The New York Times' Stephen Holden in his review of "Abduction." Yikes.
In the years that followed, he Lautner nabbed a role in the BBC sitcom "Cuckoo," as well as the second season of "Scream Queens." In 2022, he showed up in the Netflix original flick "Home Team." But beyond that, his acting career has more or less petered out. Let's find out why Hollywood still won't cast Taylor Lautner and how he's been staying busy.
Taylor Lautner still can't escape Twilight
The first order of business here is to address the big elephant in the room: "Twilight." Because although Taylor Lautner's co-stars, like Kristen Stewart and Robert Pattinson, have gone on to somewhat successfully distance themselves from the series, he hasn't been as lucky. Case in point: The internet went into "Twilight" reunion freakout mode when Stewart showed up to Lautner's birthday party in February 2019.
Clearly, Lautner is still very much attached to the franchise whether he likes it or not. He can't even have a 27th birthday bash without it stirring up press about his role, which ended back in 2012. And to be perfectly honest, we can understand why movie execs might be hesitant to give Lautner a shot considering he hasn't done much to shed the character of Jacob. It would be one thing if he managed to snag other roles like Stewart has, but for now, his most popular work to date is still "Twilight."
Taylor Lautner didn't branch out while he had the chance
When Twilight hit theaters in the fall of 2008, Taylor Lautner, Kristen Stewart, and Robert Pattinson instantly became household names and the hottest young actors in Hollywood. During the franchise's four-year run, Stewart and Pattinson were looking toward their future and immersing themselves into roles to avoid being typecast. Stewart starred in the indie flicks "Adventureland' and "The Runaways," while Pattinson tried his hand at being a non-vampire, romantic leading man in "Water for Elephants" and "Remember Me," before switching gears and looking for arthouse projects instead of mainstream success.
Since audiences were used to seeing Stewart and Pattinson in other roles, it became easier for them to transition away from "Twilight" immediately. Lautner, on the other hand, only had a bit part in the 2010 ensemble romantic comedy "Valentine's Day" and "Abduction" on his resume between "Twilight" installments. We'll discuss "Abduction" later, but choosing projects wasn't one of Lautner's strong suits.
Three years after the last "Twilight" film hit the big screen there was already talk of Lautner potentially being a one-hit wonder. "It's not easy to move out of the shadow of a hit like 'Twilight,'" a Hollywood agent told The Hollywood Reporter in 2015. "But he's still very young. There's time for Taylor to become more than just Jacob." Unfortunately, it may be too late now for Lautner to escape the shadow of the supernatural drama. Not great.
Abduction did not make a leading man out of Taylor Lautner
Taylor Lautner got his first shot as a leading man in the 2011 romantic action thriller "Abduction." With legendary director John Singleton at the helm and an amazing supporting cast that included Sigourney Weaver, Alfred Molina, and Jason Isaacs, the stage was set for the teen idol to brush aside the "Twilight" label and become Hollywood's new action hero. Spoiler: it didn't happen.
Apparently audiences weren't too keen on seeing a Lautner film if he wasn't going to transform into a werewolf at some point, and the movie bombed at the box office, grossing only $28 million domestically against its $35 million budget. Now, poor box office success doesn't necessarily mean a bad movie, but in this case, "Abduction" was universally panned by critics, too, and currently sits at 5% on Rotten Tomatoes and a 25 Metascore.
The only saving grace for Lautner was that a few critics didn't blame the film's abysmal showing on him. "When Taylor Lautner is the least of a movie's problems, be afraid," film critic Tim Robey wrote in The Telegraph. Okay, so that didn't sound so great, either. Fortunately, the studios gave Lautner another chance. Let's see how that turned out.
Taylor Lautner's second attempt at a leading role didn't even get a theatrical release
Although "Abduction" was a bust, studios still thought Taylor Lautner was a big enough office draw, considering he was just three years removed from the "Twilight" franchise. You have to strike while the iron is still hot, right? Enter the 2015 romantic action thriller "Tracers," a movie where Lautner plays a bike messenger who discovers parkour and a girl while being chased by the Chinese mafia. Sounds exciting.
Unfortunately, Lautner's American fans didn't get to see the film unless they were at a theater on May 10, 2015, the only day of its U.S. theatrical release where it raked in a whopping $2,000. The international box office didn't fare much better, with "Tracers" bringing in a paltry $3.3 million. The reviews? Also bad. The film currently holds a combined 24% on Rotten Tomatoes, and Steve Tilley of the Toronto Sun seemed to have a crystal ball at his desk, opening his review with: "At the end of 'Twilight,' poor shirtless werewolf Jacob didn't manage to get the girl. And if he's not careful, Taylor Lautner isn't going to get a career, either."
And with that, Lautner's studio career and run as a leading man was over. But let's face it, there are several movie stars who aren't really known for their acting ability, so why was Lautner's career any different? Let's find out.
Is Taylor Lautner not worth the trouble?
We don't want to dredge up any old drama, but we can't help but mention a 2011 allegation surrounding Taylor Lautner's dad, Daniel Lautner. As The Hollywood Reporter claimed, Taylor was supposedly let go by his high-profile publicist Robin Baum after three months because of his father's alleged antics. "Word is, his father, Daniel Lautner, isn't the easiest guy to work with," the outlet stated at the time.
Of course, this was back in 2011, and we're sure Taylor doesn't rely on his dad as much anymore. And if Daniel did act out of line, it's possible he has since reformed himself for the better. Still, Hollywood doesn't easily forget things, especially where it concerns so-called difficult people. Just ask "Grey's Anatomy" alum Katherine Heigl, whose reputation took a hit after she and momager Nancy Heigl reportedly frustrated stakeholders off with their "difficult" behavior.
So did Lautner's dad torpedo his career? We can't say for certain, but it's a possibility.
Was Taylor Lautner just too expensive?
After coming off one of the most successful film franchises in movie history, we can't really blame Taylor Lautner and his agent for swinging for the fence when negotiating his salaries post-"Twilight." An anonymous studio production executive told Vulture that Lautner's talent agency did "a brilliant job of convincing Hollywood that he's the next big movie star" and that's all reflected in the numbers. Lautner received $5 million for "Abduction" and was set to take home $7.5 million for the live-action feature about the Hasbro action figure Stretch Armstrong.
Another source told Vulture, "I remember when [Universal co-chairman] Donna Langley cast him in 'Stretch Armstrong,' she said to me, 'He's the real deal!' And I thought, Based on what?! Based on 'Twilight?'" A former studio marketing executive told Vulture, "'Abduction' is [like] selling Tobey Maguire in anything outside of 'Spider-Man'" and predicted "Stretch Armstrong" would fall apart, adding, "If I were sitting on top of 'Stretch Armstrong' now, I'd be terrified."
As if on cue, The Wrap reported that Lautner dropped out of "Stretch Armstrong" because they supposedly couldn't make the scheduling work. Lautner wasn't being offered $7.5 million anywhere else, so we assume this was a convenient excuse for both parties to save face for a project that was dead in the water.
Some critics aren't a fan of Taylor Lautner's acting
Matt Winkelmeyer/Getty Images
While Jason Statham and The Rock won't be winning any Oscars any time soon, their movies are usually entertaining due to the taut action and their screen presence and charisma. Unfortunately, according to critics, Lautner has neither. Movieline's Alison Wilmore didn't pull any punches in her critique of Lautner's performance in "Abduction," writing: "This may be the first film I've ever seen where when an actor goes to put his hand thoughtfully on his chin, it's so awkward I became afraid he'd somehow miss and poke himself in the eye." Yikes.
The Village Voice said not only did the movie have nothing "to do with abduction," but Lautner looks "like a stranger in his own performance." The reviews for his second outing as a leading man weren't much better. "As for Lautner, he's still not much of an actor, but at least "Tracers" isn't asking him to pull off any major dramatic movements. He's here to move at top speed, leap over walls, and make pained faces when the going gets tough for Cam. Anything more than that is beyond his skill level," Brian Orndorf of Blu-ray.com wrote.
Even still, two flops shouldn't be enough to end a career. So was there anything behind the scenes that led Lauter to be ostracized in Hollywood? A producer told The Hollywood Reporter, "His first movie just wasn't very good, and it didn't justify what he was asking for at the time." And on that note…
If only Taylor Lautner would have trusted his instincts
Albert L. Ortega/Getty Images
"I read the script and it absolutely terrified me and the role terrified me," Taylor Lautner told Ryan Seacrest about Adam Sandler's "The Ridiculous 6." "My role is pretty out there- he's a total country bumpkin — so I said to myself, if I just go for this and don't hold back, what could go wrong?" While we can't blame Lautner for hitching his wagon to the creator of 'Happy Gilmore' and 'Billy Madison,' he should have trusted his gut instincts. Because, well, the movie was a disaster on and off the screen.
Not only was the movie a critical dumpster fire with a 0% on Rotten Tomatoes, it drew even sharper criticism due to the offensive content that made even some of the cast walk off the project. According to the Indian Country Today Media Network (via Variety), several Native American actors left the set after "[taking] offense to racially charged jokes and inaccuracies during the filming of the movie," which used indigenous names as a punchline.
Netflix attempted to come to the defense of its original product. "The movie has ridiculous in the title for a reason: because it is ridiculous," an executive said, claiming the film was a "a broad satire of Western movies and the stereotypes they popularized, featuring a diverse cast that is not only part of — but in on — the joke." Really, though? Lautner could've avoided this controversy — and another critical bomb — by realizing he was terrified for a reason.
Taylor Lautner has bigger concerns
Messy career drama aside, it's possible Taylor Lautner took a break from Hollywood to focus on his family, as an Instagram post from August 2018 seems to suggest. In the snap, Lautner leans down to give a kiss to his little sister, Makena Lautner, who appears lying in a hospital bed. "2nd heart procedure is finally a MASSIVE success," he captioned the heartfelt shot. "Couldn't possibly look up to this little/not so little girl any more. You are much braver than I @makenalautner.. Love you so."
The details of Makena's health aren't clear, but it goes without saying that heart surgery is no joke. And we commend Lautner for being by his sister's side during this trying time, though we wouldn't expect anything less from the doting sibling. The actor does post often about his sister, after all, like this adorable shoutout he shared in July 2018: "HAPPY 20th BIRTHDAY to this cool cucumber who inspires me every single day. One day I hope to grow up as cool as you. Love you more @makenalautner."
Considering Lautner is very close to his sister, we wouldn't be surprised if he's turning down roles to be there for his family.
Let's not close the door on Taylor Lautner just yet
Although Taylor Lautner's acting career isn't as bustling as it once was, don't rule him out just yet. That's because it's possible he might work with comedian Greg Davies again, his co-star in the BBC Three's "Cuckoo." Lautner received high praise for his work playing Dale on the comedy series, with The Telegraph's Gerard O'Donovan referring to his delivery as "very good indeed." And this was no small feat, as Lautner had big shoes to fill when he replaced one of the show's main stars, "Brooklyn Nine-Nine" actor Andy Samberg, in 2014.
Lautner eventually left the show in December 2018, with actor Andie MacDowell stepping in as his replacement. And though he might not be on the series anymore, his work has left a lasting impression on the cast. Just ask Davies, who said he's open to working with Lautner again down the line. "It's an unlikely friendship," Davies told Metro in November 2017. "We're doing two more series next year. I get on really well with him. He's a thoroughly decent chap."
Sounds promising, right? We'd be pumped to see Lautner back in action, so here's hoping he can make this happen.
Did Taylor Lautner lose out on his own role?
David Livingston/Getty Images
When director Robert Rodriguez announced his 2020 superhero flick, "We Can Be Heroes," fans were excited that he would be revisiting the world of his 2005 children's actioner, "The Adventures of Sharkboy and Lavagirl in 3-D." Netflix released photos from the movie that November, and actor Taylor Dooley was front and center, reprising her role Lavagirl. Naturally, fans expected to see Lautner back in his Sharkboy costume — but they found he had been replaced by actor J.J. Dashnaw. So, what happened?
During an interview with Decider, Rodriguez claimed the film isn't really a sequel, and although he brought Dolley back, he felt the new Sharkboy role wouldn't be big enough for Lautner. "But I did call Taylor [Lautner] to let him know, 'There's no dialogue. It's not about the parents. It's not really a sequel — you'd have your face covered the whole time,'" Rodriguez explained. "I wanted him to kind of look like Batman. There wasn't a big enough role for him to do."
Rodriguez went on to say that since Lautner was "such a big star after 'Twilight,'" there might have been backlash over Lautner spending the whole movie with his face covered. "Could you imagine if he was in it, and then they see it and they're like, 'Wait! His face is covered the whole time! Hey, he didn't have any dialogue!'" Rodriguez continued. "It'd certainly look like a demerit against him, and I wouldn't want that."
Don't feel too bad for Taylor Lautner
Taylor Lautner might not be lighting up the big screen and starring in must-see blockbusters like he used to earlier in his career, but it seems safe to say he's doing fine financially. Turns out, being part of a huge franchise like "The Twilight Saga" can be rather good to an actor's piggy bank. Once upon a time, the former teen wolf was pulling in major bank for his work on the silver screen. So much so, he even made Forbes' top ten highest-paid actors in Hollywood in 2012. That same year, the then-19-year-old star treated himself by purchasing a Mercedes-Benz SLS AMG, which set him back a cool $200,000.
And don't worry, the funds have not dried up. Lautner's made some impressive real estate moves in recent years, including selling an Agoura Hills mansion for over $5 million in 2022 and scooping up a different Agoura Hills mansion for $4 million.
Taylor Lautner fell in love with another Taylor
In October 2018, Taylor Lautner went Instagram official with his new girlfriend, also called Taylor, and it wasn't long before their relationship turned serious. In February 2019, Tay posted a glowing tribute to Lautner on his 27th birthday, writing on Instagram, "To the man with the sweetest heart, happy birthday! Day by day you amaze me. The love, humility, and grace you radiate never goes unnoticed. Everyday with you is an adventure." Interestingly enough, the two Taylors were introduced by Lautner's sister, Makena Lautner Moore. The "Scream Queens" star told People, "She called me and said, 'Dude, I found your future wife. You need to meet this girl.' And the rest is history."
Taylor Lautner and Tay Dome got engaged in November 2021. Speaking to Access Hollywood in January 2022, Lautner revealed, "I knew when I first met her that I wanted to get to know her more, and I really, really could see a future with her." He continued, "She's a fantastic woman and I'm very lucky that she chose me." Lautner also joked about the fact that, once they were married, Dome would also be called Taylor Lautner. "It's going to get very confusing," he told Access Hollywood. But, clearly marriage was on his mind early on.
Taylor Lautner's been busy getting married
Taylor Lautner and Taylor Dome didn't waste any time in getting married. The pair decided to wed exactly one year after their engagement, making their wedding date November 11, 2022. Lautner and Dome tied the knot at Epoch Estate Winery near Paso Robles, surrounded by 100 friends and family members. "It couldn't have been more perfect," Lautner told British Vogue. "I could've been anywhere marrying my best friend and the love of my life, but the setting of the ceremony definitely made the whole thing feel surreal."
Adorably, there were signature cocktails inspired by the couple's dogs, and the Lautners' first dance was to "Lifetime" by Justin Bieber. Importantly, the pair wanted their special day to be intimate and meaningful, with Lautner telling People, "We just wanted the day to feel celebratory, no pressure or anxiety. Everybody there meant so much to us and we wanted all of them to be part of the day." While Dome wore a jaw-dropping gown by Winnie Couture, Lautner wore a custom Dolce and Gabbana suit. Both Dome and Lautner were equally involved in planning the special event. As Dome said in People, "[W]e had high expectations, but it exceeded them for sure." They followed up their big day with a romantic beach honeymoon in Mexico.
Twilight impacted his friendship with Robert Pattinson
"The Twilight Saga" was an international sensation that turned its young stars into household names. And that wasn't without its downsides. As Taylor Lautner recalled on "Today," the pressure of the limelight got to be so much that he even avoided going out in public as much as possible for years. What's more, all of the frenzy that came with "Twilight" evidently wasn't easy on his dynamic with Robert Pattinson.
During an appearance on "The Toast" podcast, Taylor Lautner was asked whether "Twilight" mania affected his friendship with his co-star, especially as fans rooted for either Team Edward or Team Jacob. Lautner responded, "I feel like I'd be lying if I said no. I was so young. … I finished the franchise by the time I was 19." He continued, "I was so young and yeah, I do feel like it was very strange traveling the world and being in different cities and having thousands of screaming fans either take your side or the other guy's side."
And as the two actors navigated newfound celebrity in addition to the Jacob vs. Edward battle, they kept it professional. "Like, we're a team," Lautner told the podcast's hosts. "But it was a little bizarre, the competitiveness. There wasn't a competitiveness between me and Rob, but having that constant reminder, I think it definitely had an impact."
He developed body image issues during the Twilight era
Featureflash Photo Agency/Shutterstock
During "The Twilight Saga" era, Taylor Lautner was subjected to an unfathomable amount of body shaming, which must have been incredibly overwhelming at such a young age. Speaking to Access Hollywood in February 2023, Lautner shared, "It was tough, when you start putting on a little weight and don't look like you did in this huge franchise when you were 17 and cut. It was embarrassing seeing all the photos and having people trash you."
During the interview, the "Cuckoo" actor also revealed that he started experiencing shame over the way he looked, and the changes his body underwent once "The Twilight Saga" was over. "But it also made me feel kind of guilty, having so many people tell me how inspiring I was to them and looking at myself in the mirror and not looking like that anymore," he told Access Hollywood. Fortunately, it sounds like Lautner has found a way to heal and move on from the unfair criticism and pressure he experienced after playing a character who was objectified to an unrealistic degree, especially as he was just a teenager at the time. "I've gotten healthy again, but in order to get my body physically healthy, it took my mind getting healthy first," he shared on an episode of "The Squeeze." "Don't find happiness in what you want your body to look like."
Taylor Lautner keeps busy with his podcast
As well as getting real about his experiences as a young male actor in the public eye, Taylor Lautner has been opening up about his mental health, which may have taken him away from acting. In February 2023, the "Abduction" actor released the first episode of "The Squeeze," a podcast he records with his wife, Tay Lautner, focusing on mental health. Per "The Squeeze" podcast's Instagram account, "Host @taylautner's introduction to mental health was at a young age, witnessing friends and family suffer in ways she couldn't fully understand. She started a nursing career in the peak of the Covid-19 pandemic and has been struggling with her own depression, anxiety, and PTSD ever since."
Taylor Lautner's very public experience of body shaming also led to him managing his own mental health, making him the perfect co-host for his wife's new podcast. As he said on the first episode of "The Squeeze," "Your body can look unbelievable, you can be ripped, shredded, whatever you can lose weight, you can put on muscle, and if you're not healthy mentally, then that's all for nothing because that can work against you." Combining their shared experiences for "The Squeeze," the Lautners have created a space for mental health in which honest discussions can take place, which is bound to help a lot of people.
If you or someone you know needs help with mental health, please contact the Crisis Text Line by texting HOME to 741741, call the National Alliance on Mental Illness helpline at 1-800-950-NAMI (6264), or visit the National Institute of Mental Health website.
Would he play Jacob again?
vipflash/Shutterstock
Playing Jacob Black in the "Twilight" movie series was not without its negatives, but that's not to say Taylor Lautner is totally opposed to returning to the franchise. Rather, if the opportunity presented itself, he would seriously consider once again shapeshifting into the character that helped him become a worldwide star. While promoting the Clear the Shelters campaign in August 2022, Lautner told E! News, "He's a good character that is easy to love, so I would never say no to that." As for where he thinks his character ended up after the events of "Breaking Dawn – Part 2," Lautner theorized, "Happy ever after with Renesmee because that's where I left off … he's a pretty loyal dude."
However, Lautner was also quick to note that the grueling training regime required to play Jacob isn't something he'd want to repeat. "The body was great for the role—but the amount of the working out and discipline and food that went into it, not fond memories," he told E! News. "It's tough because when I was 17, 18, 19 years old, I couldn't do any cardio because I had to just put on as much muscle as possible." If he were to return to the franchise in the future, Lautner would take a different route. "I would prefer just to be trim and healthy, you know?" he said. "Definitely not a Jacob Black body."
Taylor Lautner has thrown himself into charity and advocacy work
One of the reasons Taylor Lautner hasn't been acting as much is because he's thrown himself into charity and advocacy work. In August 2022, the actor threw his support behind Hill's Pet Nutrition and the Clear the Shelters Campaign, which is close to his heart having adopted dogs himself. While his wife, Tay Lautner, had already adopted a dog called Lily, the pair decided to adopt another dog together, and they found Remi at a shelter. Speaking to Parade, the "New Moon" star explained, "I would just say from my personal experience, Remi and Lily have changed my life so much for the better. I don't know what I would do without them, and if anybody out there feels like they're ready to be a pet parent, I'd say go look at your local shelters."
Lautner also revealed the satisfaction he's gotten from adopting a pet who desperately needed a home. As he told Parade, "Remi is the happiest dog in the world, and you just like can sense how thankful they are. That for me is by far the most rewarding part, just feeling from her how much she loves us and how much she loves this life. And honestly, it makes me want to live more like that." Lautner may have taken a step back from the Hollywood machine, but it's clear that he's developed many passions outside of acting, all of which seem to bring him just as much fulfillment.