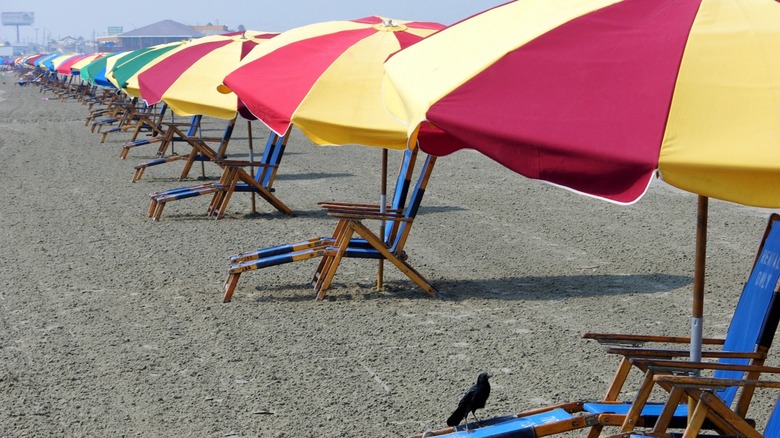 Beautiful white sand beaches may not be the first thing that comes to mind when imagining a trip to Texas, but like everything else in the state, Texas' stretch of coastline is bigger and more idyllic than most others. Straddling the Gulf of Mexico along the state's southeastern border, Texas is home to about 350 miles of beautifully picturesque shorelines riddled with some of the most pristine beaches in the country, according to Let's Texas.
Between the mainland coast and the eight barrier islands protecting the shoreline, Texas has dozens of bucket list beach destinations that are both inviting and diverse in their offerings. From a secluded oasis promising isolated tranquility as you enjoy the perpetually rolling waves of the coast to a bustling beach town that provides fantastic services and amenities, Texas offers a superb seaside destination for every kind of visitor.
While the appeal of each of these destinations may differ between individuals depending on whether they prioritize relaxation, adventure, or convenience, there are a handful of beaches in Texas that are frequently regarded as the pinnacle of the state's offerings. From well-known coastal hot spots to off-the-beaten-path hideaways, these are all the bucket list beaches in Texas ranked.
14. South Packery Channel Beach
Acting as the dividing line between Mustang Island and Padre Island, the Packery Channel Beach can be visited on either side of the eponymous waterway. And while both sides are fantastic beach destinations in their own right, the southern shore offers one of the state's bucket list coastal experiences. Hosting far fewer tourists than its northern counterpart, the South Packery Channel Beach is the epitome of a traditional beach holiday and promises a calming day on the sprawling white sand shores as the clear waters of the gulf lap against the coast.
Beyond the traditional beach activities you may expect, such as sandcastle building, shelling, and swimming, visitors to South Packery Channel Beach can engage in some of the state's best jetty fishing. According to Beach Catcher, anglers can expect to catch a variety of grouper, trout, kingfish, and tarpon in the nearby waters. Also calling the beach home is a population of sea turtles most frequently observed in the morning hours.
While the beach is considered family-friendly, it is important to check the weather forecast before visiting with children. The waters at the beach are typically calm and safe for swimming, but the channel can occasionally experience strong riptides, and caution should be taken before entering the water.
13. North Beach
xradiophotog/Shutterstock
According to the city of Corpus Christi's official website, North Beach has been one of the top tourist destinations in the region for over a century. When visiting this idyllic corner of the community, it is easy to understand its long-lasting draws. Situated across from Harbor Bridge just north of downtown Corpus Christi, North Beach offers one of Texas' most enticing beach-going experiences while remaining within the state's second-largest metropolis, with all its convenient services and amenities. North Beach spans 1.5 miles along the state's Gulf Coast and is jam-packed with fantastic restaurants, boutique shops, and activities for visitors, per Visit Corpus Christi.
Beachgoers to this bucket list destination spend the day exploring the water via a kayaking tour, snorkeling adventure, or jetty fishing. Meanwhile, on land, visitors can sample some of the region's top food trucks and eateries or even access some of the city's top tourist attractions. The Texas State Aquarium and the USS Lexington Museum, which operates out of a real aircraft carrier from WWII, are both accessible directly from the beach and offer guests a fantastic afternoon of exploring the region's aquatic life and history.
Nestled along the shores of one of Texas' largest communities, Corpus Christi's North Beach is the ideal destination for escaping to the coast while remaining within accessible distances of nearby services and other attractions.
12. Surfside Beach
As the name may suggest, Surfside Beach is one of the best beaches in Texas for surfing, windsurfing, and other watersports, thanks to its deep blue waters and soft golden sands. However, beyond its world-famous swells, Surfside Beach is also home to a series of jetties providing superb fishing, fantastic birdwatching opportunities, and a nearby small beach town with several restaurants and boutique shops, per the City of Surfside.
Popular amongst watersport enthusiasts and sunseekers alike, Surfside Beach offers a massive diversity of activities for travelers, according to Tour Texas. Within the waters, visitors can learn to surf, frolic with their families, or fish for prized bull redfish, tuna, and even local shark species. Beyond the water, visitors can engage in birdwatching as they hike the Surfside Bird and Butterfly Trail, or they can spend the day sampling different local tastes at one of the beach's many restaurants.
11. Isla Blanca Beach, South Padre Island
South Padre is one of the most pristine beach destinations in Texas and is surrounded by 34 miles of uninterrupted shoreline divided into several individual beach sections. While the entirety of the beach offers pristine golden sands, Isla Blanca Beach, located at the southern tip of the island, is South Padre's premier beachfront destination, per Planet Ware.
One of the most spacious areas of beach on the island, Isla Blanca Beach is a fantastic site for sprawling out along the golden sands while engaging in a myriad of beach-going activities. From fishing, surfing, sandcastle building, and swimming, Isla Blanca Beach takes every beach-going cliché and enhances the experience with its idyllically preserved shoreline and breathtaking sunsets.
Thanks to its optimal location along the island's shore, Isla Blanca Beach is also one of the most popular shorelines on the island and features many amenities. Onsite restrooms, showers, grills, and picnic pavilions make the beach a favorite amongst families of both visitors and locals alike.
10. Stewart Beach
One of the most family-friendly beaches in Texas, Stewart beach provides an active beach-going experience. With several services and amenities lining the coastline and on-duty lifeguards, Galveston Island's Stewart Beach promises a fun-filled and safe day for the whole family. According to Visit Galveston, Stewart Beach's onsite amenities include public restrooms with showers, snack bars, concession stands, chair and umbrella rentals, and other beach supplies.
Also located on the beach are several beach volleyball courts, a children's playground, and a community pavilion that holds several special events throughout the year. Additionally, Stewart Beach is one of the few public access dog-friendly beaches in Texas, making it one of the best pieces of coastline for exploring the state's sandy shores with your furry companions.
Whether snorkeling through the idyllic waters of the Gulf Coast or partaking in one of the beach's seasonal beach volleyball tournaments, Steward Beach is a must-visit Texas coast destination for the whole family to enjoy.
9. Matagorda Beach
With 23 miles of beach spanning the east side of Texas' Colorado River, per the Matagorda Beach website, the Matagorda Bay Nature Park preserves a beautiful corner of the state's shoreline and is a fantastic spot for travelers to visit with their families and furry companions. Nearby restaurants and services are limited, but the nature park protects the pristine corner of the region's natural scenery and is a favorite beach destination in the state for its outdoor adventures and activities.
Located about 7 miles from the nearby community of Matagorda, the beach is a fantastic destination to escape civilization while exploring the wetland landscape via kayak, spotting native wildlife species, or even playing a round of mini-golf. A great way to explore everything the Matagorda Bay Nature Park has to offer is by spending the night camping along its picturesque shores. According to the LCRA, the nature park features 17 waterfront campsites, 36 campsites with full RV hookups, and a massive variety of amenities, including public restrooms, showers, picnic areas, and facility and activity rentals.
8. Port Aransas Beach
Offering far more than a simple beach, Port Aransas is Texas' premier island life destination. According to the Port Aransas tourism website, Port Aransas is a small beach town community located along the northernmost reaches of Mustang Island, where time seems to flow at a slower pace. From sampling the boutique shopping centers and dining experiences of the town to venturing into the fish-filled waters or basking in the sun along the beach's white sand shorelines, there are dozens of ways to enjoy the merriment that is Port Aransas Beach.
The beach itself is one of the most beautiful stretches of coast in Texas and offers a wide array of activities from fishing and birdwatching to sandcastle building and snorkeling. Still, what separates Port Aransas as one of the top bucket list destinations in Texas is the quaint nearby fishing community and its sleepy island vibes. Voted one of America's Favorite Beach Towns by Fodor's Travels, Port Aransas is both an iconic beach destination and a historical landmark. Some of the town's must-see attractions include the legendary Tarpon Inn, which boasts antique rooms that once hosted President Franklin Roosevelt, and the Leonabelle Turnbull Birding Center, home to Boots the Alligator and several wading and songbird species.
7. Galveston Island East Beach
Boasting one of Texas' most vibrant and active beaches, Galveston Island's East Beach is unique among the state's coastline destinations as one of the few beaches to permit alcohol along its shores, per Beach Catcher. As a result, East Beach has become a top-rated party destination. It holds several events throughout the year, including the American Institute of Architect's Sandcastle Competition, which should be on the bucket list of any beachgoer.
While the party scene is active at East Beach, this coastal destination is also popular amongst families and traditional beachgoers thanks to its variety of onsite amenities and naturally beautiful shores filled with native sea life and bird species. The beach's public restrooms, showers, a pavilion with picnic tables, a children's playground, and beach chair rental services are available to visitors. Also located nearby are several concession stands and services that provide several drink options, alcoholic beverages, and food.
For animal lovers visiting the Texas coast, East Beach offers one of the largest collections of diverse native species. According to Sand N Sea Properties, beachgoers at East Beach can spot various bird and marine animals, including Kemp's Ridley sea turtles, blue crabs, coyote-red wolf hybrids, piping plovers, and much more.
6. Padre Island National Seashore
Protecting 66 miles of coastline, the Padre Island National Seashore is the world's most extended undeveloped barrier island and is home to one of the best beach-going experiences in Texas, per the National Park Service. Occupying this idyllic beach is a wide variety of wildlife, a rich history dating back nearly five centuries, and a wide array of beach-going activities, including camping, fishing, and swimming.
Undeveloped throughout its existence, the Padre Island National Seashore is one of the best-preserved coastal habitats and is considered the safest nesting ground for the Kemp Ridley sea turtle in the world. Also calling the preserved shoreline home is a massive variety of flora and fauna, including badgers, kangaroo rats, spotted ground squirrels, and over 380 species of birds, per the U.S. Parks Service.
As a natural preservation, the Padre Island National Seashore does not feature any nearby communities or services. Still, this only enhances the experience by immersing visitors in exploring the region's natural environments through regulated activities, including sea turtle hatchling release events.
5. Magnolia Beach
kostasgr/Shutterstock
A more isolated beach occupying a 1.5-mile stretch of coastline along the Matagorda Bay, Magnolia Beach is one of the few sandy destinations in Texas that permit free camping on its shorelines, per Beach Catcher. While services along the beach are limited to a single nearby shop, the simple tranquility of RV camping near the calm, lapping waters is unmatched. In addition, the breathtaking sunrises and sunsets from the beach's shores are genuinely one of a kind and establish Magnolia Beach as one of the best bucket list beaches in Texas.
With no resorts or beach towns found along this stretch of the Gulf Coast, Magnolia Beach is a fantastic destination for escaping the activity of civilization. However, just because Magnolia beach offers a peaceful isolation along the shores doesn't mean visitors won't have additional amenities to facilitate their beach day.
Found within the beach's onsite campground are basic amenities that include public bathrooms with flush toilets and showers, pavilions with picnic tables, and even grills available to visitors. With no nearby services, it is important to pack any food and drinking water you may require throughout your stay.
4. Rockport Beach
After being nearly demolished by the effects of Hurricane Harvey in 2017, the Rockport community came together to restore their city. The fruits of their labors have resulted in the glamorous Rockport Beach. This family-friendly coastal destination is full of engaging activities and offers a wide array of amenities, from safe swimming conditions to public playgrounds and volleyball courts, per Beach Catcher.
With public bathrooms, fresh water showers, picnic tables, and shaded cabanas, Rockport Beach offers all the necessities for a perfect beach day. Still, what truly sets it apart as one of the best beaches in Texas is the variety of nearby services, the ideal water conditions for safe swimming, and the wide variety of native fish and bird species.
Along with its Gulf shores, Rockport Beach also features a saltwater inlet that experiences very shallow waters, near to no waves, and year-round warm water temperatures perfect for little ones or those with less experience swimming. Between the nearby community's fantastic services and restaurants and the seashore's beautiful appeal, Rockport Beach has quickly become a must-visit destination when traveling to Texas' Gulf Coast.
3. Mustang Island State Park
Occupying 5 miles of Mustang Island's picturesque coastline, the beach at Mustang Island State Park is one of Texas's best-kept secrets. It offers a massive variety of sand, surf, and outdoor recreation activities for visitors, according to the Texas Parks & Wildlife Service. Along with providing a beautiful setting for enjoying classic beach activities from swimming and surfing to sandcastle building and fishing, Mustang Island State Park also features plenty of on-land activities that will guide visitors through an exploration of the region's local flora and fauna species.
Mustang Island State Park is a bird lover's paradise and is home to over 400 unique species, which can be spotted along the park's many hiking and biking trails, per Port Aransas' tourism website. To explore the park's air and waterways, visitors should plan to kayak the famous Mustang Island Paddle Park Trail. Combining three segments for a total of 20 miles, the paddle trail is one of the best ways to explore everything the park offers. Whether you are looking for an adventurous way to explore the fantastic barrier island or an elevated traditional beach-going experience in the corner of paradise, Mustang Island State Park should be at the top of any Texas beachgoer's bucket list.
2. Crystal Beach
Nestled along the picturesque Bolivia Peninsula, Crystal Beach is a postcard-ready example of an idyllic beach vacation. Less touristed than some of the other beaches in the state, Crystal Beach is known for its beautiful, sprawling white sand and is a popular destination for sampling the state's local seafood, according to Tour Texas.
Featuring 27 miles of pristine sandy shoreline, Crystal Beach offers plenty of space to escape the crowds as you delve into one of the most outstanding examples of a traditional beach day. The spacious beach provides a peaceful setting for sandcastle building, surfing, kayaking, fishing, or even reading a book on the beach's soft sands.
But of course, while the shoreline offers one of the best classic beach-going experiences, the variety of activities and services featured in the nearby city of Crystal Beach separates it as one of the top tourist destinations in the state. As an idyllic tourist town, the city has developed with plenty of fantastic restaurants and attractions, including the celebrated Rancho Carribe Golf Course, Fort Travis Park, and live music venues.
1. Boca Chica Beach
Situated along the most southern reaches of the state, Boca Chica Beach offers beachgoers 8 miles of secluded coastlines, according to Beach Catcher. Protected within the Boca Chica State Park, the beach is commonly free of overcrowding and features plenty of empty stretches where the only interactions are with the local wildlife.
As a part of the Lower Rio Grande Valley National Wildlife Refuge, Boca Chica Beach features no nearby businesses or facilities. Still, its preserved natural beauty, outdoor recreational activities, and abundance of local flora and fauna make this bucket list beach destination in Texas one of the most unique beach-going experiences anywhere in the country.
Boca Chica Beach is home to various ecosystems, including mangrove marshes, tidal salt flats, and aquatic habitats in the Gulf of Mexico. Occupying these environments are diverse species of animals, birds, and fish, including rare species of sea turtles that nest on the beach's idyllic shores. While Boca Chica Beach may be tucked away from the comforts of civilization, the destination's uniqueness and the landscape's sheer beauty make it the #1 bucket list beach in Texas.