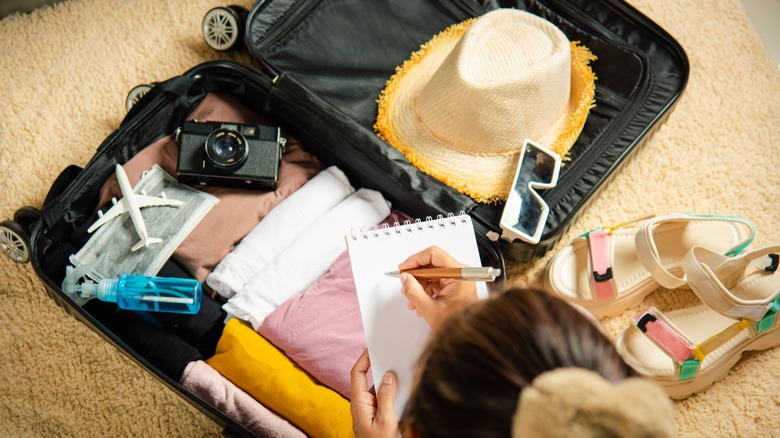 Even for the seasoned traveler, those must-have items in your carry-on might not be as necessary as we believe them to be. In fact, 62% of Americans overpack when traveling — with 33% of those folks admitting to packing less than a day before departure. So even if we have mastered the art of the over-pack, perhaps it's time we break up with some of those "must-have" items in our overstuffed carry-on bags.
"When we're traveling, our emotions can feel more polarized since we're experiencing a stressful situation," Lara Fielding, clinical psychologist and author of "Mastering Adulthood," told Vox. "Our stress levels increase because we're not in our comfort zone, and are surrounded by uncomfortable, different people." Perhaps with a little bit of planning, we can say goodbye to a few items to make our luggage loads a little lighter? At the very least, we might give our carry-ons a little breathing room.
Too many toiletries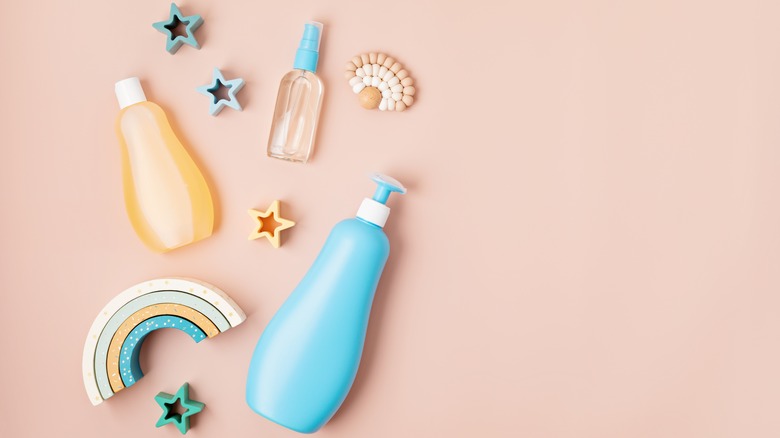 We get it, those tiny toiletry bottles or containers are really cute. But how many do you really need for a trip? Overpacking a toiletry bag can make your luggage heavier, more cumbersome, and take up more room than you need. Maybe skip some of the extras in lieu of using what's provided by your hotel? Or even do what Smarter Travel recommends and coordinate with your travel companions (if you have them) so you don't all double up on extra products. After all, how many bottles of lotion do you really need for a trip?
Packing expert and founder of Just Packed, Lydia Mansel, told Travel+Leisure that one way she avoids overpacking skincare is by bringing only what she truly uses in the form of an all-in-one product. That way she doesn't pack a ton of other products or risk having them taken. "… bringing the entire skincare routine along in my toiletry bag is a nuisance, especially as most of the products don't fall into the 3.4 ounce and under TSA rule," Mansel told the outlet. "I can also attest to the pain you experience when the TSA agent disposes of your expensive serums and sunscreen because they're just slightly larger than the liquid allowance." When it doubt, just leave it at home.
Fancy coverups
One of the keys to packing smarter is to utilize what you're bringing along for the trip. Packing multi-purpose outfits, for example, is one way to do that. Unfortunately, the majority of beach coverups don't really qualify as multi-purpose, so it might be better to leave them behind if you're trying to pack lighter. Who What Wear suggests making use of a pareo (a wrap-around skirt) instead of something like a caftan because it has so many more uses. One less clunky item to pack means more room for souvenirs!
On the other hand, Wander suggests that (specifically for beach vacations), having cover-ups along is a good idea if they serve two purposes. "On a beach vacation, you just may be wearing a coverup more than any other item of clothing (except perhaps your bathing suit)," notes the outlet. "Take along one or two that are fashionable enough to pass as dresses so you can walk around town in them if you'd like." In a lot of resort settings, nice swim coverups that pass as dresses are totally acceptable for resort lounging. So if you plan on spending most of your time beachside, just pack coverups that can pull their weight.
Entirely different outfits for every day
The notion of packing clothing pieces that can mix and match is a big packing lesson you'll see all over travel sites. Every inch of luggage space counts, so planning your outfits is a great way to minimalize your carry-on situation. If you plan on packing a totally different outfit for every day of your trip, you run the risk of overpacking or running out of room, notes USA Today. Olivia Briggs notes for the outlet how to best plan for outfit coordination: "For all but the longest trips, most people can get away with bringing three tops and three bottoms that are practical and comfortable, and that can be mixed and matched. If you're worried about running out of clean outfits, plan on doing a load of laundry on the road, or simply hand wash a few items when you need to."
Priority Pass suggests making an essentials list before packing to avoid tucking away items you might not need. That includes making sure you have any specific clothing pieces for activities or not double packing the same kind of outfit. Further, the site also suggests making a plan to do laundry if you are especially worried about running out of clothing options.
A hairdryer
There are folks out there who still like to pack their own hair styling tools for vacation, including the quintessential (but very bulky) hairdryer. Lugless says that packing a hairdryer really isn't necessary, because they have no recent memory of any hotels not having hairdryers on hand. ABC goes further than that and lists hairdryers as something you should never pack for vacation. So maybe it's less of a "You can leave this behind" situation and more of a "It doesn't make sense to pack this at all" situation.
Rick Seaney notes for the outlet that even motels have hairdryers. Plus, if you are staying with loved ones, they most likely have one you can borrow, he added. The same can probably be said for rentals or Airbnbs as well. If you really need to bring styling tools, feel free — but those clunky dryers can probably stay home.
Your books
A less obvious reason to not pack your physical books is the potential to accidentally tip an entire iced coffee onto them while relaxing on the beach (we've been there). However, the most essential reason is that books can be really heavy when there are excellent alternatives to lugging them around. Condé Nast Traveler editors debated the topic back in 2016, with even the diehard paper copy fans siding with digital versions — or at least opting for lighter-weight paperbacks.
"While e-readers are certainly great for saving space (and especially for condensing magazine collections!) nothing compares to the feeling of flipping through the pages of an actual book, engrossed in something that doesn't involve a screen," Daniel Jameson told the outlet. "We're on screens all day — vacations give us a chance to disconnect. Plus, if you stick with smaller paperbacks while traveling, the additional weight amounts to nothing more than an extra pair of shoes."
Standard Luggage is in agreement and suggests adding any travel guides you want to your digital collection as well. The same goes for translation dictionaries too, the outlet further noted.