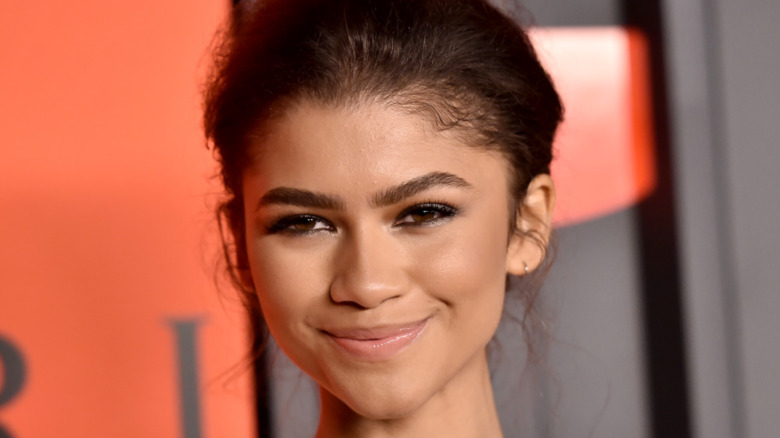 As much as actors often love to remind the audience that onscreen kissing is just another part of their job, we know that some of those up-close-and-personal moments have to go better than others. Fortunately, some stars have kissed and told, and the results are revealing.
As it turns out, having a romantic relationship offscreen can help your kissing scenes smolder — but it can also backfire if you break up before your characters do. Good breath is a must (hint: eat Starburst) and tuna sandwiches are a major no-no. Making your audience wait for the kiss leads to a big payoff, but so can a spontaneous — or even surprising — smooch. However, the number one ingredient is the kind of chemistry you can't study in a book beforehand, which actors and audiences remember forever.
From Hollywood A-listers to obscure talents, these are actors' favorite kissing partners — and some info as to whether the feeling was mutual.
Zac Efron's kiss with Zendaya was his 'favorite ever'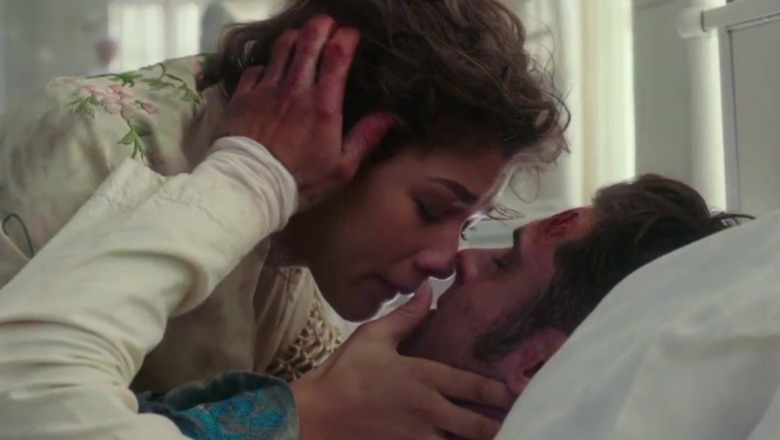 "The Greatest Showman" makes its audience wait until almost the very end to see the electric chemistry between playwright Phillip (Zac Efron) and trapeze artist Anne (Zendaya) pay off in a poignant kiss. The star-crossed couple finally gives in to their desire for each other after he nearly dies trying to save her from a fire. Waking up in a hospital, Phillip finds Anne waiting at his bedside. Possibly defying medical advice, they finally smooch.
Efron felt that the moment was worth the wait too. Although he's previously been nominated for not one, but two MTV Movie Awards for Best Kiss, he told FILMWEBTV, "This might be my favorite kiss, I think ever, just 'cause at this point, for these characters … the tension between them is so strong that literally just a glance between them is electric. And when they finally have the courage to … finally connect and get that kiss, it's that epic, beautiful moment." Zendaya happened to be sitting next to Efron when he paid her that pretty impressive compliment. She responded very coolly by raising her eyebrows to the camera and adding, "[That kiss] pays off for the audience … it's like 'Aaaah, finally.'"
Bryce Dallas Howard thinks Chris Pratt is the best Chris to kiss
At least one person thinks Chris Pratt comes out on top in something. Bryce Dallas Howard proved it when she told People that in the moment Pratt kissed her in "Jurassic World," "Chris' breath [was] like Starburst … he's perfect in every way."
It's just as well she was impressed, since the co-stars' "Jurassic World" kiss wasn't even supposed to happen. Pratt and director Colin Trevorrow decided that after following the script and shooting a take with no kiss, Pratt would surprise Howard on the next take — in front of 800 extras. That look of surprise in the final version is real. Honestly, eating a few Starbursts beforehand is the least he could do.
Fortunately, Howard had only positive things to say about working with Pratt, and why anyone might want to stand in her character's impractical high heels. She told Out magazine, "He is a very attractive human being … He's just, like, the best guy. There's nothing more handsome than a humble heart." She wasn't the only one who approved of the spontaneous kiss. Howard said that after Trevorrow ended that take, everyone in the background started cheering: "It was great!"
Penn Badgley has mixed emotions about kissing Blake Lively
If you really have to kiss someone in front of 100 crew members and a handful of co-stars multiple times a week for years, it's preferable to have that person also be your partner offscreen. At least, that's what Penn Badgley discovered when he was working on "Gossip Girl."
Asked on "Watch What Happens Live" who his best and worst onscreen kissing partners have been, Badgley first explained that "onscreen kisses are not really that real," then added, "I'll say it was Blake, because we actually had a relationship at the time." Badgley dated his co-star Blake Lively from 2007 to 2010. Their respective characters, Dan and Serena, had an on-off relationship for the show's entire six-season run, which ended in 2012.
The mathematicians among you will notice that Dan and Serena were together (ish) for two years longer than Badgley and Lively. This explains Badgley's pick for worst onscreen kissing partner: "And then the worst, maybe Blake after we broke up." However, he added that he and Lively were "consummately professional, to be honest" throughout the final two awkward seasons, which culminate — spoiler alert — in Dan and Serena getting married. "We handled it," Badgley summarized.
Keira Knightley felt that Atonement chemistry too
Loose lips sink ships, but in the World War II period piece "Atonement," one romantic scene also got audiences talking. In addition to lip-locking, it involves a green silk dress, a library, and a creative use for bookshelves. The chemistry between Keira Knightley's haughty Cecilia and her childhood friend (and the housekeeper's son) Robbie, played by James McAvoy, is palpable.
Knightley was feeling the heat with her co-star too. By the time she made "Atonement," she'd already shared onscreen kisses with such partners as Orlando Bloom ("Pirates of the Caribbean"), Chiwetel Ejiofor ("Love Actually"), Andrew Lincoln (also "Love Actually"), Clive Owen ("King Arthur"), and Matthew Macfadyen ("Pride and Prejudice"). But, while promoting "Atonement" at the Venice Film Festival, she told the Chicago Tribune, "James is the best kisser ever!"
To be fair to the others, McAvoy was there with her at the time, so it would have been extremely awkward if she'd named someone else. Previously, Knightley said that while filming the second "Pirates of the Caribbean" movie, she'd asked to have her character kiss Johnny Depp's Captain Jack Sparrow, as well as Bloom's Will Turner. Depp later said that kissing someone so much younger than him was "awkward," but he apparently got over it: His ex-wife Amber Heard is a year younger than Knightley.
Jennifer Lopez had a memorable kissing scene that was cut
Although the multi-talented singer, dancer, and actor has had the opportunity to kiss multiple Hollywood A-listers over the course of her illustrious career, Jennifer Lopez went with a relatively obscure pick when it was time to offer up her choice for best onscreen kisser.
In 2014, Lopez told "Watch What Happens Live" that Josh Lucas is her favorite onscreen kiss. He played her love interest in the 2005 drama "An Unfinished Life." "I felt — and I hope he would say the same — that we had a very good kiss," Lopez told Andy Cohen. She explained that the scene involved some challenging maneuvers in the back of a truck. "I think we were both really nervous … And then he was like, 'That was really good.' I was like, 'Yeah, that was really good.'"
Lucas confirmed Lopez's account when he appeared on the show in 2015. Asked about his best onscreen kiss, he said, "I gotta agree with Jennifer Lopez … She was phenomenal in many ways." Lucas also explained that the scene was ultimately cut so the movie could "get it a rating that was a little more PG." Good to know the chemistry was mutual, even if we never got to see it in action.
Titanic fans will love Leonardo DiCaprio's pick
Anyone who still hasn't found a love story to match "Titanic" will understand Leonardo DiCaprio's pick for the best onscreen kissing partner of his career.
When DiCaprio was asked which leading lady was his favorite to kiss on "The Oprah Winfrey Show" in 2004, he said, "I'm just gonna go with Kate Winslet." The show played a 1998 clip of Winslet saying very nice things about DiCaprio, including how great he was to work with and how close they grew over the shoot.
DiCaprio agreed: "If it wasn't for her, making that film … we would've been shrapnel by this point. It was just the toughest film we ever had to make and we were partners together, you know, we held each other's hand and supported each other."
However, Winslet herself let out the secret that DiCaprio wasn't always so happy about those "Titanic" kissing scenes. When Winslet crashed a red carpet interview DiCaprio was giving at the 2005 SAG Awards, she revealed, "I can tell you right now, he hated it!" DiCaprio denied this at first, but then explained that the main issue was something that had nothing to do with their chemistry: instead, it was really just that the pair's different-colored foundations would rub off on each other's faces.
Winslet and DiCaprio are famously still good friends, even reuniting in 2008 for a much less romantic movie, "Revolutionary Road." Even though DiCaprio has kissed many more leading ladies since that 2004 declaration, we all know he's never let go of his "Titanic" teammate.
Sharon Stone got to kiss the actor she most admires
Some people get nervous just talking to someone they admire. Not Sharon Stone: To hear her tell the story, she was actually excited to shoot a kissing scene with her favorite actor.
On a 2020 episode of "Watch What Happens Live," Stone was asked which of the men she's acted opposite was the best kisser. Stone named Robert De Niro, "far and away." She and De Niro played husband and wife in the 1995 gangster movie "Casino." Stone explained that she'd always wanted to work with De Niro, and that admiration made her even more excited to shoot romantic scenes with him.
"Maybe because I just held him in such extraordinary high regard … there was so much attached to it," she said. She added, "But [kissing him] was pretty fabulous, so I don't know that I could compare anything else to that. Anything else is just kinda like, 'meh.'"
Surprisingly, Stone almost didn't take the role in "Casino." Her people told her that the character, a mother who neglects her child to do drugs, was too unsympathetic. But once she'd auditioned and landed the part, Stone felt that De Niro and director Martin Scorsese were the first people to truly understand her potential as an actor. She told the Guardian, "to get the pat on your back from your peers is always pretty great."
Kate Hudson described Heath Ledger as 'lovely'
Heath Ledger earned a posthumous Oscar for his sinister portrayal of the Joker in "The Dark Knight," but many fans will always remember him best as the lead in many of their favorite romantic movies. They'll be pleased to know that his leading ladies in those cheerier pictures very much enjoyed working with him.
On "Watch What Happens Live" in 2014, Kate Hudson was asked which of her onscreen love interests (other than "Wish I Was Here" co-star Zach Braff, who was sitting right next to her) was the best kisser. Hudson replied that it was Ledger, whom she starred opposite in the 2002 war drama "The Four Feathers." "That was pretty excellent," she recalled. Pressed for more information by host Andy Cohen, Hudson explained her choice by saying, "He was just so beautiful and sweet and gentle … he was lovely."
If you were expecting Hudson to choose frequent rom-com collaborator Matthew McConaughey, it might ease your disappointment to know that she had good reasons not to pick that particular leading man for this honor. She told Entertainment Tonight that she and McConaughey always find themselves in weird situations while shooting kissing scenes that make things a bit awkward: "We're [kissing] after a plane crash and, like, in the water. I have yet to have the kiss with Matthew that's just, like, kind of simple."
Hugh Grant is pretty sure Renee Zellweger would choose to kiss him over Colin Firth
Despite playing a series of charmingly self-deprecating heartthrobs, Hugh Grant has freely admitted that he's not exactly popular with many of his former leading ladies. It's no wonder, though. When Oprah asked him about kissing Julia Roberts, his response was less than gentlemanly: "She has a very big mouth. When I was kissing her I was aware of a faint echo." He also admitted to making Drew Barrymore cry on the set of their rom-com "Music and Lyrics," but the two reunited (virtually) for an interview in 2020.
However, Grant did have fun with one co-star — and they're still friends. He told British talk show host Alan Carr that Renee Zellweger is "a top snogger." Grant played bad boy Daniel Cleaver opposite Zellweger's Bridget Jones in the first two movies of the iconic trilogy. Furthermore, he's pretty sure that even though Bridget ultimately ends up with Cleaver's rival Mark Darcy (Colin Firth), Zellweger still had more fun kissing Grant. "You'd have to ask [Zellweger] who [she] preferred, but I think Colin tried too hard. I think that was the problem," he added.
Fighting words indeed, especially considering Grant didn't return for the third installment in the series, leaving Zellweger kissing not only Firth, but also her character's new love interest, Jack Qwant, played by Patrick Dempsey.
Emma Thompson was impressed by Meryl Streep's commitment
Meryl Streep is famous for getting completely absorbed in a role — and she brings that energetic enthusiasm to her kissing scenes, as Emma Thompson found out.
Asked who had been her best onscreen kiss, Thompson first named Robbie Coltrane. She kissed him in the 1987 BBC series "Tutti Frutti," in which they played rock stars in the fictional Scottish band The Majestics. That's right, kids: Hagrid and Professor Trelawney were once each other's love interests, and made out on stage for a TV show. "But it turned into a bit of a tooth kiss," Thompson admitted. Thompson also once played the love interest of her close friend Alan Rickman, aka Professor Snape, so the "Harry Potter" universe was already pretty awkward.
Thompson went on to add, "Meryl Streep's a very good snogger." The two actresses kissed in a 2003 HBO adaptation of the celebrated play "Angels in America." "She was method about it … There was no stone unturned in my gob, that's for sure," Thompson remembered. "[I thought] Blimey, what's she doing here? Mining for jewels?"
In case you were wondering, Thompson's advice for preparing for a kissing scene is to avoid tuna sandwiches beforehand, and go easy on the teeth.
Ethan Hawke was blown away by Angelina Jolie
Shooting romantic scenes is famously uncomfortable, but Ethan Hawke found the bright side when he was matched with Angelina Jolie in the 2004 serial killer thriller "Taking Lives." Nearly a decade later, Hawke was still telling multiple interviewers that Jolie was his favorite person to kiss on screen.
On radio show "Sway in the Morning" in 2012, Hawke said that he was nervous about filming his love scene with Jolie because of the crowded set — and because, well, she's Angelina Jolie. "She cuts an intimidating figure," Hawke said. However, it turned out to be "one of the finest days of my life." According to Hawke, Jolie suggested that she get naked while Hawke stayed fully clothed. "All of a sudden," Hawke recalled, "I'm not nervous at all!"
He opened up a little more the following year in an appearance on "Watch What Happens Live," possibly with a respectable amount of assistance from the show's famous bar. Hawke tried to explain why Jolie was his best onscreen kiss: "Why is Amadeus Wolfgang Mozart [sic] a genius? … Angelina Jolie was born to whittle men, to make them weak … when she kisses you, you don't know your name." But he definitely remembers her kiss.
Two people can attest that Will Ferrell is a great kisser
Will Ferrell isn't much known for being a romantic lead. But maybe he should be, given that two actresses who've been lucky enough to lock lips with him have attested to his kissing abilities.
In 2007, Amy Adams, who kissed Ferrell in "Talladega Nights: The Ballad of Ricky Bobby," managed to compliment and mildly insult Ferrell in one breath when she described him as "a fantastic kisser! I was not expecting that." Adams also complimented "Enchanted" co-star Patrick Dempsey, whom she described as "lovely," but it's clear Ferrell impressed her the most.
A couple of years later, Ferrell also got a vote of kissing confidence from "Land of the Lost" co-star Anna Friel. Like Adams, Friel delivered a backhanded compliment when she declared, "Will Ferrell is a really fantastic kisser. You wouldn't expect it from him." She went on to add, "he's got twinkly blue eyes and he was gentler than I thought that he perhaps might be."
Despite Ferrell's reputation for comedy over romance, he has had quite a few onscreen kisses. Ferrell himself noted in 2017 that someone had kindly counted 15 up to that point. But, he humbly added, " I don't know what that says." It says people listened to Adams and Friel!
Elizabeth Perkins still remembers kissing Tom Hanks
Sure, kissing other actors is all part of the job — but that doesn't mean that work can't sometimes be fun. The 1988 movie "Big" had Tom Hanks playing a 12-year-old named Josh, who is suddenly transformed into an adult and lands his dream job testing toys. Elizabeth Perkins, who played Josh's love interest, Susan, had a good day at work when they shot their kissing scenes.
In 2021, when asked which onscreen kiss she still remembers years later — for the right reasons — on "Watch What Happens Live," Perkins named her scenes with Hanks in "Big." The kisses themselves were relatively innocent, since the character is technically 12, but Perkins was still impressed by her scene partner. "I had such a crush on [Hanks] at the time," she admitted, noting that while she was single, Hanks was then dating his current wife, Rita Wilson. "So he was completely off-limits, but he was adorable," Perkins added.
She nearly had a different partner to pucker up with, however. In the same interview, Perkins said that Robert De Niro originally signed up to play Josh, but was replaced by Hanks due to scheduling conflicts. That's a big difference!
Jennifer Lawrence said Bradley Cooper was better than Liam Hemsworth
Jennifer Lawrence is famously direct — and that extends to discussing her onscreen kissing partners. But her top choice isn't necessarily who you'd expect, based on her offscreen love life. In 2015, on "Watch What Happens Live," Lawrence confirmed that she and "Hunger Games" love interest Liam Hemsworth took their kissing chemistry offscreen at some point. As she explained, "Liam and I grew up together. Liam's real hot. What would you have done?"
Lawrence also doesn't shy away from offering constructive feedback to her onscreen kissing partners. In 2013, her frequent collaborator Bradley Cooper told "The Graham Norton Show" that while shooting "Silver Linings Playbook," Lawrence told him he was "a wet kisser … It was not a compliment." However, the pair still picked up an MTV Movie Award for Best Kiss, so it did something for someone. They also went on to kiss in 2014's "Serena." Cooper must have taken Lawrence's advice to heart, because in 2018, when Ellen DeGeneres asked Lawrence whether Hemsworth or Cooper was the better kisser, she said Cooper.
To be fair, Hemsworth didn't necessarily relish those kissing scenes either. He told Jimmy Fallon in 2014 that Lawrence — whom he described as "one of my best friends, I love her" — would deliberately eat garlic or tuna before they had to kiss.
Amanda Seyfried had great kissing chemistry with Megan Fox
Amanda Seyfried has been refreshingly open about the highs and lows of shooting love scenes. One kiss in particular stands out to her, because she and her partner clicked so well. In 2014, W magazine reported that Seyfried said that she and "Jennifer's Body" co-star Megan Fox "kissed really well together." She added, "We have similar kissing styles! If I watch the scene, it's actually really sexy."
Seyfried also had great chemistry with co-star Dominic Cooper, who played her groom in "Mamma Mia:" the two started dating after the movie wrapped. However, they split after four years, which made reuniting to play the now-married couple in "Mamma Mia 2" a little awkward. Working with an ex is hard enough, but having to kiss them as part of your job is a whole other dynamic. Especially since Seyfried's husband was on set for some of their kissing scenes.
As Seyfried explained to Elle, "It's very strange having to not be intimate with someone you've had an intimate relationship with." But she added, "Dominic and I have such a good relationship that it was easy." Cooper backed up her account, telling Attitude that the atmosphere on set was "pleasant" and that he enjoyed catching up with Seyfried, seeing "how different our lives are after 10 years."
Megan Fox may have enjoyed kissing Shia LaBeouf too much
If you feel that the most believable element of the "Transformers" franchise is the chemistry between Megan Fox and Shia LaBeouf, Fox partially agrees. In 2014, she told E! News that LaBeouf was her best onscreen kiss.
That may be because the actors were diligently rehearsing their kissing scenes offscreen. In 2011, LaBeouf admitted to Details that he and Fox had a romantic relationship on the set of "Transformers" — although it's not clear if he means the first or second movie in the franchise, which came out in 2007 and 2009 respectively. LaBeouf put it down to a long shoot, "with someone who's rooting to be attracted to you, and you're rooting to be attracted to them."
Awkwardly, Fox was thought to have been in a relationship with actor Brian Austin Green from 2004 until February 2009. (They reconciled, marrying in June 2010, but officially split in May 2020.) Asked about their status at the time of his relationship with Fox, LaBeouf said, "I don't know, man." Also, awkwardly, he didn't return the compliment: He's said Dakota Johnson was his favorite kissing partner.
In 2018, Fox confirmed LaBeouf's claims, telling "Watch What Happens Live," "I would confirm it was romantic." When Andy Cohen suggested it had been "an on-set romance that didn't go anywhere afterwards," Fox said, "Yeah." They'll always have "Transformers."
Oprah and Forest Whitaker enjoyed playing each other's love interest
There is, in fact, a way to publicly applaud a co-star's kissing skills while also keeping the conversation classy. Exhibit A: Oprah Winfrey and Forest Whitaker have both spoken highly of their experience playing a romantic couple in "The Butler."
Speaking to her close friend Gayle King on CBS News to promote the movie, Winfrey said of her co-star, "I adore him." When King asked whether kissing Whitaker made her "feel all tingly," Winfrey said, "I felt pretty good about it, let me just say. Forest is a good kisser." She added, "Thank you, Keisha Whitaker," acknowledging Whitaker's wife: The couple has been married since 1996.
The feeling is mutual. Talking to The Source, Whitaker described their characters' relationship as the closest he's ever portrayed onscreen. He said of his co-star, "she's amazing. I loved working with her … I haven't had a lot of love relationships on screen … none is as intimate as this one."
Tom Cruise is everyone's favorite
Even better than hearing that you're someone's favorite onscreen kisser has to be hearing that multiple former co-stars were impressed with your smooching skills. You'd have to ask Tom Cruise for insight into this experience, as his kissing has been publicly acclaimed by at least three of his former leading ladies.
In 1996, Shelley Long of "Cheers" fame told Rosie O'Donnell that she and Cruise had kissed in a movie called "Losin' It," which came out right before "Risky Business" made him a star. Asked if Cruise was a good kisser, Long said, "I would rate him very highly." Long added that she doesn't typically rank her leading men's kissing abilities, but if she did, Cruise was "off the scale."
Fast-forward to 2013. Lea Thompson, aka Marty McFly's mom in "Back to the Future," recalled starring opposite Cruise in "All the Right Moves," which hit theaters just after "Risky Business" but before "Top Gun." Asked which of her former onscreen love interests was the best kisser, Thompson replied, "I might have to say Tom Cruise." She added, "There's something about the way he pays attention, the way he looks at you, like he's really looking at you."
Although Thompson pointed out that he might have gone downhill since 1983, evidence suggests otherwise. In 2011, Gwyneth Paltrow reminisced on "The Rachael Ray Show" about kissing Cruise in their cameo in 2002's "Austin Powers in Goldmember." "He was an amazing kisser!" the actress recalled.
Sarah Michelle Gellar's favorite onscreen kiss is iconic
One undeniable truth of "Buffy The Vampire Slayer" is that the show's fans are fiercely divided over which of the heroine's vampire love interests is superior. If they're hoping that finding out Sarah Michelle Gellar's favorite onscreen kissing partner might solve that fight, they're in for a disappointment.
When asked who her best onscreen kiss came from in 2014, Gellar said, "Selma Blair. That's easy." She is, of course, referring to her famous makeout with Blair in "Cruel Intentions." The kiss not only won them the 2000 MTV Movie Award for Best Kiss, it also nabbed the Legendary Lip Lock Award at the MTV Greatest of All Time Awards. They even recreated the moment with a pandemic-friendly twist in the form of a clear plastic screen.
In 2021, Gellar expanded on what made the kiss so memorable for her. She told US Weekly, "Selma's a great kisser … it's just soft [lips]. She smells great …. And then we had ice cream." Sorry, Teams Spike and Angel.
Drew Barrymore names Adam Sandler — but his wife isn't convinced
Drew Barrymore and Adam Sandler have played a couple multiple times, and it may be true that he won her over on their very first movie together. In 2009, Barrymore told People magazine that her kiss with Sandler in "The Wedding Singer" was her favorite onscreen kiss. "It was really innocent and unsalacious [sic] … really romantic and fun!," she said. "I think Adam is the greatest guy, so it's easy to be in love with him."
However, Barrymore isn't the only woman Sandler has had to impress with his romantic performances. In 2014, on a joint appearance on "Ellen," Sandler said that his wife Jackie, whom he married in 2003, is a big fan of Barrymore's, and will give him feedback if she feels that he's not being romantic enough towards her in a scene. Recalling shooting a particular scene for their 2014 comedy "Blended," Sandler said that he initially felt that he'd done a good job — until he walked off set to a frustrated Jackie, who told him, "For the sake of women, get in there, and just look a little more alive." It is, after all, your real-life partner whose approval you should be most interested in.