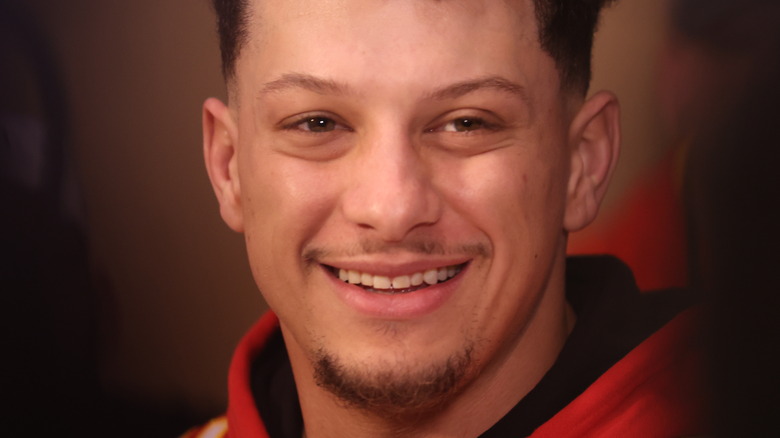 NFL quarterback Patrick Mahomes is leading a mini-dynasty with the Kansas City Chiefs. They're a perennial presence in either the Super Bowl or the AFC Championship, having appeared in the biggest game of the year three times from 2020 to 2023 (per NBC Sports) and have hosted the AFC Championship five straight times (per KCUR). And as everyone agrees, most of this is thanks to their team MVP, Mahomes.
The future Hall of Famer had a steady rise to stardom since childhood. He's the son of professional MLB pitcher Patrick Mahomes Sr. and got to rub elbows with other baseball greats, as Britannica details. The younger Mahomes was a star athlete on the diamond, as well, and was even drafted to the Detroit Tigers, but his fate lay with football. In his first, legendary year as a starter, the quarterback was named the NFL's MVP and is in the running again for the title for the 2022 season. With all of his on-field accomplishments, there have already been ESPN discussions on whether he'll be the greatest of all time (via First Things First on Twitter). And remember: as of 2023, Mahomes has only been a starter in the league for five years. In other words, he's a force to be reckoned with. Here's what you need to know about this solidified football star.
Patrick Mahomes' stellar college football career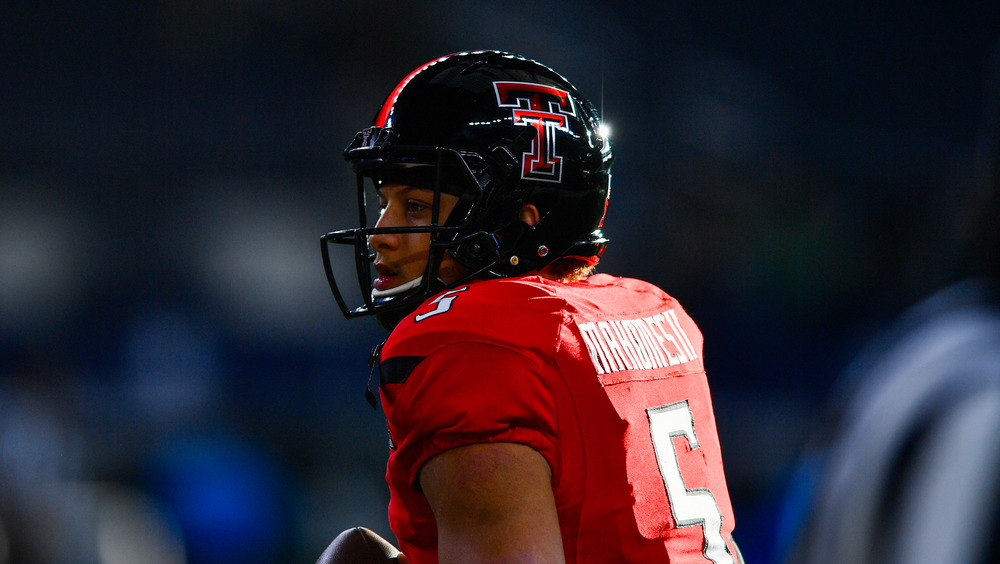 According to Texas Tech University, where Patrick Mahomes played college football, he also played basketball and baseball in high school. He excelled at all the sports he played, so much so that he almost played in the MLB, not the NFL. In 2014, he was drafted by the Detroit Tigers, almost skipping college altogether, but he decided to play football and went to Texas Tech.
Mahomes excelled so much on the football field in college that he didn't even finish his degree. He skipped his senior year, went into the NFL Draft, and was picked up by the Chiefs. He left the school as one of the best QBs in its history, and may have ended up as number one on several records lists had he stayed. When he left he was third in the school's history in touchdown passes, passing yards, attempts, and completions. He had 22 rushing touchdowns, second on the list, as well as second in total touchdowns responsible for. During his final year at the university, he became the leading passer in the nation, something Tech QBs have been good at doing in recent decades.
Although he would have most likely broken several records at the school had he stayed, heading off to the big time to win a Super Bowl within three years was a pretty good decision in hindsight.
Patrick Mahomes' rapid rise to NFL greatness
Patrick Mahomes's Kansas City Chiefs bio contains a rather long list of why it was a good career move to join the NFL a bit early. In his first year with the team, he threw 26 touchdown passes and 2,810 yards in the first eight weeks of the season. That was the most any NFL QB has racked up in his first nine games ever. That season, he became the second QB in NFL history to complete 50 touchdown passes and throw for over 5,000 yards in a single season. (Again, the only other one is Peyton Manning. That guy's pretty good.)
Mahomes also holds several other franchise records, but one of his greatest achievements has to be his rallying his team to a come-from-behind victory at Super Bowl LIV in 2020 (which followed two other come-from-behind wins the same postseason — they wiped away a 24-point deficit in the divisional round, via ESPN, and a 10-point deficit in the AFC Championship, via ESPN). According to Sports Illustrated, the third-year quarterback led his team to wipe away a 20-10 deficit to win over the San Francisco 49ers.