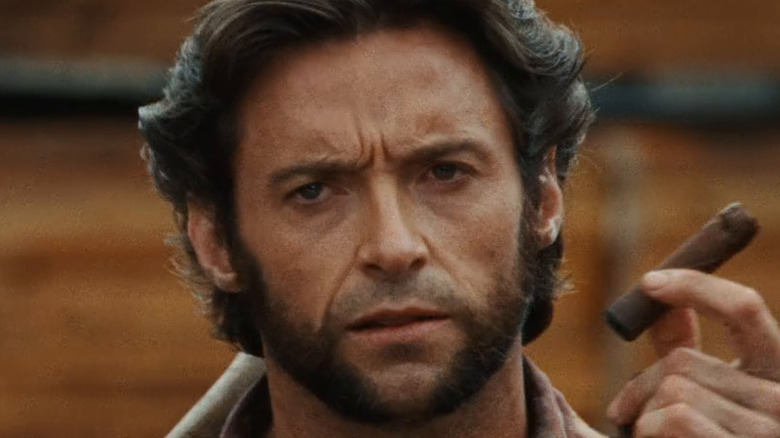 Casting the perfect actor for a film role isn't an exact science. Countless things can go wrong, from actors being fired on set to scheduling conflicts to contract disputes. And while actor replacements can cause quite a stir for the casting department, in hindsight they can also be a blessing in disguise for the film. Quite often, those actors or actresses that are re-cast in a role end up being a massive upgrade for the film, making us wonder why the original person was cast in the first place?
With that being said, it's time to take a look at some of the best actor replacements in film that ended up being a major upgrade for the movie. This list will discuss actors that were replaced during, after, or even before production. Let's dive into 15 of the best actor replacements in recent memory.
Don Cheadle as Col. James Rhodey Rhodes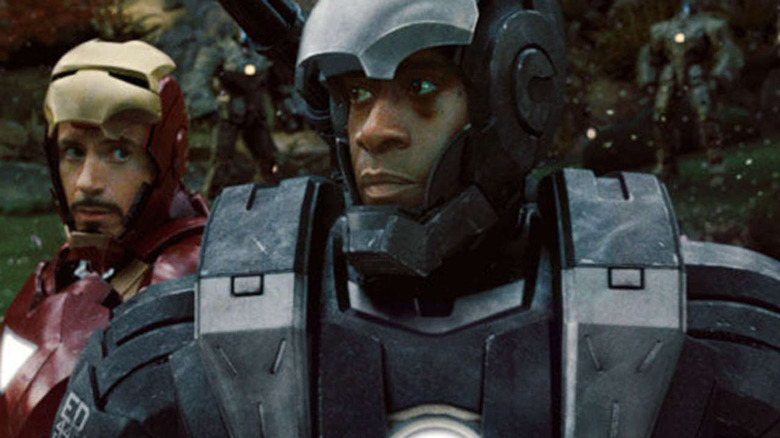 Paramount Pictures
Released in 2008, "Iron Man" was the film that launched the Marvel Cinematic Universe. It introduced the iconic character of Tony Stark, a role that cemented Robert Downey Jr. as one of the most well-known and highest paid actors in the MCU to date.
In the first film, Tony's best friend Col. James "Rhodey" Rhodes is portrayed by Terrence Howard, who was a real-life friend to Downey Jr. at the time. Initially, Howard was a shoo-in for Marvel as he'd just come off his Oscar-nominated role in "Hustle & Flow" alongside the Academy Award-winning film "Crash." However, after the massive success of "Iron Man," Howard allegedly wanted a pay increase to match that of lead Downey Jr. In an appearance on Bravo's "Watch What Happens Live," he had a three-film contract with Marvel, and they were supposed to pay him $8 million for the sequel. However, after all was said and done, he was only offered $1 million, with the rest of his salary going to Downey Jr. According to Howard, Downey Jr. would not have the role of Iron Man if it wasn't for him.
Because of the drama, Howard was given the boot and replaced by fellow "Crash" star Don Cheadle. Cheadle would go on to portray the character of Rhodey-turned-hero War Machine in multiple other films. And while Howard's performance was good in "Iron Man," Cheadle brings an elegance to the role as he grows into more than just Iron Man's sidekick throughout the franchise.
Hugh Jackman as Wolverine
20th Century Fox
While "Iron Man" may have been the film to launch the MCU, it was 2000's "X-Men" that helped to catapult the superhero genre back into the pop culture stratosphere. The success of this film cannot be overstated as it launched a franchise of 10 X-Men films, along with two Deadpool films and a spin-off in "The New Mutants."
Anchoring the entire franchise is the fan-frenzied portrayal of Hugh Jackman's Wolverine, a character so popular that he essentially became the main protagonist in almost all the X-Men films. However, when "X-Men" was first being developed, casting directors initially offered the part to Russell Crowe, who turned it down. The role then went to Dougray Scott, but due to scheduling conflicts with "Mission: Impossible 2," he had to back out of the role. The director then turned to the then-unknown Australian actor Hugh Jackman.
The film is all the better for it as Jackman's remarkable performance has followed him right up until his final performance as the character in 2017's "Logan." Jackman's portrayal is so loved that it's almost impossible to think of anyone else playing Wolverine now that the X-Men have returned to Marvel, and their introduction into the MCU is truly only a matter of time.