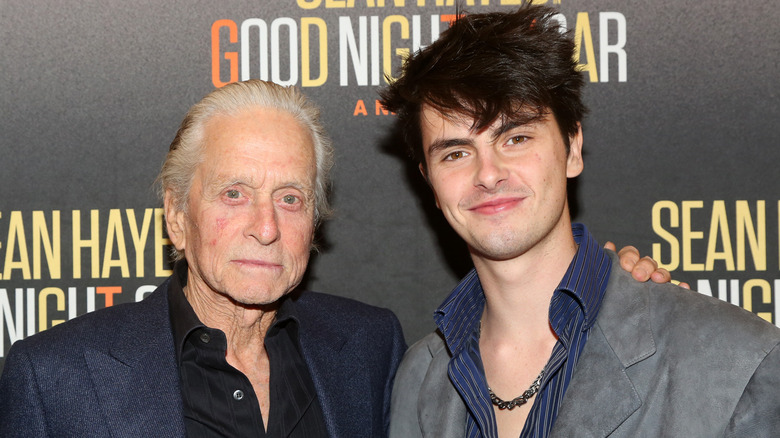 Michael Douglas is the son of two actors and is now a father to three children. He welcomed his eldest son, Cameron Douglas, with his ex-wife, Diandra Luker. He went on to have two more children with his current wife, Catherine Zeta-Jones: Carys Zeta Douglas and Dylan Douglas.
Dylan was born on August 8, 2000, but his Hollywood journey began before his arrival: Zeta-Jones was six months pregnant when she filmed Steven Soderbergh's crime drama "Traffic." "I had a very easy pregnancy," she told TV Guide Online at the time. "If I didn't feel so good, I would never have put myself and my baby at risk just for a movie — as much as I wanted to do this."
Michael and Zeta-Jones' son sure seems to have inherited his parents' drive, ambition, talent, and, of course, good looks. Though he is indeed a nepo baby, Dylan Douglas is clearly blazing a trail of his own.
He enjoyed school because he felt 'alone' at home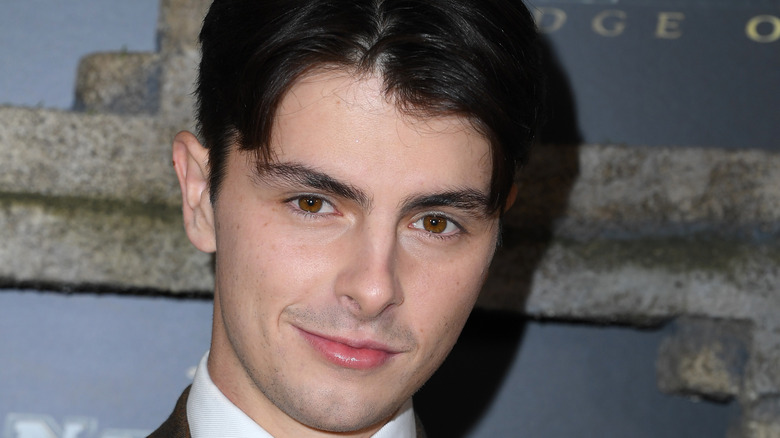 Have you ever wondered what it would be like to be the child of an A-list couple? While that question doesn't have a simple answer because each situation and relationship is different, Dylan Douglas has said that he did feel alone for a period in his childhood. Michael Douglas and Catherine Zeta-Jones' children spent their early years in Bermuda before they decided to head back to the United States, and evidently that transition wasn't totally smooth for Dylan. "My first few years in America were hard, my mother was working in Broadway and was working when I was sleeping, and asleep when I was up. Also during this time, my father was diagnosed with stage four cancer," Dylan said in a speech at The Windward School (via Hello! magazine). (Thankfully, Michael is now cancer free.)
In a 2010 chat with Parade, Michael shared that he and Zeta-Jones moved their family from Bermuda to New York so Dylan could attend the Windward School, an academic institution that's geared toward kids with language-based learning disabilities. And it sounds like things clicked for Dylan at the school. "At home, I was alone, but at school I was far from lonely. At Windward, I was free. It was like the Mecca of dyslexics," he said in the aforementioned speech. "In 2010 everything was normal again at home, I could finally see my mum again and my dad was cancer free. Everything was beautiful again."
He has been thinking about a career in acting
Given his lineage, it shouldn't come as a surprise that Dylan Douglas is no stranger to hanging out with big-name stars and going to Hollywood events. It also shouldn't come as a surprise that he's not opposed to giving an acting career a shot. "[Dylan and Carys Zeta Douglas would] love to join the business! My son has done theater production since high school. They've both been to drama camp," Catherine Zeta-Jones told Parade in 2022. What's more, he lent his voice to a 2011 episode of the animated series "Phineas and Ferb."
Dylan hasn't totally cannonballed into the industry just yet, but his interest has definitely been piqued. "It's cool to see how, you know, you meet people, talk to people, how they act, and you know, see if maybe one day I want to do that," he told People at the "National Treasure: Edge of History" premiere in 2022. "So it's very cool."
While Dylan may like the acting side of things, it sounds like neither he nor his sister are looking to become tabloid fixtures. "They know about celebrity-dom," Zeta-Jones said in Parade. "So, they don't want to be famous; they just want to be good actors." She echoed this sentiment in a separate chat with "Today," noting, "Their passion is about acting as a craft."
Dylan Douglas is truly supportive of his parents
If Dylan Douglas does decided to go all in on acting career, he certainly knows what it takes to be successful in the highly competitive industry — and it's all thanks to his mom and dad. "I'm very, very proud," Dylan told Entertainment Tonight in 2023. "I mean, obviously, they're great actors — both Academy Award-winning actors — but they're great parents."
At the "National Treasure: Edge of History" premiere, Catherine Zeta-Jones opened up about her loving dynamic with her kids. "Both my daughter and Dylan have been so incredibly supportive to me, not just as an actor, but just me, you know," she said in the aforementioned People interview. "I've been extremely blessed to be able to have both in my life."
And Dylan sure seems to feel blessed, too. In a since-deleted joint birthday post (yes, his parents have the same birthday), he wrote, "Happy birthday to the two most important people in my life. They inspire me, they love me, they made me. Happy Birthday Mommy and Daddy." Aw.
Sometimes his dad makes him feel embarrassed
While there's no denying Dylan Douglas shares a strong bond with his father and has a great deal of respect for him as an actor and person, he still cringes at Michael Douglas' dad-ness every now and again.
Dylan told Page Six in 2023 that Michael "can be embarrassing sometimes." He continued, "More in terms of what he says, rather than who he is. Just dad stuff. [He's a] bit out of touch, bad jokes for sure!" Still, the pair are exceptionally close, and Dylan has shown his love and appreciation for his father on social media.
In a special post for Father's Day in 2021, Dylan shared some touching words about what it is like being the son of Michael Douglas. "I should really tell you everyday how much I appreciate you, let alone once a year, but the honest truth is that I can't find the right words," he wrote. "All I can say is that you are my whole world. You are my leader, a role model and someone I aspire to be in every way."
He is a Brown University graduate
In 2022, Dylan Douglas graduated from Brown University, where he studied political science. Naturally, one person who could not contain their glee was his mother, Catherine Zeta-Jones.
The "Chicago" star took to Instagram to honor her son and celebrate his graduation day with photos of him in his cap and gown. But it was the caption that truly stood out: "Graduation congratulations to my boy, my pride, my joy, Dylan. I am inexplicably proud of you, and I love you beyond words." Michael Douglas also commented on his son's achievements on his own Instagram account, writing, "One proud Dad! Congratulations Dylan! Well done!"
Dylan's academic achievements sure have brought his parents a lot of joy, and not just because they're proud of all of his hard work. Now that he's done with university, his schedule has freed up and he has more free time to spend with his parents. "It's great to see him because he's been in college all these years now," Zeta-Jones told Entertainment Tonight the "Ant-Man and the Wasp: Quantumania" premiere. "He's out, and about with us, it's fun."
Dylan Douglas was kept away from the public eye as a kid
Michael Douglas and Catherine Zeta-Jones have worked hard to keep their children's lives as normal as possible. "They've kinda been removed from the crazy world of Hollywood or even the crazy world of Manhattan," Zeta-Jones told Entertainment Tonight in 2018. "The teenagers here in Manhattan, there's a maturity that comes too quick I think." She also explained that she and her husband "shielded them away."
When the Dylan Douglas and Carys Zeta Douglas were younger, Michael would spend time with them in the mornings before school. "I make them breakfast, and we talk about their day," he told The Guardian in 2010. "I like to know who their friends are. I can see the tightness of the bond we feel and the security they have. It is tremendous, unequivocal love with no judgment, and that is the best feeling in the world."
Of course, as parents and celebrities, both Zeta-Jones and Michael were aware that media attention would always surround them and, by extension, their children. Despite this, their kids are as grounded as possible. Zeta-Jones told Parade in 2022 that Dylan and Carys are "well-rounded, humble and two great citizens of the planet."
There was one movie Michael Douglas didn't want Dylan to see
As the son of Kirk Douglas and Diana Dill, Michael Douglas seemed destined for a life of stardom. And it's no secret he has made an impressive run of it. He grew up to become a well-known and accomplished actor who has a diverse portfolio of work that includes features like "Behind the Candelabra" and "Wall Street," as well as scandalous fare like "Basic Instinct" and "Fatal Attraction." So, how did Michael keep his children from seeing some of the more mature projects he was involved in? The simple answer is he could not.
Unsurprisingly, Michael did not want a young Dylan Douglas to watch the erotic thrillers he starred in back in the '80s and '90s, but there was only so much the dad could do. And one day, he discovered that Dylan had indeed watched one of his more explicit films. As Michael recalled in a 2015 interview on "Popcorn with Peter Travers" (via People), "I said, 'You saw Basic Instinct?' and then he realized he was in a little bit of trouble. He goes, 'Well, I only looked at the parts with you, Dad, not Sharon Stone.'"
Dylan Douglas has dyslexia
Dylan Douglas has dyslexia, and he opened up about his experiences with the learning disability in a graduation speech at The Windward School. A clearly proud Catherine Zeta-Jones shared the video of the speech on Facebook and wrote, "My son Dylan at age 15, talking about his dyslexia so eloquently," she wrote. "Hard work with good teachers. Forever indebted." As previously noted, the Zeta-Jones-Douglas family relocated to New York so Dylan could attend the academic institution. After he graduated from Windward, he attended The Masters School in Upstate New York.
In the speech, Dylan says, "Being dyslexic isn't really a fight to survive, much less to thrive. In a place that can be hard to read or write or even spell your last name."
Michael Douglas also addressed his son's schooling in an interview with The Guardian in 2010. "My son deals with dyslexia to a degree — it runs in the family, and my brother has it," he said. "He goes to a special school. We're old-fashioned parents, they've got British nannies, and we get nice compliments from people. Our children make us proud."
He has visited many different places
Undoubtedly, challenges come with being the children of two big stars, but Michael Douglas and Catherine Zeta-Jones have worked hard to keep their children as grounded as possible. But that's not to say the Zeta-Jones-Douglas clan has led a modest life. Dylan Douglas' family has traveled all over the world and enjoyed various adventures together.
"My husband and I love being there for our kids even though they're growing up. We also love to travel and go to art galleries and theater," Zeta-Jones shared of their family time in a 2022 interview with Parade.
The family also lived in Bermuda when Dylan was a kid, which helped keep his parents keep the family away from paparazzi and allowed them to enjoy a simpler life. "I thought my dad was a pancake maker," Carys Zeta Douglas told Town & Country about their island lifestyle. "I didn't know he was an actor. Honestly."
Michael Douglas and his son Dylan are big fans of Formula 1
Michael Douglas is a fan of motorsport, an interest he has had for decades, and it seems his son, Dylan Douglas, shares this interest. Michael has posted videos on social media from the Formula 1 Miami Grand Prix in 2022, and his son can be seen accompanying him. Dylan has also shared snaps of their excursions on Instagram, including a photograph of him sitting in a Formula 1 racing car.
It seems safe to say that this is something the father and son have bonded over. While Dylan has not given any interviews regarding motorsport (at least, not yet), his father has. When asked by Forbes about his interest in the sport, the Oscar winner said, "It goes back to the '60s, really, as I had friends in school who followed it. The Austin Healey was my fantasy car, and I looked up to Graham Hill, who was very dramatic and suave through racing in F1." He continued, "Later on, it was Stirling Moss, then Jackie Stewart. So I have always liked racing, and when I was in high school, I was in a hot rod club in Connecticut."
He shares a great bond with his famous mom
Dylan Douglas is a great son — just ask his mama. For his birthday in 2022, Catherine Zeta-Jones took to Instagram to share how important the bond she shares with Dylan is. In a caption accompanying several photos from Dylan's childhood, she wrote, "You are everything to me, and everything is you. The joy you have brought to this world thus far, is immeasurable. I love you more than words can say."
This is not the only time Zeta-Jones has opened up about her son. In a 2021 chat with The Sydney Morning Herald, she said she and Michael Douglas are proud of how respectful and thoughtful their children are. "I'm very conscious of my kids being very rooted, very down to earth, and I'm always big on manners," Zeta-Jones told the outlet. "I get complimented on how unaffected they are, and that's because they weren't brought up in Hollywood." She also shared that despite their busy schedules and all the travel that comes with their careers, she and her husband have always been involved in Dylan and Carys Zeta Jones' lives. "If I was working, Michael would be home with them, and vice versa," she said.
Michael Douglas' middle child is close to his siblings
Michael Douglas' middle child sure seems to have a sweet bond with his two siblings. As previously noted, Dylan Douglas is the younger half-brother to Cameron Douglas, and the older brother to Carys Zeta Douglas. By all accounts, the three siblings appear to be tight.
In 2020, for example, Dylan wished his older brother a happy birthday on Instagram with a heartfelt message: "Happy birthday to a beautiful soul, a brilliant mind, and most of all, an amazing brother. So thankful to have you in my life. I love you." And when Carys turned 14 in 2017, Dylan posted a throwback picture of the two and wrote, "love you so much." And when Dylan turned 22 in 2022, Carys posted a lovely Instagram note that offered a glimpse into how close the siblings are: "To my built-in best friend— you are the epitome of joy."
While Cameron's personal life has had its fair share of ups and downs, his brother and sister have been there for him through it all. As he told the Daily Mail, Catherine Zeta-Jones would bring Dylan and Carys to visit him in prison when they were still little to keep the siblings in each other's lives. "She didn't want to sugar-coat what I was going through. I made mistakes and there were consequences," he said. In a separate chat with Extra, he gushed that they have "a fantastic relationship."
Dylan Douglas has many talents up his sleeve
In addition to being a skilled actor and an accomplished student, Dylan Douglas also happens to boast musical talent. In 2023, Michael Douglas shared a video on Instagram of his son playing the piano and singing. As the song went on, Michael looked into the camera and beamed, "So proud of my boy!"
Dylan sure has a knack for music, but he is not the only one in the family. Michael Douglas and Catherine Zeta-Jones' daughter, Carys Zeta Douglas, is also a gifted singer — look no further than her rendition of Lady Gaga and Bradley Cooper's Oscar-winning smash "Shallow." And speaking of the Oscars, Zeta-Jones won an Academy Award in 2003 for her turn as Velma Kelly in the silver screen adaptation of "Chicago." Of course, that role required some serious singing and dancing chops, and Zeta-Jones more than delivered. At that same Oscars ceremony, Zeta-Jones teamed up with Queen Latifah for a stunning performance of "I Move On."