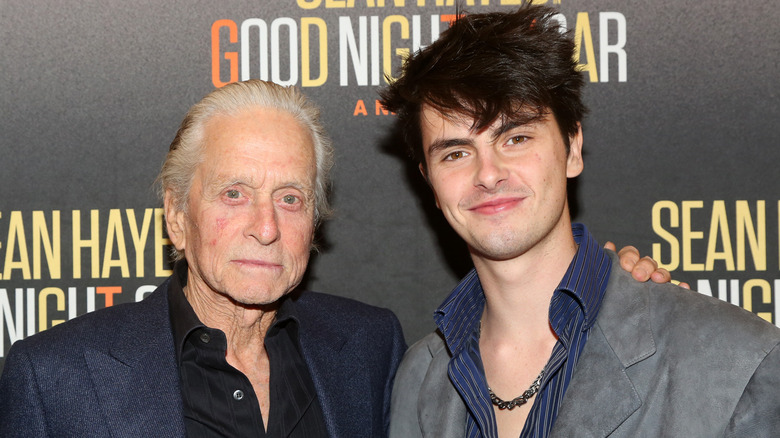 Michael Douglas is the son of two actors and is now a father to three children. He welcomed his eldest son, Cameron Douglas, with his ex-wife, Diandra Luker. He went on to have two more children with his current wife, Catherine Zeta-Jones: Carys Zeta Douglas and Dylan Douglas.
Dylan was born on August 8, 2000, but his Hollywood journey began before his arrival: Zeta-Jones was six months pregnant when she filmed Steven Soderbergh's crime drama "Traffic." "I had a very easy pregnancy," she told TV Guide Online at the time. "If I didn't feel so good, I would never have put myself and my baby at risk just for a movie — as much as I wanted to do this."
Michael and Zeta-Jones' son sure seems to have inherited his parents' drive, ambition, talent, and, of course, good looks. Though he is indeed a nepo baby, Dylan Douglas is clearly blazing a trail of his own.
He enjoyed school because he felt 'alone' at home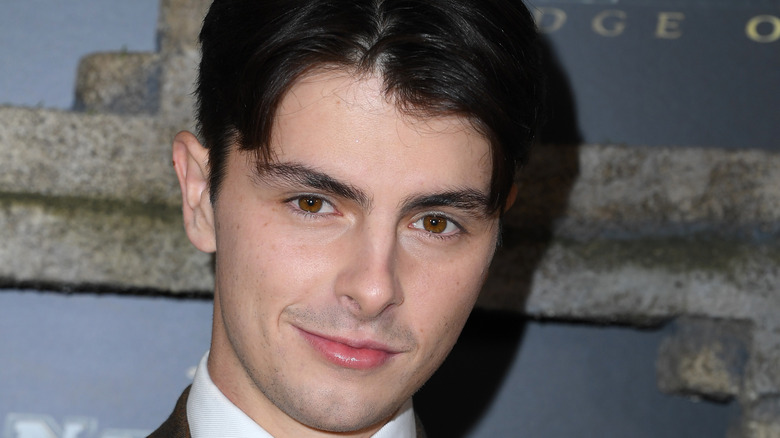 Have you ever wondered what it would be like to be the child of an A-list couple? While that question doesn't have a simple answer because each situation and relationship is different, Dylan Douglas has said that he did feel alone for a period in his childhood. Michael Douglas and Catherine Zeta-Jones' children spent their early years in Bermuda before they decided to head back to the United States, and evidently that transition wasn't totally smooth for Dylan. "My first few years in America were hard, my mother was working in Broadway and was working when I was sleeping, and asleep when I was up. Also during this time, my father was diagnosed with stage four cancer," Dylan said in a speech at The Windward School (via Hello! magazine). (Thankfully, Michael is now cancer free.)
In a 2010 chat with Parade, Michael shared that he and Zeta-Jones moved their family from Bermuda to New York so Dylan could attend the Windward School, an academic institution that's geared toward kids with language-based learning disabilities. And it sounds like things clicked for Dylan at the school. "At home, I was alone, but at school I was far from lonely. At Windward, I was free. It was like the Mecca of dyslexics," he said in the aforementioned speech. "In 2010 everything was normal again at home, I could finally see my mum again and my dad was cancer free. Everything was beautiful again."
He has been thinking about a career in acting
Given his lineage, it shouldn't come as a surprise that Dylan Douglas is no stranger to hanging out with big-name stars and going to Hollywood events. It also shouldn't come as a surprise that he's not opposed to giving an acting career a shot. "[Dylan and Carys Zeta Douglas would] love to join the business! My son has done theater production since high school. They've both been to drama camp," Catherine Zeta-Jones told Parade in 2022. What's more, he lent his voice to a 2011 episode of the animated series "Phineas and Ferb."
Dylan hasn't totally cannonballed into the industry just yet, but his interest has definitely been piqued. "It's cool to see how, you know, you meet people, talk to people, how they act, and you know, see if maybe one day I want to do that," he told People at the "National Treasure: Edge of History" premiere in 2022. "So it's very cool."
While Dylan may like the acting side of things, it sounds like neither he nor his sister are looking to become tabloid fixtures. "They know about celebrity-dom," Zeta-Jones said in Parade. "So, they don't want to be famous; they just want to be good actors." She echoed this sentiment in a separate chat with "Today," noting, "Their passion is about acting as a craft."