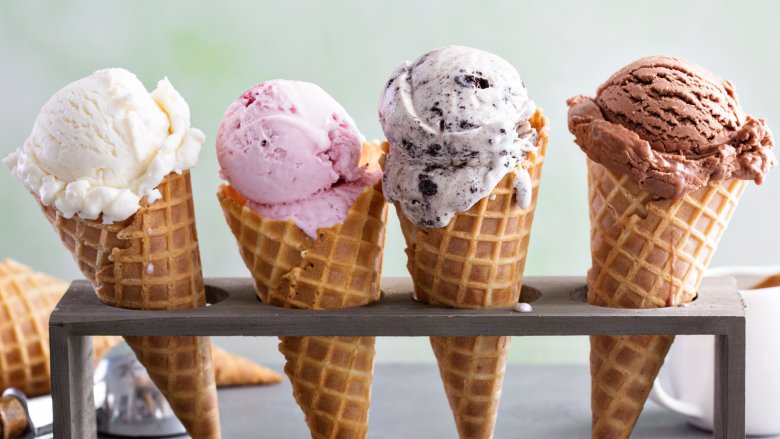 Few things are as universally pleasurable as a scoop of ice cream on a hot summer day. There is something about the cool, creamy, and perfectly sweet sensation of the frozen treat on our lips that reminds us of the good things in life — birthday parties, holidays, and the always-anticipated last day of school.
In fact, for many of us, the sheer delight of enjoying ice cream in its many forms is so powerful that we refuse to allow our indulgence to be limited to a particular season or special occasion. Thankfully, this need has been recognized and celebrated by many chain restaurateurs, resulting in a plethora of year-round ice cream shops for us to choose from.
Alas, not all ice cream is created equal and it can be overwhelming to figure out which places are worth the trip — and which you should probably skip. For this reason, we have done the work for you and ranked chain ice cream shops for you, from worst to first. You are welcome.
14. Dippin' Dots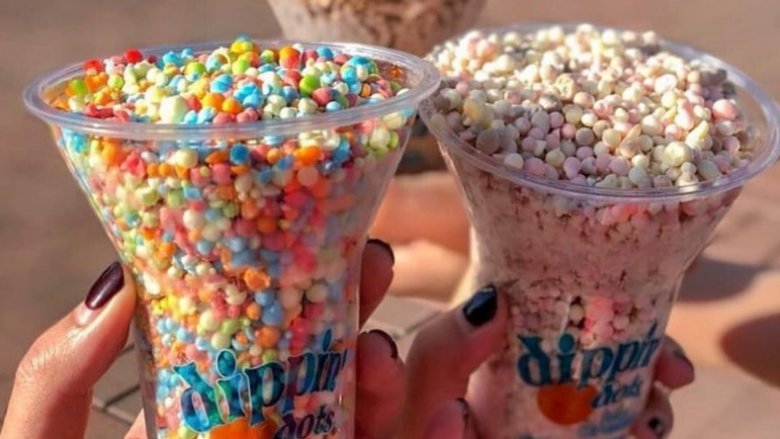 Dippin' Dots is a familiar staple for people with kids, people who were kids in the 90s, or childless adults who, for one reason or another, spend a lot of time at amusement parks (no judgment!). Invented in 1988 by Curt Jones, a microbiologist, Dippin' Dots is what happens when you mix cream and sugar with cryogenic technology. Sounds scientifically delicious, right?
Here's the problem — Dippin' Dots is ice cream the same way that Soylent is food. In other words, not so much. This is not to say that a cup of colorful frozen pellets isn't a neat-o treat for the kids to experience in-between rides at Chuck E. Cheese. It's just that once the novelty of eating something akin to frozen Nerds wears off, which is basically immediately, it's hardly worth a return visit. For frosty treat geeks who are interested in ice cream that is created in a lab, you might be better satiated at Creamistry (we'll get to that one later).
13. Carvel
Perhaps best known for their ice cream cakes, touting such names as Fudgey the Whale and Cookie Puss, Carvel's confections have been a fixture at kids parties for decades (Fudgey turned 40 in 2017). Founded by Greek-American Tom Carvel (nee Athanassios Karvelas) in 1929, Carvel initially cornered the market with their innovative "soft ice cream" (aka soft-serve) and quirky commercials.
Since then, however, Carvel has done little to bring their products up to the dessert standards of today. Despite adding some interesting flavors to their repertoire, like Kit-Kat and cotton candy, the uber-soft, somewhat watery consistency of Carvel ice cream does little to excite us. Nevertheless, points are given for the nostalgia attached to the nearly century-old brand. Old favorites like the flying saucer and other well-known Carvel treats represent something bigger than just dessert — they are the realization of an American Dream. Therefore, Carvel will always have a place on our list (just not a great one).