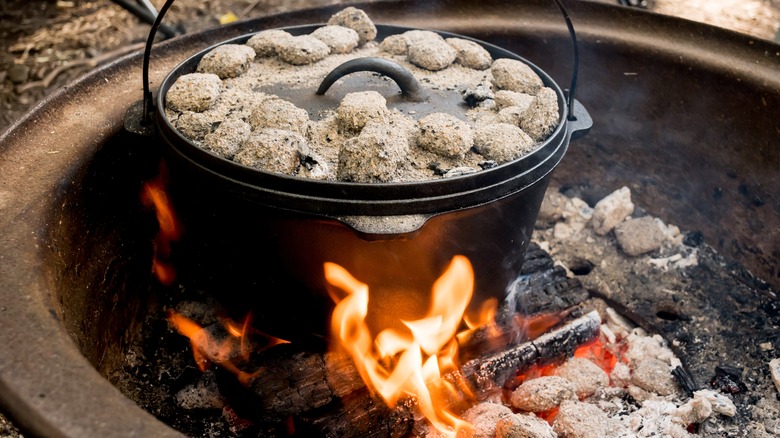 There's something bold and beautiful about a Dutch oven: It has sturdy handles and a lid that helps seal in flavor and moisture. It's also large enough for a family dinner recipe. Classic brands such as Le Creuset offer colorful variations of this iconic kitchenware. Some of these are so gorgeous that you might enjoy both cooking in and displaying your prized pot. Dutch ovens are wonderful for making both stovetop and oven dishes. Once you realize how incredible your Dutch oven is, it may become a much-loved piece of your kitchen kit that you cannot cook without.
Traditionally, Dutch ovens are made from cast iron: If they're not enamel coated, then you can use these outdoors on a fire. The thick walls, wide base, and heaviness of Dutch ovens make them perfect for heating up food to high temperatures and retaining heat. Because the Dutch oven has these unique qualities, you can use it to cook recipes that you couldn't otherwise make with an ordinary ovenproof dish or skillet. There are so many dishes that are perfect for a Dutch oven: It's easy to feel inspired by Dutch oven recipes. While some foods are ideal for Dutch ovens, others may not work quite as well. It's essential to find out which foods you should and shouldn't cook in your Dutch oven.
1. Bake bread
Since Dutch ovens are great at evenly distributing heat, they're perfect for baking bread. The loaf typically emerges from the oven cooked evenly throughout, with a fantastic crust. The shape and size of the pot make it ideal for dough. Try our rye bread recipe for bread that has a chewy texture and dark exterior: Simply add the proofed dough to a pre-heated Dutch oven. Once you've taken the pot out of the oven, make sure you leave a tea towel or oven mitts on the handles of the pot. This reminds you that it's hot, so you don't grab it without protection.
To bake rustic sourdough bread in your Dutch oven, make sure you keep the lid on for most of the cooking time. This creates a humid environment for the dough to work its magic and rise up. Make sure to score the dough and uncover it for the last 15 minutes so that the crust browns. Our Dutch oven whole wheat bread recipe is simple to follow as it requires no kneading. Once again, the steamy heat expands the bread before the crust hardens, creating a wonderfully soft bread. The secret ingredient is molasses, which adds a sweet and savory flavor that complements the brown loaf.
2. Roast ribs
Dutch ovens are made for braising meats so that you end up with a mouthwatering melt-in-the-mouth tenderness. Imagine short ribs falling off the bone: You can cook them nice and slow and sear them in the same pot as well. The lid traps the steam so that the meat doesn't dry out. The moisture rises and hits the ribs before falling back down into the dish, creating a basting effect that keeps whatever you're cooking lovely and succulent, which helps boost the flavor and brown the ingredients.
Caramelize flour-dredged short ribs by searing them in batches before adding veggies and broth. Rosemary and thyme elevate the flavor as long as you give the dish time to rest after cooking so that the meat is juicier when you serve it. If you try out country-style ribs recipe in a Dutch oven, it's important to ensure the ingredients are cooked in a single layer so that the heat is distributed evenly. Just be careful the ribs don't fall apart when you are adding in barbecue sauce and cooking them further.
3. Slow cook pulled meats
Adding meat to a Dutch oven, putting the lid on, and slow cooking it will lead to some incredible dishes. If you love soft, shredded pulled meats full of flavor, then the Dutch oven is an essential piece of your kitchen kit. You don't need lots of ingredients, either. For example, pork with lard and salt can be transformed into carnitas and added to tacos with fresh salsa. Try our pulled pork recipe by adding a spicy, herby sugar-based rub on slices of pork shoulder or butt. Serve with an apple cider vinegar and honey ginger sauce. The shreds of meat with browned seasonings are delicious on a Hawaiian bun served with pickles, coleslaw, and pickled red onions.
To follow our barbacoa recipe, braise beef chuck roast and short ribs in a Dutch oven on onion with garlic, chipotles in adobe sauce, green chilis, and apple cider vinegar. Add bay leaves, ground cumin, and lime juice. The meat is incredible when it's wrapped in a corn tortilla with salsa, avocado, and cilantro. Serve roasted mojo pork with rice, black beans or as a sandwich in a brioche bun with pickles. It will take about five hours of cooking time in your Dutch oven for the citrus juices, herbs, cumin, and cilantro marinade to penetrate the slow-cooked pork joint.
4. Fried chicken
You may not have considered deep frying dishes in your Dutch oven. However, since Dutch ovens distribute heat evenly, even at high temperatures, they're actually ideal for frying up crispy-coated chicken pieces, whether they're dipped in a thick batter or covered in breadcrumbs or panko. One of the big issues with making fried chicken is ensuring that the meat is cooked all the way through. Of course, the trick is to get the temperature just right while making sure the coating doesn't burn or fall off.
To follow our copycat KFC chicken recipe, marinate chicken pieces in a buttermilk and egg mixture for at least 30 minutes. Dredge each piece through an herby flour mix before adding around three inches of oil heated to 350 degrees Fahrenheit in your Dutch oven. Turn the temperature down as you cook the meat before transferring it to an oven. For a variation on this theme, make harissa fried chicken. Marinate chicken in a spicy harissa paste first. Dip into an egg wash and dredge in flour before frying. Top the fried chicken with homemade tahini sauce and sprinkle on some black sesame seeds. You want the temperature of the meat to reach at least 165 degrees Fahrenheit.
5. Roast a whole joint
Resting a whole chicken on some bread and adding a stick of butter under the skin before cooking it in a Dutch oven is one way to roast a bird. Your Dutch oven is perfect for roasting whole joints of meat. If you're looking for inspiration, then you may want to try Bobby Flay's prime rib recipe by adding rosemary, shallots, and onions to the pot. Once the meat is cooked, make the thyme and rosemary jus in the Dutch oven with beef stock and red wine. For a medium-rare roast, the meat should be at around 145 degrees Fahrenheit. There's something comforting and earthy about roasting a joint in a Dutch oven: It lends a traditional and homely feeling.
Try making roast beef by cooking a piece of chuck steak in a Dutch oven with rosemary, thyme, and Worcestershire sauce. Add stock and/or red wine when roasting the beef. Serve the roast beef on the veggies with some of the juices drizzled over the top. This dish pairs perfectly with mashed potatoes. Joshua Weissman's mom's pot roast is another stunning chuck roast recipe featuring thyme, garlic, and carrots. To make a Mississippi pot roast, brown chuck beef and then top with ranch seasoning mix, au jus mix, butter, and peppers.
6. Make a stew or casserole
A rich stew may be the most obvious item to make in your Dutch oven: It's exactly the kind of dish that simmers away on the stove or in a robust casserole dish in an oven. Stew can feature beef, lamb, and chicken, as well as shrimp and cockles. Coq au vin is an incredible French dish that's made with chicken thighs, stock, and red wine. Sear the meat in the oil from fried salt pork strips before deglazing your Dutch oven. Cook the chicken skin-side up and ensure the top of the meat is not covered by the liquid.
Beef bourguignon is another French classic that's served with mashed potatoes or noodles. It entails stewing the steak till it's tender in a burgundy gravy with button mushrooms and pearl onions. Reduce the liquid as much or as little as you like to attain the perfect consistency. For a darkly rich dish, try making Guinness stew with boneless chuck steak. The gravy is made on the stovetop, and it typically contains Guinness, coffee, and chicken broth, plus soy sauce and sugar. The mixture is then transferred to the oven and baked for a couple of hours. Parsnips, carrots, and potatoes are added as the dish continues cooking. Ladle the hearty contents into a bowl and enjoy with a buttered hunk of crusty bread.
7. Create a pasta dish
If you've got a small Dutch oven or a few individual-sized ones, then you might enjoy making a velvety macaroni and cheese. The best thing about creating a pasta dish is that you can cook it on the stove initially, finish it off in the oven, and then serve it in a pot at the table. Nothing says comfort like a cheesy, carby pasta dish. And you don't have to limit yourself to macaroni and cheese.
You could try making our one-pot creamy French pasta bake. What's interesting about this recipe is that you cook fusilli pasta in the same pot as the sauce rather than adding cooked pasta to it. Start by carmelizing onions before adding thyme, mushrooms, and chicken stock. The creaminess is derived from the addition of half-and-half and Gruyère cheese. The cheesy topping is attained by adding Parmesan cheese and transferring the Dutch oven from the stove to the oven so that it can melt and brown on top. Penne alla vodka is a simple stovetop pasta dish you can rustle up in your Dutch oven. The alcoholic sauce is delicious when served with al dente pasta.
8. Cook rice dishes
Rice is often served as an accompaniment to numerous dishes, such as the one-pot ground beef stroganoff, for example, which can be made in a Dutch oven. However, you can also make rice the star of the show with some traditional and mouthwatering dishes. Parmesan risotto is made with arborio rice. Usually, making this dish entails continuously stirring a saucepan on the stove. However, this recipe guides you to start on the stovetop with your Dutch oven before cooking in the oven so that you don't have to keep an eye on it.
If you love stovetop suppers, then why not try a simple one-pot chicken and rice recipe? You'll need boneless, skinless chicken thighs and jasmine rice. Once you've seared the meat and sautéed the veggies, you can add the chicken broth and rice. Simmer before stirring in melted garlic butter, shredded Parmesan cheese, and chopped parsley: The result is absolutely delicious. You can probably think up some variations on meat and rice in a Dutch oven and create your own combination of vegetables, herbs, and spices to add to the mix.
9. Bake potato dishes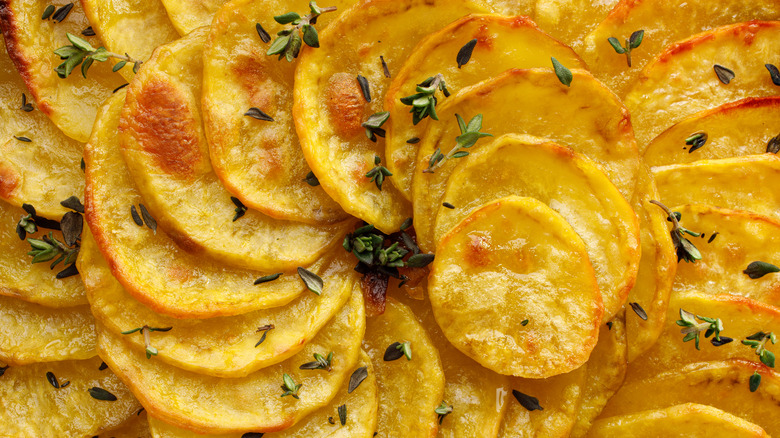 You can add potatoes to a stew, and you can also use your Dutch oven to make specific potato dishes. Scalloped potatoes is a deliciously creamy dish, and making a roux for the sauce is easy, especially if you use a Dutch oven. It can be easy to burn the flour and fat in a saucepan, but the heaviness of the Dutch Oven tends to prevent this from happening. Our scalloped potato recipe is made with bacon and leeks, and heavy cream is poured over the potato slices.
Other baked potato dishes include creamy dauphinoise potatoes and potatoes au gratin. While these recipes don't necessarily specify using a Dutch oven, it's certainly worth considering how you can change up recipes and cook them in different ways using this fantastic piece of kitchen equipment. You can switch up the scalloped potatoes recipe and layer potatoes, grated cheese, and onion slices and cover them with milk in a greased Dutch oven. You can also bake potato slices in olive oil in your Dutch oven with bacon, cheddar cheese, and onions.
10. Cook a campfire cobbler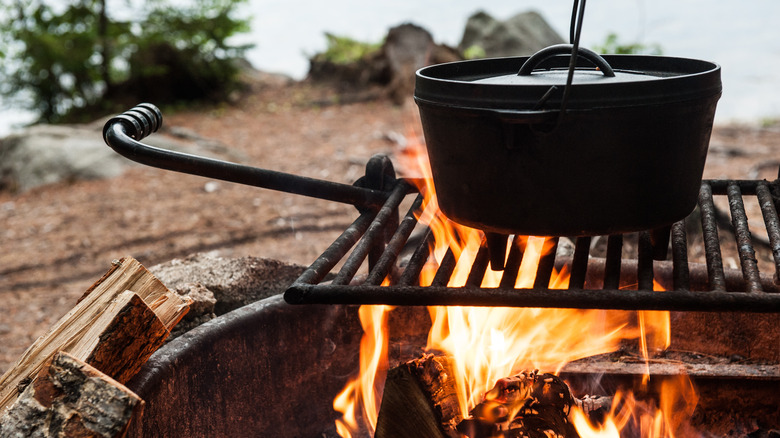 Don't limit your thinking by assuming that you can only cook savory dishes with your Dutch oven. A classic cast-iron Dutch oven is an essential piece of your culinary equipment if you're camping or having a cookout and enjoying dishes cooked on coals outdoors. And, if you're not in the mood to make meaty meals with rich gravies, you could make a fruity dessert such as a peach cobbler.
All you need are some tinned peaches. Cook the peaches in some of the juice from the can in a Dutch oven on some coals with some sugar and cinnamon. Add the remainder of the juice to the dry biscuit mix. Add doughy dollops of this mixture to the fruit and put the lid on. Add some coals to the top of the lid and cook until the biscuits are cooked and turned golden. Some of the best desserts are the simplest, and there's something so satisfying about al fresco cooking.
11. Don't cook acidic foods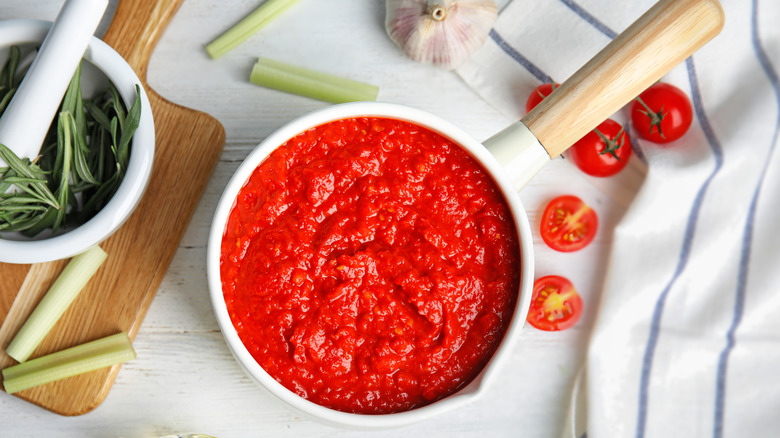 If your Dutch oven is enamel coated, then you can easily use it to cook homemade tomato sauce or any other acidic foods. However, it's not a good idea to simmer these types of foods when you're using any type of kitchen kit made from cast iron. This is because the metal and the acid in tomatoes could react, resulting in foods that taste like metal.The reaction isn't dangerous, but it doesn't exactly elevate the flavor of a dish.
Seasoning your Dutch oven is one way to create a barrier between the acid in foods and prevent a reaction with the metal. This means adding oil, rubbing it into the surface, and then heating it up in a hot oven for an hour. While there's nothing wrong with cooking acidic foods for a short time, it's probably best to avoid doing so for an extended period. If lemons or tomatoes affect the color of the cast iron in any way, you can clean the surface with baking soda. It's best to avoid using dishwashing liquids.
12. Avoid cooking delicate varieties of fish
Gordon Ramsay's salmon recipe with a twist is a tasty dish to make. It's served with lemon, butter, garlic, and thyme sauce with a little cayenne kick. Ramsay recommends pan-frying salmon skin-side down after scoring, which protects the delicate fish. However, the fish should be flipped during the cooking process to ensure it cooks evenly. You'll need a large skillet for this recipe and some olive oil. However, using a Dutch oven for this recipe isn't a good idea because it can cause fragile foods like fish to break apart easily.
Flaky fish is best cooked in a non-stick pan, although salmon is more robust than, say, trout, so it can fare better in a Dutch oven. The heat distribution across the cast iron is perfect for searing meats for a stew so that you get a browned surface that seals in the juices perfectly. However, it's a little too intense for a white fish that needs to be handled gently.
13. Forget egg dishes
If you enjoy eating scrambled eggs for breakfast, you probably use a non-stick skillet and a spatula to make them. That way, you can easily move the beaten eggs from the edges, folding them as they cook. But it's best not to make your life too hard by using a Dutch oven to cook eggs.
The heavy cast iron of your Dutch oven is perfect for heating up to high temperatures that are likely too intense for cooking eggs in any form. It can be difficult to manage the temperature of a Dutch oven or control it to make simple, fast recipes with delicate foods such as eggs. Aside from temperature issues, your eggs are likely going to stick to a cast iron surface and even an enamel-coated Dutch oven that isn't seasoned properly. And anyway, do you really want to hoist a Dutch oven onto your stove first thing in the morning when you can use a light skillet instead?
14. Pass on pungent foods
One of the many joys of home cooking is the aroma that wafts through your kitchen when you fry certain ingredients. These aromas fill the air and create a cozy feeling, as well as make you hungry with anticipation of a great dish. However, when it comes to sizzling pungent foods such as garlic, your Dutch oven isn't necessarily the best pot to use.
The issue is that the cast iron may grab onto some of that flavor and aroma. When you use your Dutch oven for another dish, it might continue to deliver these tastes and smells in future dishes. If all you make are garlicky recipes, then there's no issue, but you probably don't want to taste past ingredients. If you're tempted by our easy garlic shrimp recipe, then sauté the seafood in a pan. That way, the smells of the marinade made from garlic, lemon juice, and red pepper flakes will not be absorbed into your Dutch oven.
15. Give sugary and sticky foods a pass
If you love using your Dutch oven, then you'll want to make sure you take good care of it. A good way to do this is to avoid cooking sticky foods, and this definitely includes sugary ones that are going to be hard to shift from the surface. Sticky ingredients can leave behind bits of food that affect the non-stick quality of a cast iron Dutch oven. They also make cleaning your pot more difficult. The flavors and colors of certain condiments, such as barbecue sauce and honey, can linger, affecting all your future dishes.
If you'd like to make homemade caramel sauce, ditch your beloved Dutch oven and use a large saucepan instead. That way, you can gently heat butter, maple syrup, as well as brown and white sugar before adding heavy cream. Making caramel sauce requires specific temperature control, particularly as you melt the butter, bring the ingredients to a boil, and simmer them on low heat.