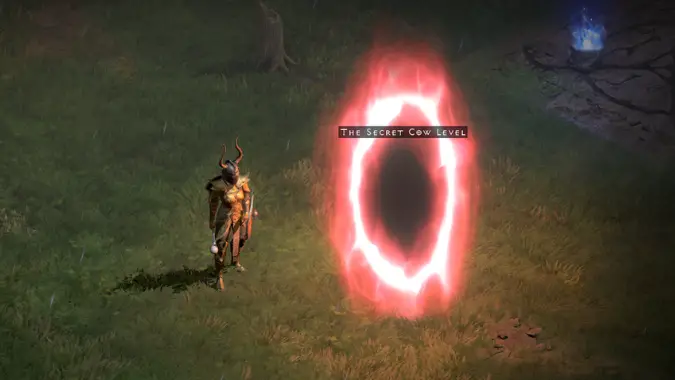 Diablo 4 is arriving on June 6 and while many are salivating to find out what happens with Lilith and Inarius there are a number of franchise devotees who await the answer to a far more pressing question: is there a Cow Level? While the knee-jerk response is inevitably, "there is no Cow Level," it's such an important feature that it's a fair concern whether the latest incarnation will have one.
The history of the Cow Level is an intriguing one and it's not hard to imagine it making a return. While some would argue that the stakes are too high for such frivolity, it's not like previous Diablos were fun little jaunts through Sanctuary and Hell. There is also the fact that it did not appear during any of the beta events however it's possible that the requirement to access it is the same as in Diablo 2, namely having to beat the game first which could not be done during the beta.
One of the clues that there will be a Cow Level is in the forthcoming World of Warcraft tie-in Greedy Emissary event. During this event WoW players are able to obtain several items with ties to Diablo and one of these is Wirt's Last Leg, a tongue-in-cheek reference to the fact that we've already seen Wirt's Original Leg, Wirt's Other Leg, and Wirt's Third Leg across both franchises. Wirt is an important person in the history of the Cow Level so the mention could be a big clue.
This said, my expectation is that Diablo 4 will not have a secret Cow Level — yet. One of the lasting successes of Diablo 3 is the Season model and Diablo 4 is going to be continuing that with an expanded model that launches one month after the game. It would make sense that the Cow Level — and maybe even Whimsyshire, although that's not as loved by the community — could return as a featured location during a future Season. This would be a great way to focus on the history of the Cow Level while also keeping the base game "serious" until then.
So to answer the question posed in the title of this article: There is no Cow Level.
For now.