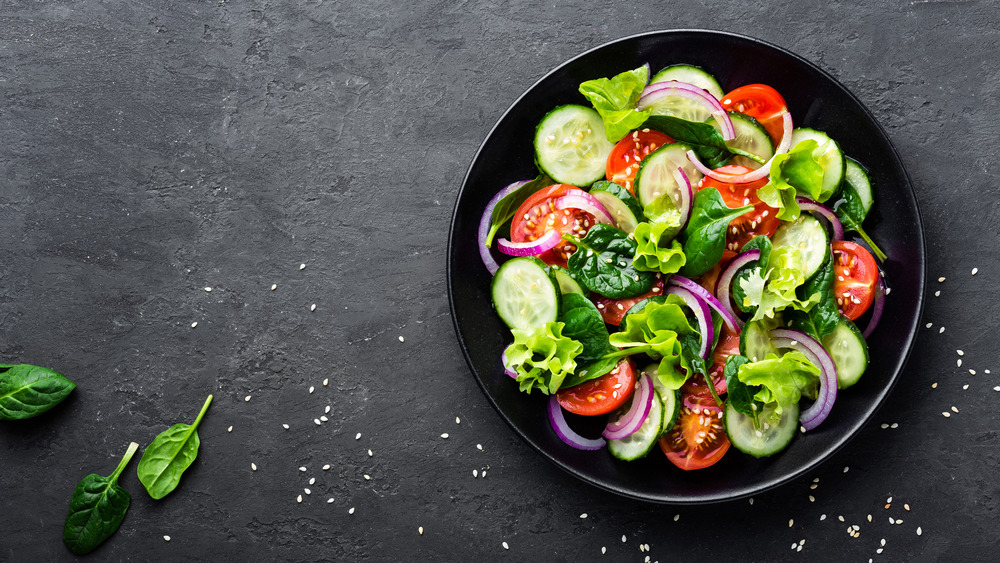 Fast food salads have come a long way … mostly. For anyone who's looking to add a few more vegetables into their diet, or who just wants a lighter alternative while eating out, salads can offer a good option. Of course, just because something is labeled as a salad doesn't mean it's inherently better or healthier than other menu items. Still, when it comes to fast food salads, some impressive progress has been made over the course of the last decade or two.
That said, there are a few fast food salads that aren't worth your time or money. Maybe they're really unhealthy, or maybe they're not very fresh, or maybe they're just plain bad. Whatever it is, when you look at what makes a fast food salad both nutritious and delicious, one thing becomes increasingly clear: The more variety a fast food establishment offers in their salad ingredients, the better it usually is. After all, iceberg lettuce, cheese, and croutons don't make for a very good salad, in any manner of the word. So without further ado, here are fast food salads ranked from worst to best.
13. This Burger King salad just isn't it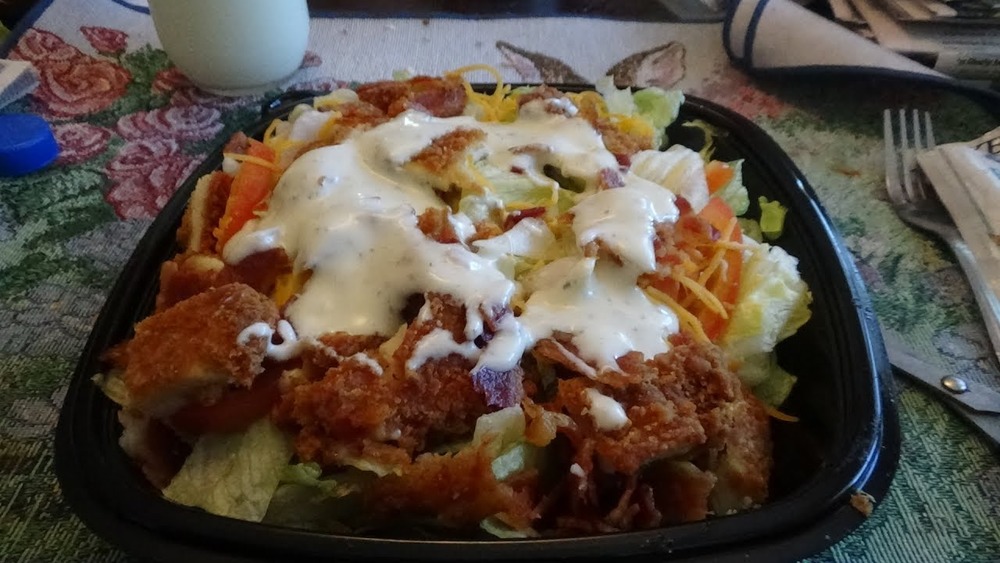 If you ever find yourself on a long road trip, your stomach rumbling and craving some sustenance, and the only place for food within a hundred miles is a Burger King, just avoid the salad. Seriously, the Crispy Chicken Garden Salad from Burger King is probably the worst fast food salad. It's not healthy, and it's also just not good. With all the toppings on it, it's hardly even a salad at all.
Specifically, it's clear that the salad is lacking serious variety. It's practically just romaine lettuce and tomatoes, with a ton of cheese and croutons, and of course, fried chicken, on top of it. Additionally, as far as calories are concerned, you might as well treat yourself to a burger. It has 870 calories before you even add salad dressing!
Clearly, this salad just isn't good, in both taste and health.
12. The salad at Carl's Jr. is pretty lackluster
When it comes to salads, there are a ton of different lettuce options you can use. There's romaine, for a nice crunch. There's also kale, arugula, spinach, and so many more greens that all have a ton of flavor and health benefits. But the worst lettuce a salad can be made of? Definitely iceberg. It might have a great crunch to it, but it doesn't offer any flavor, or have nearly as much nutritional value as other lettuces (via Medical News Today). For that reason, the salad at Carl's Jr. is pretty lackluster.
Specifically, while Carl's Jr.'s Charbroiled Chicken Salad is low in calories, it also lacks decent veggies, says integrative nutritionist Karina Heinrich. "They only use iceberg lettuce, and other than that all they have veggie-wise is a few slices of tomato and red onion," she told HuffPost. "The rest is cheese, croutons and chicken." Yeah, the salad is basically the insides of a chicken sandwich minus the delicious bread holding it all together. So really, you're better off getting a chicken sandwich at that point.
11. The Subway salad options are pretty sad
No matter how you feel about Subway, and whether or not it's actually as fresh as they claim, plenty of folks think that the bread at Subway is delicious. It smells great, it tastes great, and it has a great texture. So what happens when you forgo the beloved bread at Subway and opt for a salad instead?
Well, for starters, it won't be nearly as tasty. Take the Subway Sweet Onion Chicken Teriyaki salad. Not only is it way too sweet, it also doesn't exactly boast an exceptional flavor profile. Additionally, nutritionist Sarah Garone told Yahoo! Life that this particular Subway salad isn't your best bet. "With 'sweet' right there in the name, it's no surprise that this salad clocks in with significant sugar," she said.
On the other hand, Garone did explain that the Sweet Onion Chicken Teriyaki Salad might be a somewhat healthy choice, sugar aside. "However, it doesn't have a lot of saturated fat and is quite low-calorie," Garone added. So while this salad definitely isn't the worst fast food salad, it's still pretty sad. Oh, and be aware of ordering any chicken dish from Subway, as it might not actually be chicken, as noted by CTV News.
10. Dairy Queen salads are disappointing
Dairy Queen
Look, Dairy Queen isn't a bad fast food establishment. Their Blizzards, burgers, frozen treats, and sides are all delicious. But the salads at Dairy Queen aren't really anything to write home about. Like many other fast food salads, they're just chicken on top of some lettuce with cheese and other not-so-healthy toppings. That renders them fairly disappointing.
It's not surprising, then, that one former Dairy Queen employee told Delish that the salad at Dairy Queen isn't worth your money. "Salads from DQ are a rip off," they explained. "They just recently downsized them while changing the bowl to make it look like the same amount. Over $5 for three ounces of old lettuce, cabbage, carrots, and even older grilled chicken." Another employee summed it up succinctly. "If you go into DQ for anything other than a Blizzard or a burger, you are at fault," they stated.
Um, gross. No one wants old lettuce and chicken. So if you have to eat at Dairy Queen, just don't get a salad.
9. The salads at Pizza Hut are a hard no
Most pizza joints offer a side salad, or even an entree salad on their menu, just to keep up the appearance of variety and health. And Pizza Hut might offer a salad option, too, depending on your local Pizza Hut. But even if they do, you probably shouldn't order it. While most of the menu items at Pizza Hut are pretty good, the salads are not and could even be described as questionable.
As one ex-Pizza Hut employee explained, the salads at the restaurant weren't something they would ever order. "I used to work at Pizza Hut too and I really can't think of anything I wouldn't eat," they revealed in an interview with Delish. "The only things that were sometimes iffy were salads, just because they weren't ordered super often and lettuce doesn't stay good for long."
Pizza Hut salads aren't fresh, and with a menu full of other delicious offerings, why get a bland salad that you'll end up regretting anyway?
8. This Del Taco salad really isn't a salad at all, but it tastes good
Listen, you can call a taco salad a salad all you want, but at the end of the day, it's basically a deconstructed taco. A delicious deconstructed taco, but a taco nonetheless. And at Del Taco, the Signature Taco Salad is the perfect example of that. It's not really a salad, but it is super yummy, and it's not really healthy, but again, it tastes good.
According to the Del Taco website, the salad consists of "Seasoned beef, grated cheddar cheese, sliced avocado, seasoned black beans, pico de gallo salsa, chopped cilantro, cool sour cream, and crunchy tortilla chips [that] are layered over our fresh romaine and iceberg lettuce blend."
Del Taco's Signature Taco Salad also comes with a side of salsa, further cementing the fact that it's not really a salad. With 550 calories, though, it will probably fill you up and leave you feeling like you ate something a little healthier than your weight in tacos.
7. This Wendy's salad is tasty but unhealthy
As far as fast food chains go, Wendy's is pretty decent. They have a large variety of foods including chili and baked potatoes, in addition to burgers, fries, and chicken sandwiches. And who doesn't love a Wendy's Frosty? Plus, their salads are actually pretty good, too. Their Apple Pecan Chicken Salad, in particular, is beloved by many, and filled with so many different ingredients that are beautiful and tasty.
One Twitter user even took to the social media platform to rave about the fast food chain's salad achievements. "Wendy's apple pecan salad is the best thing to happen to fast food," the user wrote. Another raved as well, saying, "I'm gonna make a thread of every time I get an apple pecan chicken salad bc I'm literally addicted and maybe one day @Wendys will promote me," they wrote on Twitter. The salad features "crisp red and green apples, dried cranberries, roasted pecans, crumbled blue cheese, and grilled chicken breast," and comes with a delicious vinaigrette dressing, per the Wendy's website.
Clearly, the Wendy's Apple Pecan Chicken Salad is a favorite, but while people love it, it's sadly not that healthy. It's low in calories, even including the dressing, but high in fat, sodium, and sugars. In a nutshell, Wendy's Apple Pecan Chicken Salad might not be the best, but it's also far from the worst in the world of fast food salads.
6. Arby's knows how to whip up a salad
When you think of Arby's, it would only be natural to just think of meat, as that tends to be the main aspect of their marketing strategy. Still, Arby's has more than just sandwiches stuffed to the brim with roast beef, and one of their salads was actually equal parts healthy and tasty. That is to say, it's not the healthiest nor tastiest thing in the world, but it was still surprisingly good, though it's no longer offered.
Nutritionist and author Lisa Richards told Today that the Arby's Roast Turkey Farmhouse Salad is a great fast food salad. "Overall, this is a good choice for a healthier salad," Richards explained. "Roast turkey is a healthy, lean protein, although the bacon is a processed meat and a much less healthy ingredient." Richards also cautioned that adding salad dressing would obviously up the calories, and advised using a lighter dressing like a vinaigrette instead. While Arby's doesn't offer the salad anymore, there is a Roast Chicken Salad, which is seemingly similar in nutrition, and taste.
The Arby's Roast Chicken Salad is pretty good, although not the best of the fast food salad offerings.
5. Zaxby's salads are super popular
If you live in the South, then youve probably heard of Zaxby's, the delicious fried chicken fast food joint that people can't get enough of. But there's more than just fried chicken on Zaxby's menu – the chain also makes salads that people can't seem to get enough of.
Heck, even celebs are in on it. Tia Mowry was in a 2014 Zaxby's commercial, and one fan reached out to her on Twitter about it, referring to her own favorite menu item. "I saw your #Zaxbys commercial for their salad and I think they have the best fast food salads," the user wrote, which Mowry retweeted.
Nutritionist Sarah Garone told Eat This, Not That that the Grilled Cobb Zalad at Zaxby's was an excellent option. "It's not as high in calories, saturated fat, or sodium as the Fried Cobb also on the menu," Garone said. "I don't consider its seven grams of sugar a problem, as they come from fresh vegetables." However, Garone did warn against the sodium content, which was pretty high. Still, you could do a lot worse than the Grilled Cobb Zalad at Zaxby's, and it's pretty delicious as well.
4. The salads at McDonald's might surprise you
Now, McDonald's probably isn't the healthiest fast food chain out there, but it actually has a good amount of items that aren't burgers and fries. Specifically, the salads at McDonald's are actually both healthy and super satisfying. Normally, you might think that for a salad to be healthy it won't be very filling, but McDonald's proves that to be wrong.
Nutritionist Tamar Samuels told HuffPost that the McDonald's Southwest Salad was especially delicious and nutritious. "It has romaine, baby spinach, baby kale, Lollo Rossa lettuce, red leaf lettuce, red oak lettuce, red tango lettuce, red romaine lettuce, and red butter lettuce," Samuels shared. "It also has a nice variety of vegetables, including black beans, roasted tomatoes, [and] poblano peppers."
McDonald's Southwest Salad is low in calories but high in taste and nutrients, and that's saying something. Not everything that the golden arches sell is deep fried, and the salads might just become one of your new favorite things.
3. Panera Bread knows how to make a salad
There are three main types of dishes that Panera Bread offers: sandwiches, soups, and salads. So obviously, they would know how to nail the perfect fast food salad, and while the Asian Sesame Chicken Salad at Panera Bread isn't quite perfect, it's pretty darn close. What it lacks in vegetable variety (it really only has romaine and cilantro), it makes up for in flavor and texture. The salad is bright, light, and filling all at the same time.
Not only is the salad healthy – low in calories and high in protein even with the dressing — but it's also seriously delicious. The crispness of the romaine combined with the perfectly grilled chicken and zesty dressing make this salad a total hit. People all over Twitter rave about the salad, claiming it's good "everytime," and that they find themselves "dreaming" of it. Seriously, the Asian Sesame Chicken Salad at Panera Bread isn't just a salad, it's practically an experience, and one you should definitely take part in before too long.
2. Chick-fil-A has an amazing salad
Chick-fil-A is obviously known for its delicious chicken, but they also have a few salad offerings featuring their delicious grilled or fried chicken, and they are seriously scrumptious. Specifically, the Spicy Southwest Salad from Chick-fil-A is so flavorful (and pretty healthy) that it's one of the best fast food salads out there.
Chick-fil-A's Spicy Southwest Salad features mixed greens, tomatoes, cheese, and a topping made from corn, black beans, poblano chiles, and bell peppers. Then, the salad is served with little bags of tortilla strips and pepitas to top it all off, along with a creamy salsa dressing. If you order the salad with grilled chicken, it remains healthy, and clocks in at 450 calories including dressing. People love the salad, and one Twitter user even went so far as to claim that it might just change your life. "If you haven't had a spicy southwest salad from chick-fil-a I promise you're missing out on the best thing on earth," they wrote.
And, if you're less concerned with health and more concerned with flavor, skip the grilled chicken and substitute it for the nuggets. They perfectly complement the flavors in the salad, and make your meal seem a little less healthy without totally sacrificing on your nutrition. Seriously, this salad is more than amazing — it's practically perfection in a bowl.
1. Chipotle salads are impressive
Oh, Chipotle. The make-your-own fast casual Mexican eatery with an almost cult-like following. Sure, Chipotle is known for their burritos and bowls, but the salads they offer are both tasty and nutritious. Obviously, if you don't like Mexican flavors, then Chipotle's salads won't be for you. However, for most people, they're as close to perfect as you can get from a fast food chain.
As Eating Well reported, the best options health-wise at Chipotle are salads or burrito bowls. As is the nature with Chipotle, you can add any ingredients you want to the salad, making it exactly how you want it. Choose between chicken, steak, carnitas, and more. Then, you can add veggies, beans, corn, salsas, and cheese. Seriously, add whatever you want to make your salad just right for you.
Additionally, the ingredients at Chipotle are top-notch. Rhode Island-based nutritionist Wendy Leonard told Pure Wow that Chipotle has done a good job of keeping things healthy and tasty. "I am impressed by how they have considered the health of their customers by revising their ingredient list and removing preservatives and unnecessary additives," Leonard shared.