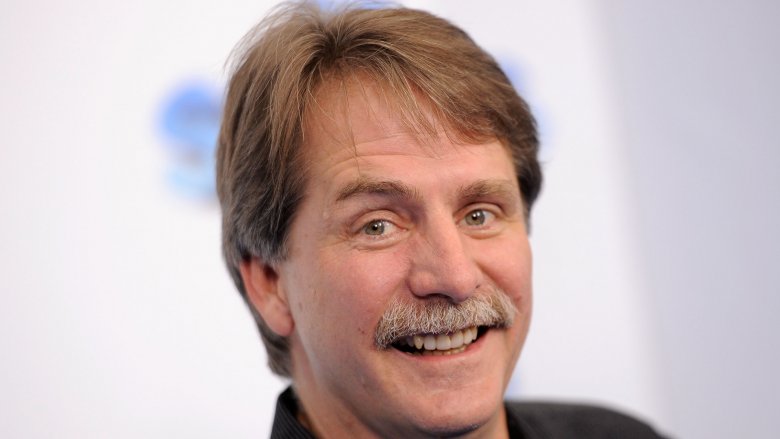 During the 1990s and early 2000s, there weren't many comedians who enjoyed careers as successful as Jeff Foxworthy. His relatable humor about being a regular Joe, a dad, and a guy from the South endeared him to millions of fans…and so did his extremely popular "you might be a redneck" jokes. Foxworthy's albums sold so well that he became the most successful comedy recording artist of all time, he starred in his own network sitcom, he hosted Are You Smarter Than a Fifth Grader? and he headlined the Blue Collar Comedy Tour with Bill Engvall, Larry the Cable Guy, and Ron White. Nothing lasts forever, of course, and these days, Foxworthy isn't the white-hot king of comedy he once was, but he's still got a huge following and keeps very busy. Here's what he's been up to—and you might not even be a redneck if you read the whole article.
He makes a lot of TV commercials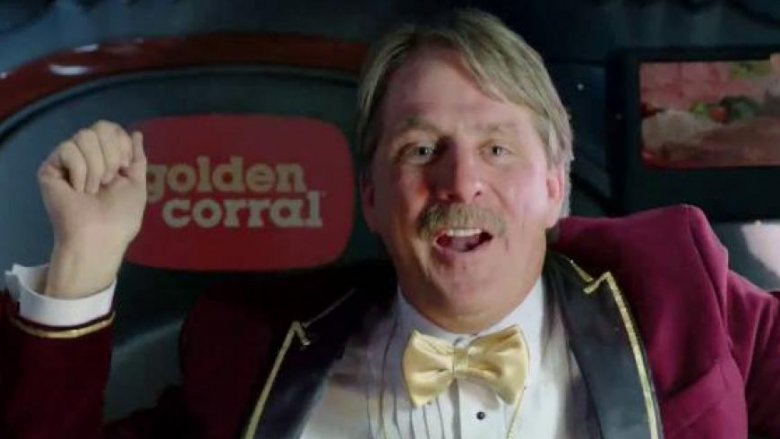 Fans might not see Foxworthy shows or specials while flipping through the channels as much as they used to, but they can still catch a glimpse of him on TV—if they pay attention to the ads. Since 2015, Foxworthy has been the face and voice of the Golden Corral buffet chain, and in just over two years, he's appeared in more than 20 different TV advertisements for the company. He's also made ads for Purina animal feeds and the iScope, an iPhone attachment that allows hunters to take videos of whatever they see through their gun's sight.
He had his own line of barbecue sauces
Foxworthy is among the most successful comedians ever, and even after his prime, his name can still move merchandise—like Redneck Barbecue Sauce, the product line he launched in the early 2000s. It's legitimately good, too: in 2006, the stuff got high marks from Consumer Reports, whose critic praised its "big roasted garlic flavor" and said it "would go with just about anything."
Foxworthy probably could've made a fortune with his sauce, except that it was only available online (the website is now defunct), and, as he told Bullz-Eye, production topped out at "10 or 12 bottles a month." Nevertheless, in 2008 he parlayed his saucy success into a deal with a company called Greystar Products to create a line of Jeff Foxworthy Grillin' Sauces. For the Foxworthy fan who likes flavored meat but lacks the inclination to work a grill, there's also Jeff Foxworthy Beef Jerky.
He hosted a baking competition show
The Great British Bake Off is an extremely popular reality competition series in the U.K. It's also quintessentially English, and when CBS adapted the show for American audiences in 2013 as The American Baking Competition, it hired the quintessential American comedian to host: Jeff Foxworthy. The American Baking Competition was canceled after just one season, but ABC revived it in 2016, changing the title to The Great American Baking Show—and switching hosts, from Foxworthy to married actors Nia Vardalos and Ian Gomez. Sorry, Jeff.
He was a Shark
A stand-up comedian might not seem like the most logical choice to be on the panel of barons of industry, or "Sharks," on ABC's Shark Tank. But Foxworthy clearly has a head for business, as he's participated in a variety of successful ventures. In 2010, he joined the show for two episodes, getting right down to business; according to the Shark Tank deal-tracking site Sharkalytics, he made two offers during his stint. One was a $50,000 investment for a 50 percent stake in Hydromax, a shoulder-pad mounted, impact-proof water delivery system that keeps football players hydrated.
He's an environmentalist
Foxworthy invested some of his vast fortune into an expanse of land in Harris County, Georgia, just outside of Columbus. His property adds up to about 3,000 acres, and in 2012, he legally granted a "conservation easement" on a solid one-third of that land to the Chattahoochee Valley Land Trust. An easement, by the way, means that while he still owns the land, Foxworthy has legally pledged to keep those 1,000 acres totally natural and as-is—and because he granted it to the land trust, it can never be developed by anybody, even if Foxworthy sells it.
He has a web series
Lots of comedians have a web series. They're usually the provenance of up-and-comers trying to build their résumés and get some name recognition, but established comics produce them, too. For example, there's Jerry Seinfeld's Comedians in Cars Getting Coffee—and Jeff Foxworthy's Foxworthy Outdoors: Inside & Out. It's a loose, casual show in which Foxworthy takes his friends hunting, fishing, and engaging in other pursuits in the great outdoors. Inside & Out—all five seasons of it—is one of the flagship shows hosted by an outdoors-themed streaming service called CarbonTV.
He spends a lot of time outside
Foxworthy loves being outside so much that in 2011, he started his own outdoors equipment company, Foxworthy Outdoors. In addition to outdoor gear, the company also sells a wide array of patriotic and sports-themed "Redneck" t-shirts and other Foxworthy-branded merchandise. It's an umbrella under which Foxworthy produces his series Inside & Out, and it also funds hunting trips on Foxworthy's land preserve for wounded soldiers and children with life-threatening illnesses.
He does a lot of voice work
Logging all those hours on the stage and on TV made Foxworthy's voice as recognizable as his face and name. In recent years, he's aggressively worked that asset, lending his amiable, high-pitched drawl to a bunch of animated projects. He voiced Handy Smurf in the first two Smurfs movies, Charlie Horse in a talking animal movie called Hatched, Grunt in another talking animal movie called Ozzy, and Babe the Blue Ox in the tall-tale adventure Bunyan and Babe. In 2013, CMT aired 13 episodes of Bounty Hunters, an animated sitcom about a small-town bail bonds business starring Foxworthy and his Blue Collar Comedy Tour-mates Bill Engvall and Larry the Cable Guy.
Still smarter than a fifth grader
One of Foxworthy's most prominent gigs has been hosting Fox's Are You Smarter Than a Fifth Grader?, the light-hearted game show pitting adults against a panel of kids to test their general knowledge…or at least how much of it they've retained since graduating grade school. The original series ran from 2007 to 2009 on Fox, then aired for another two years in syndication. Prolific reality TV producer Mark Burnett (Survivor, The Voice, Shark Tank) created Fifth Grader, and during dinner with Foxworthy in 2014, he confessed the show was his favorite project—feelings Foxworthy reciprocated. Why? "I get to be funny," he told Entertainment Weekly. "I didn't have to act like I was Alex Trebek." Later that year, Fox revived the long-dormant show, and Foxworthy immediately signed on to host.
He's big on faith, but not necessarily religion
Foxworthy became actively involved in the Southern Baptist church when he was a seven-year-old growing up in Georgia. While he still identifies as a Christian, he's since parted ways with the Southern Baptist faith, finding their approach to be too strict. "I love God, but I can't act and dress like that," Foxworthy has said, referring to the denomination's stringent moral and dress codes. Today, he says he's more about faith and good works than organized religion. As he put it, "It's more important that I live it out," and he's backed that up: for years, he's led a Tuesday morning prayer group for homeless men in downtown Atlanta.
He's done humanitarian relief work in Rwanda
Jeff Foxworthy is good at making people laugh—and he also clearly believes in doing good works. For more than a decade, the comedian and his family have worked with a humanitarian aid organization called Compassion International. While he's provided financial support, he also thinks it's important to get involved with the people and places where the money goes, and he's traveled to Rwanda to help in and around Compassion International's Compassion Child Development Center. "I used to think it was just writing a check," he admitted. "It's to a point now that we don't even think about the check. What you're doing is setting yourself up for a relationship."
He works closely with a childhood cancer charity
Another cause Foxworthy goes out of his way to support: cancer-fighting organizations, particularly those aiming to cure pediatric cancer. The comedian recorded a series of public service ads for Cure Childhood Cancer, an organization based near his home in Atlanta. In the spots, Foxworthy tells some jokes or an amusing anecdote about his childhood…before segueing into some truths about the harsh reality of childhood cancer.
"Most of us have stories like that one and, as a child, we also have dreams of growing up," Foxworthy says in one PSA. "But kids with cancer are afraid to dream. Cancer is taking away their hopes, dreams, and all too often, a fighting chance for the future." Foxworthy has done so much to increase awareness (and raise funds) for cancer that insurance giant AFLAC named the comedian to its Duckprints Wall of Fame. "Your life becomes enriched when you join in this struggle with them," Foxworthy said of kids fighting illness. "You think you're going there to bless them and when you leave, you're like, 'Oh my gosh, they blessed me.'"
He's a good Samaritan
Foxworthy also hasn't hesitated to help out a little closer to home—like in a grocery store in suburban Atlanta. In December 2016, a woman named Robin McFadden was checking out at a Publix in Johns Creek, Georgia. Surprised by the amount her items cost, she scrambled to find coupons to make up the difference. All the while, her kids grew increasingly fussy. Luckily, the next guy in line was Jeff Foxworthy. "How much is she short?" Foxworthy reportedly asked the cashier before paying McFadden's tab. "I told him that he was going to make me cry and then I took the photo," McFadden said about the picture she shared on Facebook. "I'm so thankful for him."
He still does comedy
All the business ventures, endorsement deals, hosting jobs, and everything else sprang forth from Foxworthy's successful stand-up comedy career. He's in no way abandoned that pursuit, which remains something he clearly loves. He still tours, playing a number of dates each year at fairs, comedy clubs, and casinos, and in 2017, he co-headlined Jeff & Larry's Backyard BBQ tour with Larry the Cable Guy. Because comedians turn their live acts into specials, both for posterity and to reach fans whose cities they don't hit, Foxworthy and Larry the Cable Guy made a special for Netflix called We've Been Thinking.
He was the subject of an internet rumor
Getty Images
Foxworthy still writes his own stand-up material, but there's one thing he's been credited with that he didn't write: a widely circulated email titled "You May Be a Muslim If…" Replicating Foxworthy's famous joke format (as well as some of the jokes), the list first popped up in 2007 as "You Might Be a Part of the Taliban If…," and it's remained a persistent favorite among a certain crowd on the internet ever since.
Despite the similarities to—and outright theft from—Foxworthy's material, it didn't come from him. Foxworthy's brother Jay went out of his way to prove it, confirming to rumor-debunking website Snopes that his famous brother definitely didn't pen the piece.