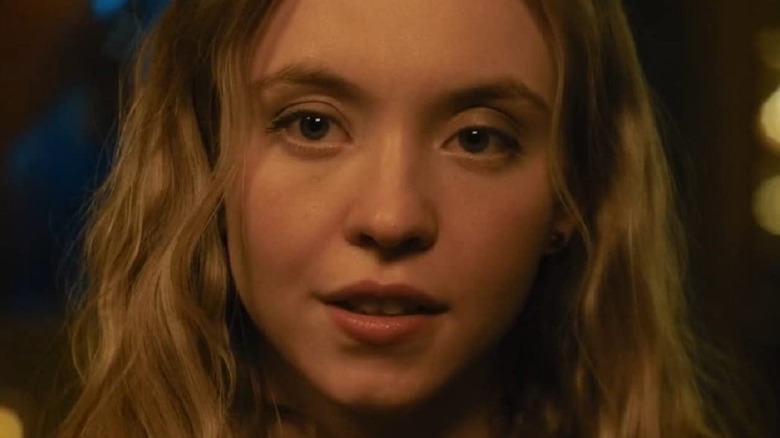 Most streaming services have at least a couple of titles that deliver memorable moments of sensuality, romance, and sex. Those themes and acts are natural expressions of the human condition, and thus filmmakers have been exploring them since the dawn of Hollywood. Amazon Prime, in particular, has never shied away from packing its catalog with hot flicks and mesmerizing shows. Some of the streaming titan's greatest originals deliver on extraordinary stories with ample amounts of passion.
Prime has pushed the boundaries by making programs that are inclusive and original, with some of their steamiest content centering on queer romance. They've also expanded far beyond American borders with international shows that merge intimacy with cultural expectations and traditions, making their catalog even more diverse and timely. From fake documentaries and period pieces to hard-hitting crime dramas, here are the steamiest movies and shows you can stream on Amazon Prime right now.
Getting Go: The Go Doc Project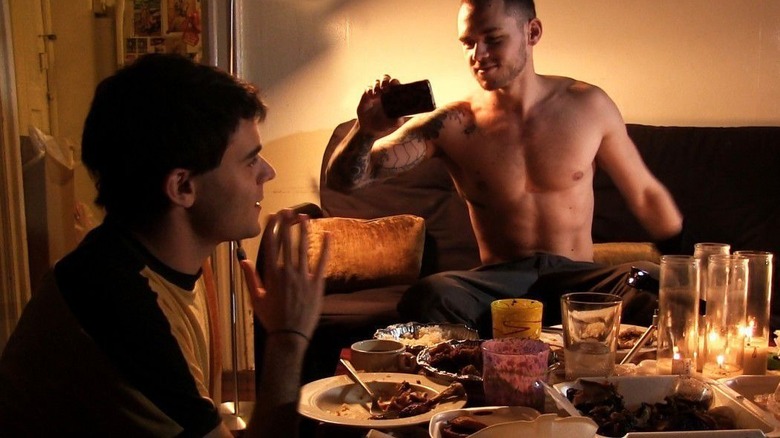 SPEAKproductions
2013's "Getting Go: The Go Doc Project" is a fantastic social examination of affection, attraction, and the desire to combat loneliness. Written and directed by Cory Krueckeberg, it's a faux-documentary film in which a gay college student tries to win the heart of a stranger. Doc rarely strays from his persona on the web. He's close to graduating college, but is struggling to find romance beyond the internet.
Starring Tanner Cohen as Doc and Matthew Camp and Go, "Getting Go" toes the line between awkward and earnest. Infatuated with Go, the aptly named go-go dancer, Doc photoshops him into nude pictures, sends him drunk emails, and tricks him into being the subject of a fake documentary. In the end, Doc learns how to be a person away from his computer, and Go discovers how to let other people in.
"Getting Go" isn't a steamy movie because of an overly sexual premise. Doc and Go do have sex, but the movie reaches its sensual heights by generating organic romance between two people who desperately need each other. There are a lot of chats about sex and sex work, as well as intimate discussions about Go's world and the clients he courts. "Getting Go" is a charming work of acceptance, with a non-exploitative look at queer love.
My Policeman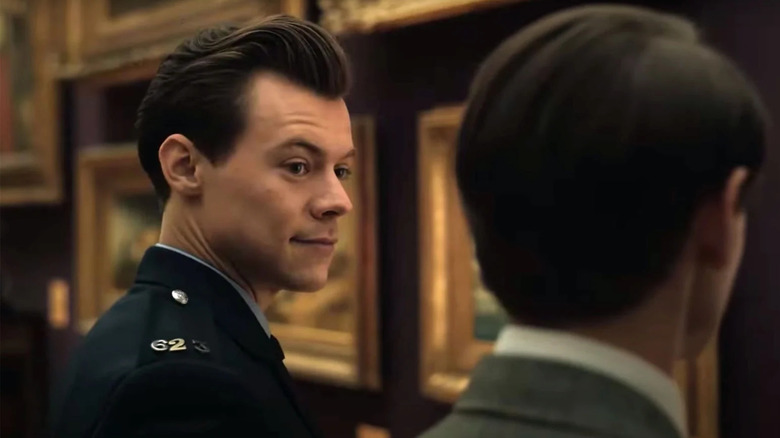 Amazon Studios
Though "My Policeman" ended up being one of the most disappointing movies of 2022, there's no doubting its sensual prowess. It takes place in 1950s Britain, and Michael Grandage's work makes earnest attempts at conveying what life was like for LGBTQ people during the era. At the center of the movie is a love triangle. Policeman Tom (Harry Styles) is married to teacher Marion (Emma Corrin) but is having an affair with Patrick (David Dawson), a museum curator he met while on patrol one afternoon.
Looking beyond the underwhelming 44% critical score on Rotten Tomatoes, "My Policeman" can be applauded for its sex scenes. All at once, they are passionate, soulful, and downright steamy. Styles doesn't register a dazzling performance, but one of his better moments comes when he must translate a hesitancy to sleep with another man at a time when homosexuality was still illegal in the United Kingdom. It's a beautiful bright spot that leads to a string of entanglements that are as heartwarming as they are erotic.
Grandage spares no expense in showcasing just how sexual Tom and Patrick are while also making sure to express just how dull Tom and Marion's sex life is in comparison. When Styles and Dawson share a scene together, and Styles doesn't have to deliver any dialogue, there is an organic electricity blossoming. When the two men begin falling in love with each other, you can't help but believe that their chemistry can get them through anything.
Two Night Stand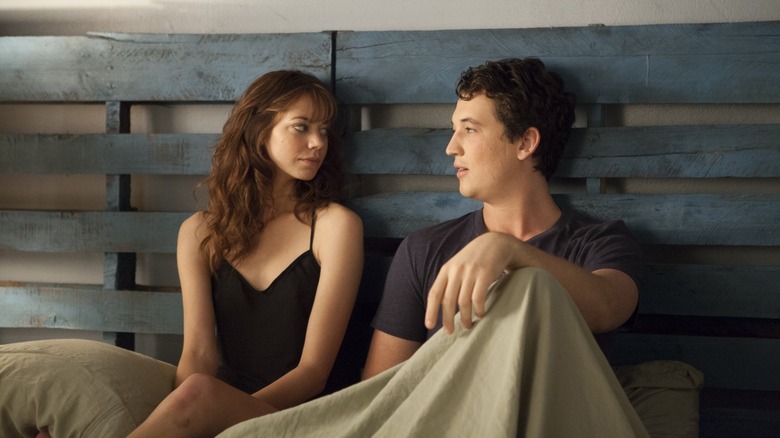 In the same year Miles Teller starred in the Academy Award-winning movie "Whiplash," he also appeared in the commercial and critical failure "Two Night Stand." After grossing just $492,000 worldwide and garnering a 38% Rotten Tomatoes score, "Two Night Stand" failed to properly break into the raunchy romantic comedy subgenre in the same way that the likes of "No Strings Attached" and "Friends With Benefits" did.
"Two Night Stand" has a fun premise: A woman, Megan (Lio Tipton), has a one-night stand with a man, Alec (Teller), who she meets on a dating website. When a blizzard hits the next morning, Megan is forced to hang out at Alec's house. They have sex, Megan snoops through Alec's things, and the two characters find love in an era when dating websites were still evolving into apps.
It might not be the best romcom ever made, but Tipton and Teller are seamlessly compatible. Teller has since become an A-list star and a Hollywood sex symbol, but he wasn't viewed that way back then. The selling point of "Two Night Stand" is that it follows a burgeoning romance between two ordinary strangers. The goofiness of Teller and Tipton produces a refreshing, natural chemistry that translates into a very relatable kind of erotica.
Fleabag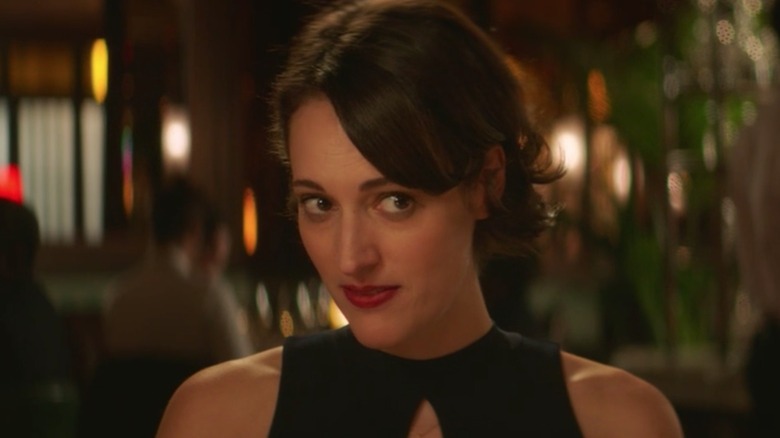 Amazon Studios
Amazon Prime's greatest original series, "Fleabag" is the pinnacle of British comedy on streaming services. Phoebe Waller-Bridge plays the titular character, a woman in her 30s who is confident in her desires and charismatic in her free-wheeling lifestyle. The show ended in 2019, but not without winning six Primetime Emmy awards. Of course, what makes "Fleabag" worthy of a spot on this list is the simple fact that Fleabag's sex life is one of grand proportions. The fourth-wall-breaking protagonist enjoys her time in the bedroom, and she is not shy about satisfying her own wants.
" Fleabag" chronicles the social life of a millennial woman hilariously, but it's not just for a certain age group, touching on themes that all adults can relate to. Perhaps one of the funniest moments in the entire series — and the best example of the show's balance between sexuality and comedy — comes when Fleabag breaks the fourth-wall to give the audience a breakdown of the sex she is actively having on-screen. It's one of the best and sexiest things Amazon Prime has made, and it's a shame we only got two seasons of its magic.
Mulligans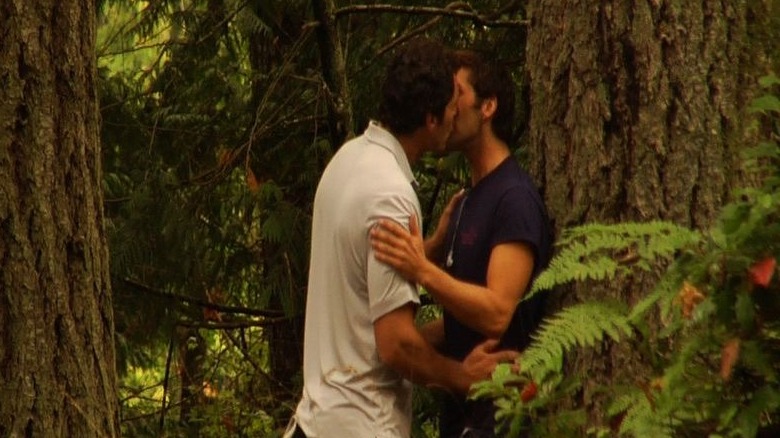 Border 2 Border Entertainment
Chip Hale and Charlie David's 2008 romcom "Mulligans" walked so "Call Me by Your Name" could run. A cross between Luca Guadagnino's 2017 coming-of-age drama and "The Graduate," it tells the story of Nathan (Dan Payne), a closeted gay man who has an affair with Chase (Charlie David), who happens to be the best friend of his son Tyler (Derek Baynham).
At first, "Mulligans" plays out like a buddy movie, as Tyler and Chase spend time with Nathan and the rest of Tyler's family. However, it quickly deviates from that path, launching into the same realms of promiscuity that enthralled audiences in 1967 when "The Graduate" hit theaters. The film is shot like a cable television soap opera, ultimately leading to some cheesy moments on-screen. Despite this, there are a lot of compelling scenes between Chase and Nathan that provoke tension, as the two men's affair threatens to tear Nathan's family apart.
"Mulligans" is not a particularly great film, but it is foundational in LGBTQ romantic representation. It arrived at a time when homophobia was still a punch line in cinema, daring to challenge the mindset of moviegoers. Many of the story tropes in "Mulligans" are well-worn, but Hale and David's important film is definitely one of the steamiest options on Amazon Prime.
The Voyeurs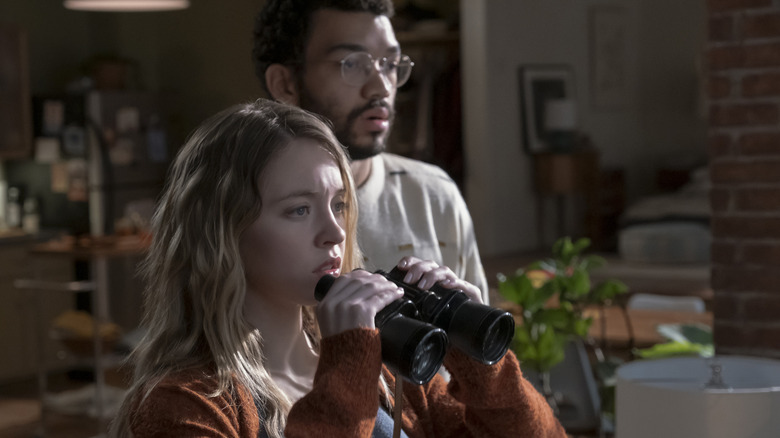 Amazon Studios
Michael Mohan's "The Voyeurs" was met with generally unfavorable reviews from critics and audiences upon its release in 2021. This Montreal-set erotic thriller is basically a much raunchier version of Alfred Hitchcock's "Rear Window." A couple, Pippa (Sydney Sweeney) and Thomas (Justice Smith), move into an apartment together and find that their neighbors across the street are having sex without noticing that they can be seen through their window.
Much like James Stewart's character in "Rear Window," Pippa and Thomas become obsessed with their neighbors, photographer Sebastian (Ben Hardy) and his partner Julia (Natasha Liu Bordizzo), whom they've nicknamed Brent and Margot. What makes "The Voyeurs" so steamy is Mohan's ability to create a sex scene plagued with tension. Throughout the film, there are conspiracies, deaths, affairs, and sabotage. After Thomas and Pippa break up, Pippa is photographed nude by Sebastian and they sleep together. It's a powerful scene where Pippa attempts to circumvent her own heartbreak.
Sweeney has quickly become one of Hollywood's most dynamic and scene-stealing stars. Even though her character is the subject of Sebastian's photography, her initial nerves quickly evolve into an exertion of power over him. Yes, "The Voyeurs" is little more than a half-baked rehash of a well-worn trope, but its best moments come when the on-screen nudity blends with taut plot checkpoints that emphasize the exploitative obsessions of Pippa and Thomas.
Afternoon Delight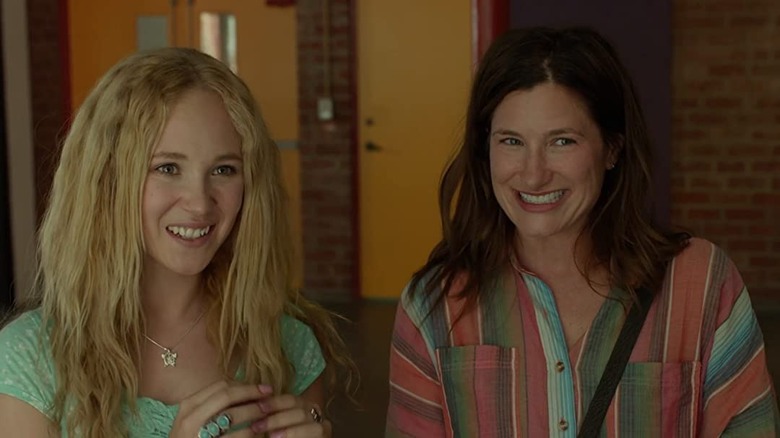 If you've never heard of "Afternoon Delight," you are not alone. The film only grossed $175,000 worldwide when it came out in 2013. It's a small, earnest indie dramedy about a married couple's floundering sex life and an unexpected friendship between two women from opposite walks of life. Rachel ("WandaVision" star Kathryn Hahn) is a stay-at-home mother who hates her life. She and her husband Jeff (Josh Radnor) have gone months without having sex, and she struggles to get help in therapy. Though the main conflict throughout is Rachel and Jeff and their on-the-rocks marriage, the heart of the movie is the friendship between Rachel and McKenna (Juno Temple), a sex worker whom Rachel meets at a strip club.
The movie was made by Joey Soloway, who created the steamy Amazon original "Transparent" (more on that shortly). There's not much nudity, but what makes the movie steamy is the amount of discussion around the acts of sex. McKenna helps Rachel come out of her shell, while Rachel attempts to help McKenna take more responsibility in her life. "Afternoon Delight" isn't conventionally sexy, especially since a large part of the story details how two people are not having any sex at all. But the film has a lot of heart and attempts to genuinely examine the dynamics of adulthood and what sex means within the confines of marriage.
Jennifer's Body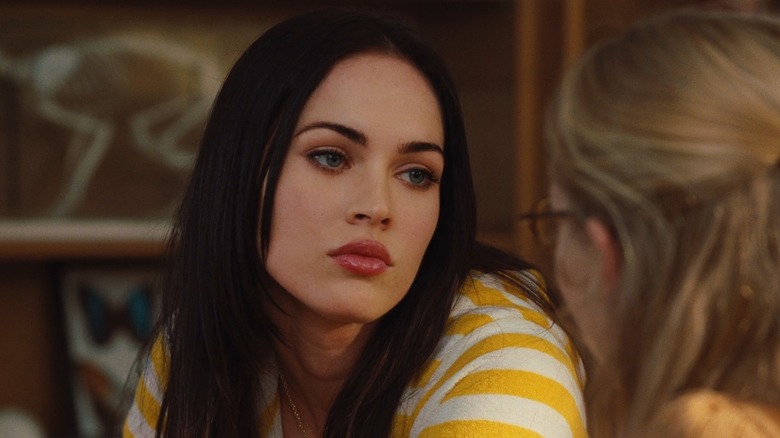 20th Century Fox
Karyn Kusama's 2009 horror comedy "Jennifer's Body" helped cement Megan Fox as a household name in Hollywood after she found success in "Transformers" two years earlier. By the time "Jennifer's Body" hit theaters, Fox had fully embraced her sex symbol status. "I'm just really confident sexually, and I think that sort of oozes out of my pores," she told People in 2008. "It's just there. It's something I don't have to turn on."
Fox plays the titular character, a possessed high schooler who violently murders the men in her class. She's electric in the role and is without a doubt the best thing about the film. However, unlike many horror movies, "Jennifer's Body" features no actual nudity. What makes "Jennifer's Body" one of Amazon Prime's steamiest streamables is the way Fox's character embodies such a powerful sensuality without getting wrapped up in the kind of exploitations that the horror genre has all too often tapped into.
Jennifer is terrifying, funny, and deeply self-aware, making her one of the most erotic and original horror protagonists of the 21st century. Despite being a critical failure, Esquire named "Jennifer's Body" one of the sexiest horror movies ever made.
Transparent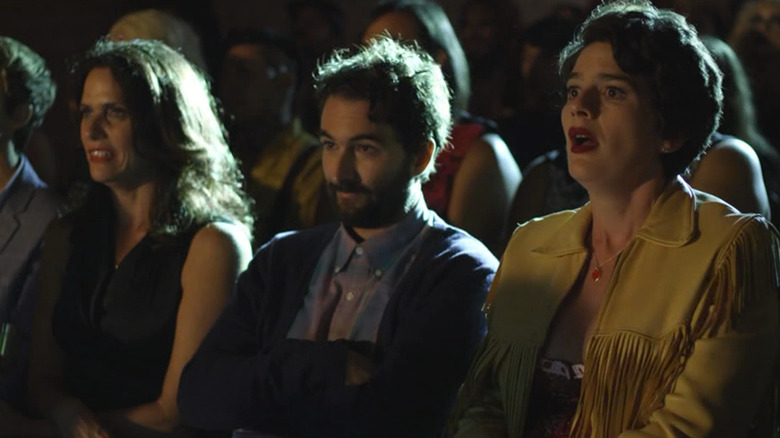 Amazon Studios
Before "Fleabag," "Transparent" was Amazon Prime's crown jewel program. Jeffrey Tambor plays Maura, a transitioning trans woman who is also a parent and professor. Creator Joey Soloway is known for writing shows that explore the realities of the human condition, as they penned episodes of "Six Feet Under" and "Grey's Anatomy" before making "Transparent." The show is based on Soloway's own life experiences — their father came out as trans in 2011.
Maura's transition as an older trans woman is the heart and soul of the series, but what makes "Transparent" such an erotic show is how unabashed the showrunners are about Maura's children and their own explorations of sexuality, gender, and dysfunctional family dynamics. Daughter Sarah (Amy Landecker) is usually at the center of it all, as she works through her own queerness and sexual interests.
"Transparent" is a show that explores the bodily autonomy of people. The show's erotica isn't bound only to sex. It is able to find sensuality in the art of a naked body, unlike many other programs from its time. Ari (Gaby Hoffmann) often goes full-frontal, son Josh (Jay Duplass) has his share of butt shots and sexual escapades, and we also watch Sarah cycle through numerous partners. It's a show about being comfortable in your own skin and the power that comes with understanding who you are as a person.
Lov3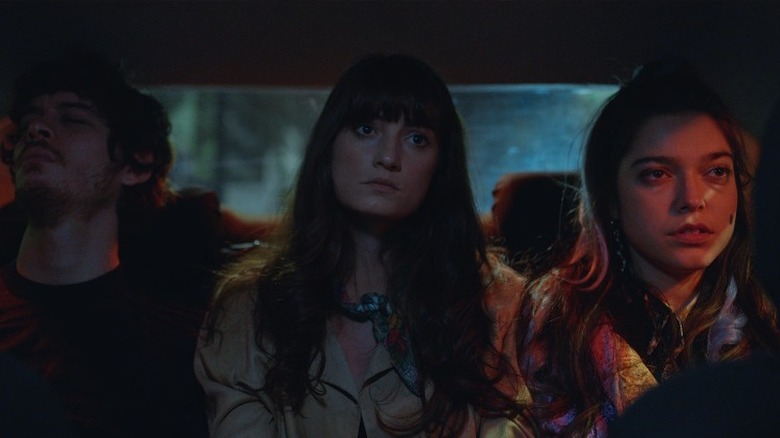 Amazon Studios
The newest series on this list, 2022's "Lov3" is a Brazilian dramedy that feels like a more explicit and better-written version of "Skins." The show delves into the idea of love and sex as a means of self-exploration. The characters represent a resistance to traditional romance in Sao Paulo.
Siblings Ana (Elen Clarice), Sofia (Bella Camero), and Beto (João Oliveira) are shaken by their mother divorcing their father after 30 years of marriage. As they combat the grief of separated parents, they vow to not end up like them. Their solution? Date and sleep with anyone and everyone they can. The result is chaotic for all three kids, especially Sofia, who finds herself entangled in numerous sexual escapades.
"Lov3" has it all: Four-ways, queer love, one-night stands, bathhouses, car sex, failing relationships, and nudity from nearly every character. It's easily one of Amazon Prime's most erotic originals to date, but there's more to it than just steaminess. The show is emotional and poignant in its examination of queerness, sexual dynamics, and open marriages.
Dom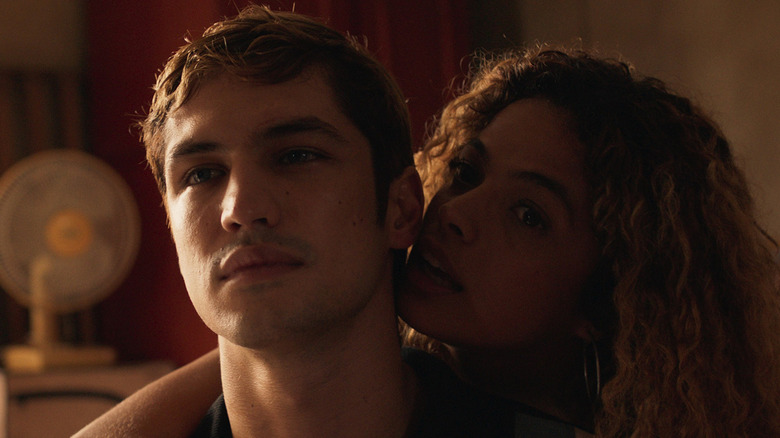 Amazon Studios
2021's "Dom" is a Brazilian crime drama based on an incredible true story. It's about the relationship between Victor Dantas (Flavio Tolezani), a narcotics police officer, and Pedro Dom (Gabriel Leone), an addict and wanted criminal in Rio de Janeiro. Unlike the aforementioned Brazilian series "Lov3," "Dom" focuses more on the drug trade in Brazil rather than bedroom extracurriculars. That being said, when things get steamy, the attention shifts from addiction and violence to human connection.
"Dom" follows a drug-addicted criminal who lives in the shadow of a father trying to put him and his peers behind bars. In a whirlwind of drugs and crime, there is an ample amount of sex. Each character is dynamic, so all of the erotic moments in the show are charged with emotions and palpable tension. "DOM" is sexy, mesmerizing, and thrilling, and it's making an impact in North America, too. "There are guns, drugs and people having sex in alleyways," John Doyle of The Globe and Mail said. "It's not the first time that the unearthly beauty of Rio has been presented as concealing an intense depravity and corruption, but here it is seen as a ceaselessly generational malignancy."
Four More Shots Please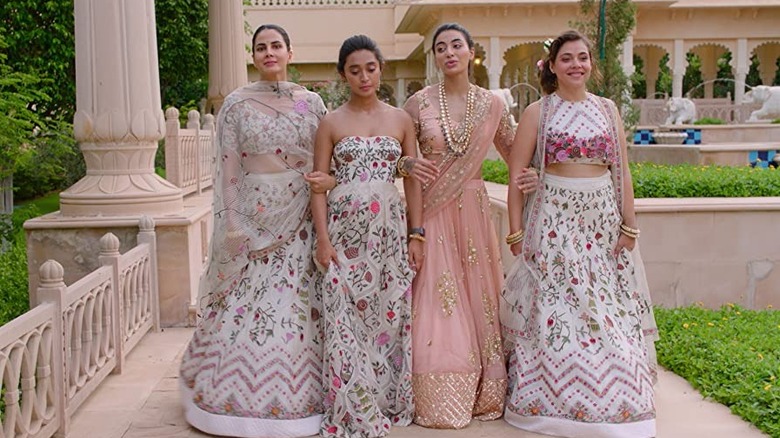 Amazon Studios
"Four More Shots Please" centers on four Indian women who are navigating the social and cultural pressures placed on their gender in India. The show focuses specifically on the lives of Damini (Sayani Gupta), Umang (Gurbani), Anjana (Kirti Kulhari), and Siddhi (Maanvi Gagroo) as they try to support each other while living independently from the constrictions of their traditional families. The show is progressive in its expression of sexuality and identity, speaking to a changing tide in India, especially with regards to queerness.
What makes "Four More Shots Please" so steamy is how sex for our four protagonists is much more than an act of human connection. Sex is not a commonly accepted conversation topic in India, so Damini, Umang, Anjana, and Siddhi treat the act as a point of bodily freedom as opposed to a secretive experience. Thus, whenever a sex scene hits the screen, there's an elevated sense of erotica that comes with it, as we are watching four women fall in love with their bodies and their newfound independence.